This post, 3 Steps to a Less Chaotic Holiday Season, was sponsored Tai Pei, all opinions expressed in my post are my own.

3 Steps to a Less Chaotic Holiday Season
The Holiday Season is officially upon us! 
(Although I may have already been listening to a Michael Buble Christmas for the past 3 weeks 😉 )
This time of year is a favorite for many, but I hear from a lot of my clients that it can also be an extremely stressful time. 
Although we want this time to be as enjoyable as possible, chaos can quickly creep in, and if we don't have some coping strategies in place, it can ultimately tarnish our experience.
That is why this year I am bringing you 3 Steps to a Less Chaotic Holiday Season, just a few small pearls of wisdom for you to keep in your back pocket and remember when you need it the most.
Step One – Remember: Experiences, Not Things
This is easier said than done, but is ultimately the most important thing to remember during the holiday season. 
It is easy to get caught up in consumerism that has crept into the holiday lifestyle.
Everywhere we turn there are commercials, billboards and radio ads reminding us that we must buy more gifts, more things, to show our love for our family and friends.
The pressure has never been higher to give the greatest gift, the newest gadget for our husbands and the coolest new toy for our children.
But when we take a step back from the consumerism, and remove all of the 'things' we can see that the things that bring us the most joy, aren't actually things at all.
It is the experience of giving a gift and seeing the reaction on a loved ones face.
It is the experience of  living out a holiday tradition with your family year after year.
When you feel the anxiety and chaos creeping in this year, take a step back and remind yourself, what truly matters are our Experiences, Not Things
Step Two – Don't Get Hangry
Another difficult holiday experience for many of my clients is centered around food and the food traditions that come along with our holiday experiences, especially in terms of overeating.
The first thing I remind my clients is that one day of overeating is not going to cause immediate weight gain, and that it is more important to focus on the long term eating habits throughout the season.
One of the biggest reasons I see my clients struggle with overeating is because they allow themselves to get too hungry, thus triggering a binge.
That is why I always tell them: Don't Let Yourself Get Hangry!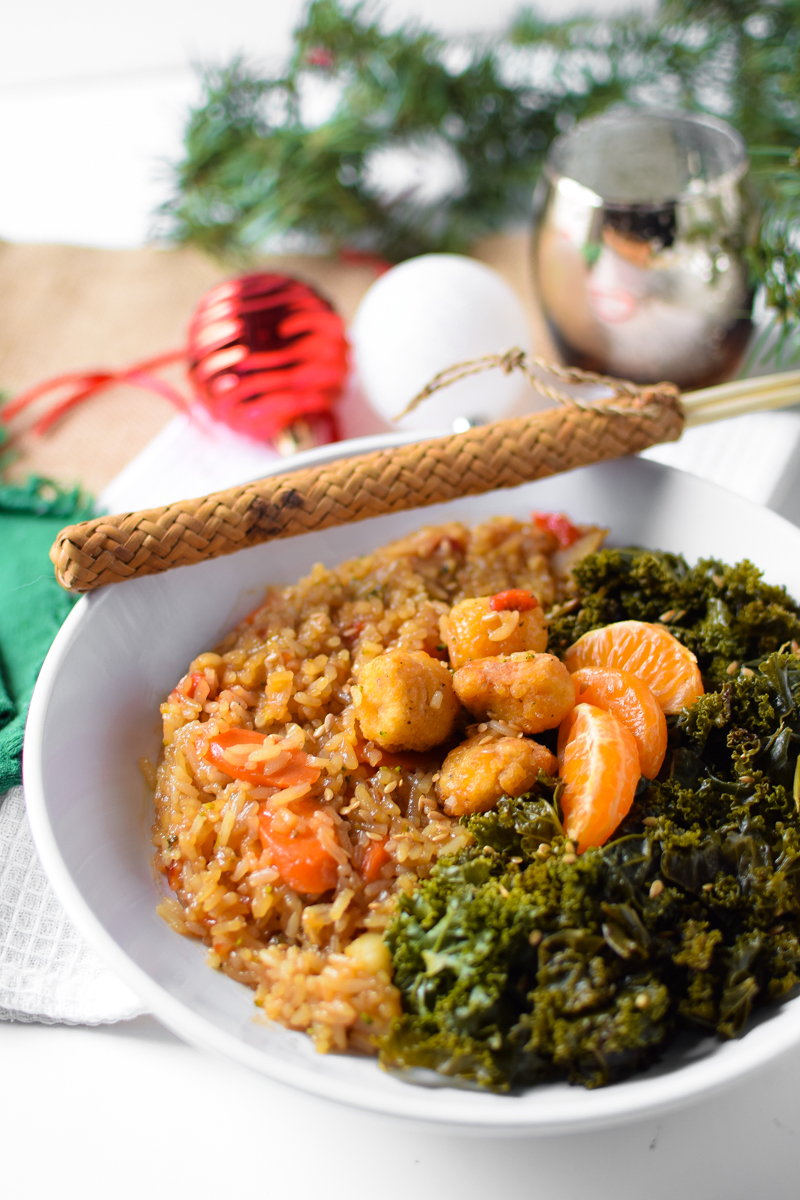 Whether its a small snack or a full meal, keeping something on hand that you can quickly prepare will help you to stay on track and not binge or overeat later on down the road.
My quick go-to meal? My whole family loves the Tai Pei Asian Fried Rice inspired frozen entrees made with real, quality ingredients.
My husband loves that I keep these in the freezer so he can quickly warm them up when he gets home from work, their new packages make it quick and simple to prepare a delicious meal in just minutes in the microwave.
I love that the Tai Pei line has so many choices, all of which are interesting and delicious each made with flavor-infused rice. More importantly, all are made with real, pure ingredients and no preservatives or artificial ingredients.
Want to stock up your freezer so you don't get hangry this holiday season?
Use the store locator to find where Tai Pei single serve is available near you. in the frozen food section of your favorite grocery store. Plus, you can use this $1 off coupon to purchase your very own Frozen Fried Rice entree!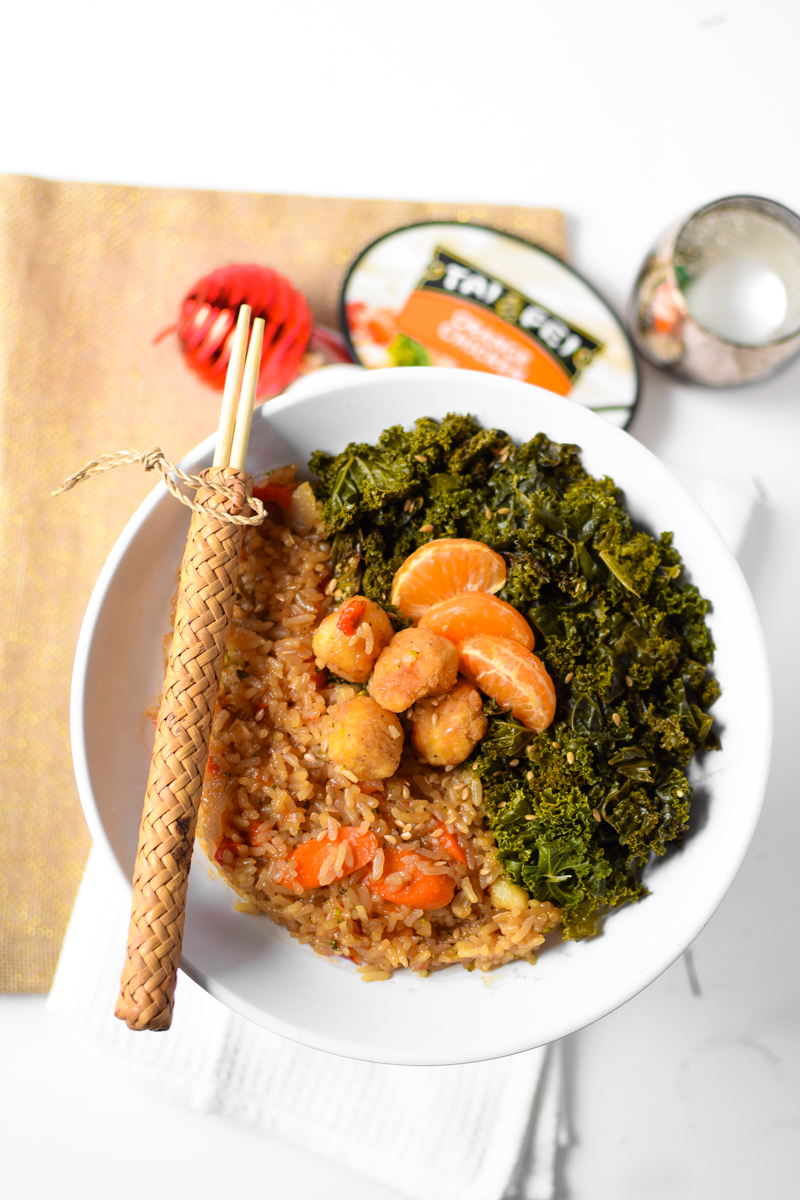 Step Three – Listen to your Intuition
The greatest joy of the holiday season is learning that you can trust your body, no matter what situation you are put in.
Learning to become an Intuitive Eater will help you to become more confident and secure on your own body, and will start to eliminate the stress and anxiety that comes with uncontrollable food situations at holiday parties and get-together.
Trusting that you will be able to recognize when you are hungry, take the time to enjoy and savor your food in the moment, and then recognize that you can stop eating when you are full and satisfied is a triumph for many.
Learning to listen to your intuition doesn't happen over night, but practicing small steps each day, at each meal, will help to get you to your overall goal in the long run.
Click Here to Download Your 5 Day Happy & Healthy Meal Plan – FREE!
What is your best tip for managing stress during the Holiday Season? Let me know in the comments below!



P.S. Are you ready to take the next step in your happy & healthy holistic lifestyle? Enroll in my FREE 3-Day Online Video Training Course to learn to become a more Mindful Eater! Learning to master the practice of Mindful Eating will help you to gain control of your healthy lifestyle and treat your body with love and respect.
LETS STAY CONNECTED
Subscribe to the Wellness Wednesday Newsletter - holistic wellness, health & happiness delivered directly to your inbox!

The following two tabs change content below.
Hi there! I teach women like you how to get healthy, and stay happy, without ever having to diet again! To help you, I provide individualized nutrition coaching and have created
The School of Health & Happiness
, an online training program to help you develop a positive relationship with food. This blog focuses on holistic health, plant-centric, whole food
recipes
, and real-life Mindful & Intuitive Eating Practices.
Learn more here
.
Lets Connect!   
Facebook
»
Instagram
» ♥
Latest posts by Emily Kyle (see all)