---
The world of nutrition is always changing, which is why it is oftentimes confusing, so join this dietitian as we break down the top 5 Food Myths You Keep Falling for, and what you can do instead.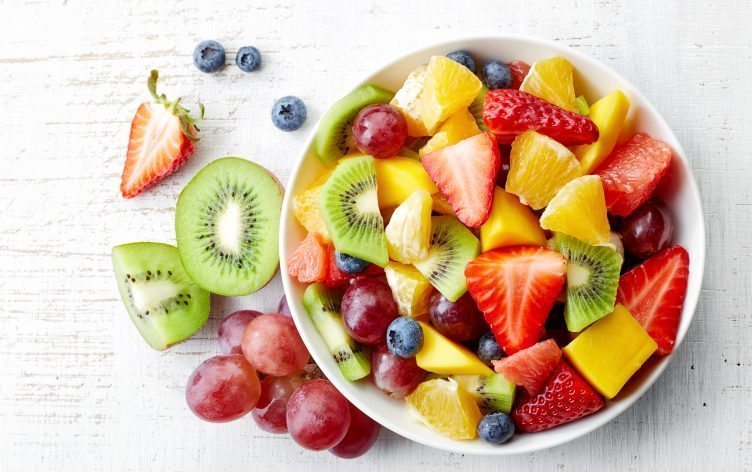 5 FOOD MYTHS YOU KEEP FALLING FOR
The world of nutrition and health is always changing, which is why it is understandably complicated and oftentimes confusing.
It seems these days that there is always new information swarming social media about what we should and shouldn't eat.
One day you may hear someone say "don't eat fruit, it has too much sugar" only to have them say fruit is a 'superfood' the next.
It can be hard to decipher fact from fiction, and as a dietitian, I hear a lot of crazy myths out there!
So today I am getting to the bottom of the top 5 Food Myths You Keep Falling For – and why you don't need to believe them any more!
'Low Fat' or 'Fat-Free' is Healthier
In the 80's and 90's there was a huge push for food that was labeled as 'low-fat', 'fat-free' and 'low-calorie' as the healthy choice.
Fat was the enemy and carbs became king.
Unfortunately, we know that advice was misguided and that fat actually plays a very important role in our diet.
You see, we took fat out of our diet and replaced it with sugar and carbohydrates, which have been found to cause just as many problems when eaten in excess as the fat did.
The answer is not to cut out fat OR to cut out carbs, but to instead enjoy both in reasonable quantities.
Pro Tip: The next time you're at the grocery store, don't automatically reach for something just because it is labeled as 'fat-free'.
Take a look at the ingredient list; often times fat-free products replace the fat with sugar, artificial sugars, and unnecessary chemicals – which don't benefit your health in the long run.
Don't be afraid of fat, and be more concerned about the quality of your food.
Related: The Truth About Fat
Going Gluten-Free for Weight Loss
Adopting a gluten-free diet is a medical necessity for those who have been diagnosed with Celiac disease, and is most certainly a beneficial option for those who have what is known to be 'non-Celiac gluten intolerance' or autoimmune disease.
I even encourage those who find relief from any type of digestive issues with a gluten-free diet continue to do so.
But if you are solely perusing this diet in the hopes of weight loss, you may want to think twice if a gluten-free diet is right for you.
You see, simply trying a gluten-free diet because your friends-mothers-brother told you it will help you to lose weight is not exactly true.
While you may see a benefit in how you feel, and maybe even notice a change on the scale, with the adaptation of a gluten-free diet, it is most likely attributed to the reduction of processed foods in your diet, not the elimination of gluten.
If you think you have Celiac disease or may be gluten-intolerant, speak with your trusted health care provider before adopting a gluten-free diet. Going gluten-free before you can get the appropriate diagnostic tests may give you false results and cause you further delay in finding the relief you are looking for.
You Must Limit Your Coffee Consumption
Rejoice coffee lovers!
The 2015 Dietary Guidelines have officially given the green light to enjoy more than one cup a day! As stated in the report:
"Currently, strong evidence shows that consumption of coffee within the moderate range (3 to 5 cups per day or up to 400 mg/d caffeine) is not associated with increased long-term health risks among healthy individuals. In fact, consistent evidence indicates that coffee consumption is associated with reduced risk of type 2 diabetes and cardiovascular disease in adults. Moreover, moderate evidence shows a protective association between caffeine intake and risk of Parkinson's disease. Therefore, moderate coffee consumption can be incorporated into a healthy dietary pattern, along with other healthful behaviors".
If you're anything like me, this news is great news!
Ever since I became a mom, coffee is an absolute must in the morning.
I feel better knowing that my morning cup can fit nicely into my healthy lifestyle, just remember that what you put in your coffee counts too! Don't go too crazy with the sugar and the creamer and you should be just fine.
You Should Limit Your Egg Consumption
For a long time, we were urged to restrict the number of eggs that we consumed on a daily or weekly basis due to their high dietary cholesterol content, which was once thought to contribute to cholesterol levels found within the body.
The cholesterol found within the body was found to have the ability to clog arteries and contribute to the development of heart disease, so people began to put two and two together and assume that eggs = cholesterol = heart disease.
Astonishingly enough, according to a Harvard report, there was never any data to support the idea that egg consumption played a role in the development of heart disease.
Thankfully, when the 2015 Dietary Guidelines were released, the recommendations to restrict the amount of dietary cholesterol consumed were removed.
What does this mean?
Eggs are a very healthy, and relatively inexpensive, source of protein – packing in 6 grams per egg – while also providing a whopping 13 essential vitamins and minerals.
So, go ahead, eat allllllll the eggs 🙂
Different Forms of Sugar Are Healthier
I like to use agave syrup in many of my recipes due to its liquid, sticky texture, but let me just say this right now – it is not any healthier than refined white sugar.
A common misconception is that honey, agave syrup, coconut or raw sugar is a healthier alternative to traditional white sugar, but the truth is sugar is sugar.
The body does not care what form the sugar comes in, on a molecular level it is all broken down and used the same way.
So yes, agave syrup is the perfect sweetener for my Almond Joy Energy Bites, but don't think that you can use more because it is a 'healthier' version.
All sweeteners should be used in moderation, no matter the type.
Download Your FREE Meal Plan Before You Go!
If you're looking for additional help in meal planning or discovering new and delicious recipes to try, be sure to download my Free eBook – The Happy & Healthy Flexible Meal Plan below:
---