From savory, crispy-crunchy chickpeas to homemade trail mix, you will love these 5 High-Protein Post-Workout Snacks You Can Keep in Your Gym Bag tat are portable, easy-to-make, and designed to fuel YOUR busy lifestyle.
5 High-Protein Post-Workout Snacks You Can Keep in Your Gym Bag
I don't know about you, but when I get hangry, it's not pretty.
I try to plan most of my meals ahead of time, I try to anticipate when I will be super busy and need extra snacks, but sometimes I still get caught off guard at the most inopportune times.
That is why I have made it a priority to make sure that I always have a snack stashed away in my gym bag. I almost always have it with me in the back of my car, and before or after a workout is when I find I need last-minute fuel the most.
Of course, life is so busy that I want snacks that are always readily available, which means snacks that are not immediately perishable. That way I can just leave them in my bag for the week and not have to worry about anything spoiling.
Below you will find my tried and true, 5 High-Protein Post-Workout Snacks You Can Keep in Your Gym Bag.
5 High-Protein Post-Workout Snacks
#1 – Crispy Roasted Chickpeas
If the thought of a super sweet snack after a work-out makes you cringe, crispy roasted chickpeas are the perfect savory alternative.
While I have not quite perfected the art of roasting perfectly crispy, crunchy chickpeas on my own, I did find success thanks to an unlikely source – my Dad. In his latest guest post, he shares his way for cooking perfectly crispy roasted chickpeas.
Once you get the art of roasting them down perfectly, you can easily mix up the seasonings so that you're getting exactly what flavor you want.
As a bonus, these crispy crunchy bites of high-protein goodness will last a full week in your gym bag when sealed in an airtight container.
Nutrition Facts – Serving Size: 1 cup chickpeas (before cooking, approximately 3/4 cup cooked), 210 calories, 11 grams of protein, 35 grams of carbohydrates, 4 grams of fat
#2 – Customizable Vegan Fruit, Nut & Seed Energy Bites
These no-bake, Customizable Fruit, Nut & Seed Energy Bites, are a naturally vegan and gluten-free, nutrient-dense snack you can feel good about feeding yourself and your family and can easily be made with ingredients you already have on hand.
Nutrition Facts – Serving Size: 2 Bites, 260 calories, 8 grams of protein, 28 grams of carbohydrates (only 5 grams of sugar!), 9 grams of fat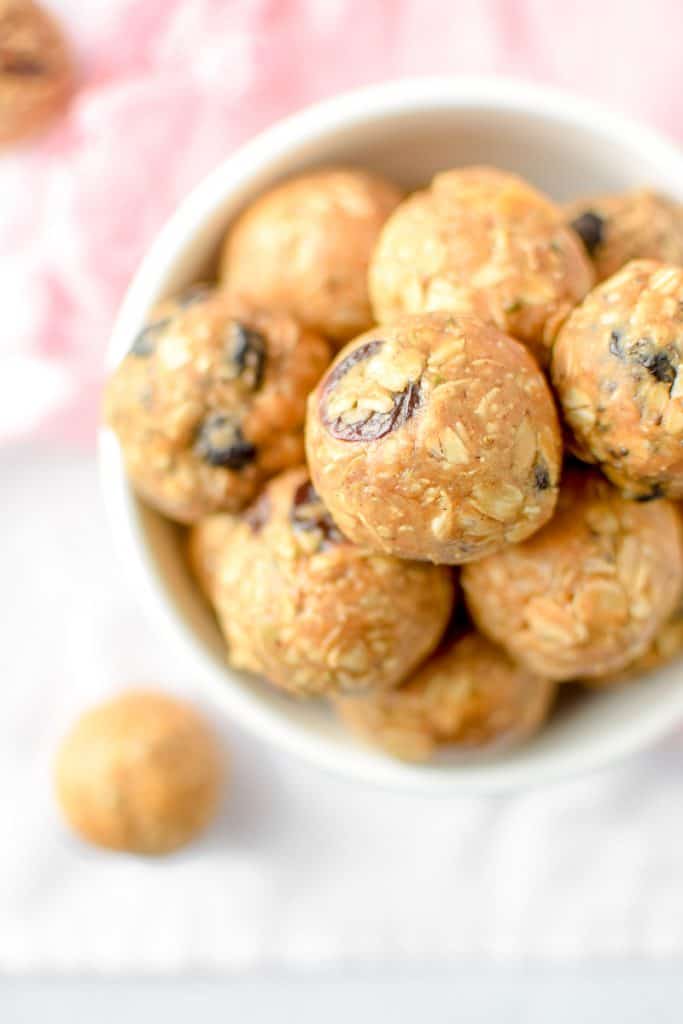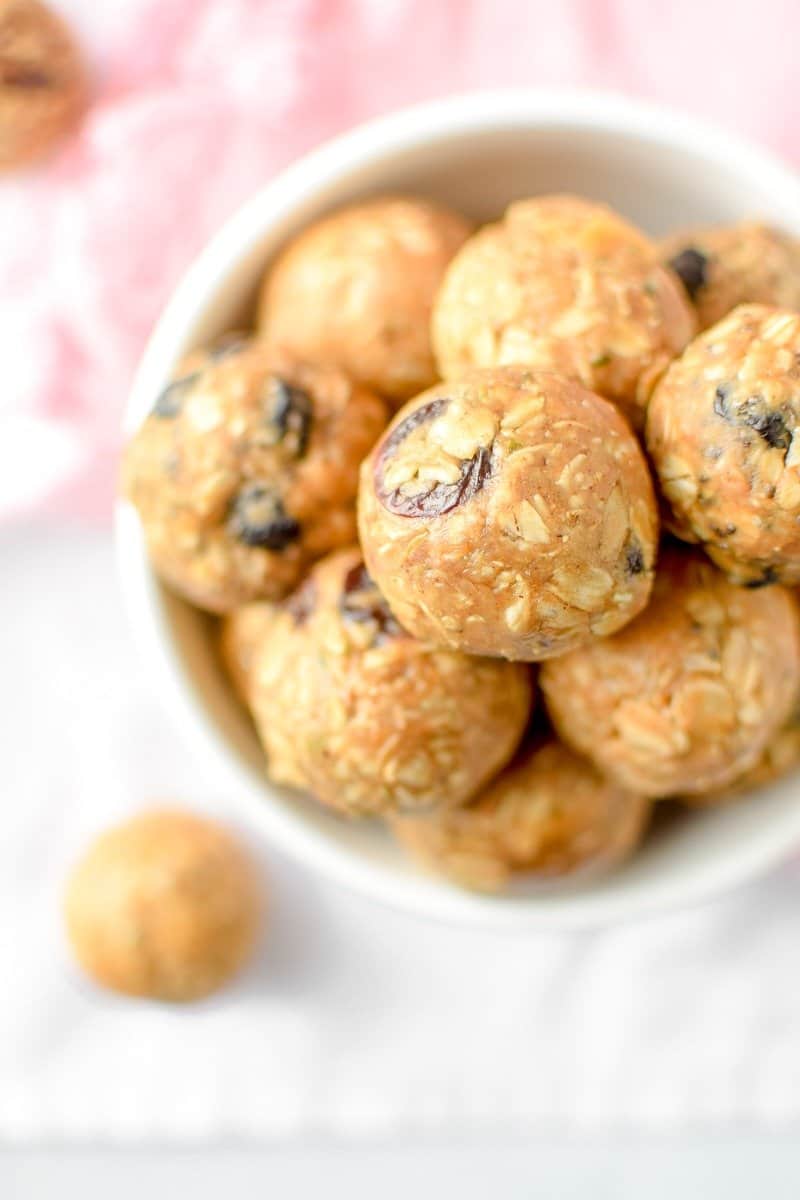 #3 – Dates & Hemp Seed Butter
Are dates and hemp seed butter considered dessert or just a delicious post-workout snack – I can't quite decide?
If you haven't yet combined these two simple ingredients, let me tell you, you're missing out, it is the perfect mix of sweet and salty.
These hemp butter stuffed dates make the perfect post-workout snack with their perfectly proportionate combination of carbohydrates, fat, and protein.
To keep these in your gym bag all week long, and to make this snack as convenient as possible, get already pitted dates, keep them in their original container, and pre-prepare your hemp seed butter.
Nutrition Facts – Serving Size: 2 Dates, 2 Tablespoons Hemp Seed Butter, 300 calories, 10 grams of protein, 37 grams of carbohydrates, 17 grams of fat
#4 – Homemade Trail Mix
Whether it's for a high-protein post-workout snack or simply an easy, portable on-the-go snack solution for whatever this busy life throws at you, a homemade trail mix is always a winner.
Easily customizable with any nut or seed you have on hand, my standard go-to recipe starts with a handful of almonds, a handful of peanuts, and of course, a handful of chocolate chips. You can customize your trail mix however you would like, adding things like dried fruit or other nuts and seeds.
Just remember, the chocolate chips may melt if you leave them in your gym bag in a hot car!
Nutrition Facts – Serving Size: 2 Tablespoons Almonds, 2 Tablespoons Peanuts, 1 Tablespoon Dark Chocolate Chips, 280 calories, 9 grams of protein, 16 grams of carbohydrates, 22 grams of fat
#5 – Apples & Almond Butter
Apples are Mother Nature's most convenient portable snack. You can easily carry an apple or two around in your gym bag for a few days, and when paired with almond butter, it makes the most perfect post-workout snack.
The combination of the complex carbohydrates from the apple paired with the protein and heart-healthy fats found in the almonds make this a snack that satisfies both your appetite and your need for nutrients after a tough workout.
To make this snack as convenient as possible, look for individually packed, pre-portioned almond butter cups!
Nutrition Facts – Serving Size: 1 New York State Apple, 2 Tablespoons Almond Butter, 270 calories, 7 grams of protein, 27 grams of carbohydrates, 18 grams of fat