This post may contain affiliate links, to find out more information, please read my disclosure statement.
 This post, 7 Steps to Building the Perfect Cheese Board, was sponsored by Heluva Good!® Cheese as part of an Influence Central campaign and all opinions expressed in my post are my own.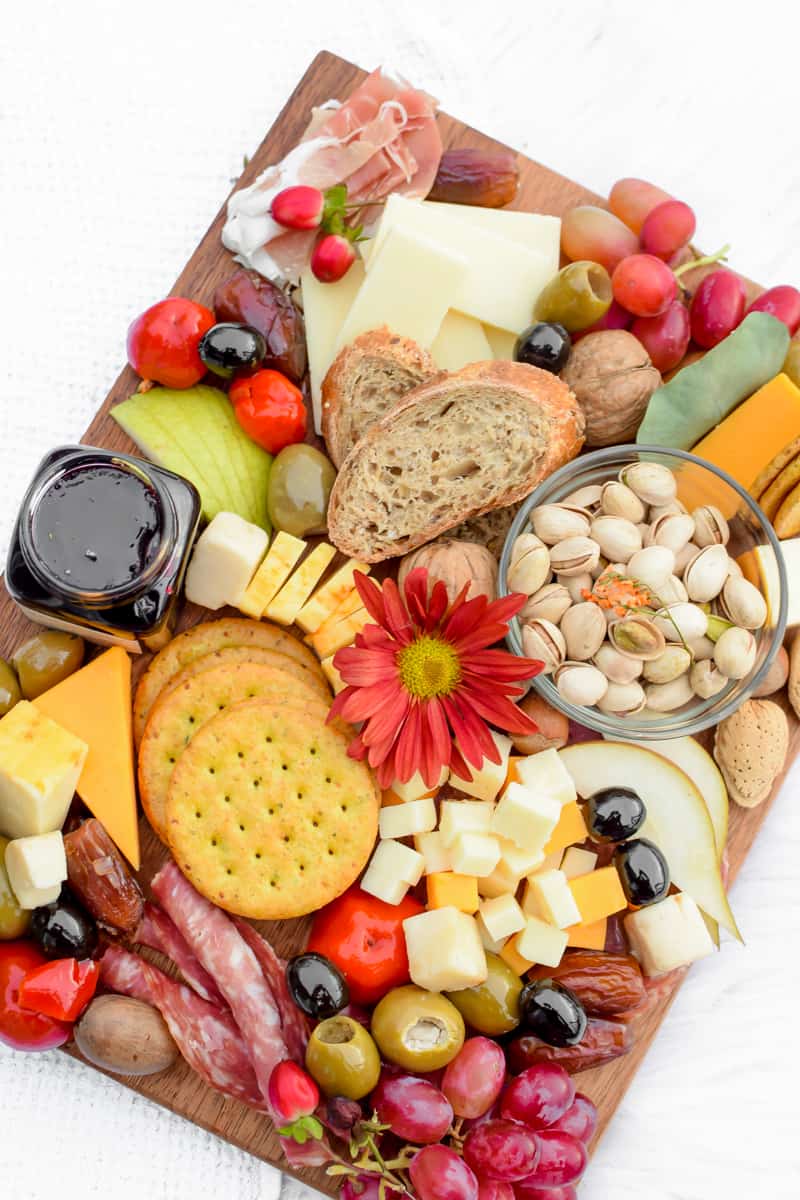 7 Steps to Building the Perfect Cheese Board
I fully credit my love for cocktails and cheese boards to my parents. (Thanks Mom & Dad!)
Some of my fondest memories are of my Dad coming home on a Friday night after a long week of work. We would all sit around the kitchen island, my parents with a cocktail and my sister and I with a soda. We would talk about the past week, upcoming plans for the weekend, and share a delicious assortment of snacks my mom prepared for us.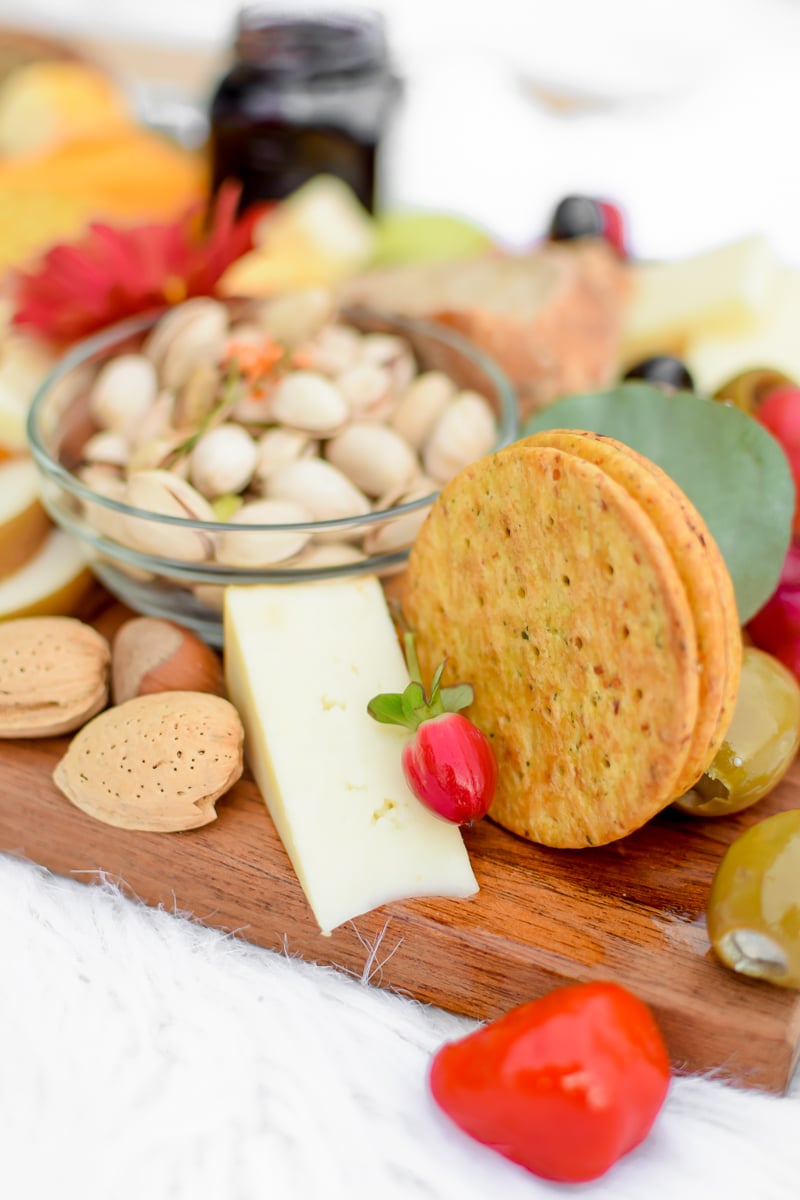 The great part about creating a cheese board is that you really only need two staples to make it work: cheese and crackers. However, if you want to get creative, simply follow my 7 Steps for Building the Perfect Cheese Board.
And don't worry, you can get as creative or stay as simple as you like! No matter the occasion, Heluva Good! Cheese blocks provide the ultimate snacking experience, even for ever day enjoyment. Whether you're entertaining for a party of two, or a huge holiday celebration, a cheese board is the perfect way to make all of your guests happy.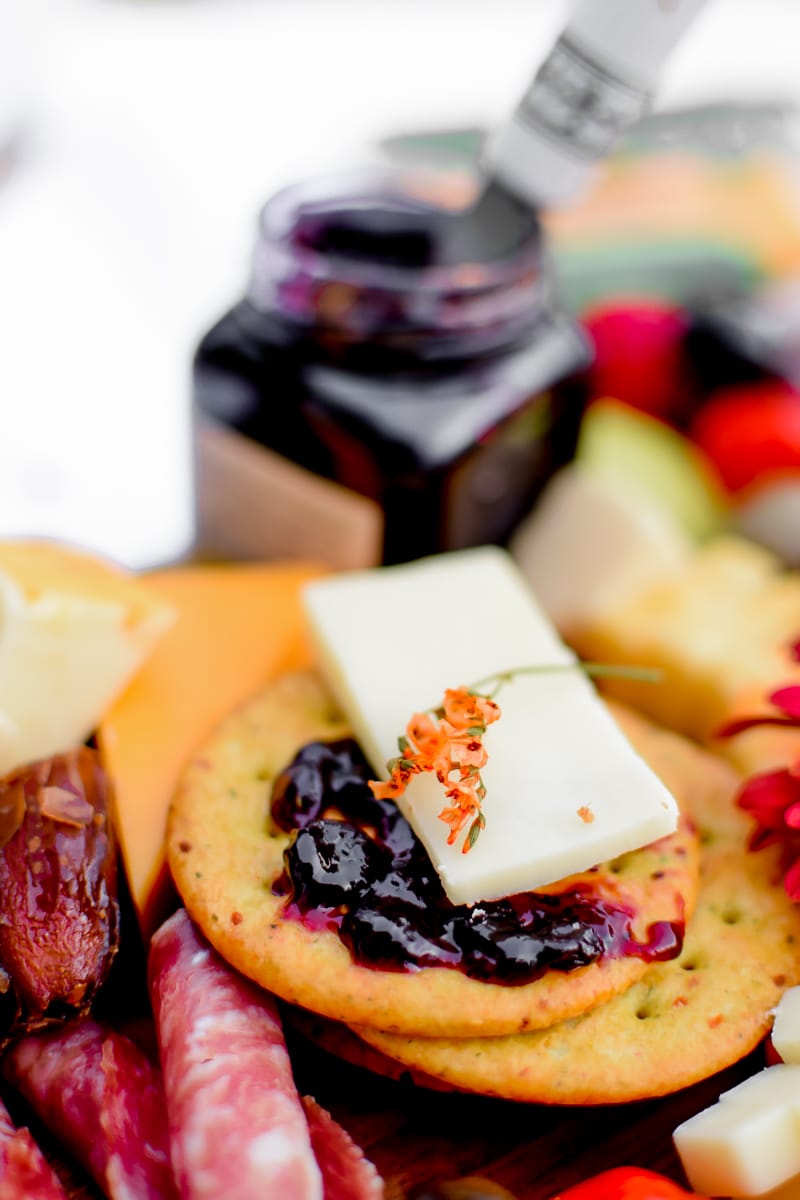 Step #1 – The Cheese
You can't have a cheese board without good cheese!
Heluva Good! Cheese blocks are my favorite choice for my cheese boards. Not only does the brand offer an assortment of over 10 tasty flavors to choose from, but I love that you can cut the blocks into various shapes to create an interesting display on your board.
I picked up my cheese from my local Walmart because it's so easy to get in and out with their self-checkouts. You can find all flavors of these delicious cheese blocks in the dairy isle of your neighborhood supermarket.
Want a special deal on your next purchase of Heluva Good! Cheese blocks? Be sure to check out this offer, but act quickly! Limited quantities are available, there is no expiration date for this offer, but it is available until all of the rebates have been used.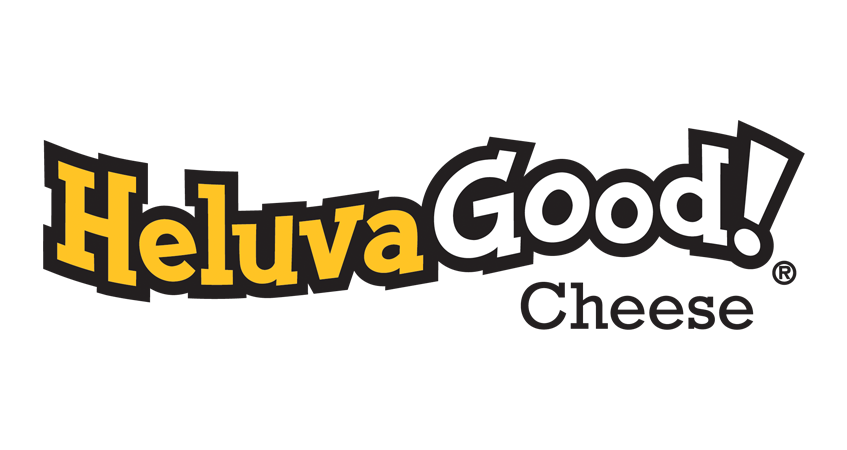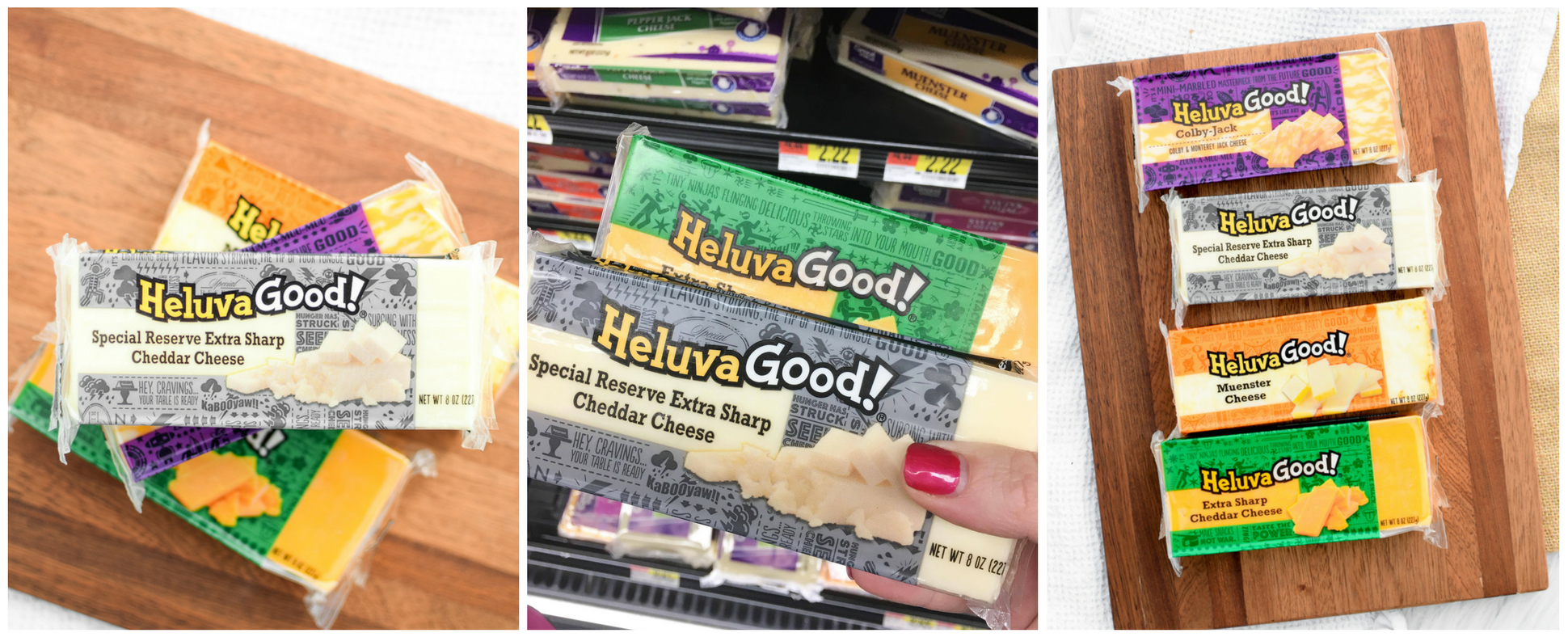 Get Creative!
Sliced, diced, cubed or wedged, you can cut these cheese blocks any way you like as the centerpiece of your cheese board.
For my cheese board I wanted both white and yellow cheese for both visual and flavor contrast, I picked the Heluva Good! Cheese Special Reserve Extra Sharp Cheddar, Extra Sharp Cheddar, Colby Jack and Muenster. Made with milk, and naturally gluten free, these blocks are a good source of protein and an excellent source of calcium.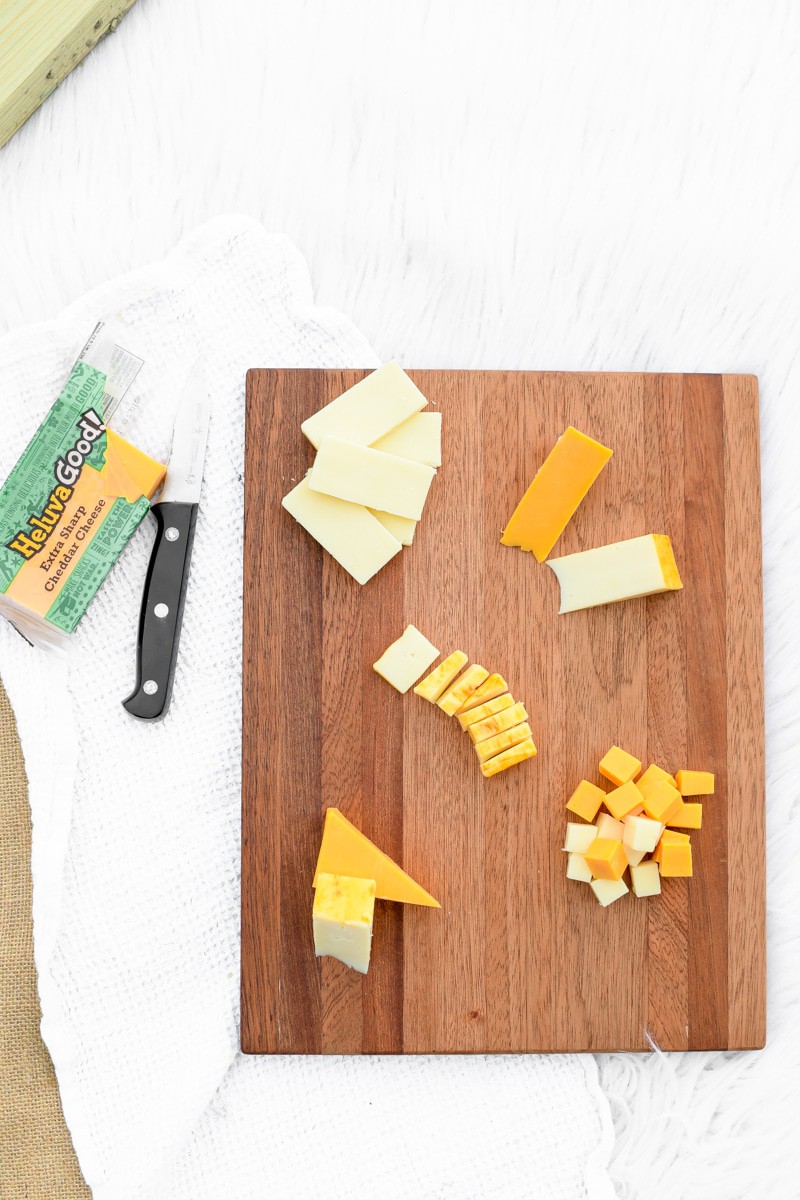 Step #2 – Meat or No Meat?
Personally, I could totally live with or without the meat.
However, if I were to serve this to my dad or husband without meat, they would let me know that this cheese board is INCOMPLETE.
So I've got two options here for you, a meat option and a non-meat option. If you're serving your cheese board to family and friends who want a more traditional cheese board, I would include the meat. If your family has vegetarians and more health conscious individuals, the veggie option would be best for you.
Option One – Meat
Traditional cheese boards contain a charcuterie assortment, defined as:
"Charcuterie (/ʃɑːrˌkuːtəˈriː/ or /ʃɑːrˈkuːtəri/; northern French: [ʃaʁkytˈʁi] or southern French: [ʃaʁkytəˈʁi], from chair "meat" and cuit "cooked") is the branch of cooking devoted to prepared meat products, such as bacon, ham, sausage, terrines, galantines, ballotines, pâtés, and confit, primarily from pork.[1]
If you choose to add meat to your board, it can be as simple as sliced pepperoni from the package, to as fancy as cured meat from the local delicatessen.
For my cheese board I chose an Antipasto Trio from my local supermarket which contains the Italian classics, Genoa Salame, Prosciutto, Sopressata Salame.
Option Two – Veggies
In today's culture, more and more people are opting for plant-based options, which I think is great – the more veggies the better! If you're swapping veggies for meat, you are reducing your intake of dietary fat and sodium, and increasing your intake of dietary fiber, vitamins and minerals.
A good rule of thumb is to stick to three options, all with unique colors and shapes to create a visual attraction to your board.
Here are some veggie options to add to your cheese board: baby carrots, celery sticks, mini bell peppers, cucumber slices, snap peas, broccoli or cauliflower florets. Of course, the options truly are endless when it comes to veggies!
Step #3 – The Fruit
 A cheese board is not complete without the sweet juicy flavor and pop of color from the fruit you choose!
Ideally you want to pick fruit that pairs well with the cheese you selected. Since I picked the Heluva Good! Special Reserve Extra Sharp Cheddar Cheese block as my centerpiece flavor, I went with grapes, apples and pears as my fruit of choice. I also added some dried dates for extra sugary sweetness.
Of course, you're not limited to those three options! Just stick with the rule of thumb mentioned above, pick three options, all with unique colors and shapes to create a visual attraction to your board.
Other fruit ideas include: green or red grapes, strawberries, blackberries, raspberries, citrus fruits, mango, melon, or dried fruits like dates, apricots and raisins.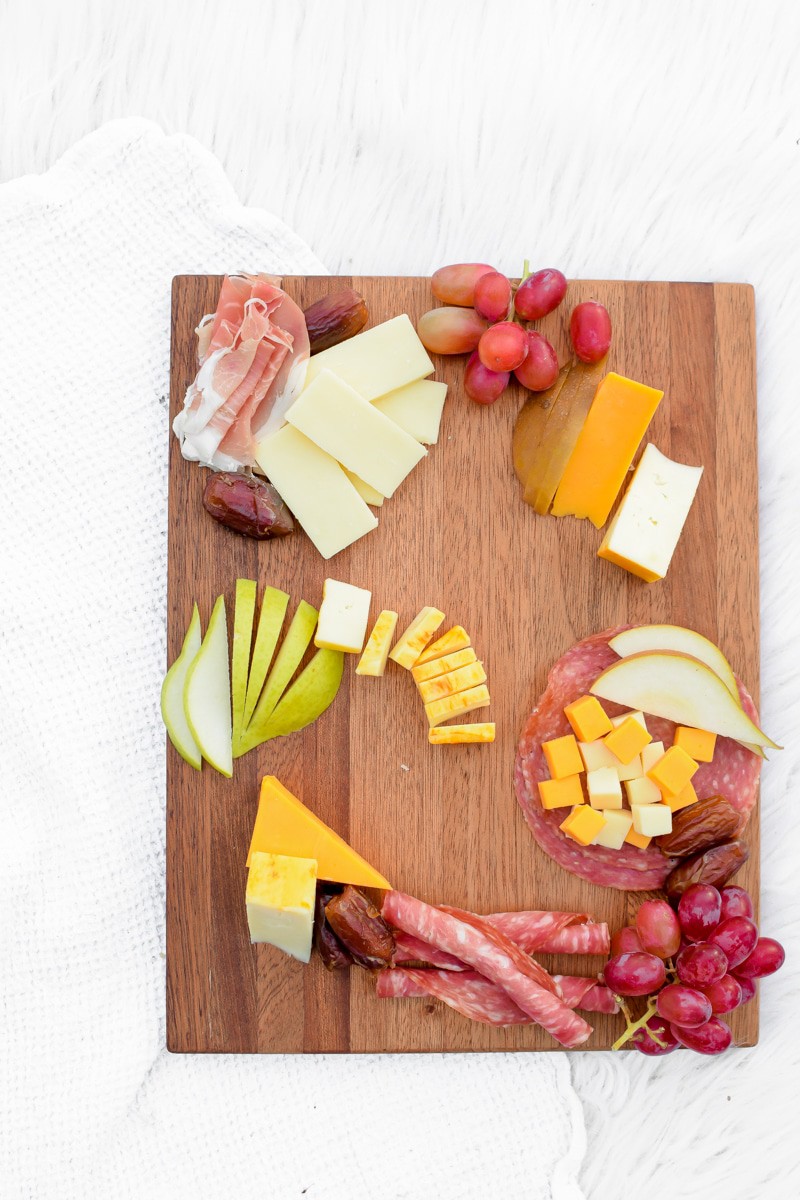 Step #4 – Add Savory Veggies
Mainly in the form of olives and pickled vegetables! 😉
At this point you may or may not already have raw veggies on your board. The purpose of this step is to introduce very savory, salty tasting finger foods to the board to contrast the sweetness of the fruit and to highlight the flavors of the cheese and meat.
Olives of all types are a great choice. Black, green, kalamata, stuffed, brined and seasoned – it doesn't matter what you choose as long as you like it. Also consider adding picked vegetables if possible, such as these bright red pickled peppadew peppers.
Again follow the rule of three, and try to get a variety of colors. Choose from olives, pickles, and other pickled or brined vegetables.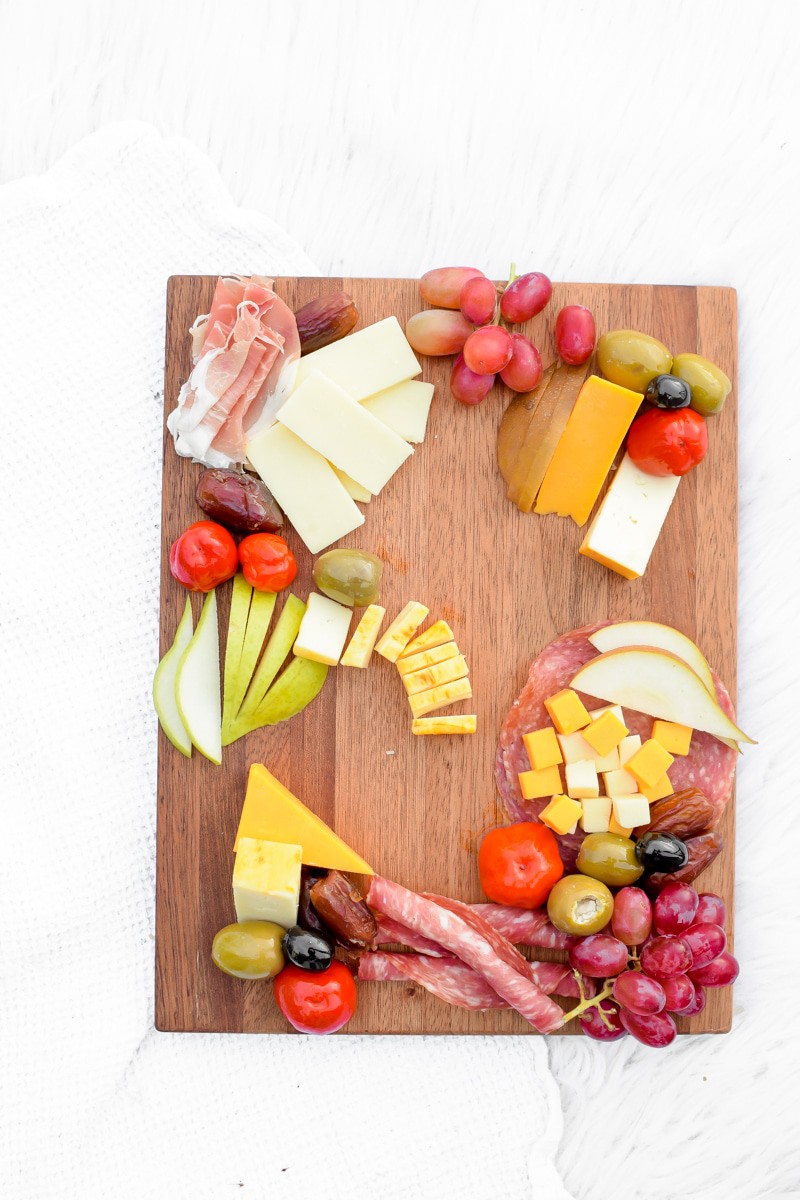 Step #5 – Add Whole Grains
This is an upgrade to the classic staple of cheese and crackers!
In this step, you have the option of getting as creative as you want. Thankfully, due to customer demand, there are a lot of cracker options out there on the market. From whole grain to gluten free, choose the cracker type that is best for you and your family.
But! Don't feel like you're limited to just crackers. Some freshly baked whole grain baguette or crostinis add a delicious soft and chewy texture to contrast the other items on the board.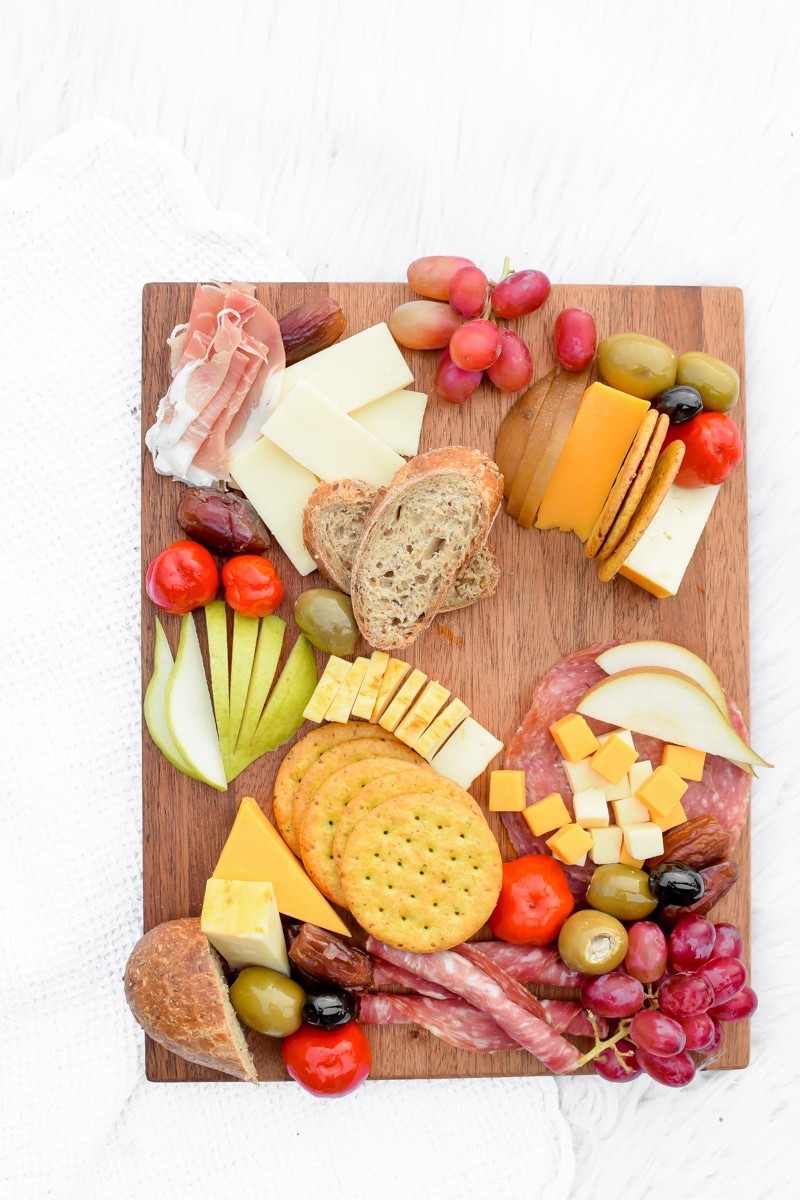 Step #6 – Add Nuts
Any nuts you like!
Nuts add a wonderful crunchy texture to your cheese board, and help to add in some heart healthy fats and dietary fiber, too! You may want to select unsalted nuts, due to the saltiness of the olives and picked vegetables on your board. Have someone in your party with a nut allergy? No worries, simply swap nuts for seeds to keep everyone safe and happy.
I added pistachios and a few in-shell nuts to my board for some visual creativity, but you are more than welcome to get creative.
Some delicious nut and seed options include: almonds, walnuts, pecans, peanuts, hazelnuts, pumpkin seeds, and sunflower seeds.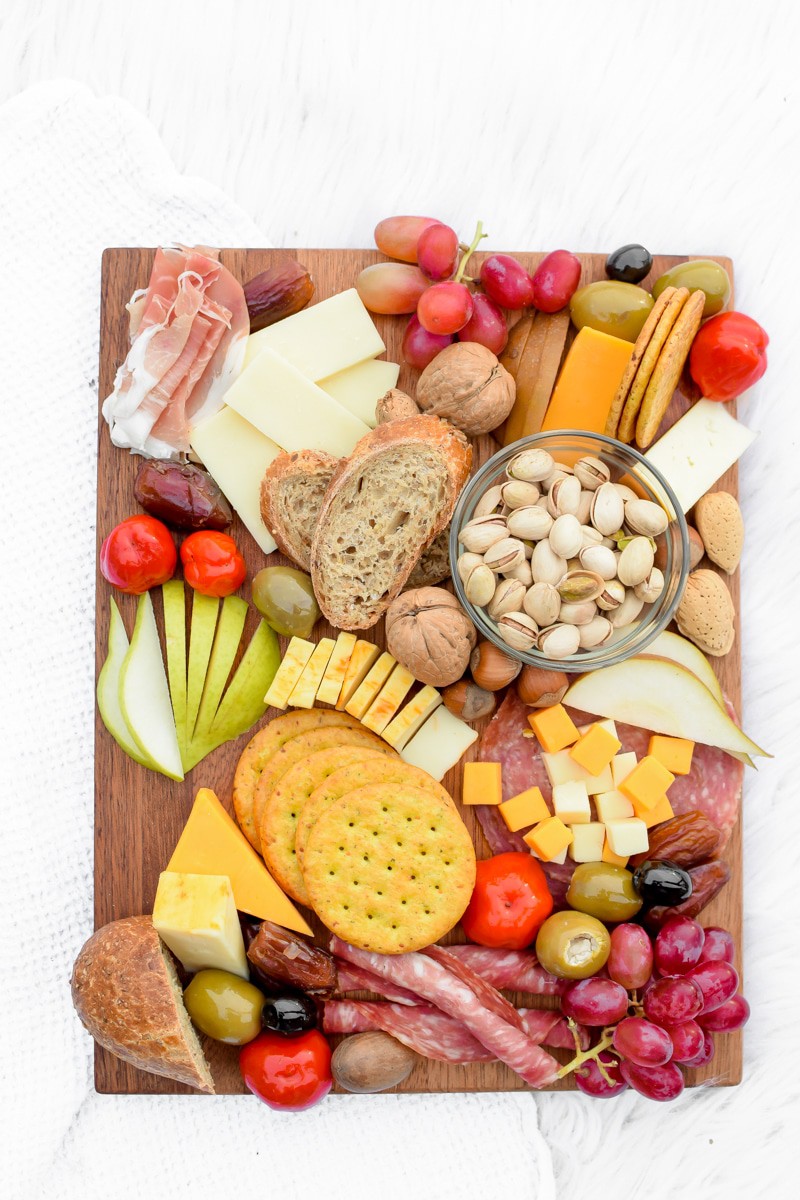 Step #7 – Add a Dip or Spread & Garnish
You've made it to the final step!
The final step is to include some sort of dip or spread to your board for both flavor and consistency.
Good choices include fruit jams, spreads, or preserves or a mustard based spread.
This is also the perfect time to select a garnish, if any, to round out your board and add that final visual appeal!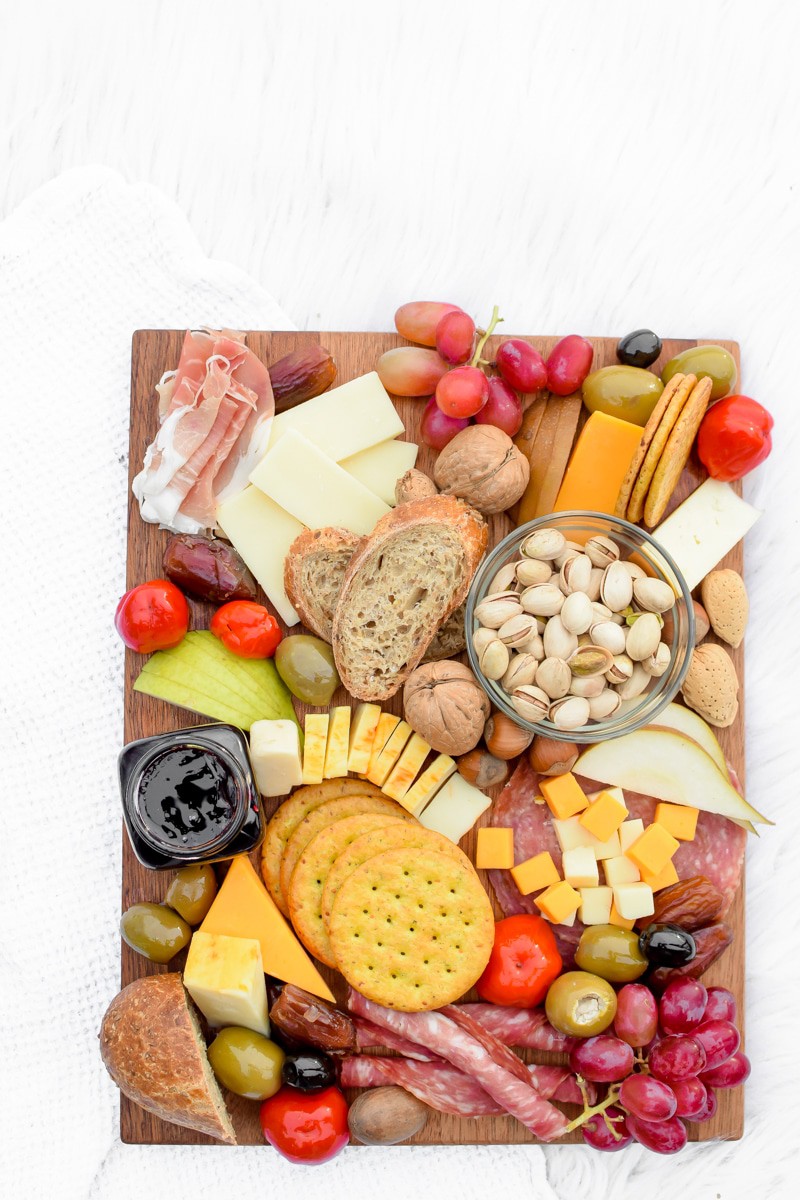 Click Here to Download Your 5 Day Happy & Healthy Meal Plan – FREE!
Get The Recipe!
But remember – this is just a guide to help you make your own, customized board!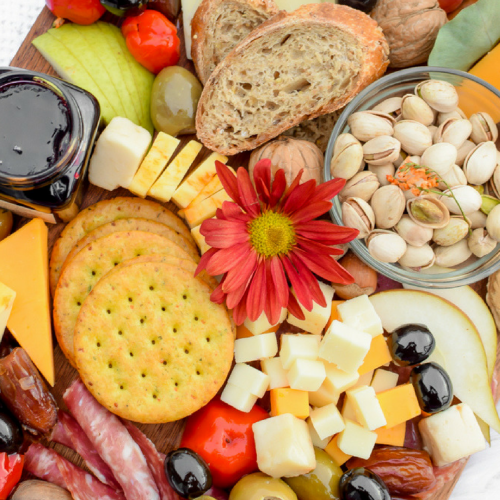 7 Steps to Building the Perfect Cheese Board
Follow this 7 Step Process to Making the Perfect Cheese Board - with a vegetarian option! Remember, this is just a guide so you can customize your own board to your liking.
Ingredients
1

block

Heluva Good! Cheese

3

ounces

cured meat

optional, see Step 2

1

cup

chopped veggies

optional, see Step 2

1

small

apple or pear

sliced

1

small

bunch of grapes

red or green

6

pitted

dates

1/2

cup

olives or picked vegetables

1

sleeve

whole grain crackers

gluten free, if needed

1/2

cup

nuts

of choice

1

ounce

jam or mustard

of choice
Instructions
Arrange all ingredients on a cutting board.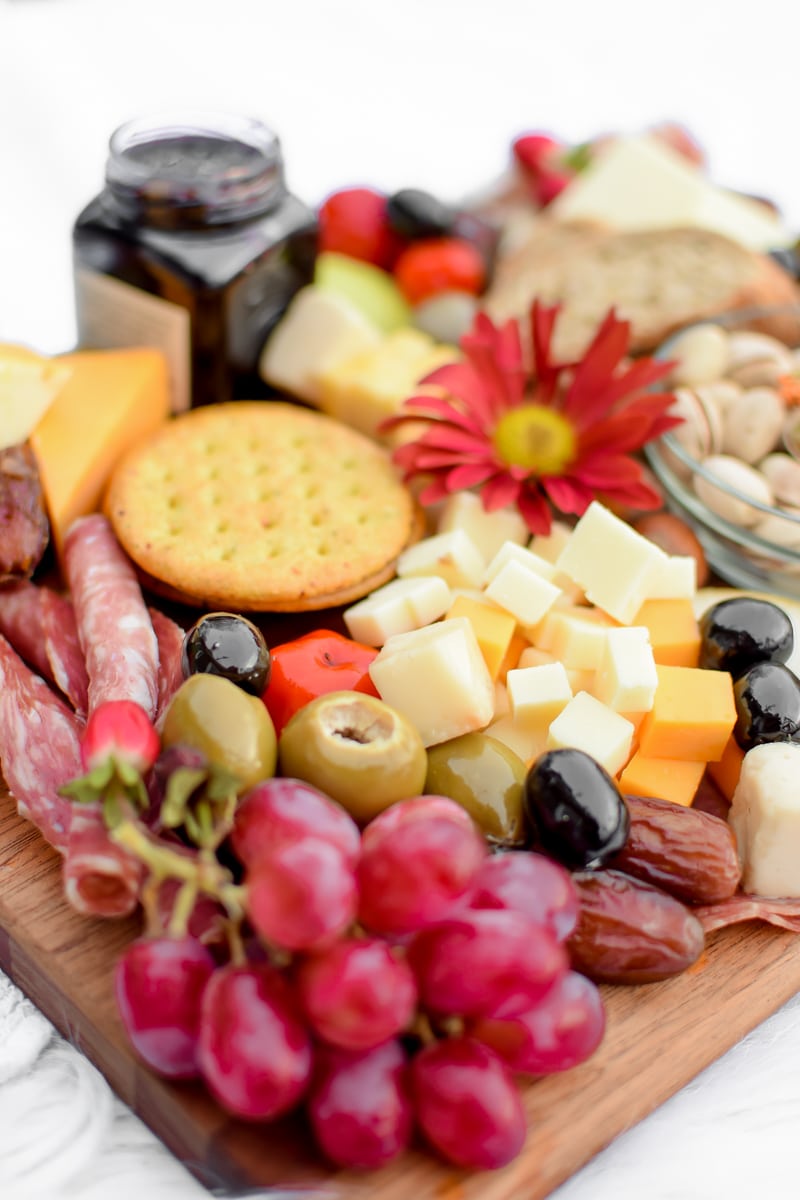 I hope this 7 Steps to Building the Perfect Cheese Board helps you in all of your entertaining this holiday season! And if you make your own cheese board, be sure to share it with me in the comments below 🙂



P.S. Are you ready to take the next step in your happy & healthy holistic lifestyle? Enroll in my FREE 3-Day Online Video Training Course to learn to become a more Mindful Eater! Learning to master the practice of Mindful Eating will help you to gain control of your healthy lifestyle and treat your body with love and respect.

The following two tabs change content below.
Hi there, I'm Emily Kyle, a nationally recognized media dietitian & nutrition communications expert on a mission to help you create the happy & healthy holistic lifestyle you deserve. To help you on your wellness journey, I offer holistic health counseling, resources inside The School of Health & Happiness, and this blog which focuses on holistic health and wellness, anti-inflammatory, whole food recipes, and my love for Mother Nature inside #TheMillennialGarden.
Latest posts by Emily Kyle (see all)