This 7 Step Process to Making the Perfect Cheese Board guide will help you customize your own board to your liking and dietary needs, such as vegetarian or gluten-free, making you the hero of every party.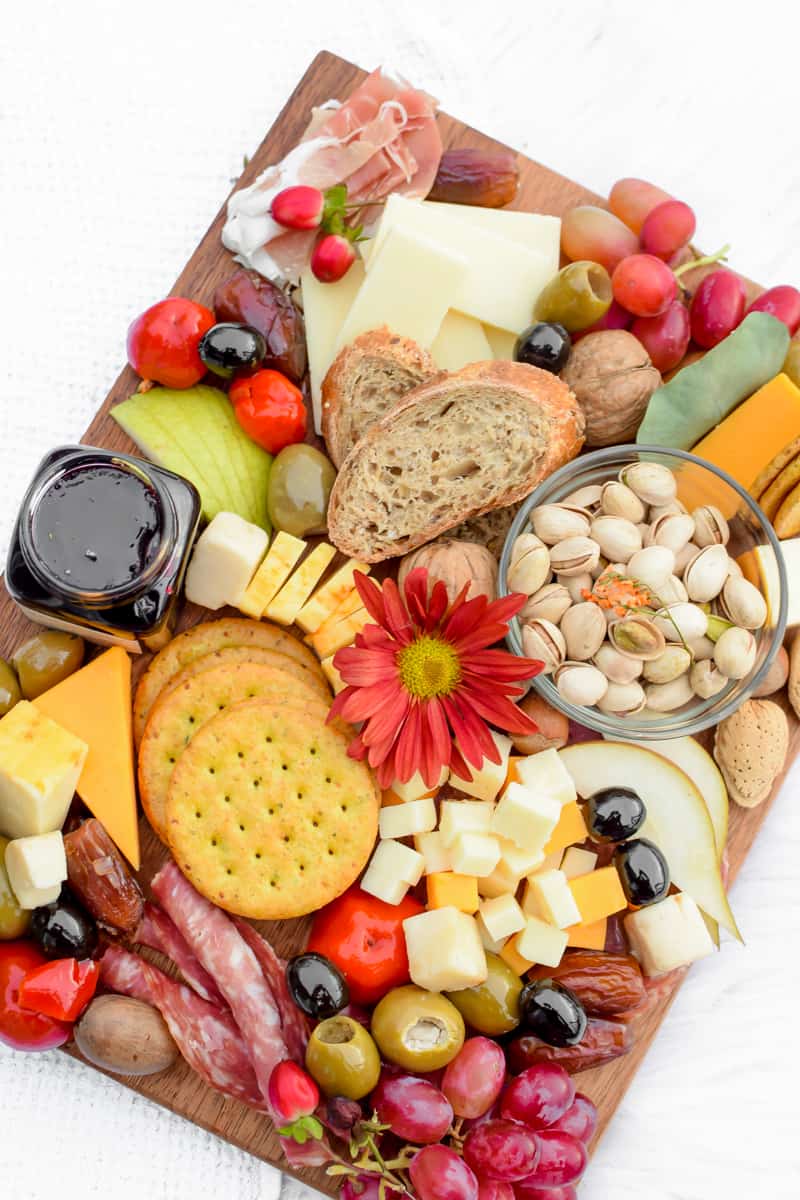 7 Steps to Building the Perfect Cheese Board
I fully credit my love for cocktails and cheese boards to my parents. Thanks Mom & Dad!
Some of my fondest memories are of my Dad coming home on a Friday night after a long week of work. We would all sit around the kitchen island, my parents with a cocktail and my sister and I with a soda.
We would talk about the past week, upcoming plans for the weekend, and share a delicious assortment of snacks my mom prepared for us.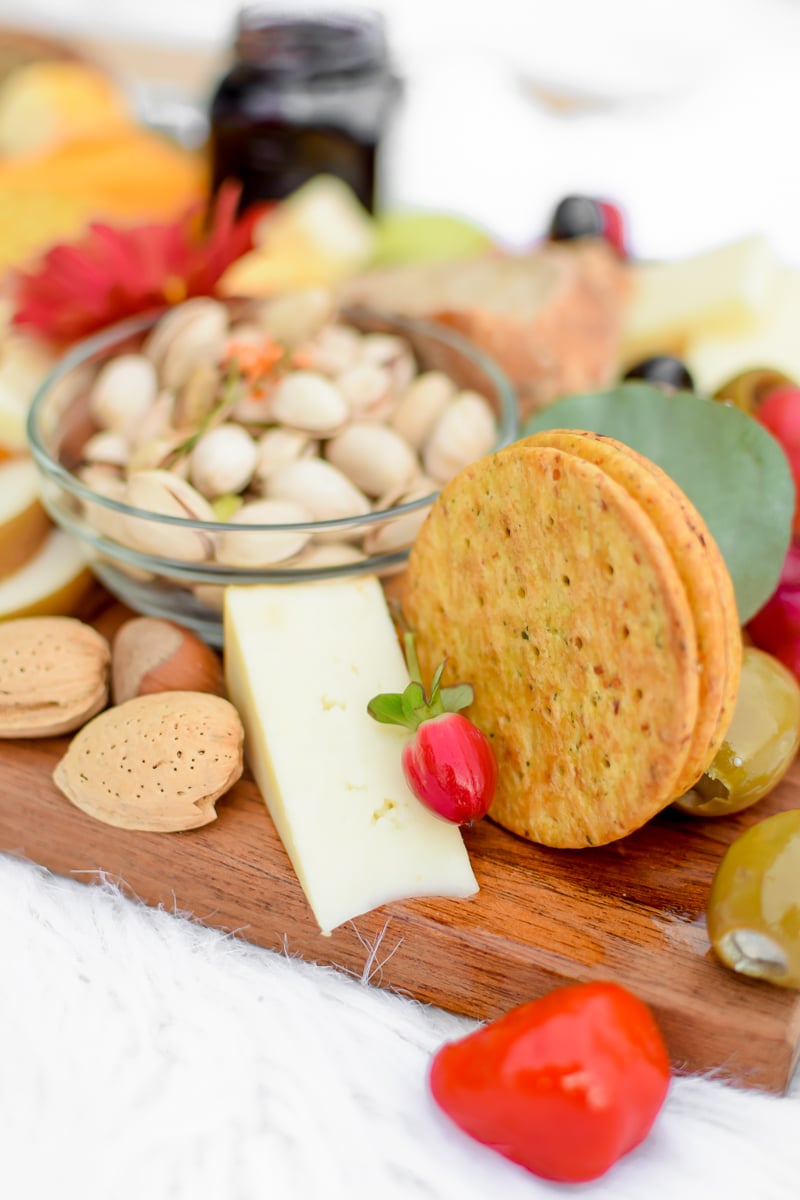 New York State Dairy Farms
Quality milk production starts with quality cow care, and New York State Dairy Famers go to extreme measures to ensure their cows are happy and healthy.
I myself have spent a lot of time on a dairy farm the last few months while #HandsomeRansom was training to show his baby cow at the Hemlock Fair for 4H. It was the opportunity to talk to the farmers and ask them all of my burning questions that made all the difference.
My most important take away?
There are no dairy 'factory farms' here in New York, in fact all of the dairy produced in this state is from a locally owned and operated family farm, and when you go to the grocery store to grab that gallon of milk, it has come directly from a farm no further than 300 miles from where you live.
Step #1 - The Cheese
You can't have a cheese board without good cheese!
Shtayburne Farms in Rockstream, NY
Shtayburne Farms in Rock Stream, NY is a family owned farm that grows the crops that feed the cows that produce the milk that is used to process the cheese, all onsite within 50 yards from each other.
Shtayburne Farms makes over fifteen fresh, farmstead artisan cheeses and we got to watch the cheese making process with the guidance of the farm owner.
I've gotten to taste the cheese that was freshly made and let me tell you, I'm never going back to generic, store-bought cheese again.
Muranda Cheese Company & Dairy Farm in Waterloo, NY
At Muranda Cheese Company & Dairy you can experience the full cheese making process, from experiencing the milking process of their cows that produce 'super milk' to the cheese caves deep inside an original 1860's barn.
If you are touring the Upstate NY region, you absolutely must make a stop to Muranda Cheese Company. The barn, the fields, the facility - everything is immaculate and absolutely beautiful.
And the cheese? Out of this world delicious!
Cheese Board Lessons Learned
Sliced, diced, cubed or wedged, you can cut the cheese any way you like to use as the centerpiece of your cheese board.
The most important takeaways:
Use cheese that comes from small, family owned farms local to where you live. The taste and quality simply can not be beat.
Serve all cheese at room temperature to ensure the full flavors and consistency are able to be experienced and enjoyed.
For my cheese board I wanted both white and yellow cheese for both visual and flavor contrast, I picked the extra sharp cheddar, colby jack and muenster.
Made with milk from happy cows, and naturally gluten free, cheese is a good source of protein and an excellent source of calcium.
Plus, its just downright delicious.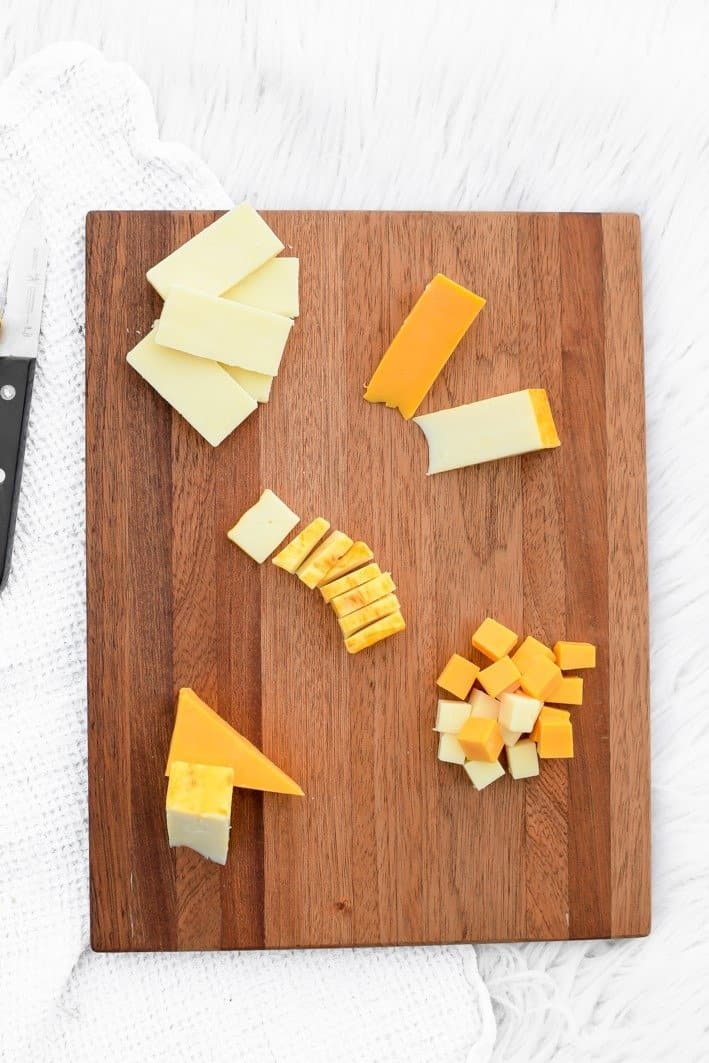 Step #2 - Meat or No Meat?
Personally, I could totally live with or without the meat.
However, if I were to serve this to my dad or husband without meat, they would let me know that this cheese board is INCOMPLETE.
So I've got two options here for you, a meat option and a non-meat option. If you're serving your cheese board to family and friends who want a more traditional cheese board, I would include the meat. If your family has vegetarians and more health conscious individuals, the veggie option would be best for you.
Option One - Meat
Traditional cheese boards contain a charcuterie assortment, defined as:
If you choose to add meat to your board, it can be as simple as sliced pepperoni from the package, to as fancy as cured meat from the local delicatessen.
For my cheese board I chose an Antipasto Trio from my local supermarket which contains the Italian classics, Genoa Salame, Prosciutto, Sopressata Salame.
Option Two - No Meat, Extra Veggies
In today's culture, more and more people are opting for plant-based options, which I think is great - the more veggies the better. If you're swapping veggies for meat, you are reducing your intake of dietary fat and sodium, and increasing your intake of dietary fiber, vitamins and minerals.
A good rule of thumb is to stick to three options, all with unique colors and shapes to create a visual attraction to your board.
Here are some veggie options to add to your cheese board: baby carrots, celery sticks, mini bell peppers, cucumber slices, snap peas, broccoli or cauliflower florets. Of course, the options truly are endless when it comes to veggies, so get creative and use what you love.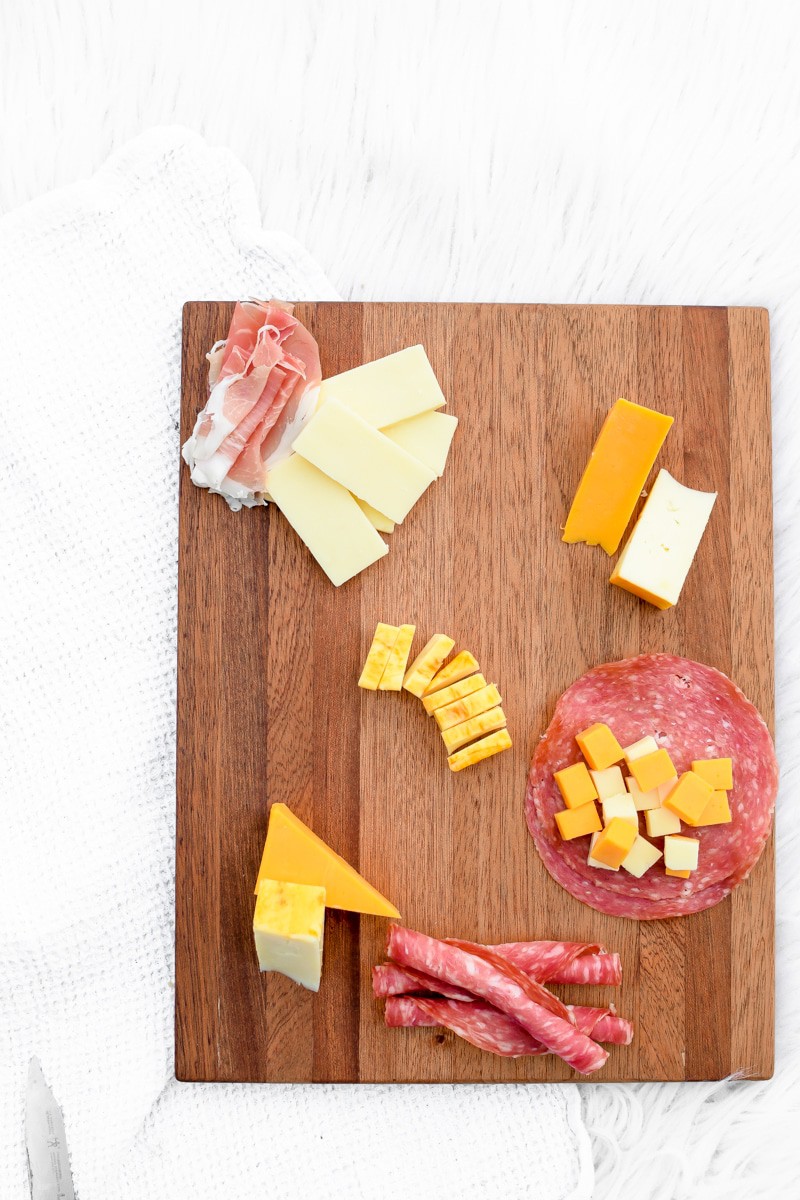 Step #3 - The Fruit
A cheese board is not complete without the sweet juicy flavor and pop of color from the fruit you choose.
Ideally you want to pick fruit that pairs well with the cheese you selected. I went with grapes, apples and pears as my fruit of choice. I also added some dried dates for extra sugary sweetness.
Of course, you're not limited to those three options. Just stick with the rule of thumb mentioned above, pick three options, all with unique colors and shapes to create a visual attraction to your board.
Other fruit ideas include: green or red grapes, strawberries, blackberries, raspberries, citrus fruits, mango, melon, or dried fruits like dates, apricots and raisins.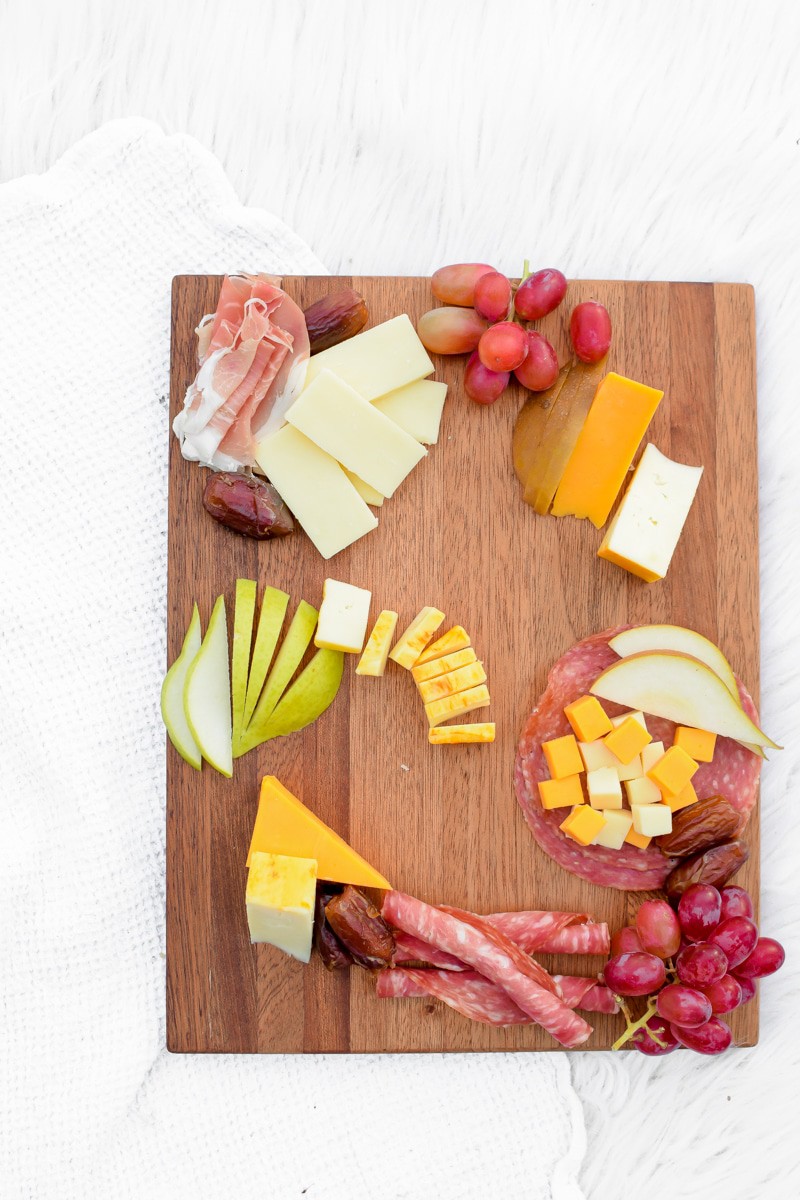 Step #4 - Add Savory Veggies
Mainly in the form of olives and pickled vegetables!
At this point you may or may not already have raw veggies on your board. The purpose of this step is to introduce very savory, salty tasting finger-foods to the board to contrast the sweetness of the fruit and to highlight the flavors of the cheese and meat.
Olives of all types are a great choice. Black, green, kalamata, stuffed, brined and seasoned - it doesn't matter what you choose as long as you like it. Also consider adding picked vegetables if possible, such as these bright red pickled peppadew peppers.
Again follow the rule of three, and try to get a variety of colors. Choose from olives, pickles, and other pickled or brined vegetables.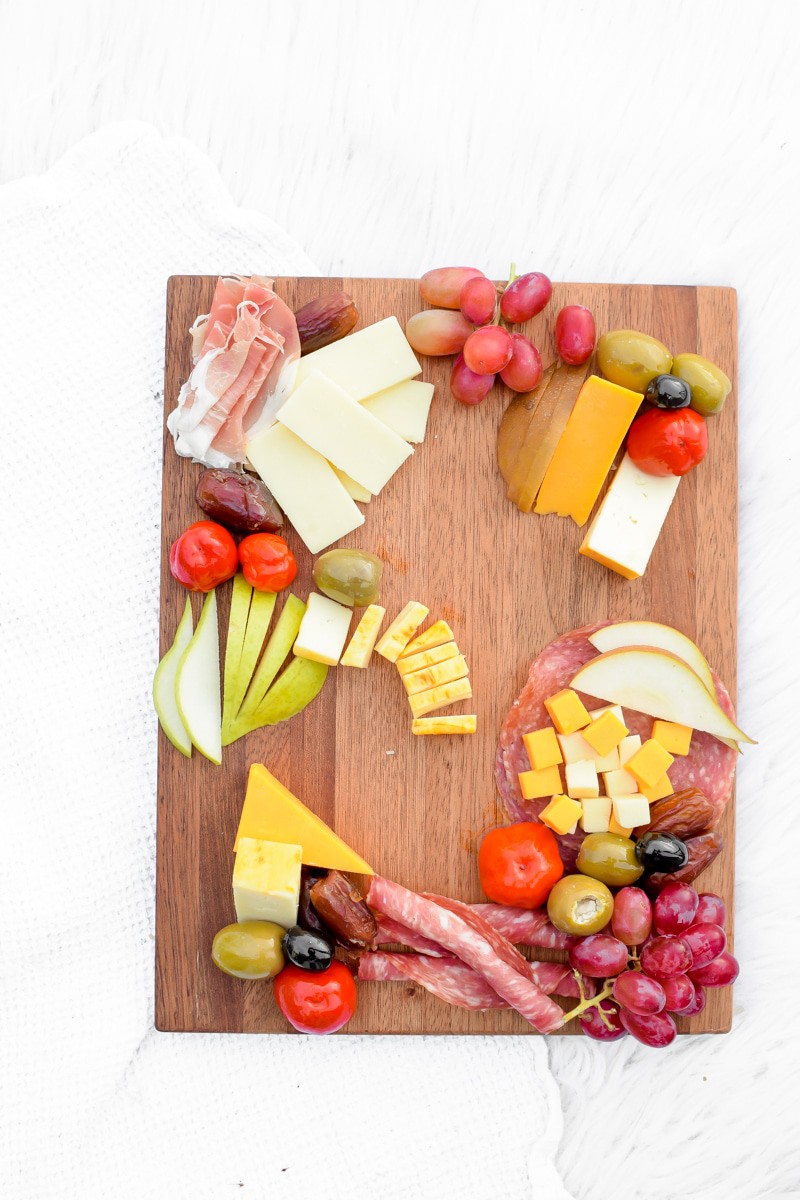 Step #5 - Add Whole Grains
This is an upgrade to the classic staple of cheese and crackers.
In this step, you have the option of getting as creative as you want. Thankfully, due to customer demand, there are a lot of great and nutritious cracker options out there on the market. From whole grain to gluten free, choose the cracker type that is best for you and your family.
But, don't feel like you're limited to just crackers. Some freshly baked whole grain baguette or crostinis add a delicious soft and chewy texture to contrast the other items on the board.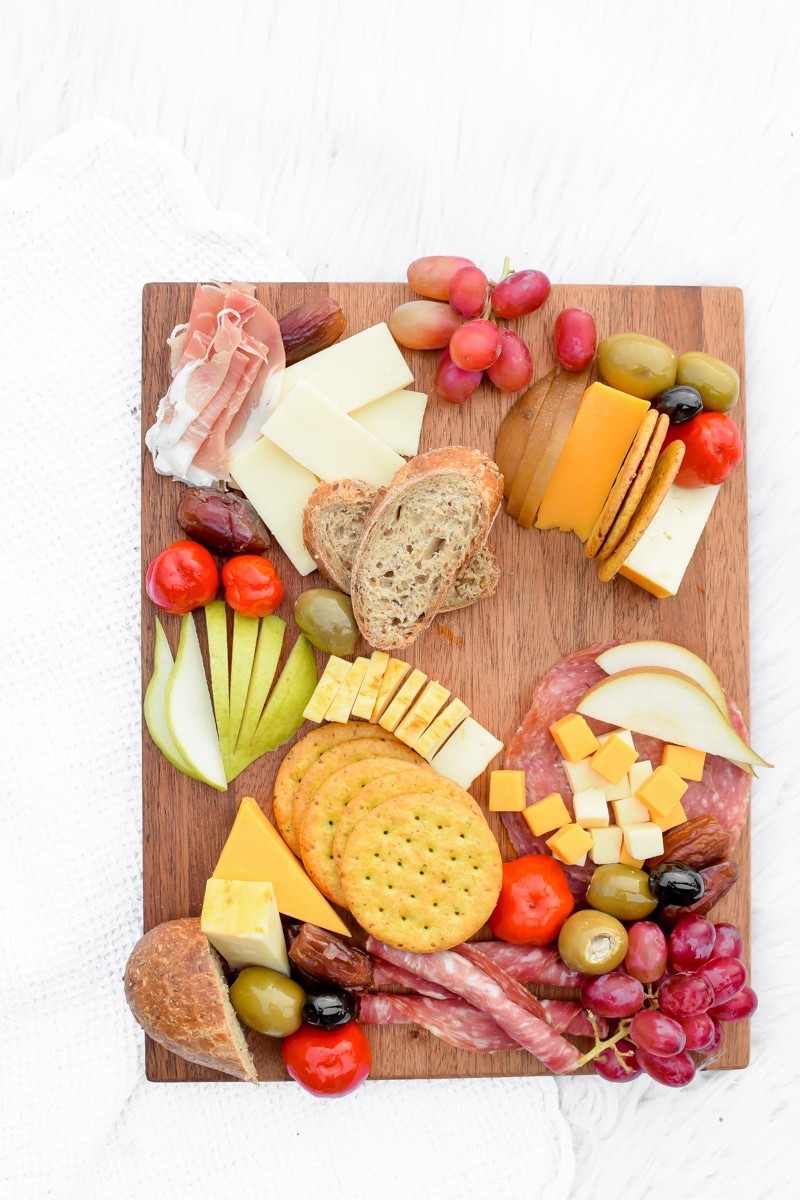 Step #6 - Add Nuts
Any nuts you like!
Nuts add a wonderful crunchy texture to your cheese board, and help to add in some heart healthy fats and dietary fiber, too! You may want to select unsalted nuts, due to the saltiness of the olives and picked vegetables on your board.
Have someone in your party with a nut allergy? No worries, simply swap nuts for seeds to keep everyone safe and happy. I added pistachios and a few in-shell nuts to my board for some visual creativity, but you are more than welcome to get creative.
Some delicious nut and seed options include: almonds, walnuts, pecans, peanuts, hazelnuts, pumpkin seeds, and sunflower seeds.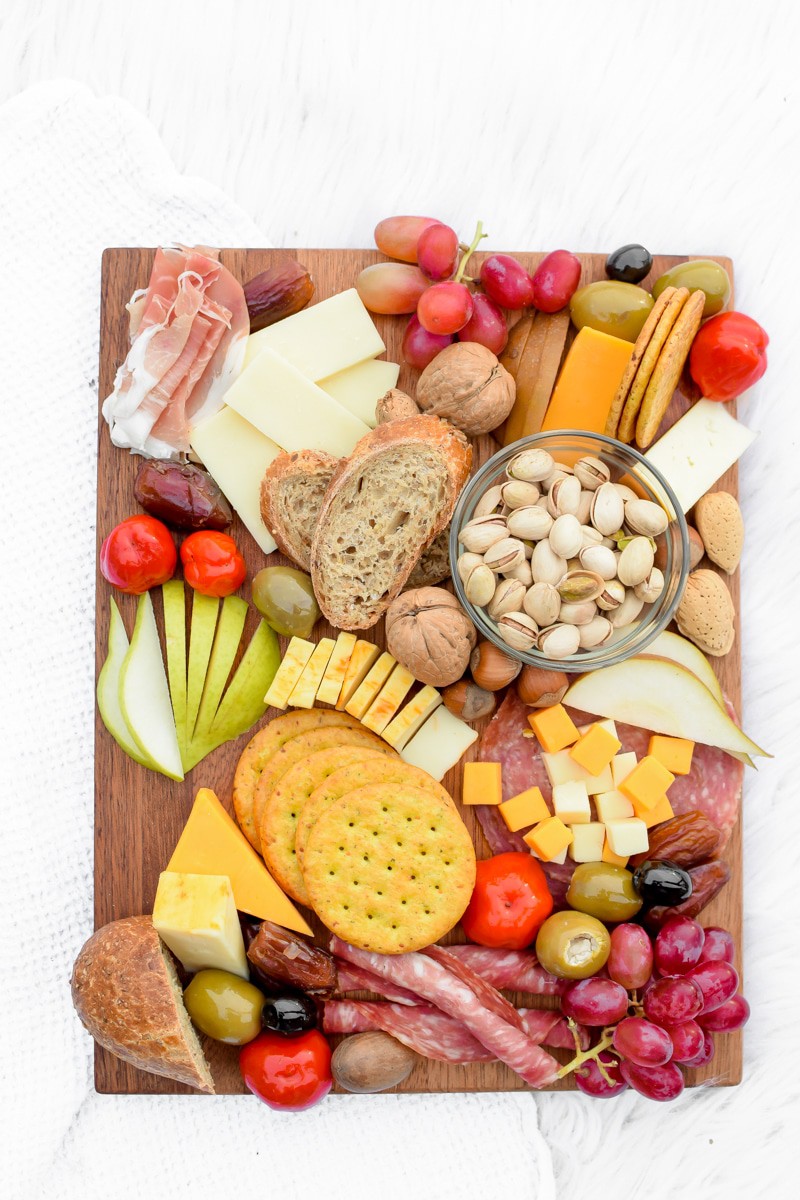 Step #7 - Add a Dip or Spread & Garnish
You've made it to the final step.
The final step is to include some sort of dip or spread to your board for both flavor and consistency. Good choices include fruit jams, spreads, or preserves or a mustard based spread.
This is also the perfect time to select a garnish, if any, to round out your board and add that final visual appeal.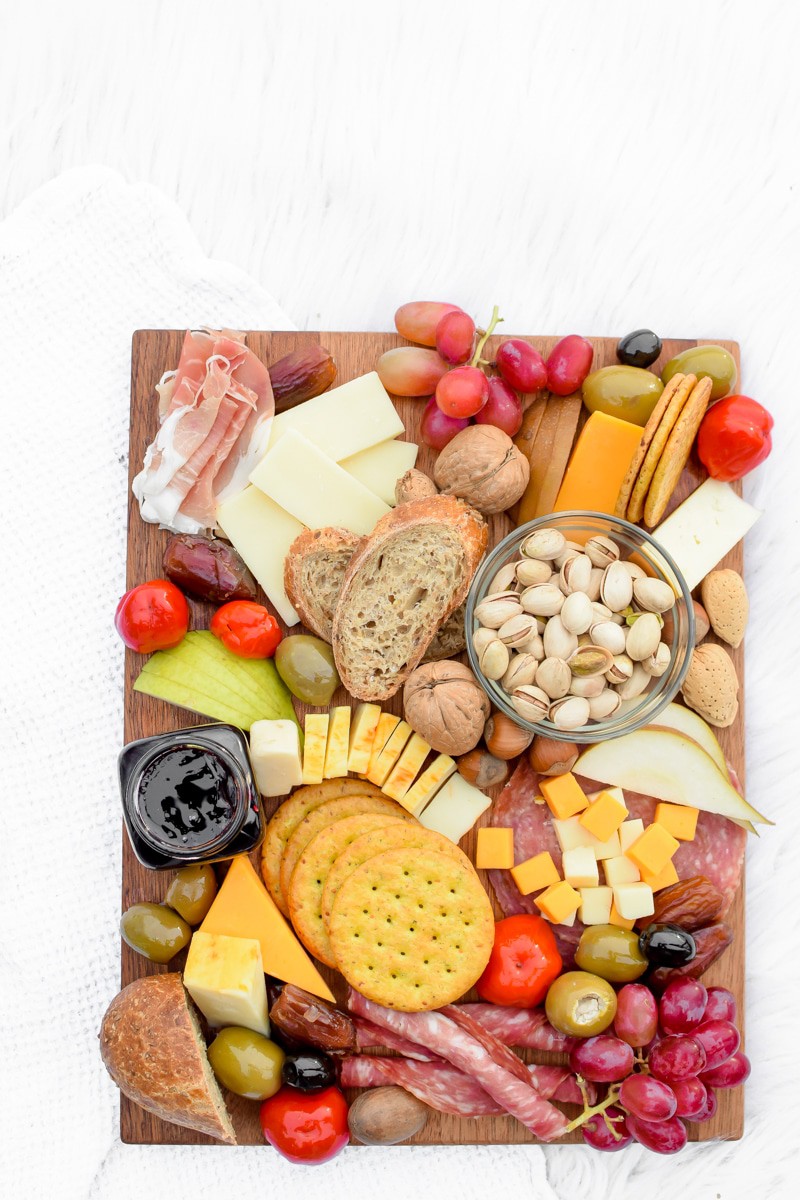 Support Your Local Dairy Farmers
I hope this guide helps you to build the perfect cheese board, and I hope that my experiences with my local farmers and cheese makers helps you to better understand New York Dairy Farmers and all the love, care and respect they put into caring for their animals while also supplying you with quality products.
And if you have never been to a real, working farm before, I highly encourage you to go.
I believe that having the chance to connect with farmers and connecting with the process helps us all to understand more about ourselves, and what we consider to be a happy & healthy lifestyle.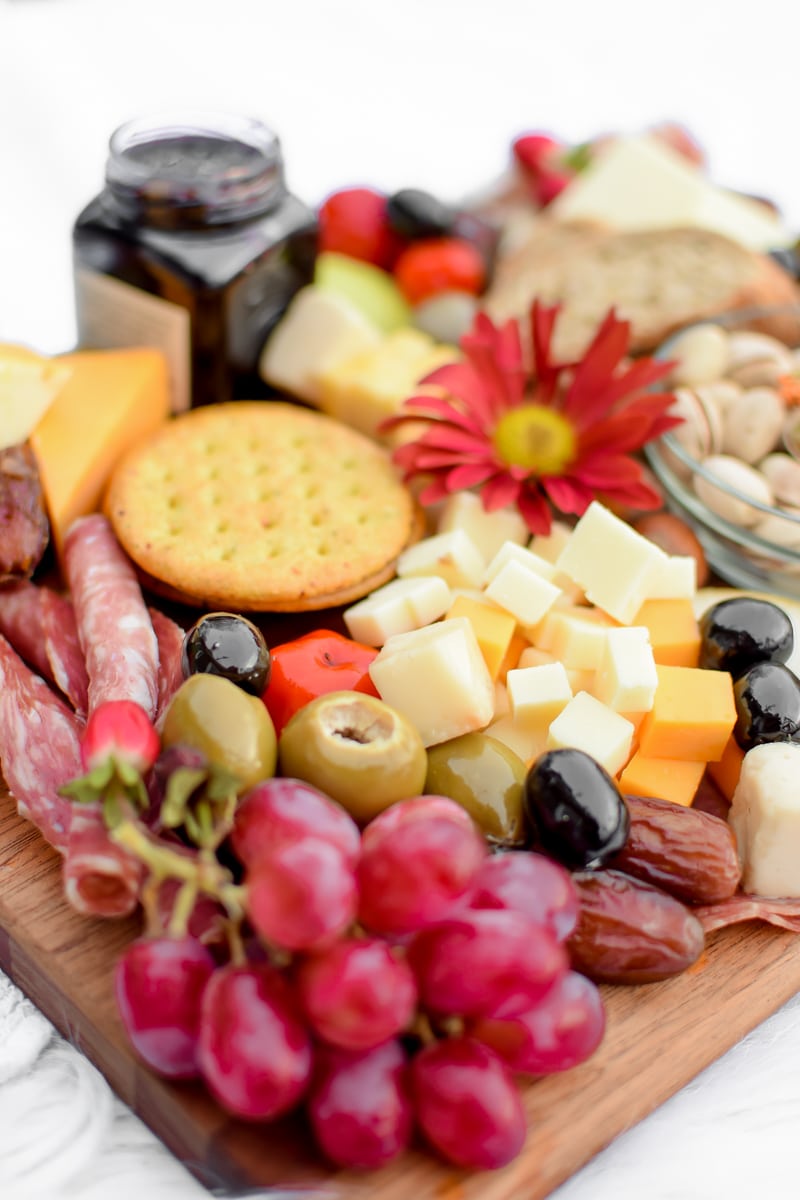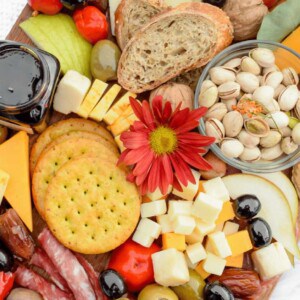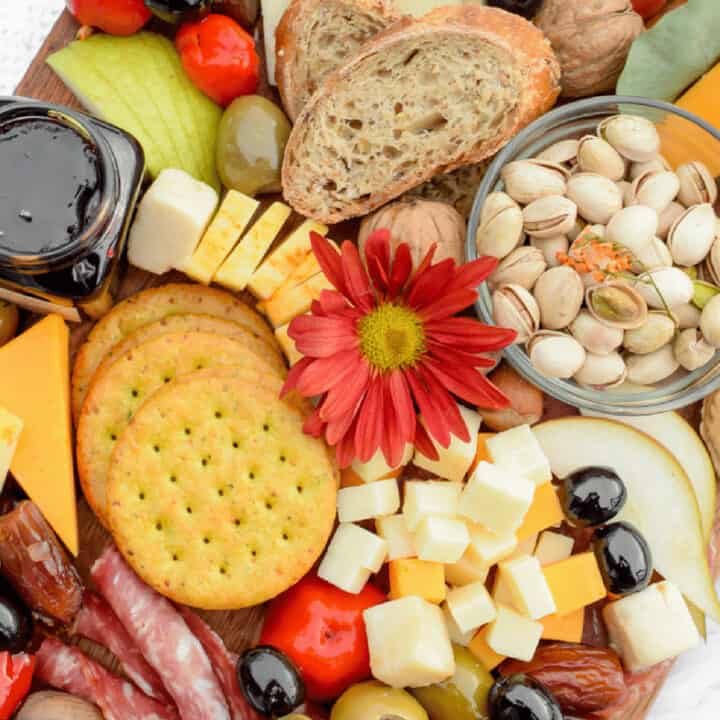 7 Steps to Building the Perfect Cheese Board
Follow this 7 Step Process to Making the Perfect Cheese Board - with a vegetarian option! Remember, this is just a guide so you can customize your own board to your liking.
Ingredients
3

ounces

local

farm fresh cheese

3

ounces

cured meat

optional

1

cup

chopped veggies

1

small

apple or pear

sliced

1

bunch

grapes

red or green

6

each

Medjool pitted dates

½

cup

olives or picked vegetables

1

sleeve

whole grain crackers

gluten free, if needed

½

cup

nuts of choice

1

ounce

jam or mustard of choice
Instructions
Arrange all ingredients on a cutting board.

Serve and enjoy!
Nutrition
Serving:
1
/8th of board
|
Calories:
210
kcal
|
Carbohydrates:
20
g
|
Protein:
8
g
|
Fat:
12
g
|
Saturated Fat:
4
g
|
Polyunsaturated Fat:
7
g
|
Cholesterol:
20
mg
|
Sodium:
361
mg
|
Fiber:
4
g
|
Sugar:
11
g
Did you make this recipe or have a question?
Join hundreds of members inside private Well With Cannabis Community for help, support, and to share your edible creations!