This delicious Acorn Squash & Lentil Egg Bake is a filling, vegetarian, nutrient-packed, high protein, high fiber budget-friendly recipe that costs just $1.71 per serving.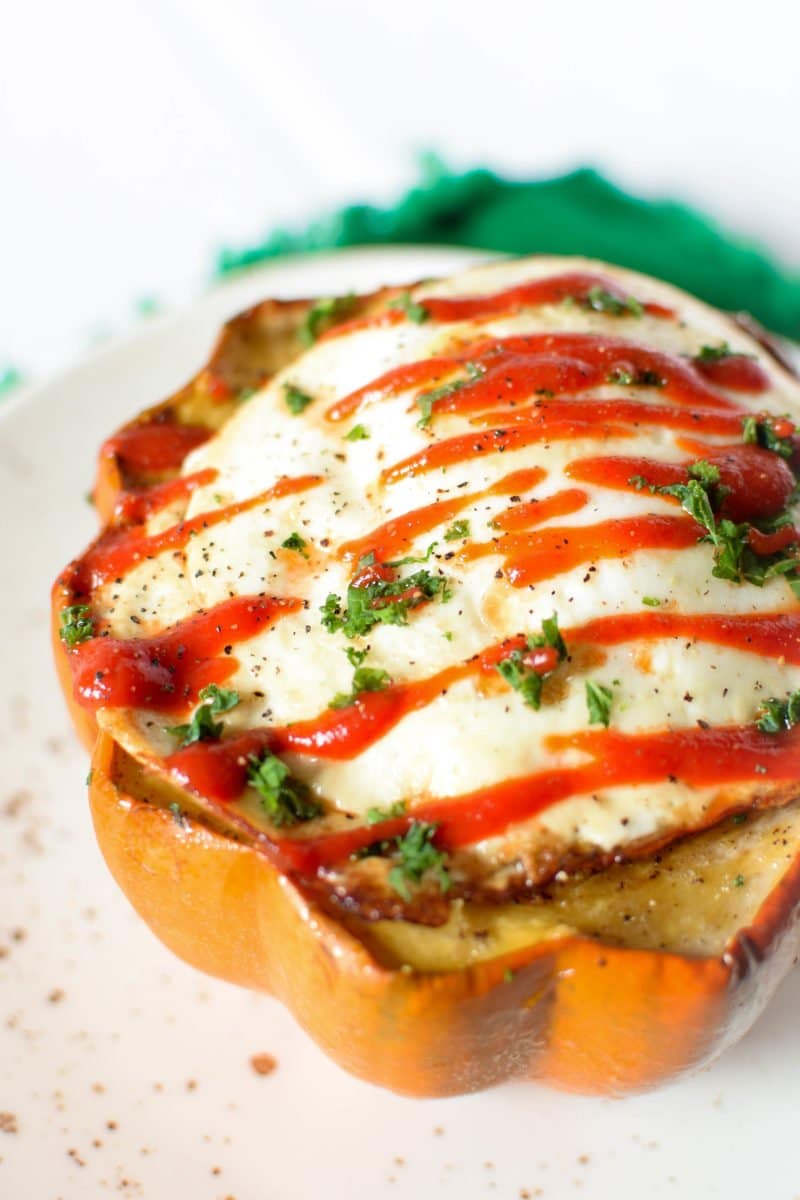 Acorn Squash & Lentil Egg Bake
As we focus on keeping spending in check for the year, it is a perfect time to highlight how much money you can save on your grocery budget when you grow your own food.
Back in December, I conducted my first annual reader survey and I was so excited to see that 57% of you said that you were interested in learning more about how to start a backyard garden in order to grow your own food to feed your family.
Well I listened!!
It is the perfect time to announce that coming this spring I will be adding a gardening section to my website in order to help you to teach you how to grow your own food too.
Complete with guides and videos - I am so excited to start this new journey and hope you are too!!
I am also super, super excited to announce that we will be adding six new babies to the family this coming March - baby chicks as we learn to raise our own egg laying hens.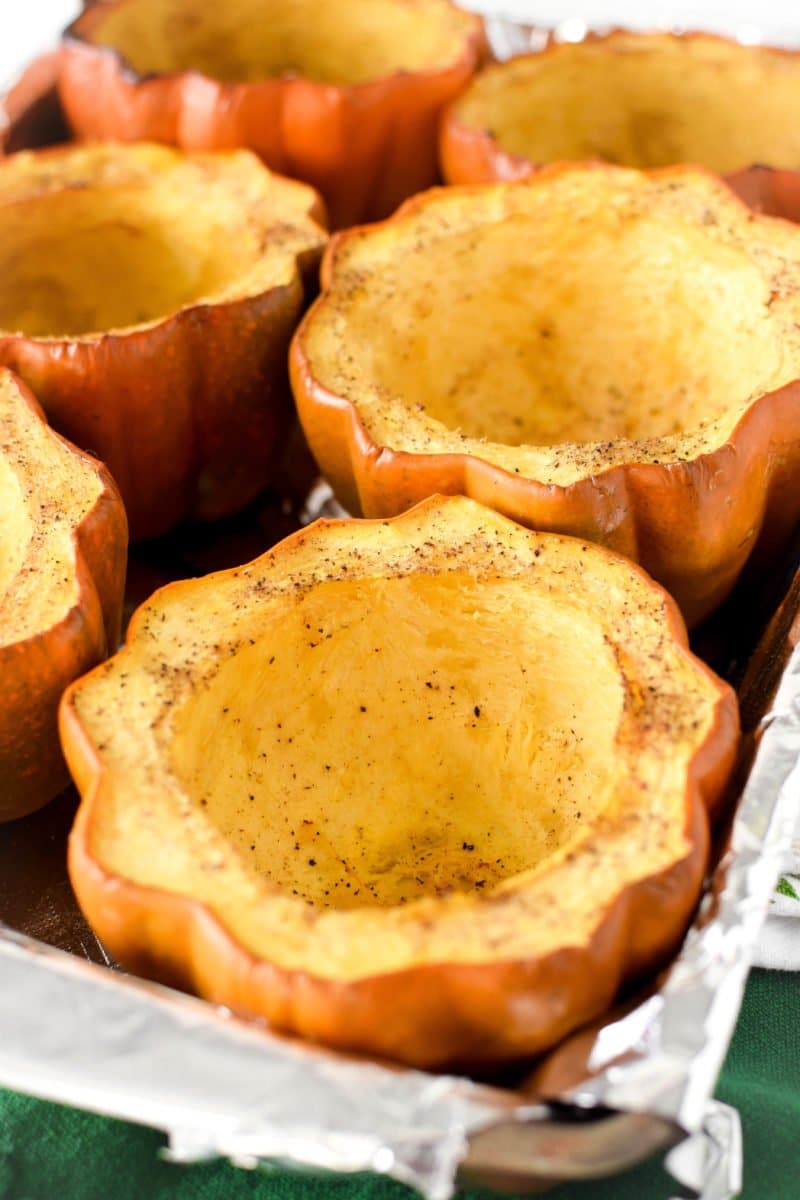 The Cost Breakdown
Let's just break down the cost real quick. I grew A LOT of squash last year.
All 40 of these beautiful acorn squash were grown from a single seed packet that cost me $3.95 for 25 seeds.
I failed algebra 4 times in college BUT according to my calculations $3.95/40 = $0.09875 which equals $0.10 per squash. TEN CENTS PER SQUASH MY FRIENDS.
Sure, a lot of time and energy and love was spent in growing these beauties, but to me, the effort is well worth it.
And, because I am now able to preserve my own seeds from the mature fruit to start my plants over again next season, I don't have to buy another seed packet again.
As I always say, a garden is the gift that keeps on giving, and giving, and giving.

Acorn squash is still budget-friendly even if you don't grow it yourself. It will be the cheapest in the Fall during harvest time, especially when purchased at a farmers market from a local farmer.
But, if your simply shopping around your local grocery store, you can pick up these babies for $0.99 a pound.
This recipe calls for three small acorn squash which are approximately 4-5 pounds which will run you about $3.96-$4.95.
Acorn Squash & Lentil Egg Bake
These tasty acorn squashes are stuffed with lentils, a delicious and nutritious plant-based legume which are easy on the wallet as well.
A single bag of Goya Lentils from the grocery store cost approximately $1.69, depending on the variety you purchase. They can be boiled like rice and have a hearty, filling texture.
Not only are lentils cheap and non-perishable but they are also a great source of nutrients as well.
They are high in both protein and dietary fiber which means that they will keep you full and satisfied, a suitable vegetarian meal for any meat-loving carnivore.
In addition to the protein and fiber, lentils also offer many vitamins and minerals such as b vitamins, folate, copper, phosphorus, and iron.
To round out this tasty meal I have topped this lentil stuffed squash with a tasty, farm-fresh egg.
Of course, it's okay if you don't have access to farm-fresh eggs, you can purchase yours right from the grocery store for as little as $1.19 a dozen.
If you live in a rural area like me, you can also likely get farm fresh eggs from small, road-side stands for $3-4 a dozen.
These are likely to be as close to organic and free-range as you're going to get, plus you are supporting a local farmer!
I did not include the olive oil and spices in the cost breakdown for this recipe, because it is likely that you already have on hand at home.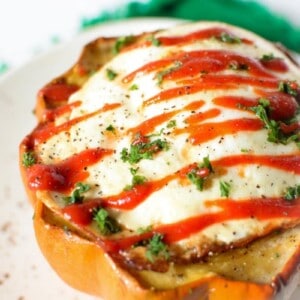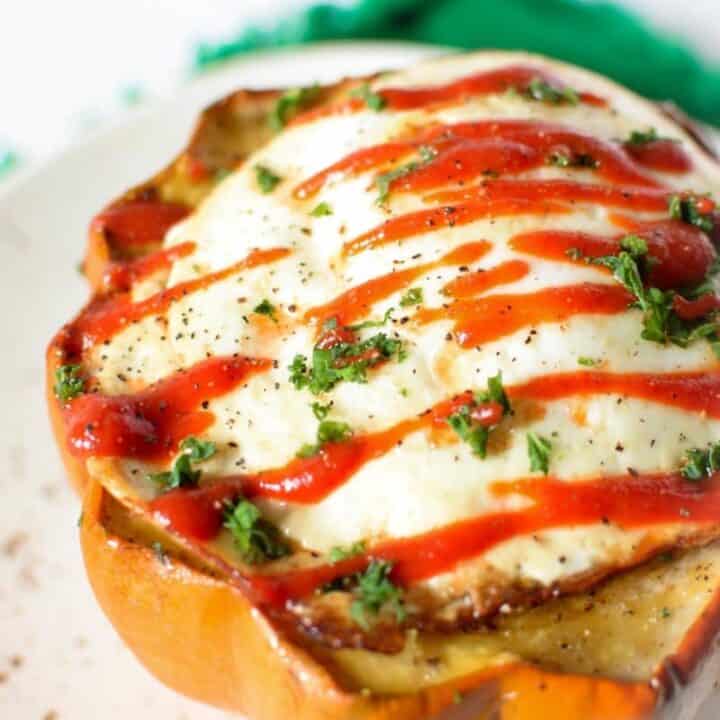 Acorn Squash & Lentil Egg Bake
Enjoy this delicious Acorn Squash & Lentil Egg Bake - a nutrient-packed, high protein, high fiber budget-friendly recipe.
Ingredients
Optional Garnish
1

tablespoon

fresh parsley

1

teaspoon

maple syrup

Sriracha

to taste
Instructions
Preheat oven to 400 degrees F.

Line a baking pan with foil and set aside.

Drizzle each squash half with olive oil and salt and pepper to taste.

Place in the oven for 40 minutes.

For the Lentils

While the squash is roasting, prepare the lentils according to package directions. Different types of lentils require different cooking times. Cook lentils should yield about 4 prepared cups.

When the lentils are done cooking, strain, or drain any leftover water as necessary.

Add to the lentils: olive oil, minced garlic, cumin, turmeric, granulate onion, and coriander. Mix well.

After the acorn squash has been roasting for 40 minutes, remove from the oven, and carefully add the lentil mixture to the hollowed squash. Return to the oven while preparing the eggs.

For the egg topping, feel free to cook your eggs any way you choose. Fried eggs are perfect. If you want to make it easy, coat a muffin tin with cooking spray and crack 1 egg into each well. Place in the oven with the squash and cook for 15 minutes, or until firm.

Remove the squash and the eggs from the oven. Top the squash with the eggs and optional garnish. Enjoy!
Nutrition
Calories:
260
kcal
|
Carbohydrates:
37
g
|
Protein:
14
g
|
Saturated Fat:
1.5
g
|
Cholesterol:
175
mg
|
Sodium:
70
mg
|
Fiber:
9
g
|
Sugar:
1
g
Did you make this recipe or have a question?
Join hundreds of members inside private Well With Cannabis Community for help, support, and to share your edible creations!