In this easy and delicious sheet-pan Bacon & 'Egg's AIP Breakfast, cauliflower is used to simulate eggs to provide the same traditional breakfast experience in an AIP-friendly way that is egg-free, Paleo, Keto, and gluten-free friendly.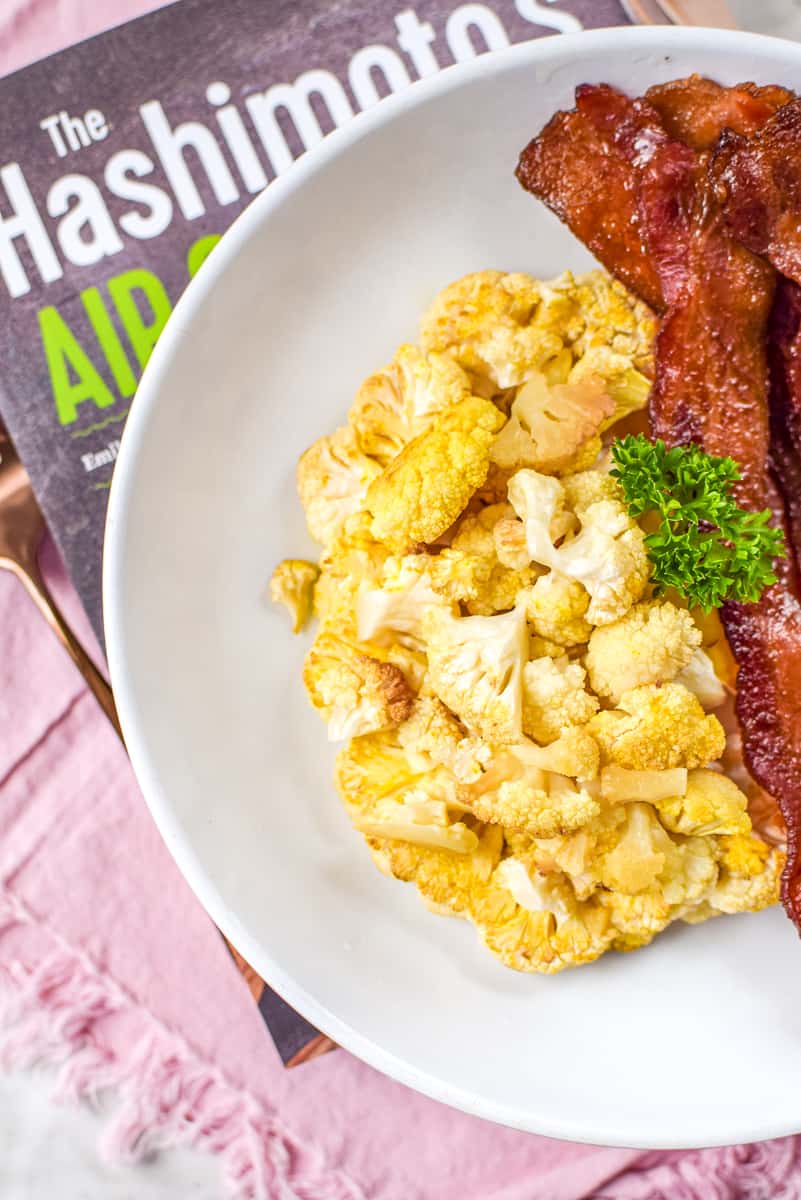 Bacon and 'Eggs' AIP Breakfast
If you, or someone you love, are planning on or currently working through the Paleo Autoimmune Protocol (AIP) or experience an egg allergy or sensitivity, you may already know that breakfast is one of the most difficult meals to prepare for and enjoy.
That is because most of the foods we are accustomed to eating at breakfast-time are made with items that are off-limits during the elimination phase of the protocol, including eggs, grains, dairy, and more.
While eggs are generally a healthful food that can be enjoyed in a balanced-diet when one is feeling well, certain dietary elimination protocols like AIP call for the removal of eggs from the diet for a short period of time before challenging to assess for tolerance.
*Eggs are never reintroduced in the case of an allergy.
Because eggs are not consumed during the first phase of the protocol or if they come back reactive, I love to recommend this recipe because cauliflower is used to simulate a familiar 'egg-like' experience in an AIP-friendly way.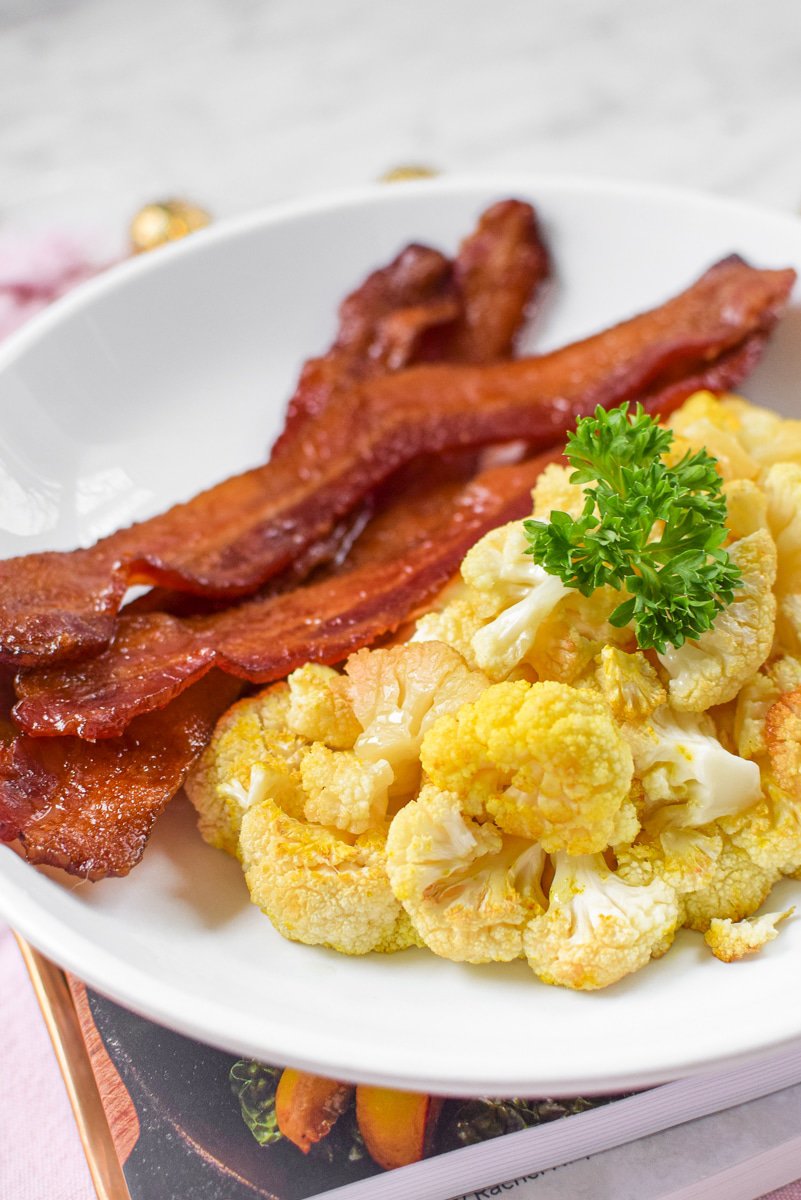 AIP Breakfast Meal Prep Tips
If you are currently going through the AIP protocol, here are a few helpful tips that will hopefully make your restricted phase a little bit easier.
It is understandable that when it comes to managing an autoimmune condition, no matter how delicious the recipes are, if they're too hard to prepare, you'll never find the time to make or enjoy them.
One of the greatest challenges of sticking with any new diet is feeling confident enough to prepare the food for yourself in your own home.
To make this as easy as possible, here are a few tips and shortcuts to make your experience cooking at home easier.
Buy Pre-Cut Fruits and Vegetables (Fresh or Frozen)
Frozen vegetables are just as nutritious as fresh vegetables and are often more affordable.
Plus, they are already washed and cut, which will help cut down your time spent in the kitchen.
Canned fruits and vegetables can be a great option, depending on what is listed on the ingredients list.
Cook in Bulk When Possible
If you know you are going to enjoy more than one recipe with cauliflower rice during the week, prepare the cauliflower rice in a double or triple batch so you don't have to cook twice.
The same goes for meats such as chicken, pork, and beef.
Freeze extra portions as needed.
Consider Store-Bought Options
Not all prepackaged and store-bought items are created equal.
A simple review of the ingredients list can help you to determine if a food is right for you.
Consider purchasing items like organic bone broth and an organic unsweetened coconut milk beverage made with a shortlist of safe, recognizable ingredients to make recipe preparation easier.
Plan a Day to Meal Prep
Many individuals do not have enough time or energy to prepare healthful meals daily, which is why it may be helpful to dedicate a few hours on a specific day of the week to meal planning and meal prepping.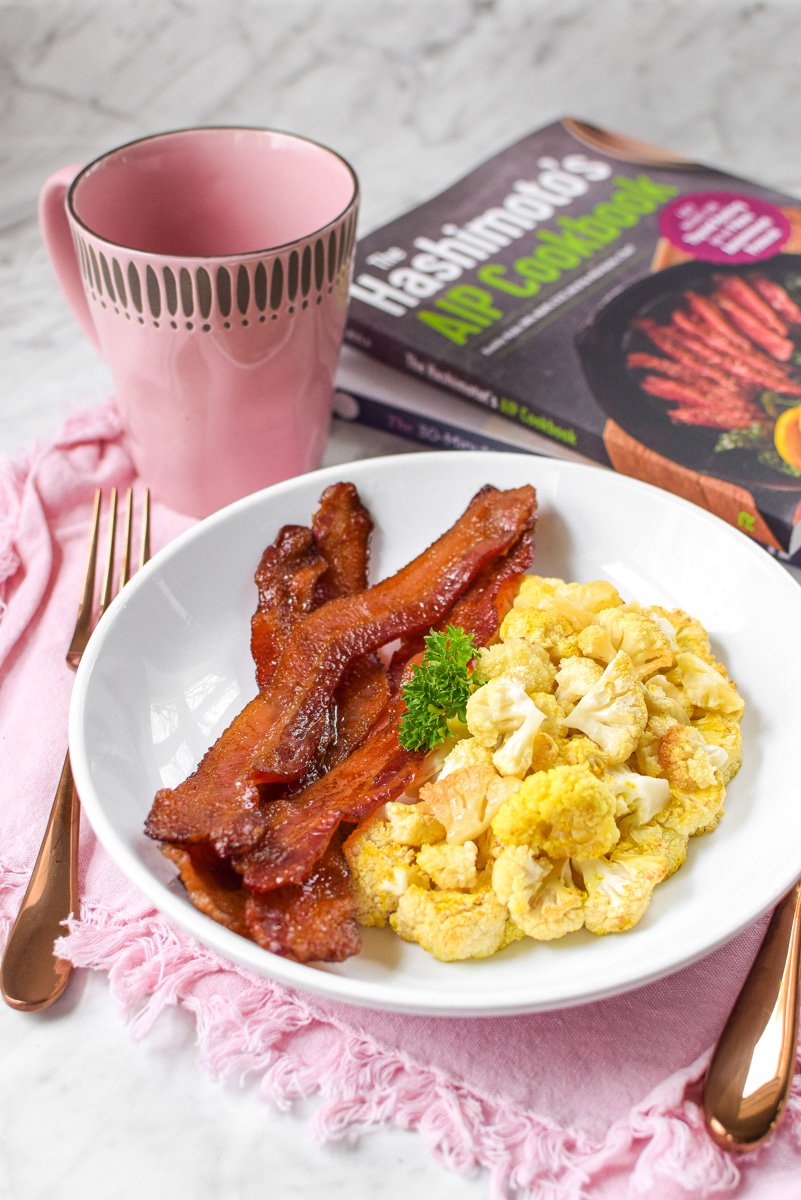 More AIP Breakfast Recipe Ideas
After writing two cooks books based on the Paleo, Autoimmune Paleo Protocol, and gluten and dairy-free diets, I have amassed quite the collection of delicious AIP breakfast recipes that readers and clients love.
Recipes From The Hashimoto's AIP Cookbook
Anti-Inflammatory Matcha Latte
Mango Turmeric Lassi
Bright Green Detox Smoothie
Triple Berry Antioxidant Smoothie
Caramelized Plantain Porridge
Bacon Date Spinach Sautee
Sweet Potato Breakfast Skillet
Breakfast Sausage and Culi-Hash
Recipes From The 30-Minute Thyroid Cookbook
Vanilla Mint Green Smoothie
Frozen Chocolate Milk
Berry Bliss Smoothie
Grain-Free Cassava Pancakes
American Style Breakfast Sausage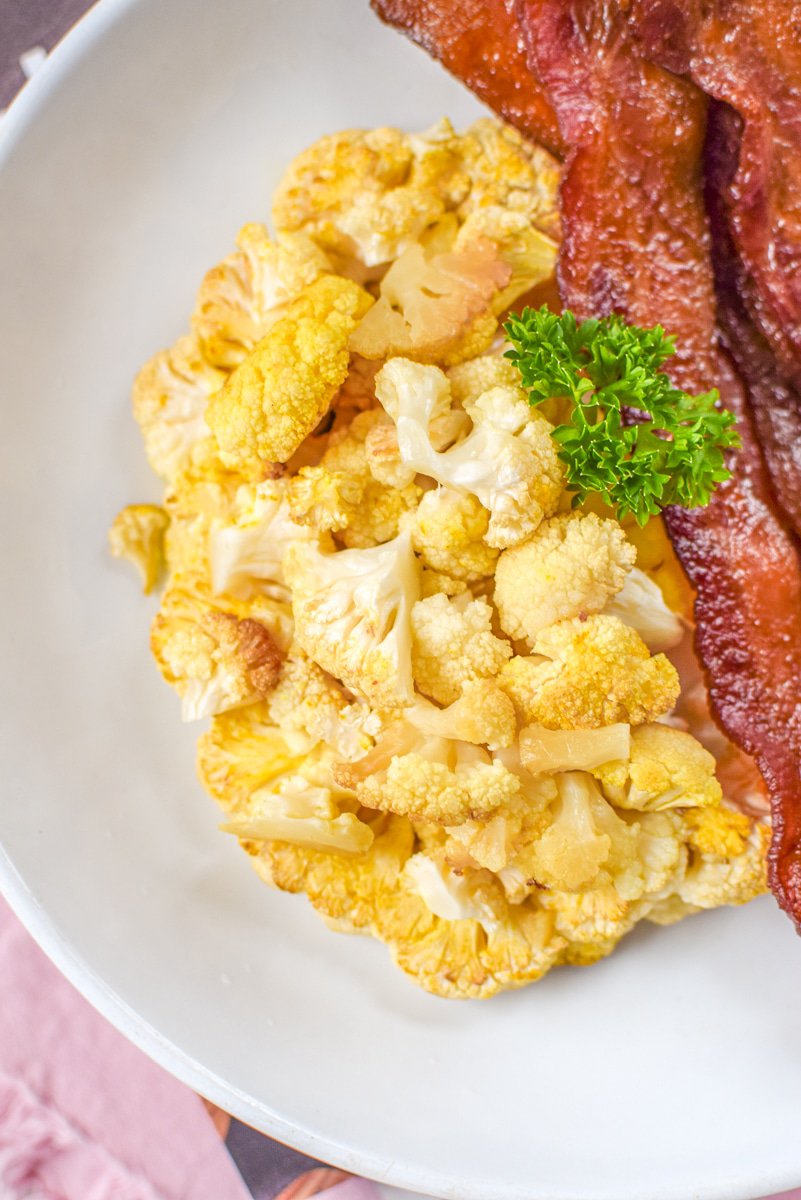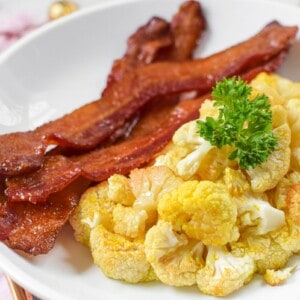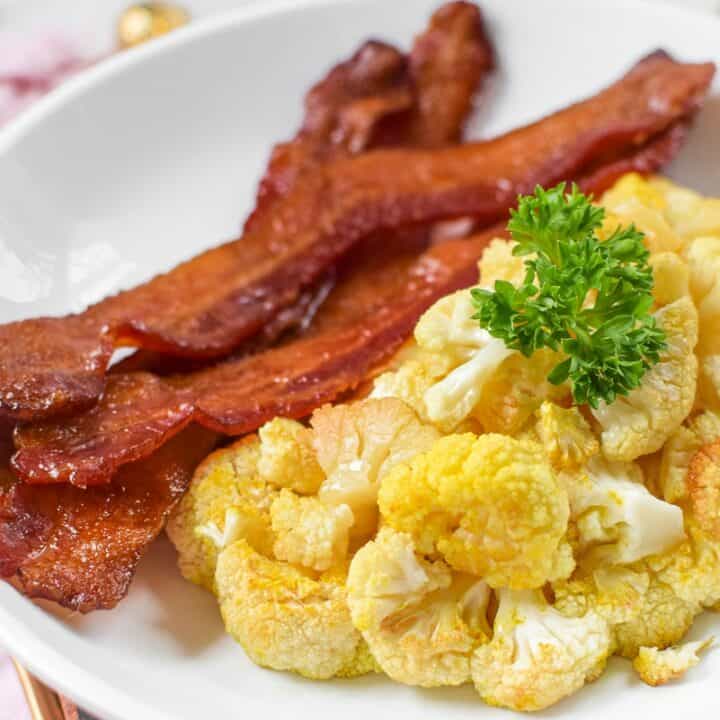 Bacon & 'Eggs' AIP Breakfast
This easy sheet-pan Bacon & 'Egg's AIP breakfast uses cauliflower to simulate eggs to provide the same traditional breakfast experience in an AIP-friendly way that is egg-free, Paleo, Keto, and gluten-free friendly.
Ingredients
6

slices

bacon

thick-cut, uncured

1

head

cauliflower

cut into (4) 1" thick cauliflower steaks

2

tablespoons

water

1

teaspoon

liquid coconut aminos

⅛

teaspoon

ground turmeric
Instructions
Preheat the oven to 400 degrees F.

Line a baking sheet with parchment paper.

Gently lie the bacon slices down flat, followed by the cauliflower steaks. Ensure everything lies flat on the sheet.

In a small bowl, whisk together the water, liquid coconut aminos, and turmeric.

Gently brush the mixture over the cauliflower steaks.

Place the sheet pan in the oven and bake for 20 minutes.

Remove, serve, and enjoy.
Nutrition
Serving:
2
g
|
Calories:
100
kcal
|
Carbohydrates:
14
g
|
Protein:
6
g
|
Fat:
4
g
|
Saturated Fat:
1
g
|
Cholesterol:
3
mg
|
Sodium:
92
mg
|
Potassium:
863
mg
|
Fiber:
6
g
|
Sugar:
5
g
|
Vitamin C:
139
mg
|
Calcium:
64
mg
|
Iron:
1
mg
Did you make this recipe or have a question?
Join hundreds of members inside private Well With Cannabis Community for help, support, and to share your edible creations!