This delicious nightshade-free Paleo BBQ-Sauce comes with adaptations to make an AIP-friendly BBQ sauce, a Whole30 BBQ sauce, and important nutrition and culinary considerations for making a nightshade-free, tomato-free, corn-free BBQ sauce that still tastes good.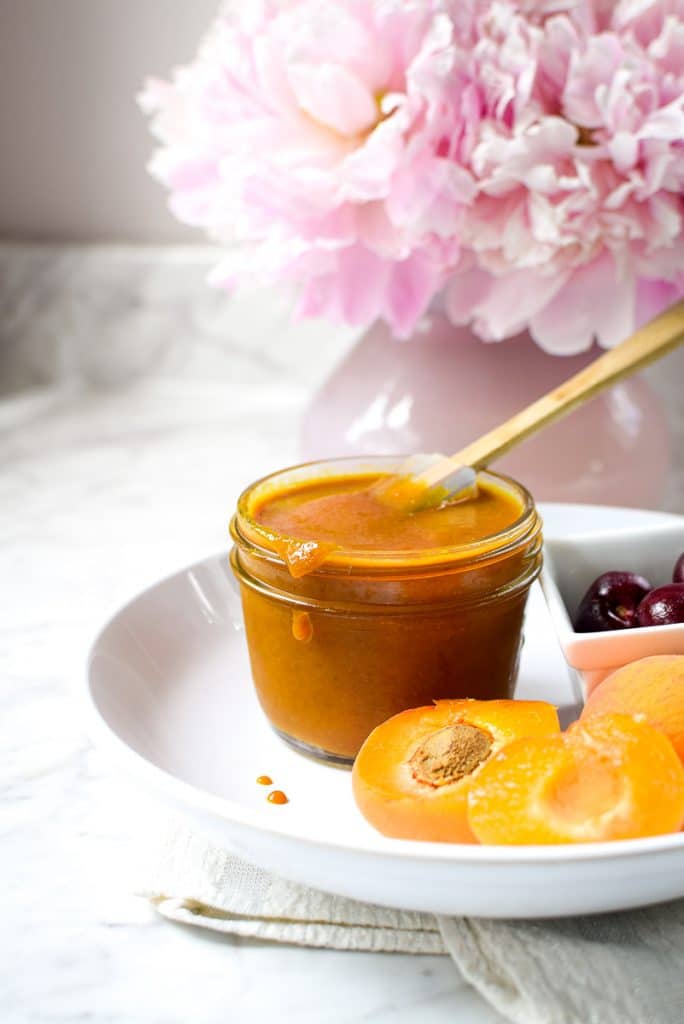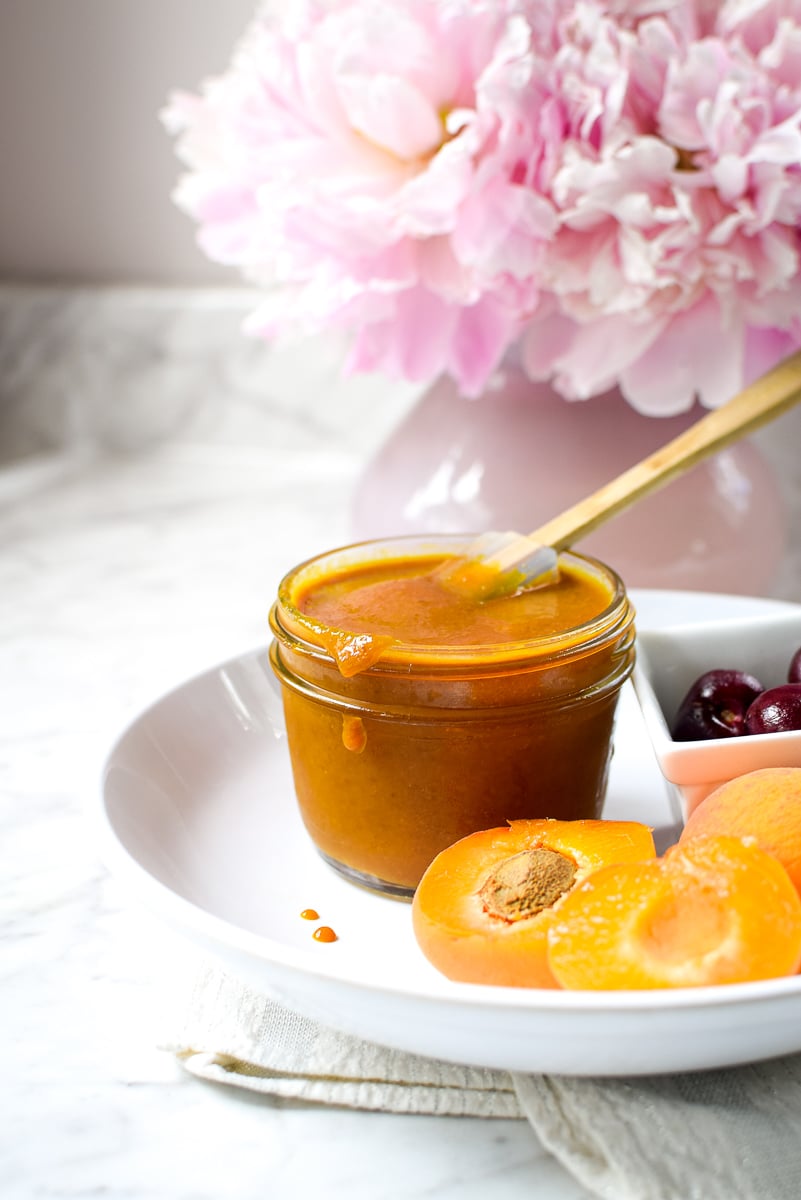 Tomato Free BBQ Sauce
I first learned about the potential for inflammatory reactions to occur with nightshade vegetables for some individuals during my training to become a Certified LEAP Therapist to provide Food Sensitivity Testing in my private practice.
What I have learned over the years is that inflammation is highly individualized to each person. A one size approach does not fit all.
When dealing with food sensitivities, there is no such thing as "healthy" or "unhealthy" foods; it is unique to each person and their own unique biochemistry.
While we traditionally think of tomatoes as healthy, they can cause an inflammatory response in some individuals for a multitude of reasons, making a tomato-free bbq sauce or a nightshade-free bbq sauce a great option for some.
In addition to testing the major nightshade vegetables including tomatoes, peppers, eggplant, white potato, we also test for food chemicals, like solanine which can be an inflammatory food chemical for some people.
Food sensitivity testing is the quickest, easiest way to pinpoint the cause of hidden food sensitivities that provoke the symptoms of autoimmune diseases.
This helps to ensure you are not avoiding otherwise health-promoting foods if you don't truly need to.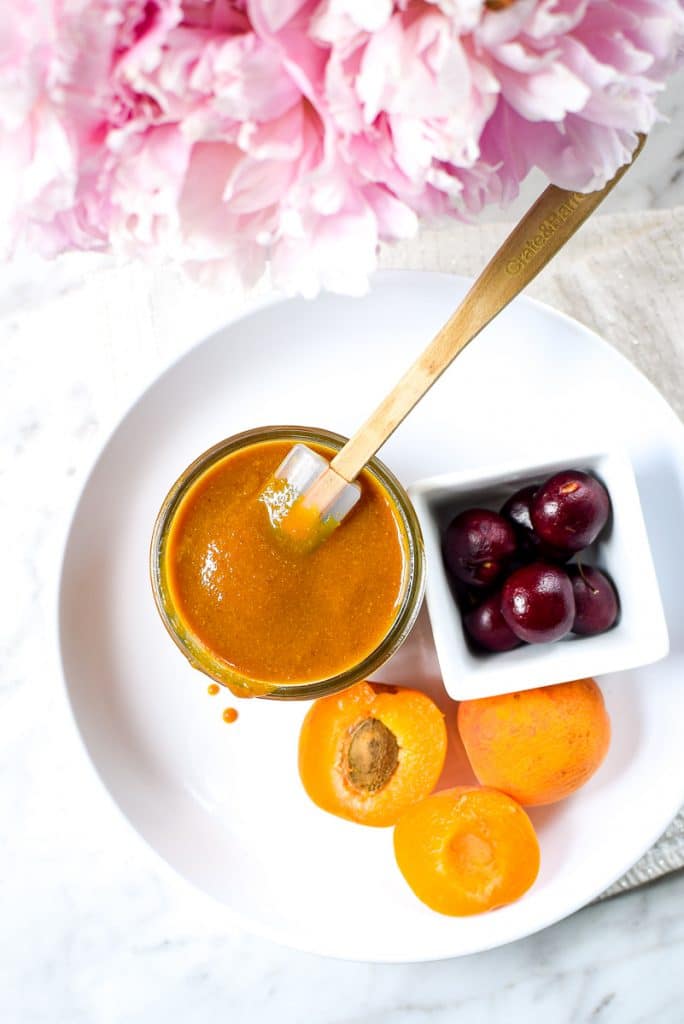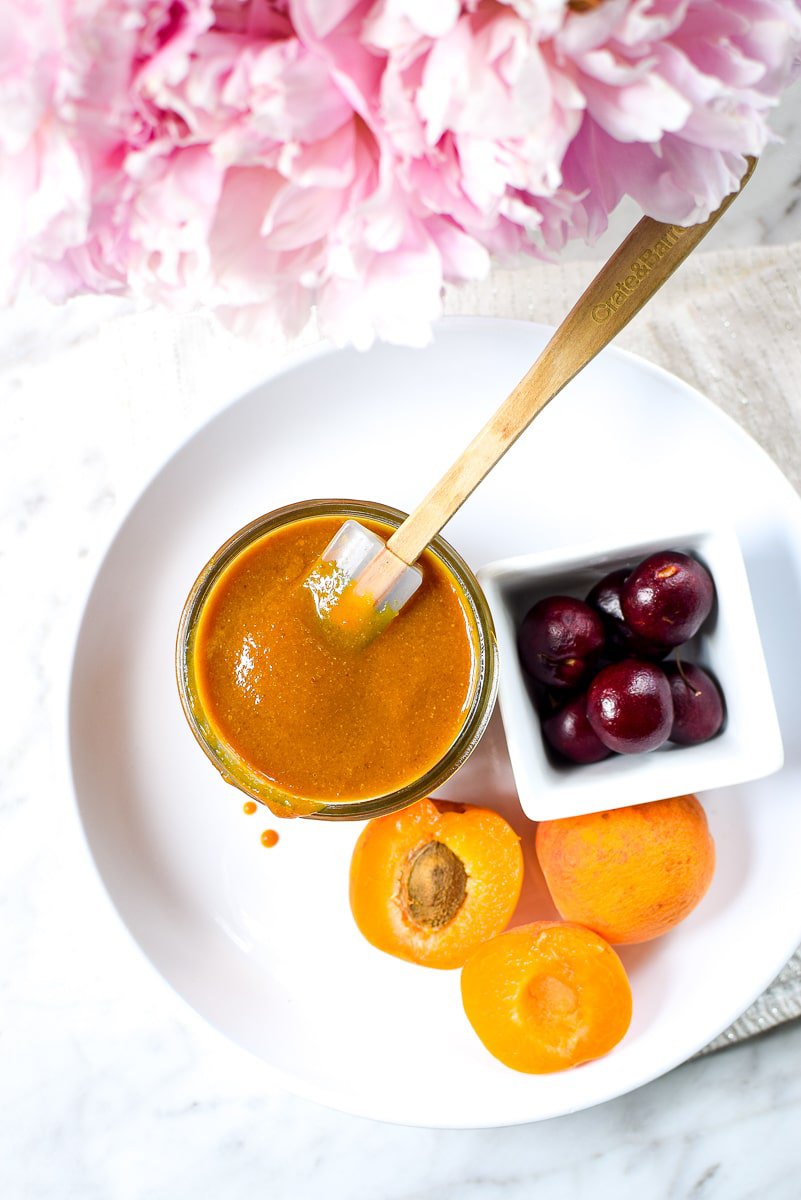 Paleo BBQ Sauce
I first set out to create a delicious Paleo-Friendly Barbecue Sauce when working on my first cookbook, The 30-Minute Thyroid Cookbook. While tomatoes are certainly approved on a Paleo diet due to their health benefits, they are off-limits if you take it one step further and move on to the Autoimmune Paleo Protocol.
I was left asking, how do you make a delicious BBQ sauce without the tomato?
I consulted my husband, Chef Phil and co-author of The Hashimoto's AIP Cookbook, to ask him how to make a tomato-free barbecue sauce.
"A tomatoless BBQ sauce?" he said.
Thankfully, stone fruits have the right amount of acidity and sweetness to make an excellent tomato-free sauce substitute that actually tastes like the best paleo BBQ sauce ever.
While you can use any combination of stone fruits you want in this recipe, I highly recommend using fresh black cherries for a delicious cherry BBQ sauce that has a deep color and sweet flavor.
Autographed Copy of The Hashimoto's AIP Cookbook
Store-Bought Paleo BBQ Sauce
Of course, some people don't have time to make their own Paleo BBQ sauce at home, and that is OK. There are many great Paleo BBQ Sauce brands that I share with my clients who are tight on time.
My Favorite Store Bought Paleo BBQ Sauce Brands are listed below, although there are many wonderful paleo sauces to buy online or in your favorite health food store as well.
Is Mustard Paleo?
Yes, mustard is paleo-friendly. However, mustard is not Autoimmune Paleo friendly because mustard is a seed-derived spice.
AIP BBQ Sauce
This recipe really is is the perfect AIP Paleo BBQ Sauce.
The Autoimmune Paleo Protocol (AIP) is an elimination and reintroduction diet that aims to help calm and manage the unwanted symptoms of autoimmune and inflammatory conditions.
The AIP diet is more restrictive than the traditional Paleo diet or the Whole30 diet, but all generally start with the same recommendations to focus on whole, nourishing foods while avoiding any food or food group that could potentially be inflammatory.
While mustard is one of my favorite paleo condiments, in order to take this tomato-free BBQ Sauce from Paleo-friendly to AIP-friendly, we must omit the mustard.
Don't worry, this BBQ sauce without tomato products or mustard will still taste good, I've tested it many times.
Whole30 BBQ Sauce
It was hard to find a Whole30 BBQ Sauce modification that worked because the Whole30 does not allow for any additional sweeteners including coconut sugar or maple syrup.
Thankfully, natural sweetness needed for BBQ sauce is still there with the use of fresh stone fruit.
The base is a stone fruit purée, which is a great way to get the color and consistency of traditional Carolina-style sauce without ketchup, which contains nightshades and added sugar.
You can experiment with any stone fruit that you want for different color and flavor variations, including peaches, plums, nectarines, apricots, atriums, pluots, cherries, mangos, and lychees.
This Whole30 Carolina-style barbecue sauce is made with apricots, cherries, vinegar, and mustard, as opposed to the ketchup and molasses used in traditional barbecue sauces. This sauce has a sweet, tangy flavor that pairs perfectly with grilled or smoked foods.
What is the Whole30?
The Whole30 is a 30-day elimination diet that emphasizes whole foods and the elimination of sugar, alcohol, grains, legumes, soy, and dairy.
The Whole30 is similar to but more restrictive than the paleo diet, as adherents may not eat natural sweeteners like honey or maple syrup, making a Whole30 Barbecue sauce difficult to make.
Will the Whole30 Program Help With Weight Loss?
It is likely that those who follow the Whole30 program in its entirety for 30 days may experience weight loss.
It is difficult to say how each body will respond, and because there is no calorie counting, measuring, or weighing rules for the program, each person will have a different result.
However, cutting out sugar and the majority of processed foods from the diet is likely to contribute to weight loss if your calories in do not exceed your calories out.
Who is Whole30 Not Suitable For?
The Whole30 is not suitable for those who have previous experience with eating disorders or disordered eating habits or those who have a chronic illness and are not under the supervision of a registered dietitian or physician.
Are There Any Notable Side Effects of the Whole30 Program?
Potential side effects of the Whole30 program (as listed on their website) include headaches, lethargy, sleepiness, crankiness, brain fog, cravings, general malaise, breakouts, mild digestive issues such as bloating and irregularity.
Potential other side effects could include the unintentional development of disordered eating behaviors or nutrient deficiencies if not attempted with the help of a trusted healthcare professional.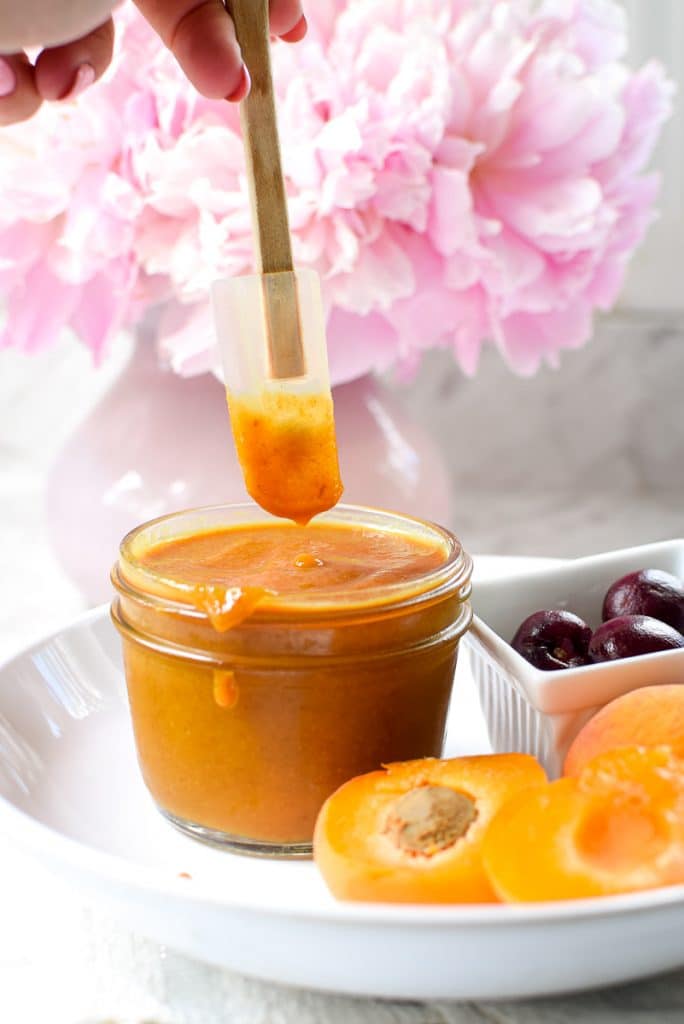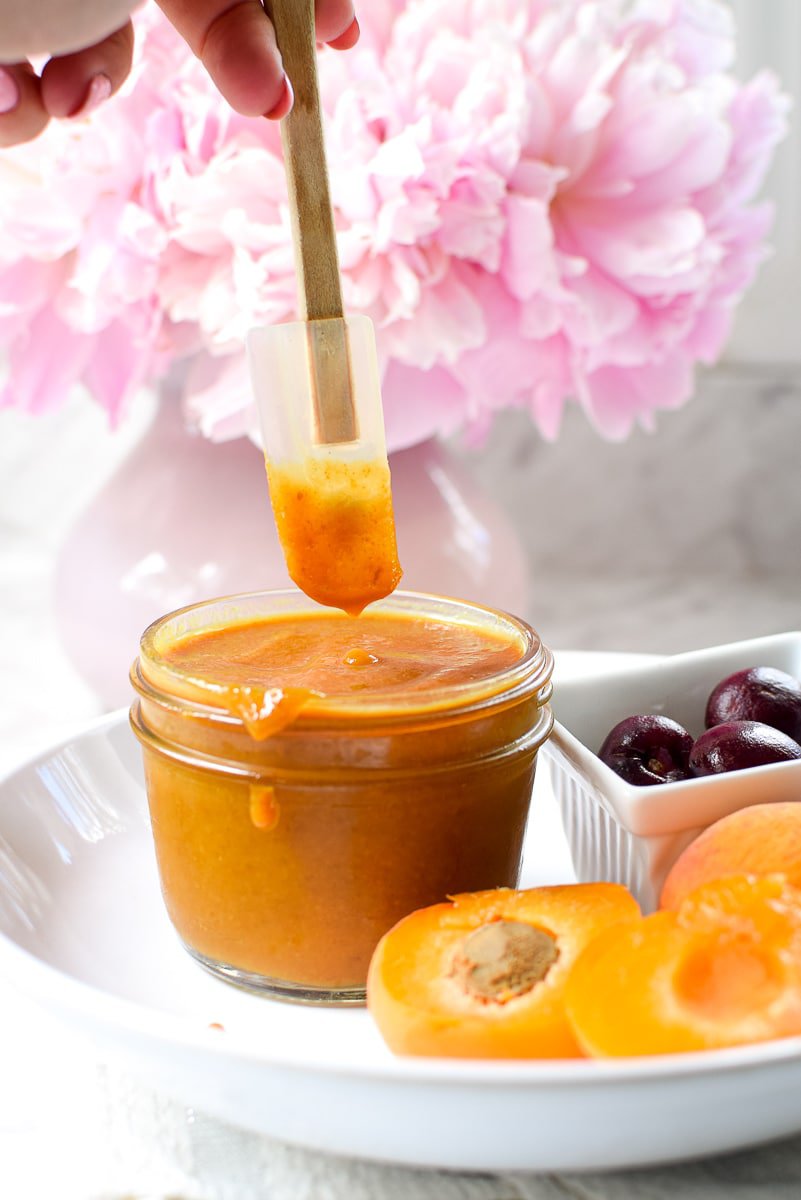 What Are Nightshades?
If you're still wondering what the heck nightshades are, here is a comprehensive list. It is important to avoid nightshades and nightshade derived spices while on the elimination phase of the AIP diet.
A Complete List of Nightshade Containing Foods:
Tomatoes
Tomatillos
Bell Peppers
Spicy peppers
Eggplant
White Potatoes
Gooseberry
Goji Berry
Huckleberry
Pimentos
Nightshade derived spices include:
Red Pepper Flakes
Capsicum
Cayenne Pepper
Chili Pepper
Chili Powder
Curry
Paprika
Ancho
Adobo
Ashwagandha
Nightshade Allergy Symptoms
There are many signs and symptoms that may appear as nightshade allergy symptoms, or food sensitivity symptoms, that may actually appear as mystery symptoms like acid reflux, skin eruptions, brain fog and more.
For more tomato-free recipes, including this delicious nightshade-free sauce, be sure to check out my newest cookbook, The Hashimoto's AIP Cookbook for over 105 delicious AIP-friendly, tomato-free recipes the whole family will enjoy.
This is a 100% nightshade-free cookbook full of nightshade-free paleo recipes making it the perfect option for those who are avoiding nightshades for health reasons while also maintaining a Paleo diet.
Autographed Copy of The Hashimoto's AIP Cookbook
AIP can help treat and possibly send symptoms into remission―but what does that mean for your diet? This is the first-ever cookbook to tell you everything you need to know to bring AIP into your life.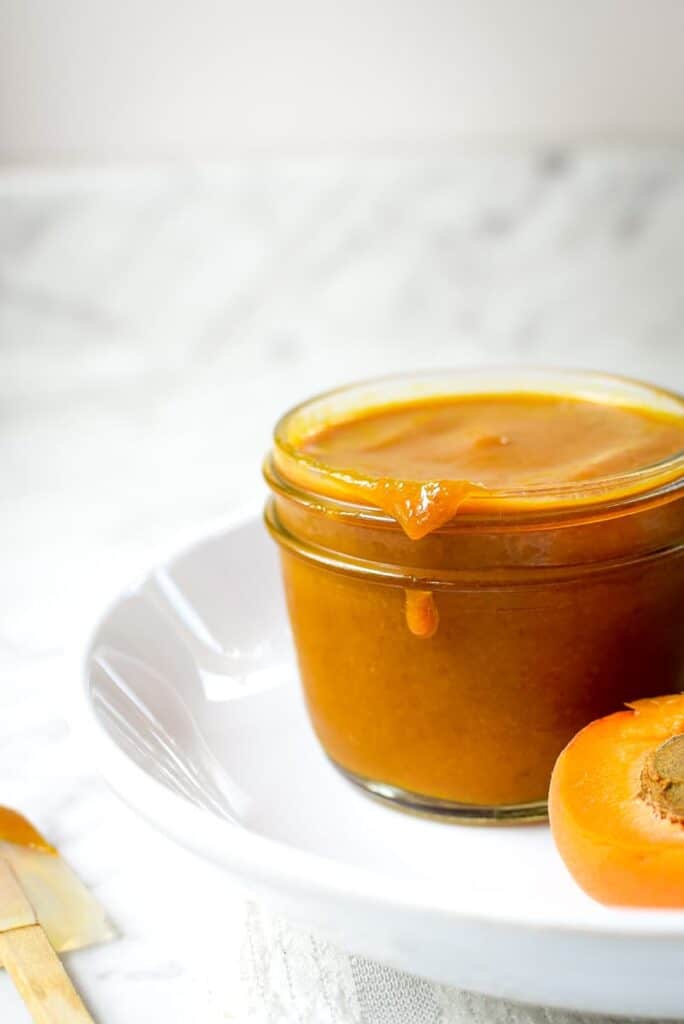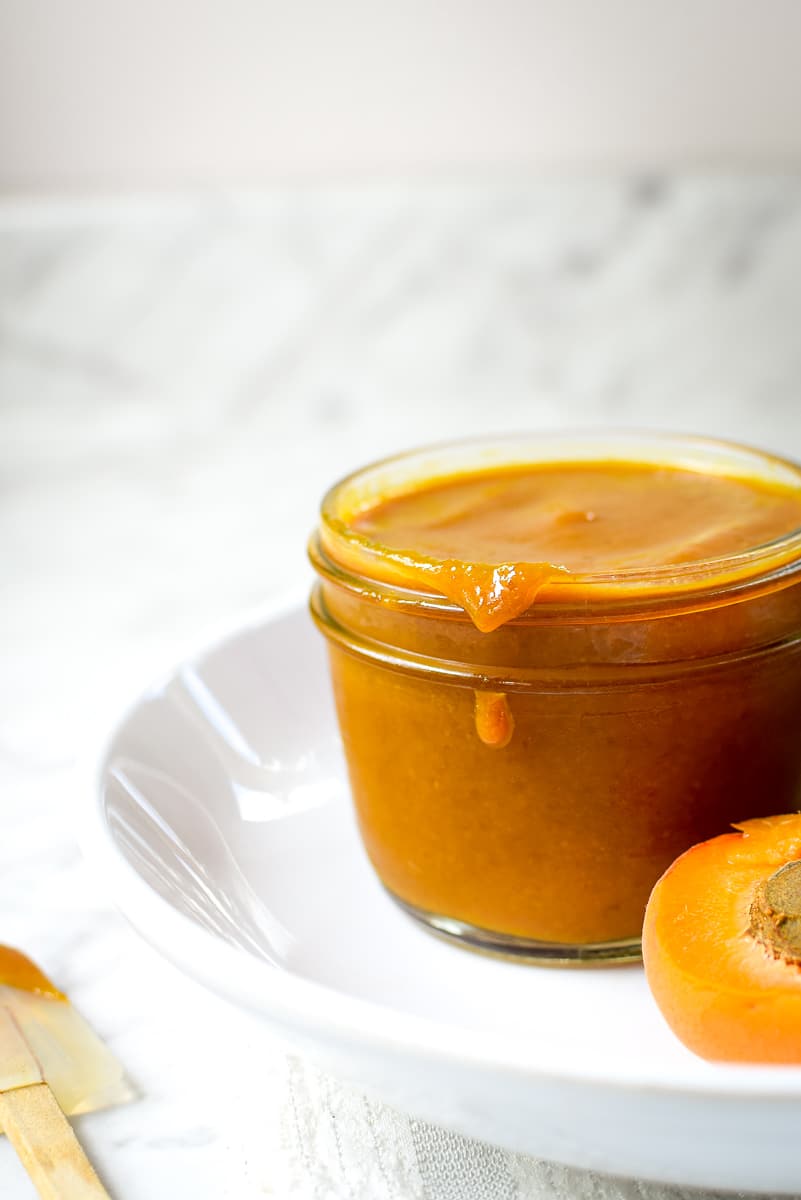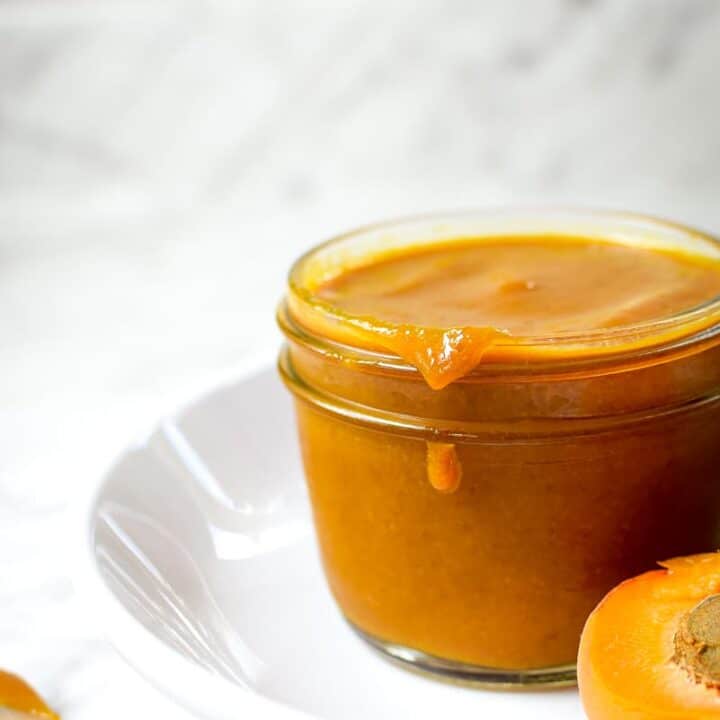 AIP & Whole30 Nightshade-Free BBQ Sauce
A Carolina-style barbecue sauce is made with vinegar and mustard, as opposed to the ketchup and molasses in traditional barbecue sauces. This sauce has a sweet, tangy flavor that pairs perfectly with grilled or smoked foods. The base is stone fruit purée, which is a great way to get the color and consistency of traditional Carolina-style sauce without ketchup, which contains nightshades and added sugar.
Ingredients
2 cups diced stone fruit (apricots, peaches, plums, cherries, or a combination)
1 tablespoon onion powder
1 teaspoon garlic powder
¼ teaspoon ground turmeric
¼ teaspoon salt
Instructions
1.To make a stone fruit purée, place the diced stone fruit into a high-speed blender and purée until smooth. Strain through a fine-mesh strainer.
2.In a medium saucepan over low heat, combine the purée, vinegar, coconut sugar, mustard, onion powder, garlic powder, turmeric, and salt. Whisk to blend well.
3.Adjust the heat to medium-high. Cook, stirring constantly, until the sauce begins to boil.
4.Reduce the heat to low. Simmer for 10 minutes, stirring frequently, until the sauce reduces and thickens slightly.
5.Keep refrigerated in a Mason jar for up to 7 days.
Notes
*To make this recipe AIP friendly, omit the mustard and replace it with an extra ⅓ cup of stone fruit purée.
*To made this recipe Whole30 compliant, substitute ½ cup coconut sugar with an additional 1/2 cup diced stone fruit.