Spice up your breakfast routine with this simple. whole-food, nutrient dense Apple & Cinnamon Baked Oatmeal Cake!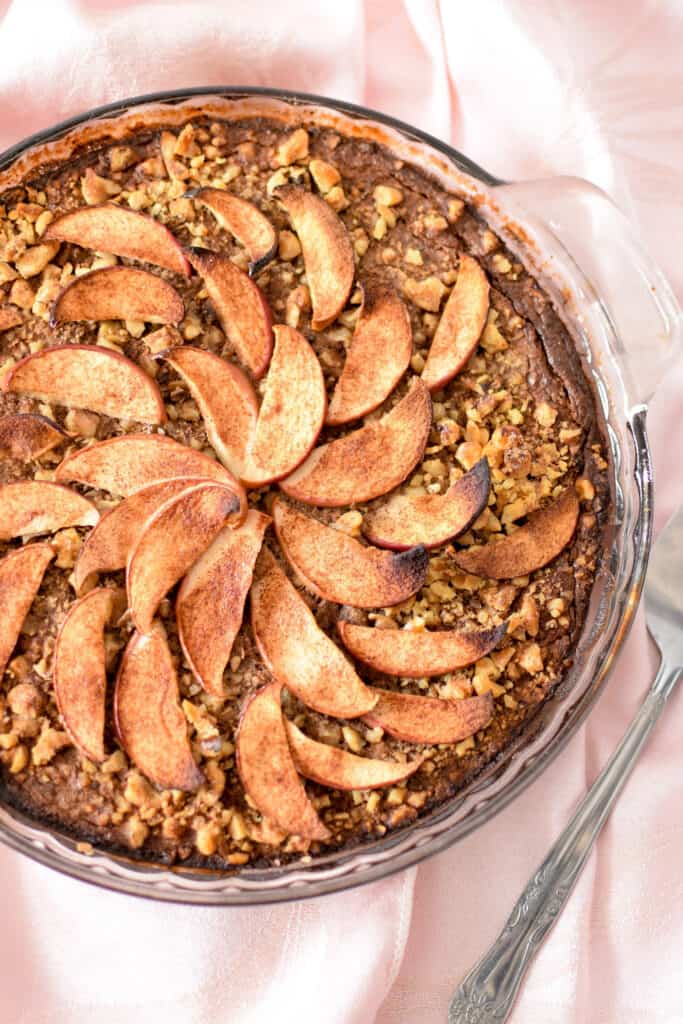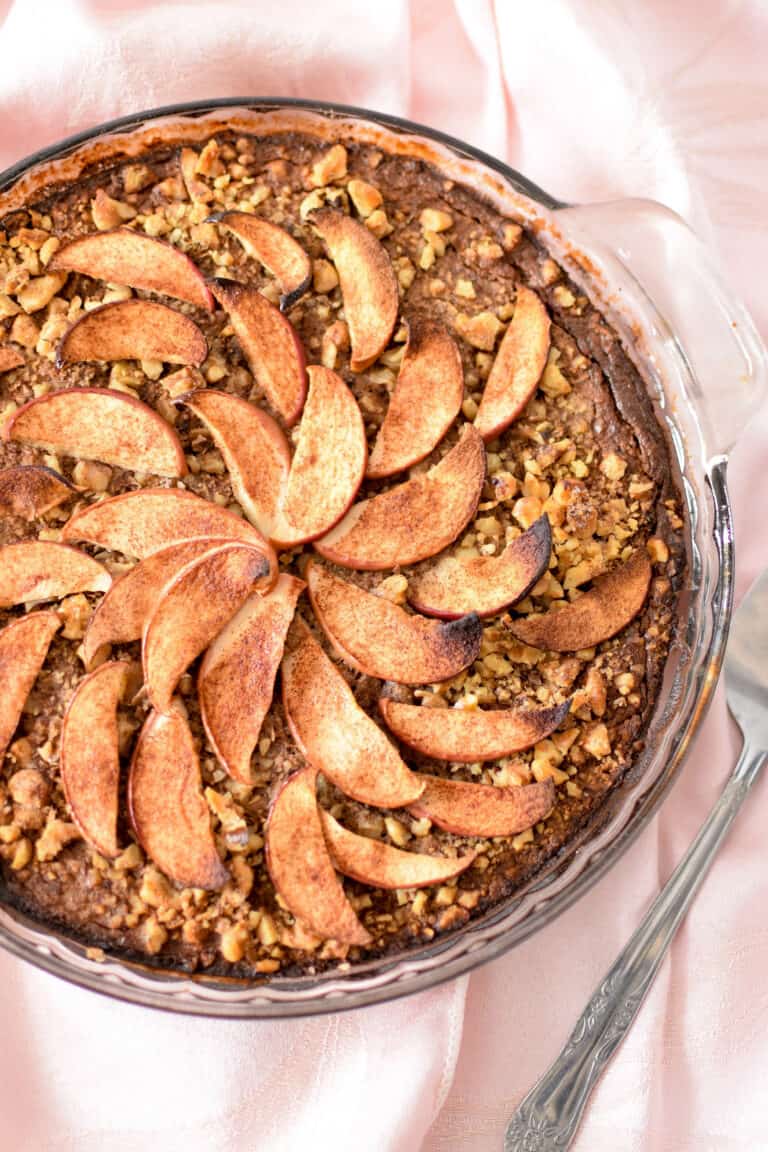 Childhood Memories
When I was little, gosh did I LOVE those little oatmeal packets.
You know the ones I'm talking about: Apple & Cinnamon, Peaches & Cream, Maple & Brown Sugar!?
If you had a sibling you would always fight over who got which flavor, because EWW, no one wanted plain.
And if you were brave, sometimes you mixed the flavors for some unique, possibly delicious, possibly disgusting combinations.
And of course, one packet wasn't enough, you always needed two for a decent bowl.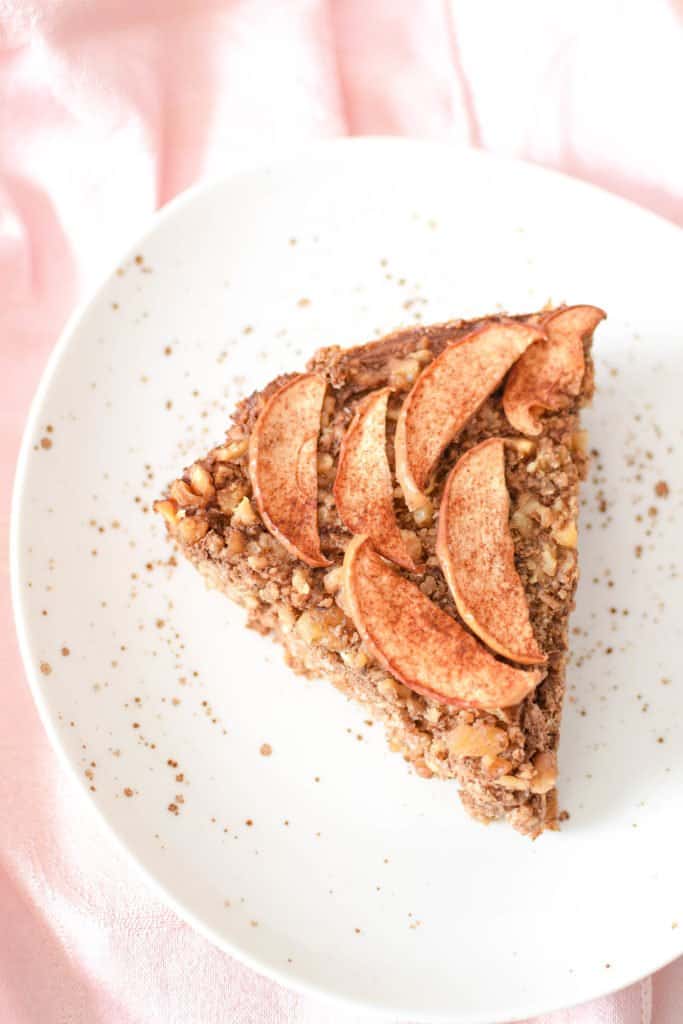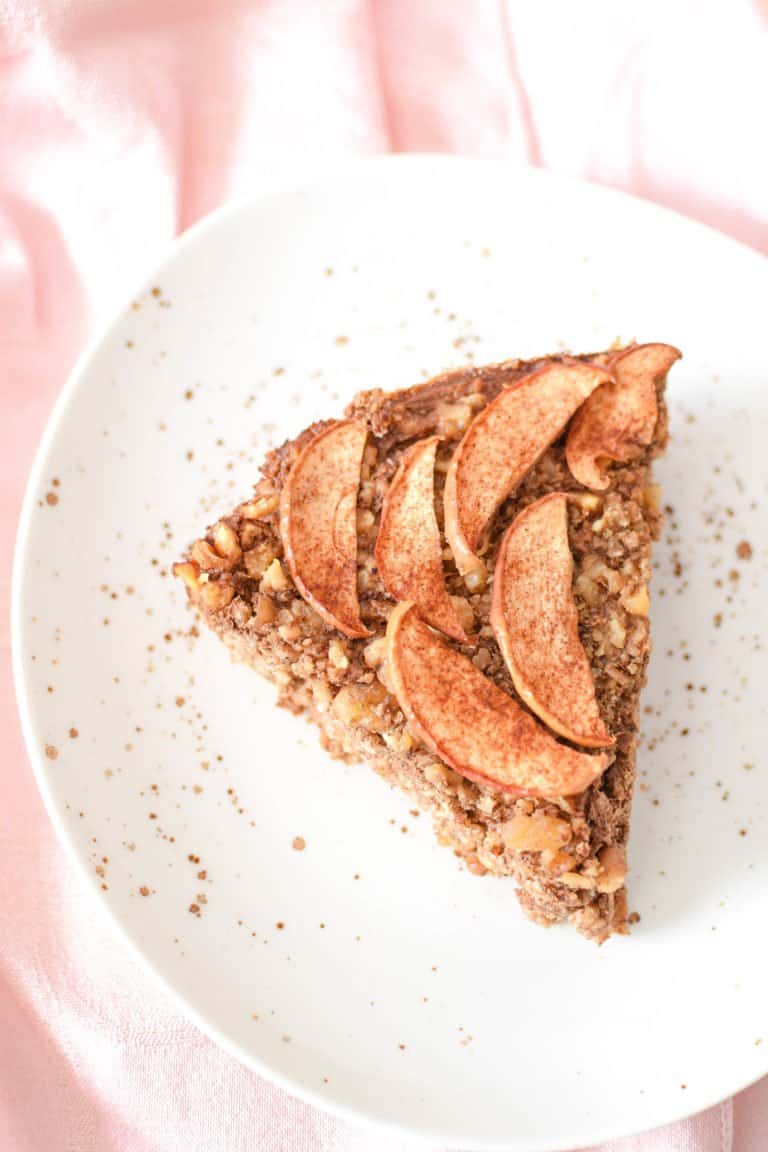 Now that I am all grown up, I can still taste those delicious Apple & Cinnamon and Peaches & Cream flavors. Yet, the idea of tiny freeze dried apple bits and over processed oats just doesn't quite appeal to me like it used to.
But that doesn't mean I should live the rest of my life without that tasty and delicious flavor combination that can so quickly take me back to my childhood, right!?
RIGHT.
Spice up your breakfast with this Apple & Cinnamon Baked Oatmeal Cake!
Click To Tweet
Which is why I was experimenting in the kitchen to recreate the 'adult version' of that tasty memory.
But instead of a soupy bowl of oats, I decided to bake this into a warm, delicious, oatmeal breakfast cake.
Genius right? I know.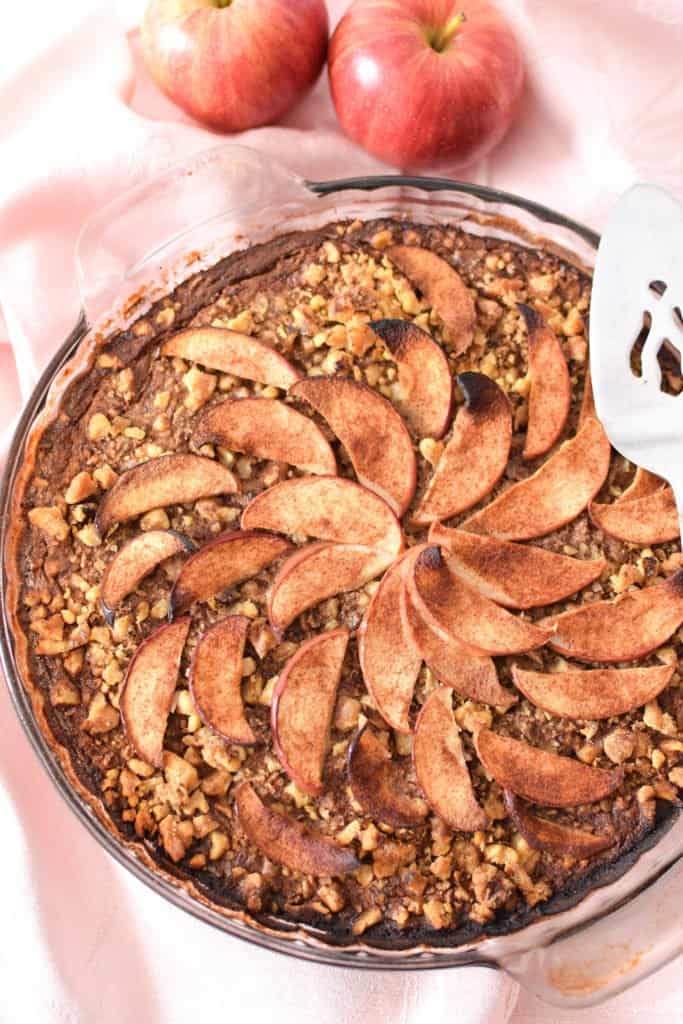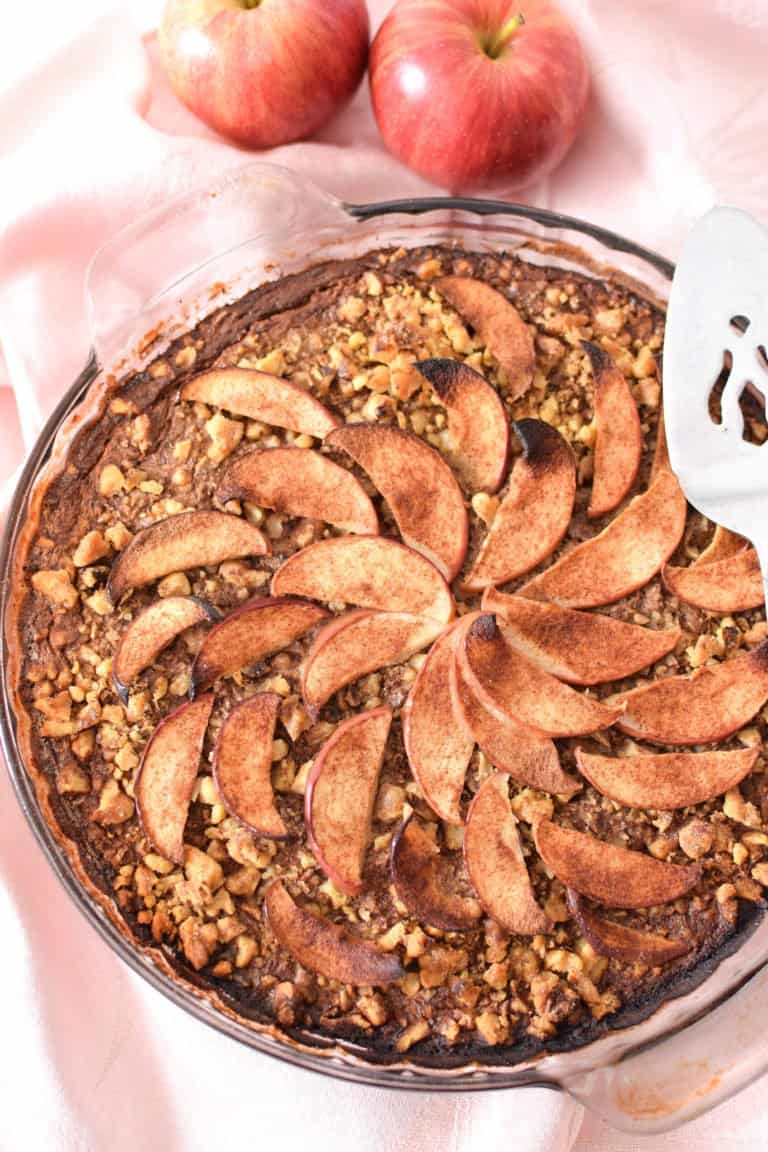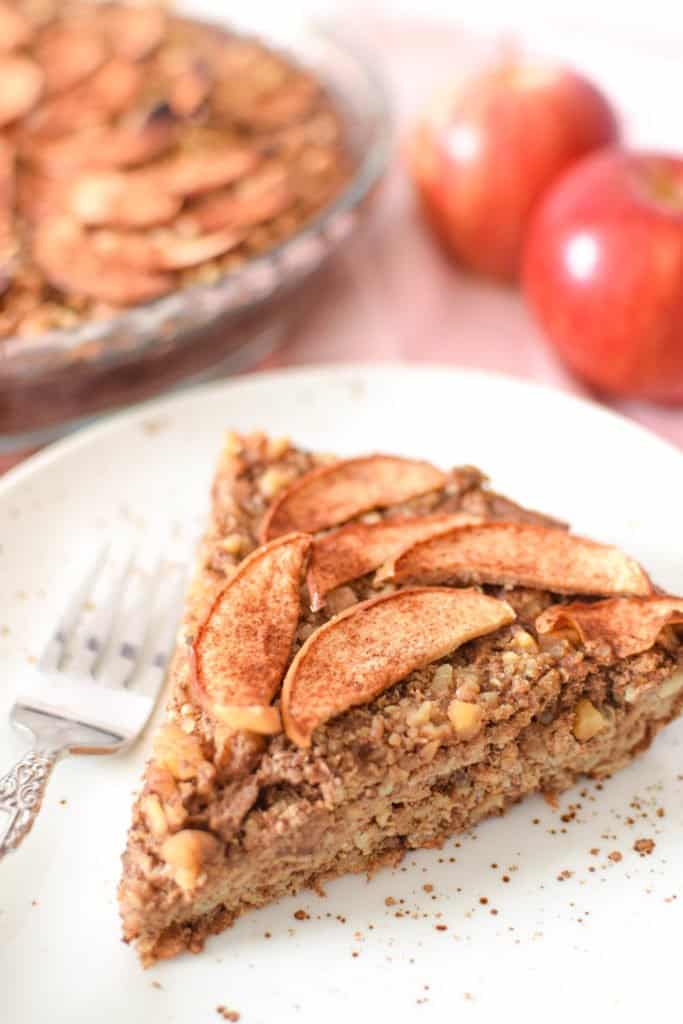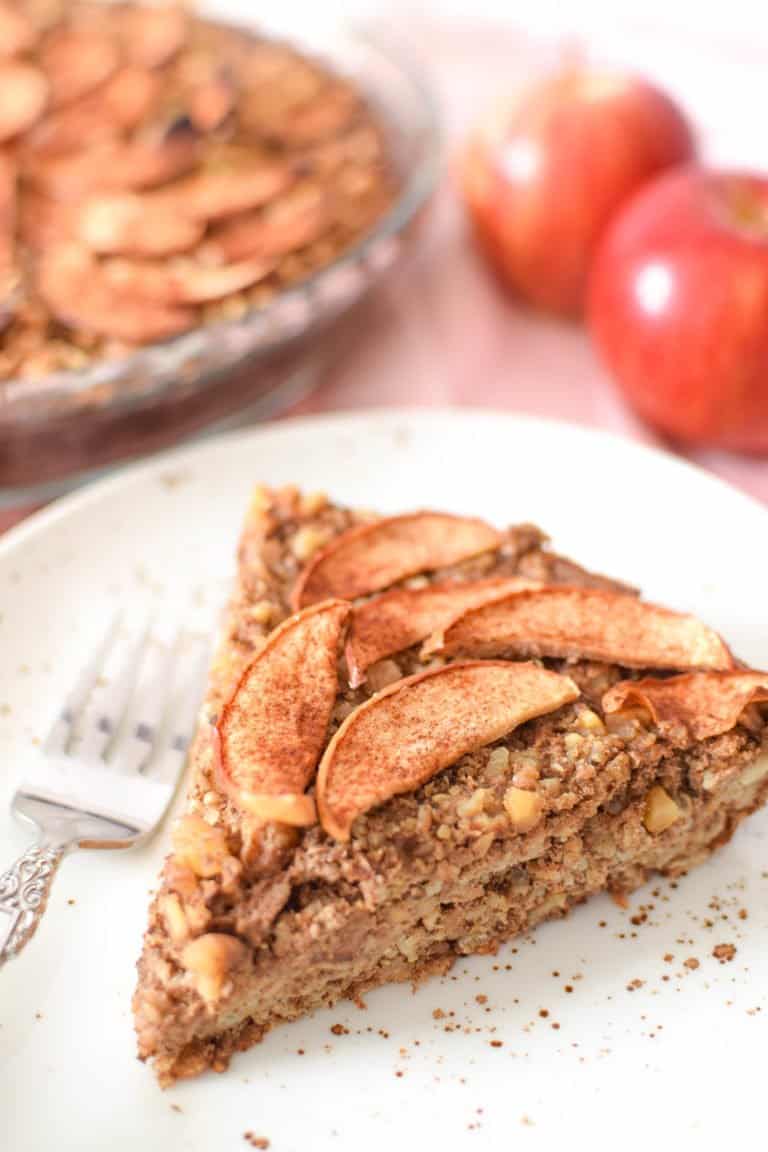 Apple & Cinnamon Baked Oatmeal Cake
My husband owns a restaurant and I worked there as a waitress for nearly six years, and for six years their signature dessert was their homemade oatmeal cake. Still is, actually!
Oatmeal does indeed make a delicious cake. And its good for you, too!!
Oats are in fact a whole grain, full of soluble dietary fiber, and have been shown to help lower cholesterol levels. They are plant-based which means they are also full of good for you antioxidants, too. Yay, yay.
When baked they make a warm, dense, chewy, satisfying cake.
But because this recipe is made from good-for-you whole foods like oats, farm fresh eggs, chia seeds and bananas, it is also a perfectly acceptable breakfast.
HOORAY!!
I like a lot of protein at breakfast time, so I usually pair a slice of this oatmeal cake with a cup of vanilla Greek yogurt for a perfectly balanced meal.
The best part about this recipe is that you just bake it once over the weekend, and voila, you have breakfast ready to go all week long.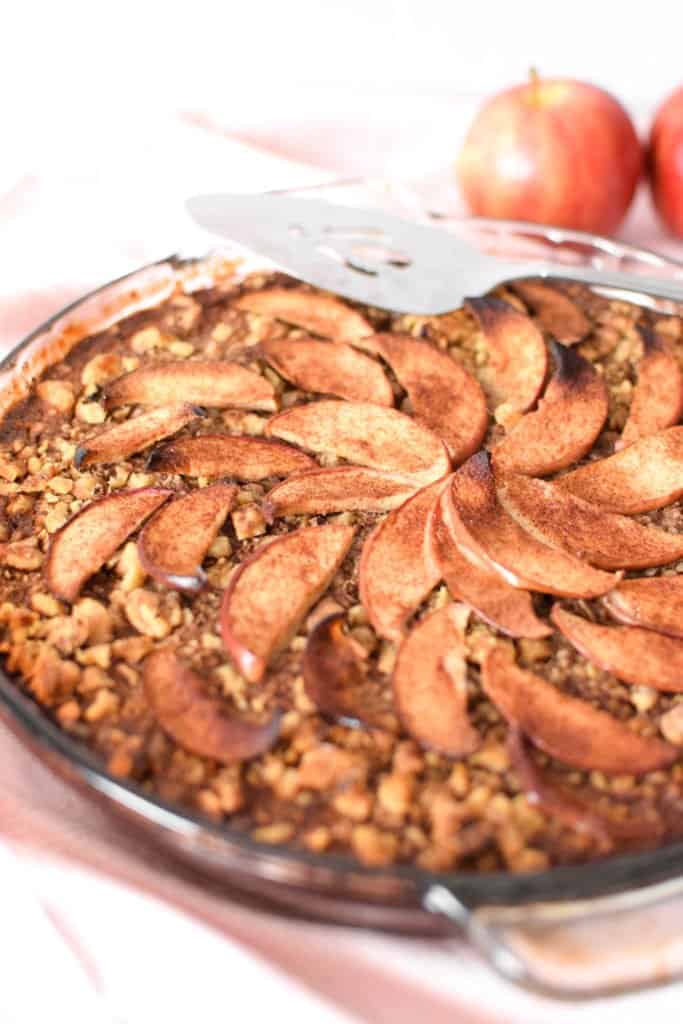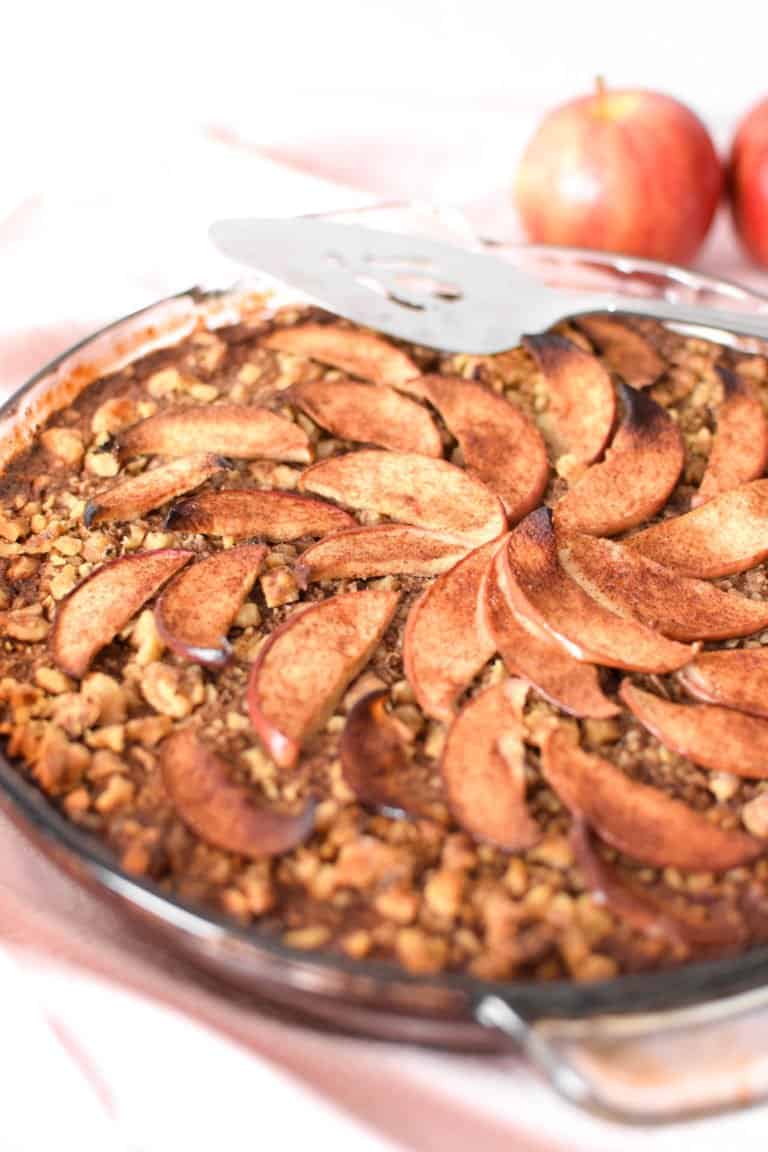 The Recipe Redux
The thing I love most about this recipe is that you don't have to go to the store to buy any special ingredients, it is likely that you already have most of these ingredients in your kitchen already (at least most of them!)
So when this months The Recipe Redux theme came along, I knew this would be the perfect recipe.
This months challenge: Spring Clean the Kitchen
Cook with at least 3 ingredients that are actually in your refrigerator or pantry right now. Try not to go to the store to buy anything new. Give tips on how to make a healthy dish out of whatever you have on-hand.
I always have oats and fresh eggs in the house, and it is highly likely that I have some type of fruit about to go bad on the counter. I'm very particular about my bananas, and once they start to spot, I can't eat them as-is. That is why a dish like this is PERFECT because you can use up the food in a new way, without letting it go to waste.
You can certainly choose to swap the apples for anything else you have about to go bad too. More bananas? Perfect, Banana Cinnamon Oatmeal Cake. I may try this recipe with peaches in the summertime.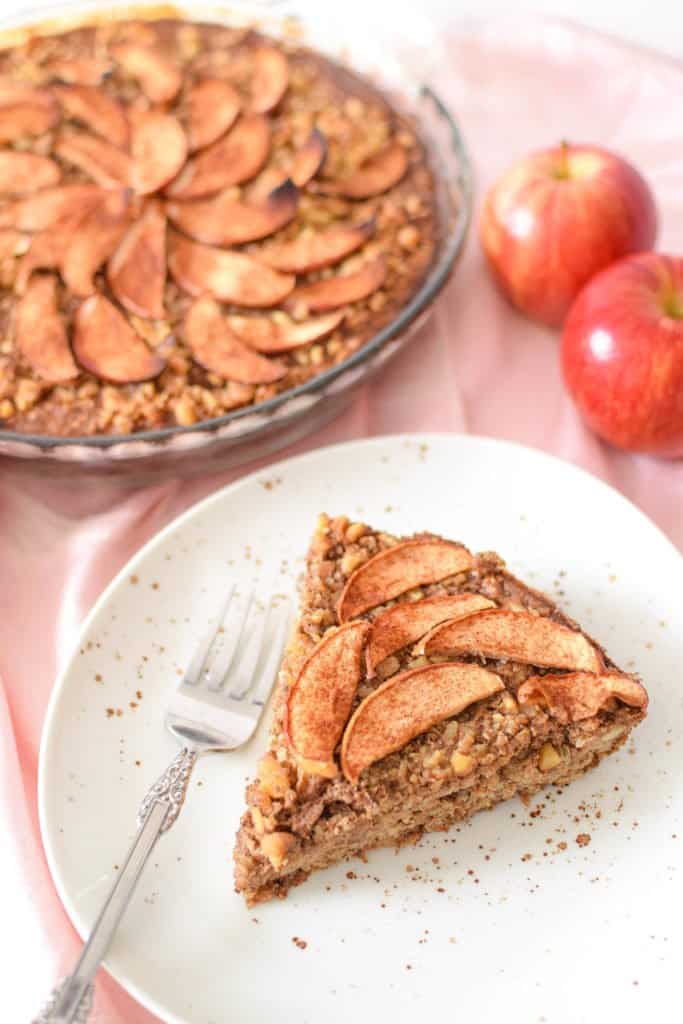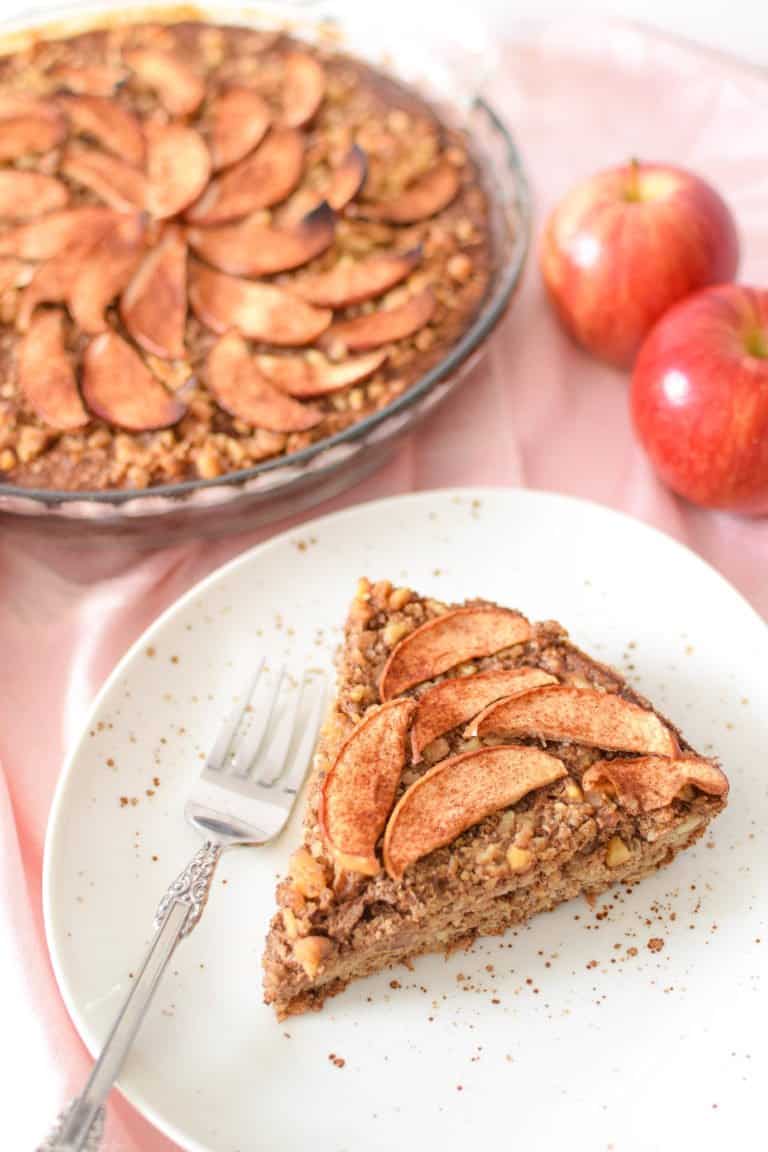 Click Here to Download Your 5 Day Happy & Healthy Meal Plan – FREE!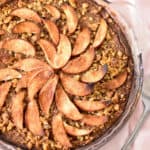 Apple & Cinnamon Baked Oatmeal Cake
Spice up your breakfast routine with this simple. whole-food, nutrient dense Apple & Cinnamon Baked Oatmeal Cake!
Ingredients
2

very ripe bananas

2

farm fresh eggs

1 1/4

cup

milk of choice

I used coconut

1/4

cup

brown sugar

packed loose

1

tablespoon

chia seeds

1

tablespoon

milled flax seed

1

teaspoon

baking powder

1

tablespoon

cinnamon

1

teaspoon

nutmeg

1/2

teaspoon

cloves

1/4

teaspoon

salt

2

cups

of old fashioned oats

1/2

cup

crushed walnuts

1

red apple

sliced thin.
Instructions
Preheat oven to 400 degrees.

Add all of the ingredients from the banana through the salt to a blender and blend until smooth.

Spray a glass pie dish with cooking spray.

Add oatmeal to pie dish.

Pour blender mixture over the oatmeal, stirring to ensure all of the oatmeal is well coated.

Top with crushed walnuts.

Decorate with sliced apples.

Top with cinnamon sugar as desired.

Bake for 45 minutes or until firm.

Add a little dollop of whipped cream if you need to!

Enjoy!
Click Here to Download Your 5 Day Happy & Healthy Meal Plan – FREE!
I hope you love this Apple & Cinnamon Baked Oatmeal Cake as much as me and my family do!!
Let me know if you make it and how you like it in the comments below!!


P.S. Don't forget to see what other Recipe ReDux Members are cooking up for this months challenge! Just click the link below 🙂

LETS STAY CONNECTED
Subscribe to the Wellness Wednesday Newsletter - holistic wellness, health & happiness delivered directly to your inbox!

The following two tabs change content below.
Hi there! I teach women like you how to get healthy, and stay happy, without ever having to diet again! To help you, I provide individualized nutrition coaching and have created
The School of Health & Happiness
, an online training program to help you develop a positive relationship with food. This blog focuses on holistic health, plant-centric, whole food
recipes
, and real-life Mindful & Intuitive Eating Practices.
Learn more here
.
Lets Connect!   
Facebook
»
Instagram
» ♥
Latest posts by Emily Kyle (see all)