This post may contain affiliate links, to find out more information, please read my disclosure statement.
This Asian Themed Date Night In post was sponsored Tai Pei, all opinions expressed in my post are my own.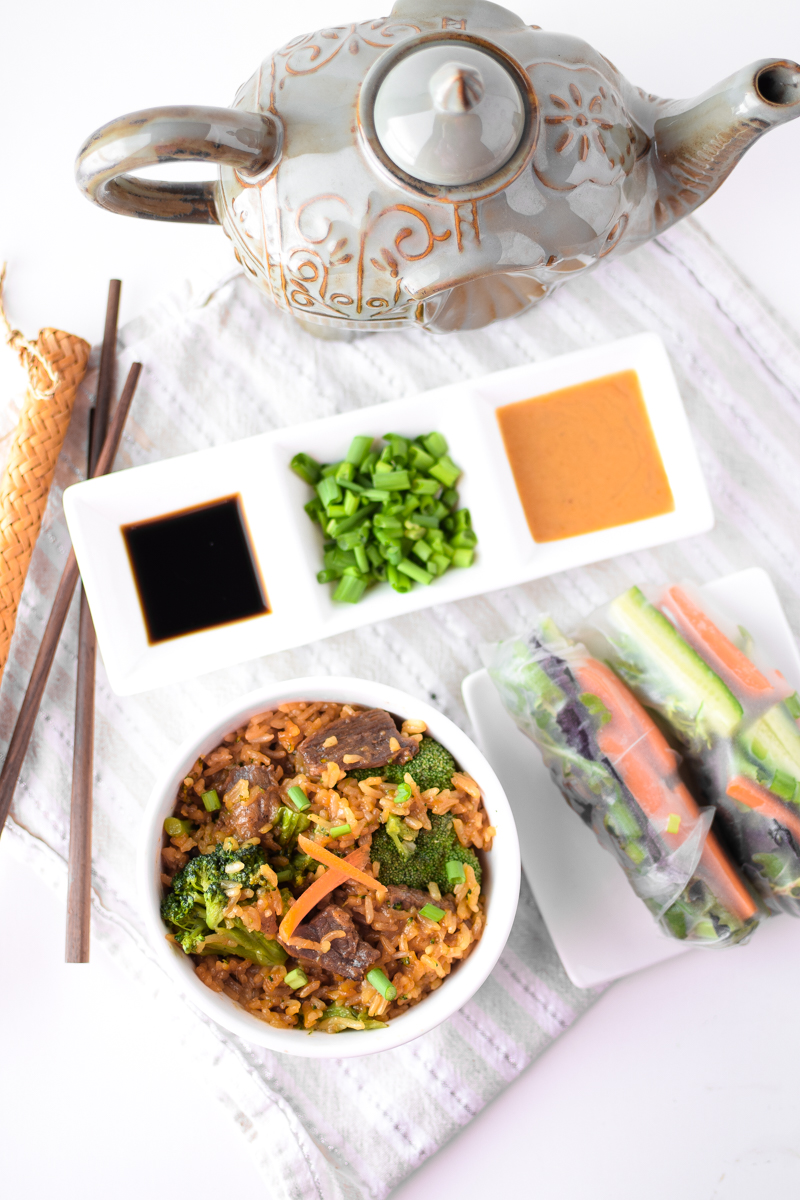 Asian Themed Date Night In
Like many families, when I was little, Chinese food take-out night was a BIG DEAL in my house.
I remember on Friday nights my parents would order what seemed like one of everything off the menu, and we would brew a few pots of tea and dig in.
These days, Chinese food take-out gets a bad rap, as it is typically associated with very heavy, high fat, MSG laden meals. A truth be told, I typically feel terrible after eating a meal like this, sluggish and run down.
And while these meals aren't so bad once in a while, sometimes I get a crazy craving for Chinese or Asian themed food for dinner.
Cue in Tai Pei Asian Food Frozen Fried Rice entrees, the perfect way to have an Asian Themed Date Night In at home. These entrees are made with real, quality ingredients, have a fresh taste and remove all of the fuss of ordering takeout.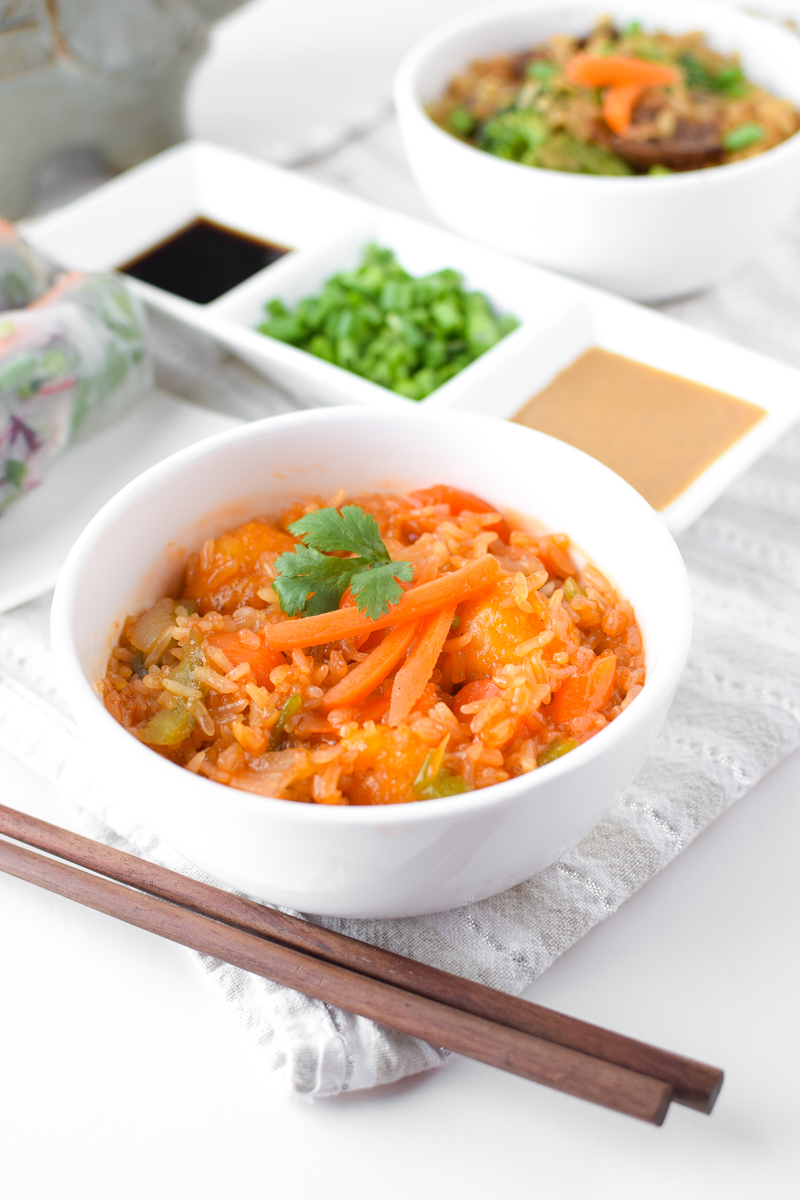 Benefits of Having a Date Night In
Whether you're taking time together to reconnect with your spouse or significant other or just planning a fun themed date night, there are some major benefits of having a date night in.
Benefits of a Date Night In:
For introverts like me, having a date night in allows you to have the experience of a planned, dedicated meal time together, from the comfort and safety of your own home.
Date nights out can quickly add up to be an expensive outing. By having a date night at home, you can save some serious cash, without sacrificing your delicious meal.
For health conscious consumers, it is important to know what is in the food you are eating. Simply put, when dining out, it is not 100% possible to know what is in the food you are consuming. With a date night in, you are able to control the food that is served.
What You Need for Your Date Night In
A Vegetable Based AppetizerWhen planning your Asian Themed Date Night In, it is important to start with an appetizer. Whether you want to make an Asian inspired soup like Pho, or something more fresh like my Vegetable Spring Rolls, having an appetizer will help to make your experience just a little more authentic and special.When you choose an appetizer like Fresh Spring Rolls, you are also opening up the opportunity to get in an additional serving of vegetables into your meal time, which is always a great choice for any health conscious diner.Get the full Step by Step Guide to Rolling Fresh Spring Rolls here.
Tai Pei Asian Food EntreesThere is no easier way to enjoy an Asian Themed Date Night In than with Tai Pei Asian Food Entrees. Available in a wide range of tasty entrées, each one provides exceptional flavor in each dish.Pictured in this post are my two favorites, the Beef and Broccoli dish and the Orange Chicken. All Tai Pei entrees are made with real, pure ingredients, and are packaged with no preservatives or artificial ingredients. What I love most is that the product packaging makes Thai Pei conveniently microwavable and ready in just 5 minutes flat.Whether you are planning an Asian Themed Date Night In or just looking for a quick and easy meal to have on hand for when time is short, Tai Pei helps eliminate the boredom of typical, everyday meals, with so many choices and interesting, delicious dishes.Want to find where Tai Pei single serve entrees are available in the frozen food section near you? Use this store locator to find your own Tai Pei Fried Rice Entrees.
Brew Some TeaThis may just be personal preference, but we never had an Asian Themed Date Night In without brewing a cup of hot black tea. Bonus points for including a super cute themed tea pot!

Enter the Sweepstakes!
Now that you know where you can go purchase your own Tai Pei entrees, don't forget that you can also enter the Tai Pei Sweepstakes. Using the link, you can enter to win by completing social media actions: Enter The Tai Pei Sweepstakes.
You could wine one of the following prizes: 10 prizes & 3 Grand Prizes (10 prizes @ $100 Walmart gift cards, and 3 grand prizes @ $500 in Walmart gift cards)
Sweepstakes runs from Monday, January 29th – Monday, March 5th 2018
I-C will randomly select 13 winners from all program entries and will facilitate fulfillment of the winning prizes.

DON'T FORGET YOUR MEAL PLAN!

I hope you're inspired to try something new, like an Asian Themed Date Night In with Tai Pei! If you're looking for additional help in meal planning or discovering new and delicious recipes to try, be sure to download my Free 16 page eBook – The 5 Day Happy & Healthy Meal Plan below!
The following two tabs change content below.
Hi there, I'm Emily Kyle, a nationally recognized media dietitian & nutrition communications expert on a mission to help you create the happy & healthy holistic lifestyle you deserve. To help you on your wellness journey, I offer holistic health counseling, resources inside The School of Health & Happiness, and this blog which focuses on holistic health and wellness, anti-inflammatory, whole food recipes, and my love for Mother Nature inside #TheMillennialGarden.
Latest posts by Emily Kyle (see all)