Savor all of your favorite fall flavors with this naturally vegan, nutrient-dense, Autumn Harvest Plant-Based Protein Power Bowl that will leave you feeling warm, full and satisfied.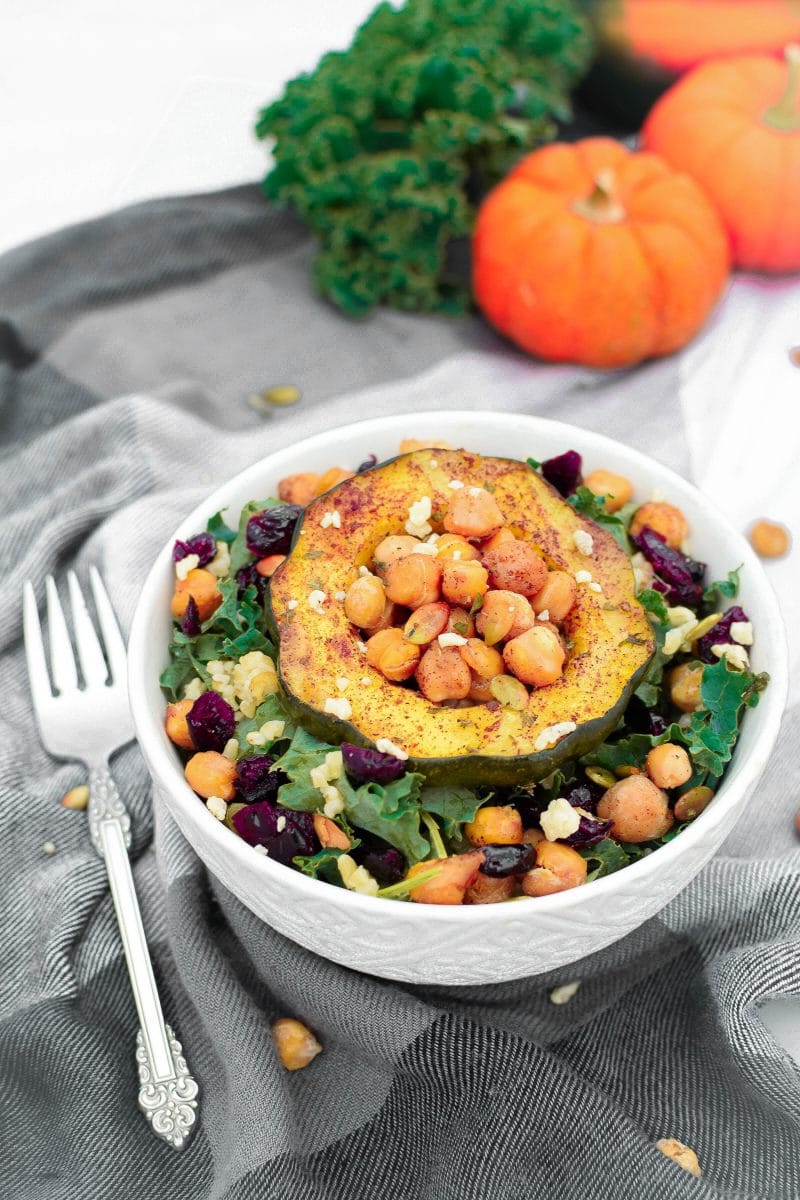 Autumn Harvest Plant-Based Protein Power Bowl
I have held onto summer for long enough. It is time to officially embrace all things FALL. We have wrapped up the last of our garden harvest, brought in the last of the butternut squash, and picked our favorite pumpkins to carve for Halloween.
I have finally accepted that summer is long gone and have made the full transition to full fall mode. Scarves, sweaters, pumpkin spice everything, candles, candles, candles, and squash.
Packed with protein, fiber, and color, plant power bowls are trendy and delicious, not to mention easy to make. You can easily make everything you need for this power bowl on one sheet pan, so there's no mess, and you're ready to enjoy in just 30 minutes!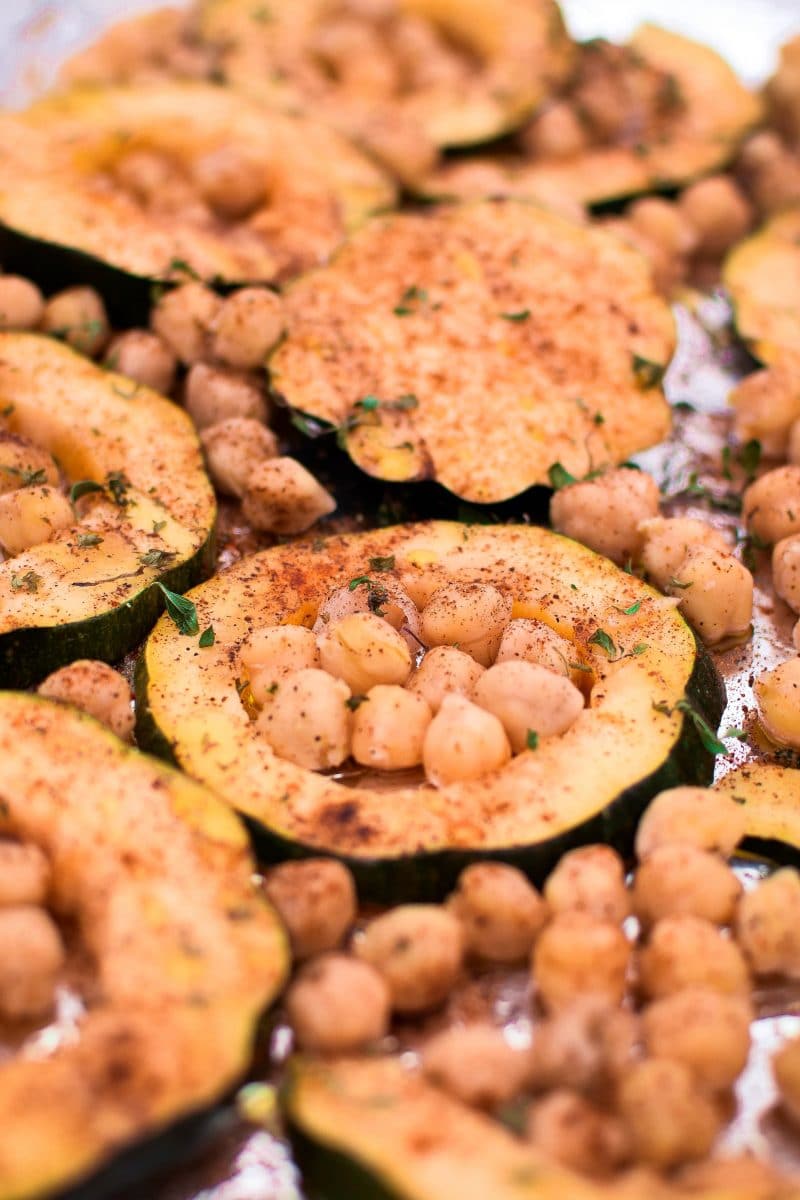 Grow Your Own Squash
If we are friends on Instagram, you already know what an amazing garden harvest we had this year.
We were blessed with an abundance of so many different crops, and thankfully the harvest continues into the fall months. We still have tons of broccoli, kale, celery, and squash thriving in the cooler temperatures.
When creating this recipe, I focused on using as much garden produce as possible, because as I always say, there is nothing healthier than the food you grow yourself.
BUT, if you don't grow your own produce, don't forget to check out your local farmer's market. Many farmer's markets continue throughout the fall and carry much of the fresh produce this is featured here.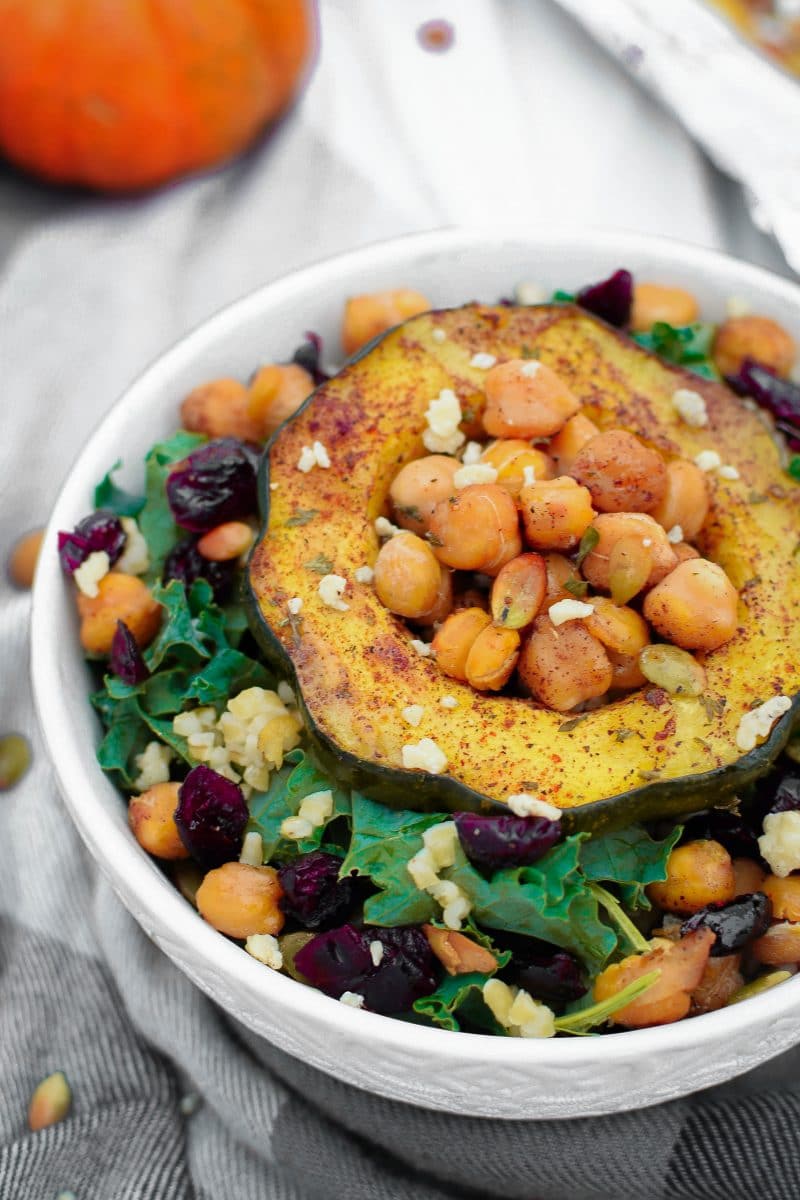 Homegrown Kale
If you want to get started gardening but don't know where to start, I suggest kale - it's pretty hard to mess up.
Kale is hearty, it will continue to grow well even if you forget to water sometimes, and actually does better in cooler weather and develops a sweeter taste. You can use the big leaves in cooked dishes like by Greens & Beans Stuffed Portabella Mushrooms and save the smaller, more tender leaves for a dish like this.
Kale Nutrition
Kale is known as a 'superfood' because of all the amazing health benefits that it offers us. Studies have shown that kale has the ability to provide the body with risk-lowering benefits for cancer, special cholesterol-lowering benefits, and help the natural detoxification system within the body.
One cup of cooked kale provides over 1000% of your daily value of vitamin K and nearly 100% of your daily value of vitamin A & C.

Homegrown Acorn Squash
I am so thankful that my husband built a root cellar in our basement to store these throughout the winter. When properly stored, they should last up to 6 months.
Not only are these babies perfect for roasting, but you can also roast the seeds, just like pumpkin seeds, for a hearty dose of heart-healthy fats and vitamin E.
Acorn Squash Nutrition
This winter squash has been recognized as one of the World's Healthiest Foods for its high levels of carotenoids and beta-carotene, vitamin A & C, and dietary fiber.
Acorn squash is rich in antioxidants and research continues to support the anti-inflammatory benefits provided by this squash has the potential to aid in cancer prevention and cancer treatment.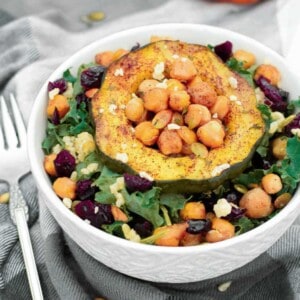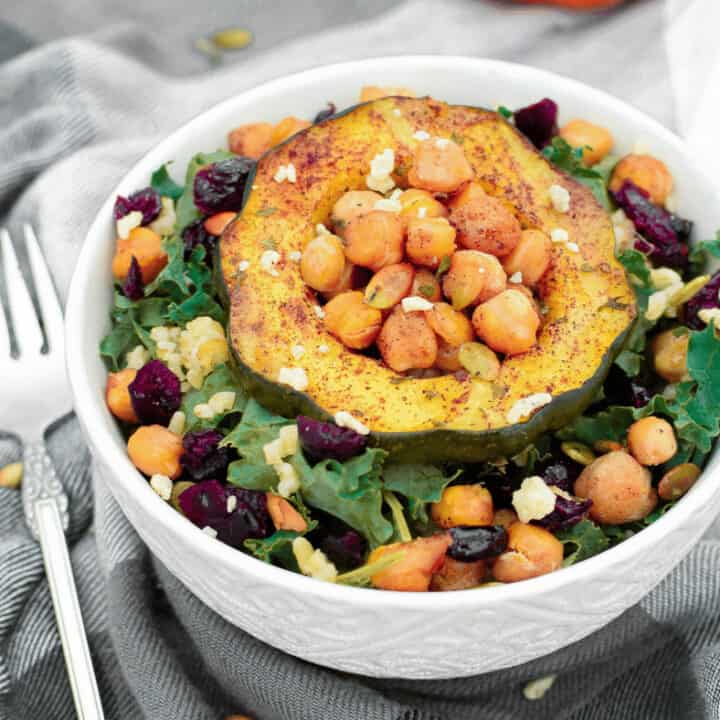 Autumn Harvest Plant-Based Protein Power Bowl
Made with the goodness of kale, cranberries, chickpeas, quinoa, and squash, this sweet salad is packed with protein and flavor.
Ingredients
2

small

delicata squash

sliced in half with seeds removed, sliced into ½" thick half-moon slices

15.5

ounce

can chickpeas

drained and rinsed

1

teaspoon

extra-virgin olive oil

½

teaspoon

salt

½

teaspoon

ground black pepper

to taste

¼

teaspoon

ground cinnamon

⅛

teaspoon

paprika

4

sprigs fresh thyme

¼

cup

dried cranberries

¼

cup

pumpkin seeds

4

cups

chopped kale

1

cup

cooked quinoa

2

tablespoons

maple syrup
Instructions
Preheat the oven to 350 ℉. Line a large baking sheet with foil and set aside.

In a large mixing bowl, toss together the delicata squash, chickpeas, olive oil, salt, pepper, cinnamon, paprika, and whole thyme sprigs until mixed well.

Spread the mixture out in an even layer on the baking sheet. Place in the oven to bake for 30 minutes.

After 30 minutes, remove the sheet pan from the oven and add the dried cranberries and pumpkin seeds to the baking sheet.

Return the baking sheet to the oven and bake for an additional 5 minutes. Remove after 5 minutes.

Arrange the chopped kale in a large bowl. Top with cooked quinoa and the warm ingredients from the baking pan.

Drizzle with maple syrup and enjoy!
Nutrition
Serving:
1
/4th recipe
|
Calories:
300
kcal
|
Carbohydrates:
59
g
|
Protein:
12
g
|
Fat:
5
g
|
Saturated Fat:
1
g
|
Polyunsaturated Fat:
4
g
|
Sodium:
483
mg
|
Fiber:
13
g
|
Sugar:
19
g
Did you make this recipe or have a question?
Join hundreds of members inside private Well With Cannabis Community for help, support, and to share your edible creations!