Move over tater-tots, these baked broccoli bites paired with a vibrant turmeric yogurt dip is a nutrient-dense, delicious veggie-forward dish that will turn anyone in the family into a veggie lover.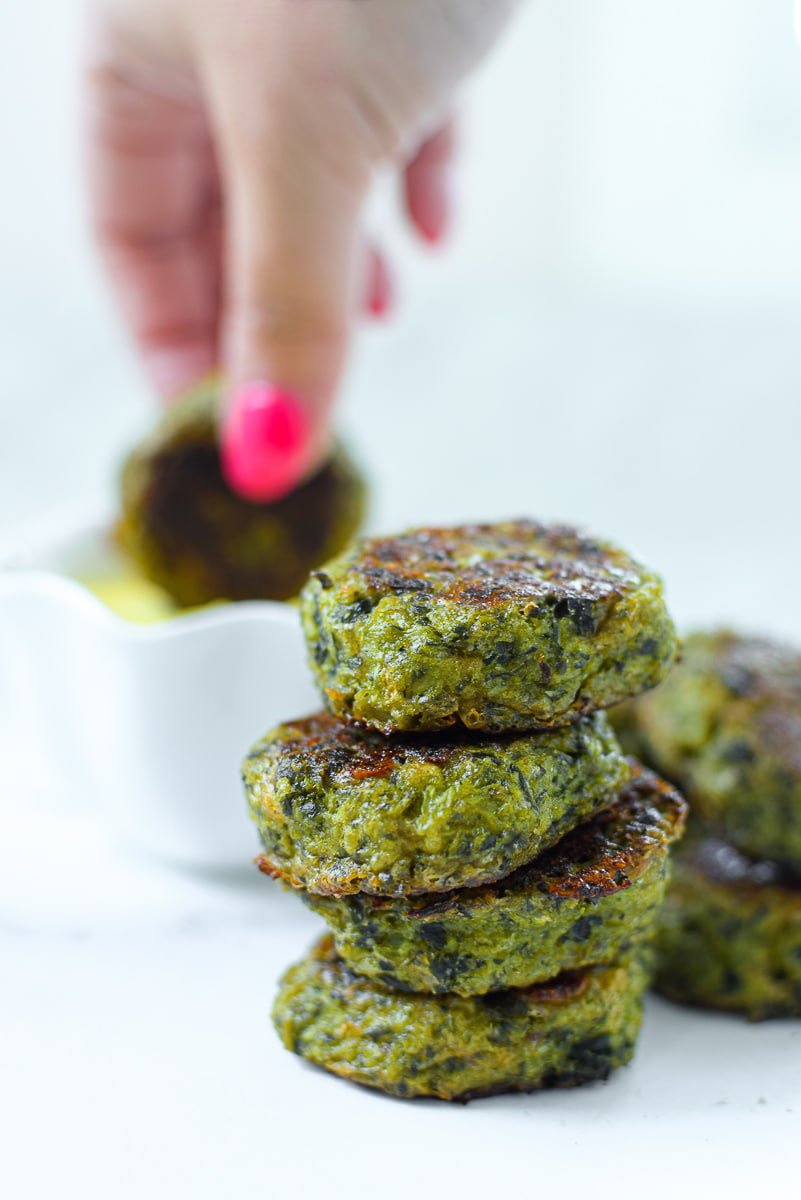 Baked Broccoli Bites
These baked broccoli bites are the perfect handheld treat for any dining occasion. Whether it's for a tailgating party or an informal dinner at home with the kids, everyone is sure to love this easy recipe.
Baked with fresh broccoli, sharp cheddar cheese, and homemade breadcrumbs, these bites are bursting with flavor and nutrition.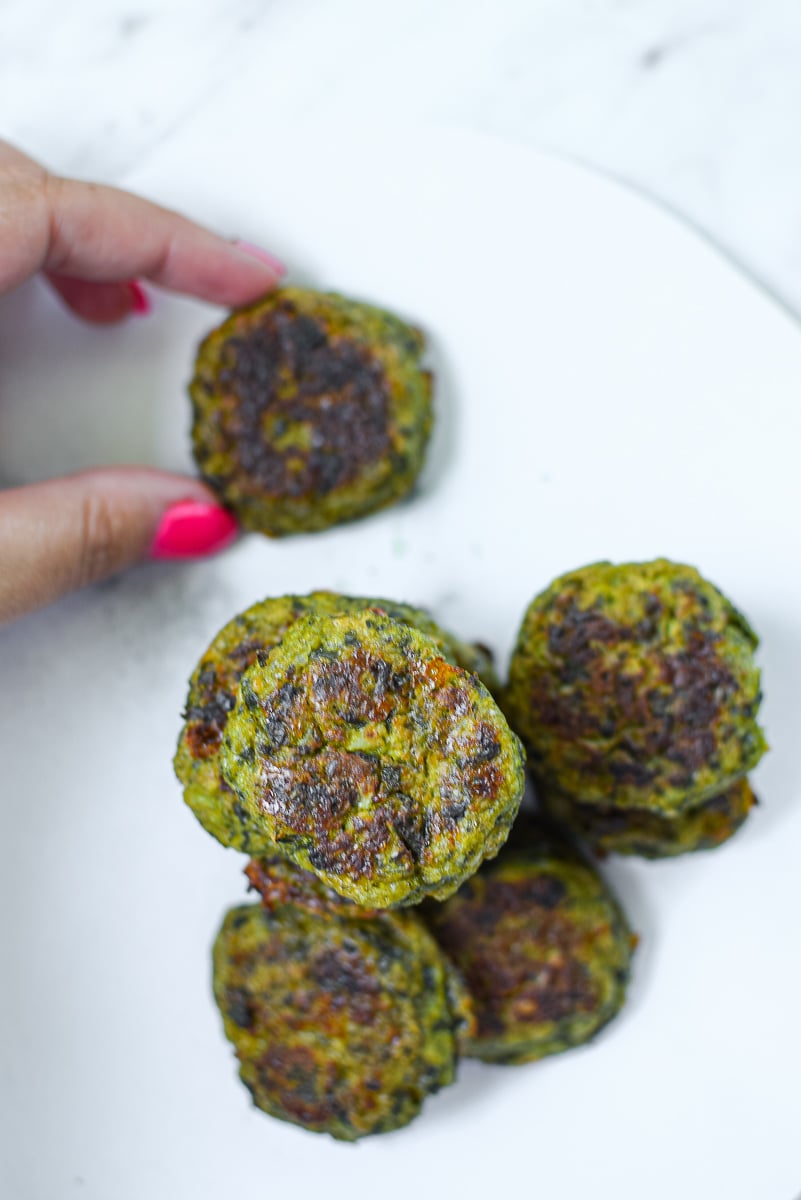 Made With Homegrown Veggies
These Broccoli Bites are a summer favorite in my house, especially when we have fresh kale and broccoli available for harvest in the garden.
Of course, you don't need a garden to enjoy these delicious broccoli bites. Simply visit your favorite farmers market or supermarket to get the veggies you need.
Homegrown Broccoli
Broccoli has always done well for us in the garden, year after year.
It grows well and will continue to grow and grow even after you harvest the original crown, meaning that you will have a steady supply of broccoli for months.
The unfortunate thing about growing your own broccoli is that they can be overcome with bugs, specifically cabbage worms.
We are actively seeking natural ways to combat them, so if you have any good suggestions, please let me know!
Broccoli Nutrition
It should come as no surprise that broccoli is listed as one of the world's healthiest foods. Packed with vitamin K & A, chromium, and folate, broccoli is a concentrated source of nutrients.
Combined with dietary fiber, broccoli has unique benefits such as the ability to lower cholesterol and decrease inflammation in the body.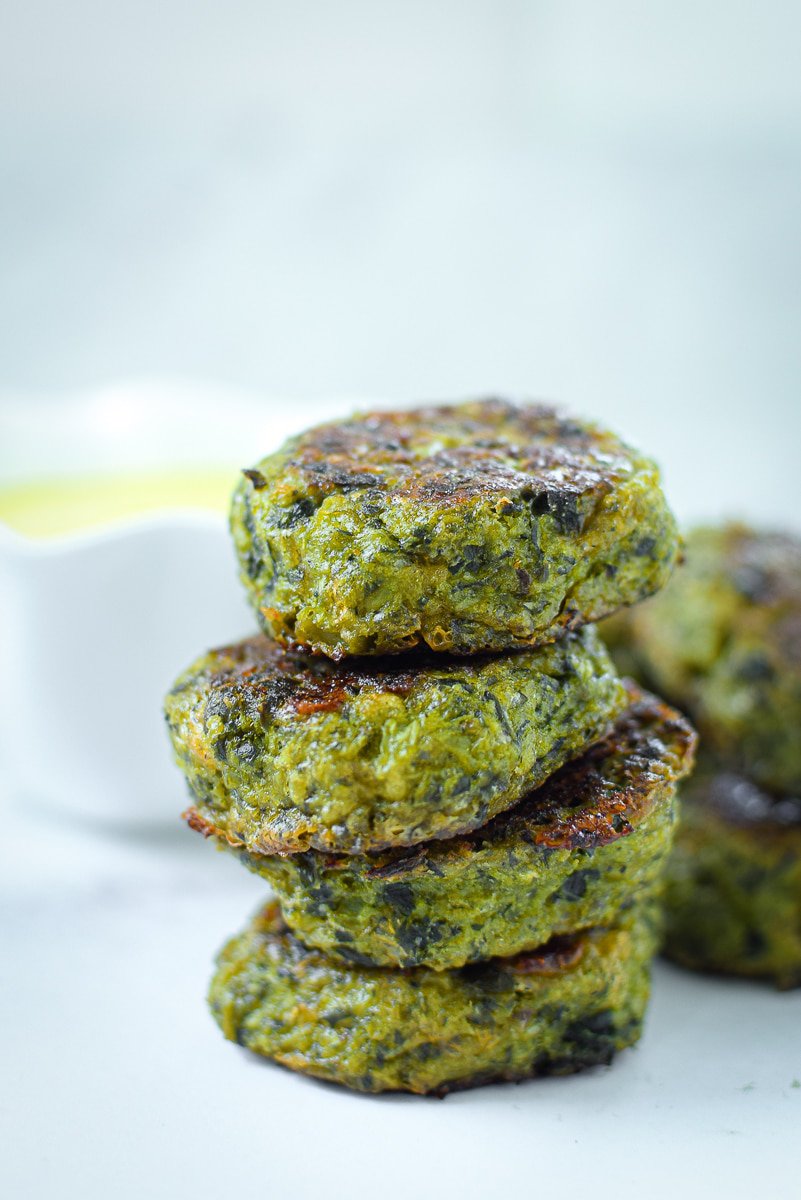 Homegrown Kale
If you want to get started gardening but don't know where to start, I suggest kale – it's pretty hard to mess up!
Kale is hearty, it will continue to grow well even if you forget to water sometimes, and actually does better in cooler weather and develops a sweeter taste.
You can use the big leaves in cooked dishes like my greens & beans stuffed portabella mushrooms and save the smaller, more tender leaves for a dish like this.

Kale Nutrition
Kale is known as a 'superfood' because of all the amazing health benefits that it offers us. Studies have shown that kale has the ability to provide the body with risk-lowering benefits for cancer, special cholesterol-lowering benefits, and help the natural detoxification system within the body.
One cup of cooked kale provides over 1000% of your daily value of vitamin K and nearly 100% of your daily value of vitamin A & C!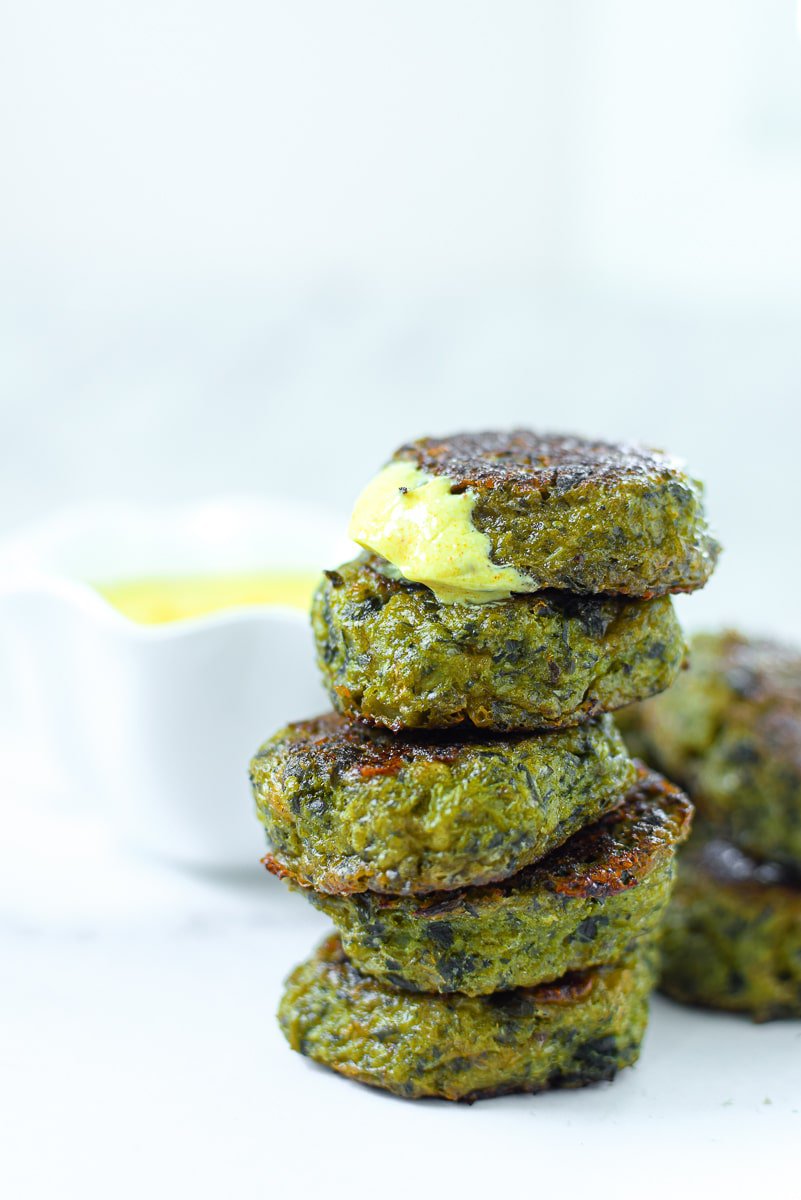 Turmeric Yogurt Dip
My favorite way to enjoy these bites are dipped into a turmeric yogurt dip or homemade ranch.
Making your own homemade turmeric yogurt dip is easy and very customizable. If you need a dairy-free dip, you can use my homemade coconut milk yogurt as the base.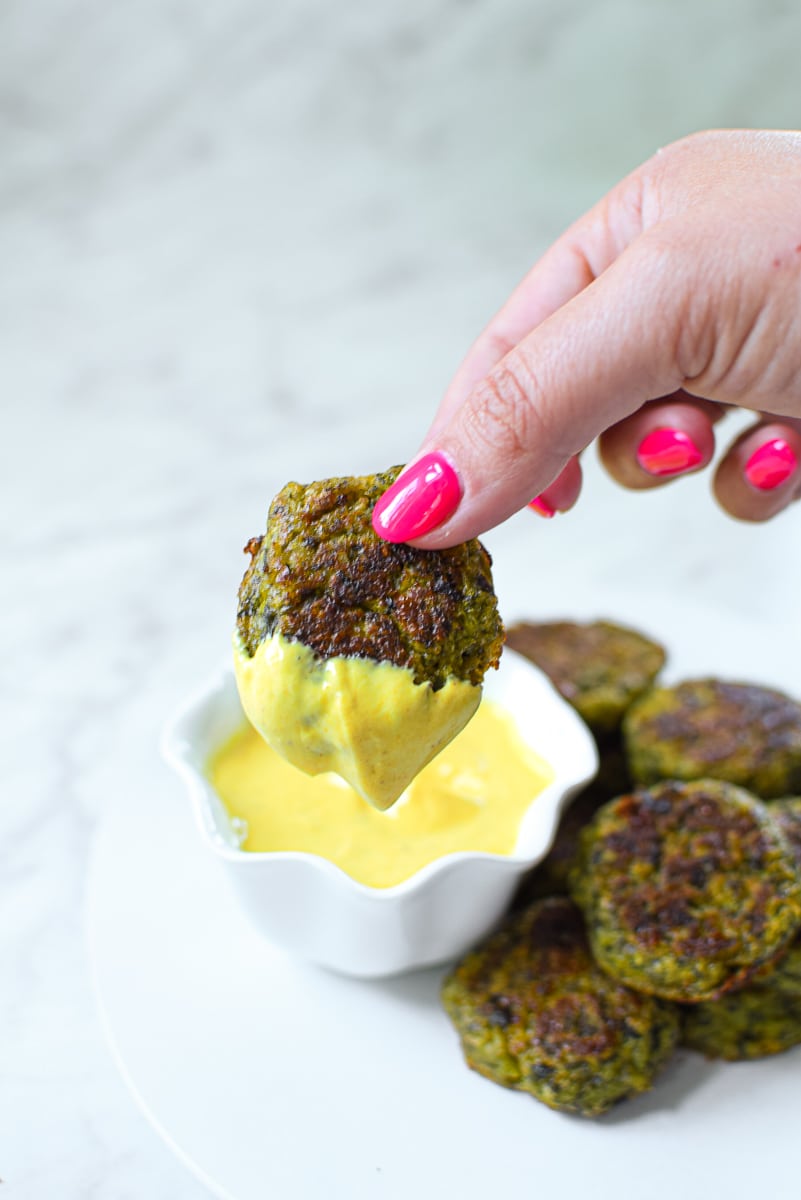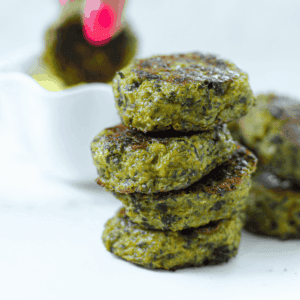 Cheesy Baked Broccoli Bites
Move over tater-tots, these deliciously cheesy, nutrient-dense Baked Broccoli Bites with a vibrant Turmeric Yogurt Dip will turn anyone in the family into a veggie lover.
Ingredients
Broccoli Bites
6

cups

fresh broccoli florets

4

cups

packed chopped kale

¾

cup

diced yellow onion

2

cloves

minced garlic

½

cup

loosely​ packed fresh parsley

3

large

eggs

1

cup

shredded sharp cheddar cheese

½

cup

grated parmesan cheese

½

teaspoon

ground black pepper

¼

teaspoon

salt
Turmeric Yogurt Dip
1

teaspoon

ground turmeric

⅛

teaspoon

ground chipotle peppers

¼

teaspoon

ground black pepper

¼

teaspoon

salt
Instructions
For the Broccoli Bites

Preheat the oven to 400°F. Line 2 baking sheets with foil, coat with cooking spray and set aside.

In a large stockpot over medium-high heat, bring 3-4 quarts of cold water to a boil.

When boiling, add the broccoli florets, stir well and return to a boil for 2 minutes.

Add the kale, bring back to a boil, and cook for another 2 minutes.

Turn off the heat, drain the hot water, and run the broccoli and kale under cold water to stop the cooking process. Set aside.

To a food processor, add the onion, garlic, and parsley and pulse until minced.

Add the cooked broccoli and kale and pulse in 15-second intervals until broken down into smaller chunks.

Add the remainder of the ingredients to the food processor and pulse until everything is incorporated and in a uniform size.

Scoop out ½ ounce scoops of the mixture and form into bite-sized balls and place them on the baking sheet. Repeat until all of the mixtures are made up.

Press down slightly and lightly spray the tops with cooking spray.

Bake in the oven for 10 minutes. Flip the bites with a spatula and return to the oven for another 10 minutes, or until fully cooked and golden brown.

For the Turmeric Yogurt Dip

Mix the yogurt, turmeric, chipotle powder, salt, and pepper until well incorporated.

Dip the warm baked broccoli bites into the turmeric yogurt dip and enjoy it.
Nutrition
Serving:
5
bites
|
Calories:
35
kcal
|
Carbohydrates:
3
g
|
Protein:
2
g
|
Fat:
2
g
|
Saturated Fat:
1
g
|
Trans Fat:
1
g
|
Cholesterol:
15
mg
|
Sodium:
77
mg
|
Potassium:
88
mg
|
Fiber:
1
g
|
Sugar:
1
g
|
Vitamin A:
707
IU
|
Vitamin C:
17
mg
|
Calcium:
53
mg
|
Iron:
1
mg
Did you make this recipe or have a question?
Join hundreds of members inside private Well With Cannabis Community for help, support, and to share your edible creations!