Wake up your taste buds with this fresh and delicious Balsamic Grilled Asparagus & Blackberries with Almonds dish!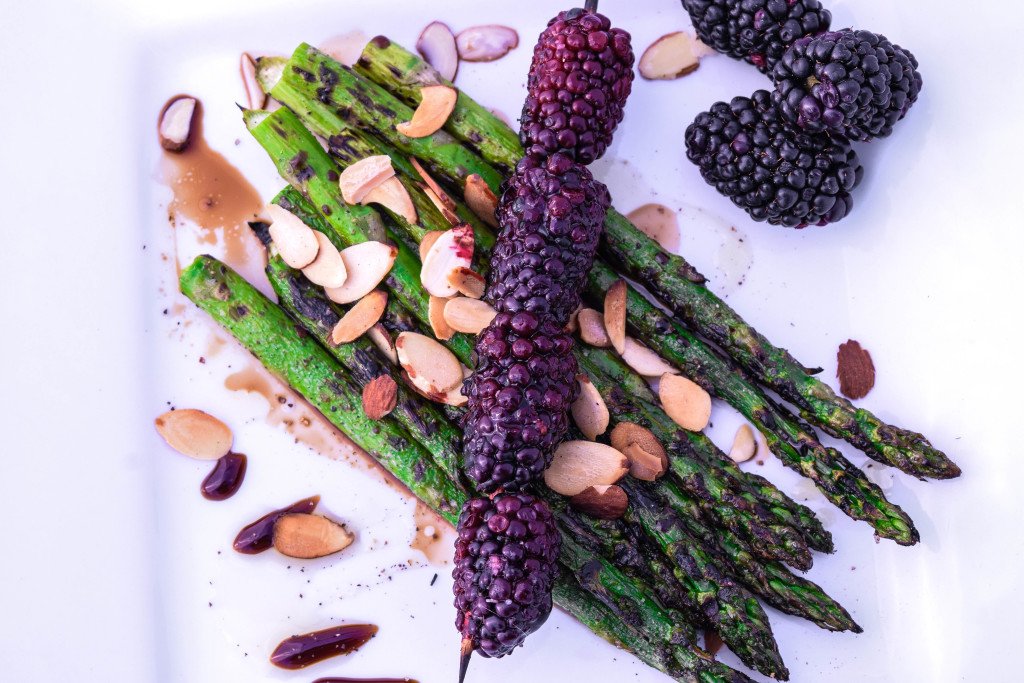 Celebrate the return of spring with freshly grilled asparagus! This amazing recipe captures the savory flavor of grilled asparagus paired with a sweet balsamic blackberry kick all while providing you with 100% of your daily dose of vitamin K, filling soluble and insoluble fiber, and anti-inflammatory health benefits!
Don't forget to Pin this recipe for later!
Ah asparagus! You either love it or you hate it. I love it! But only during the early spring when you can purchase it locally, or if your lucky enough, grow it in your own garden. Fresh, local asparagus tastes so much better, is more green, vibrant & nutritious. This past weekend was so beautiful I was able to take my first Public Market trip! *If you live in the Rochester area, you simply must go to the market – it's like the #1 public market in the country!! Peek around and find some produce from wonderful, local farmers!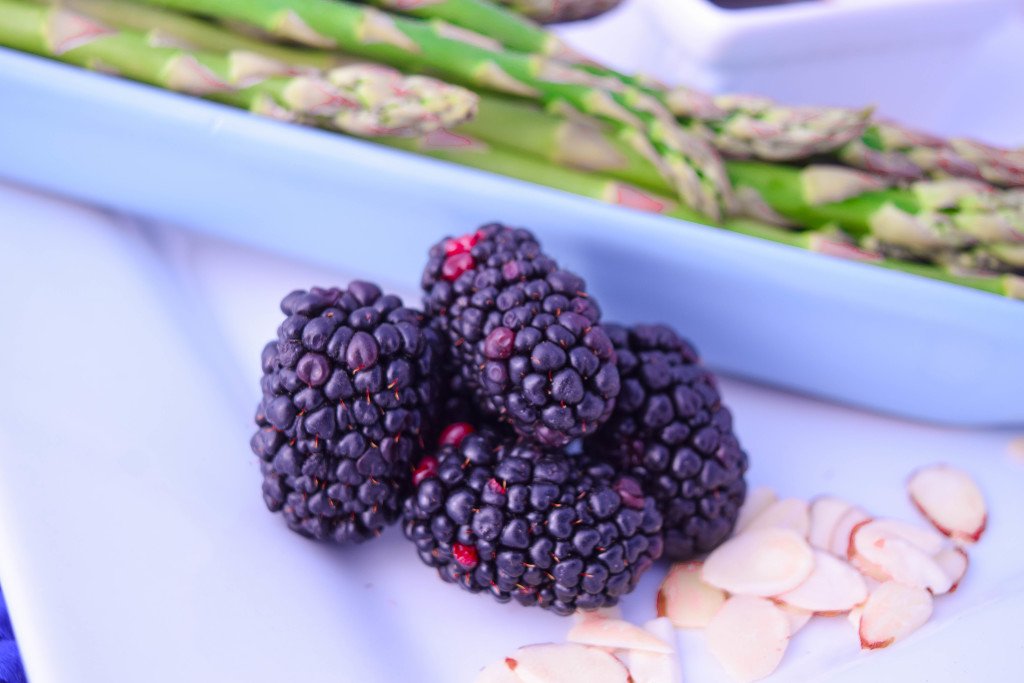 Savor the flavor of spring with Grilled Asparagus & Blackberries! #vegan #foodie
Click To Tweet
Not only is this recipe delicious but it is also packed with super healthy 'super foods' like asparagus, blackberries, and almonds. Both asparagus and blackberries are excellent sources of antioxidants and anti-inflammatory phytonutrients which can help to reduce the incidence of chronic diseases like cancer. Almonds have great health benefits as well, including a rich source of monounsaturated fatty acids, known as MUFA's, which is the good kind of fat that can help the body burn calories effectively. Asparagus, blackberries and almonds are all packed with fiber which will help to keep you fuller, longer.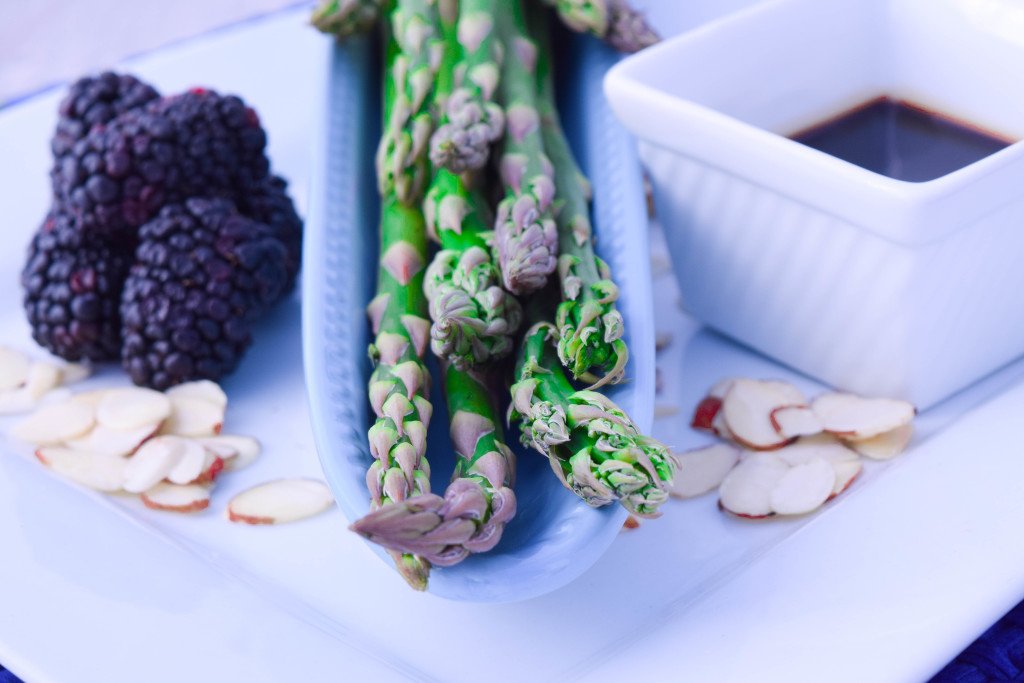 I technically did not cook this recipe. I came up with the brilliant idea in my head and then later bossed Chef Phil around on a Sunday afternoon to make it for me, so he gets some of the credit. His grilling skills are much better than mine, which is why this turned out SO DELICIOUS. This recipe was so good it was featured in my Health in a Handbasket on Good Day Rochester!
Balsamic Grilled Asparagus & Blackberries with Almonds
Balsamic Grilled Asparagus & Blackberries with Almonds
Author:
Emily Kyle, MS, RDN
Instructions
Preheat the gas grill to high. You want it hot!
Wash the asparagus and blackberries.
Snap the woody ends off the asparagus as needed.
Gently skewer the blackberries on a wooden skewer, 3-4 berries per skewer.
Place the asparagus and blackberry skewers in a roasting pan and gently toss in vegetable oil. (Do not use olive oil! You will be cooking at a very high temperature which will exceed the smoke point of the EVOO and ruin the dish! Just trust me!)
Using tongs, carefully place the spears of asparagus on the grill. Let the asparagus sear until tender, flipping once as needed.
After flipping the asparagus half way through cooking, add the blackberry skewers to the grill, flipping once as needed.
While the asparagus is cooking, add the almonds to a dry saute pan and place on the grill. Gently toss the almonds as needed until they turn slightly golden brown.
When everything is ready, carefully plate the asparagus topped with a blackberry skewer. Add the toasted almonds and drizzle with olive oil and balsamic vinegar.
I hope you enjoy this recipe as much as I did and learn to love eating locally and seasonally!
And don't forget to Pin this recipe for later!


P.S. Do you want to learn more about plant-based eating? Be sure to sign up below you for your free Meal Plan, so you can see just how easy eating delicious and nutritious food can be!
BEFORE YOU GO!
Subscribe to get your weekly dose of holistic wellness, health & happiness!
The following two tabs change content below.
I am a registered dietitian nutritionist located in Rochester, NY and the founder of
The School of Health & Happiness
, an online program that teaches women like you how to get healthy, and stay happy, without ever having to diet again! My popular
blog
Emily Kyle Nutrition focuses on plant centric, whole food
recipes
, and real-life evidence-based nutrition information. Learn more about me
here
.
Lets Connect!   
Facebook
»
Instagram
»
Twitter
»
Pinterest
♥
Latest posts by Emily Kyle (see all)