These tasty and toddler approved Banana Sushi Bites have been sponsored by Honey Bunches of Oats Chocolate as part of an Influencer Activation for Influence Central. I only write about products that I love and trust for my own family ♥
Banana Sushi
If you have a toddler, you know that encouraging them to eat healthy can be tricky (let alone eating anything at all some days!). Luckily for me, my sweet boy Ransom will eat anything on a stick, so I put my paper straws to use once again to create some Banana Sushi featuring Ransom's favorite cereal, Chocolate Honey Bunches of Oats!
Don't forget to Pin this recipe for later!
The Perfect HealthyTreat
It is no secret that I love my sweets, which is why I make so many healthy dessert recipes. But as we all know, living a healthy lifestyle means enjoying everything in moderation – even chocolate!! That is why I love these Chocolate Honey Bunches of Oats. They provide the perfect chocolate taste with the use of real cocoa plus a perfect texture from the crispy flakes and everyone's beloved 'bunches'.
I have always loved Honey Bunches of Oats and am so glad that I can share them with my little one with his sensitive tummy. Thankfully this chocolate cereal is also gluten-free. When my handsome devil decided that he no longer wanted to eat just a plain banana, I decided to get a little crafty. This banana sushi recipe is completely gluten-free and perfect for anyone who has adopted a gluten-free lifestyle, especially with little ones in the family. Luckily Honey Bunches of Oats has remained dedicated to being delicious, even for those who are gluten sensitive or intolerant.
[bctt tweet="Banana Sushi – a perfect, fun #GlutenFree recipe for #toddlers & adults! #ad"]
This recipe is also a great way to get your little ones involved in the kitchen, which is one of the best ways that you can get them interested in health, nutrition, and food preparation! Ransom loved making this treat with me, and after I put him down for a nap, mama enjoyed eating these tasty treats all to herself 🙂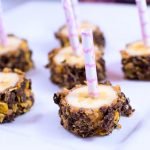 Banana Sushi
Banana Sushi, the perfect gluten-free and toddler approved snack.
Ingredients
1

banana

1

tablespoon

of almond butter

or your favorite kind of nut butter

1

cup

of chocolate Honey Bunches of Oats

Paper straws or sticks
Instructions
To start, place your cereal into a bag and remove as much air as possible, Seal tight.

Crush the cereal until it is broken down into fine pieces. Set aside.

Peel the banana and evenly cover in almond butter.

When coated, pour the crushed cereal over the nut butter.

Roll the banana to coat evenly, using your hand to press the cereal into the banana as needed.

Using a sharp knife, cut the banana into 1/4-1/2" pieces.

Place the pieces flat side down on a plate and add your straw or stick.

Place in the freezer for 10 minutes so the sticks will hold.

Enjoy!
Disclaimer: While Honey Bunches of Oats Chocolate complies with FDA Gluten Free labeling requirements, it is not manufactured in a dedicated facility. All ingredients, ingredient suppliers and production lines are thoroughly tested at multiple levels of production and evaluated to assure there is no risk of cross-contact contamination. As gluten intolerances and sensitivities vary from person to person, we encourage you to use your best discretion when choosing foods safe for you. Honey Bunches of Oats Chocolate aims to provide a delicious cereal for all members of the family to enjoy, including those with gluten sensitivities or allergies. Enjoy!
I hope you and your little helpers love this recipe as much as we did!
And don't forget to Pin this recipe for later!

LETS STAY CONNECTED
Subscribe to the Wellness Wednesday Newsletter - holistic wellness, health & happiness delivered directly to your inbox!

The following two tabs change content below.
Hi there! I teach women like you how to get healthy, and stay happy, without ever having to diet again! To help you, I provide individualized nutrition coaching and have created
The School of Health & Happiness
, an online training program to help you develop a positive relationship with food. This blog focuses on holistic health, plant-centric, whole food
recipes
, and real-life Mindful & Intuitive Eating Practices.
Learn more here
.
Lets Connect!   
Facebook
»
Instagram
» ♥
Latest posts by Emily Kyle (see all)