This page may contain affiliate links. Read my full disclosure here.
Everyone in the whole family will love this Easy Banana Sushi, an easy, fun-to-make treat that will help to get your kids in the kitchen to develop a love of cooking at a young age.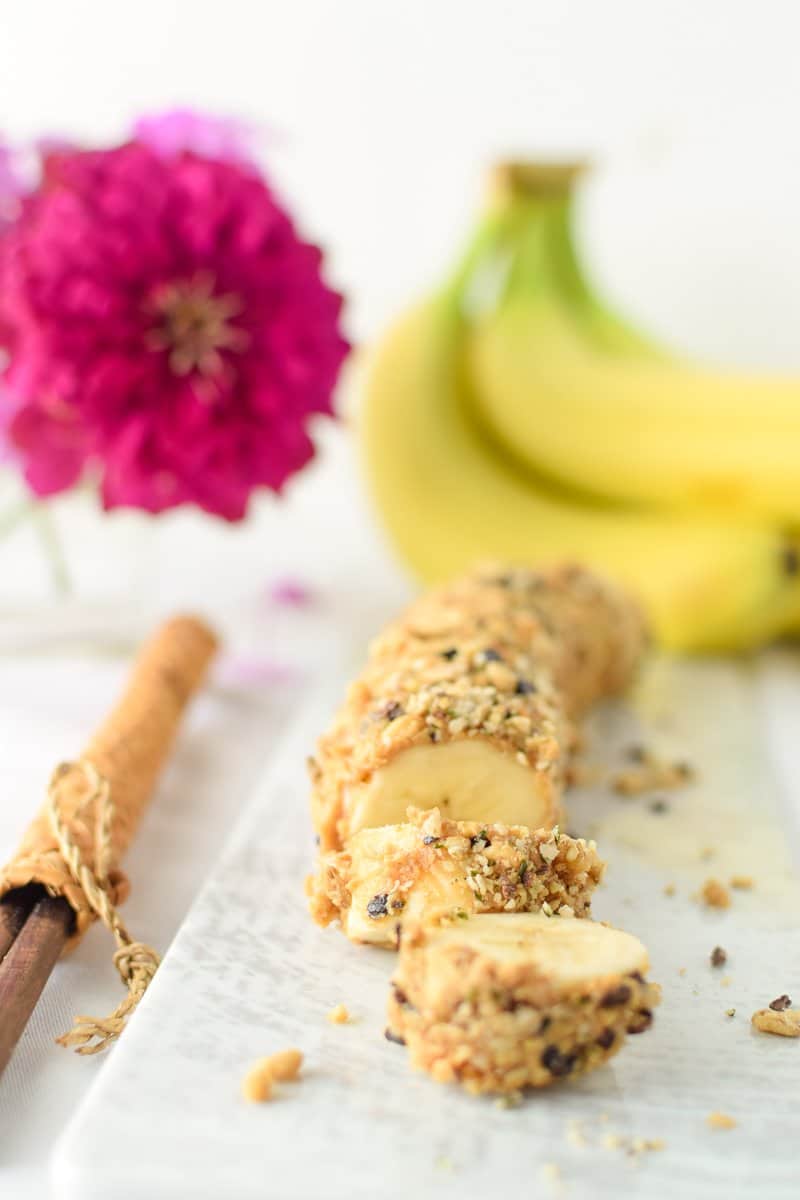 What is Banana Sushi
If you follow me on Instagram, you know that Ransom is the star of the show!
Whether he is out in the garden harvesting his own vegetables or in the kitchen whipping up his own version of Coconut Fried Shrimp, at three years old he shows us all that age is just a number.
Over time, I have found that the more I involve my him in the kitchen, and in the garden, the more interested he is in not only preparing healthy food, but actually eating it too.
Banana sushi is one of Ransoms favorite recipe and he thinks your little ones will like it too!
Preparing this fun recipe together is a great way to get your little ones involved in the kitchen as well.
Cooking something together is one of the best ways that you can get them interested in health, nutrition, and food preparation from a young age and help them to develop the skills that they need to benefit them later in life.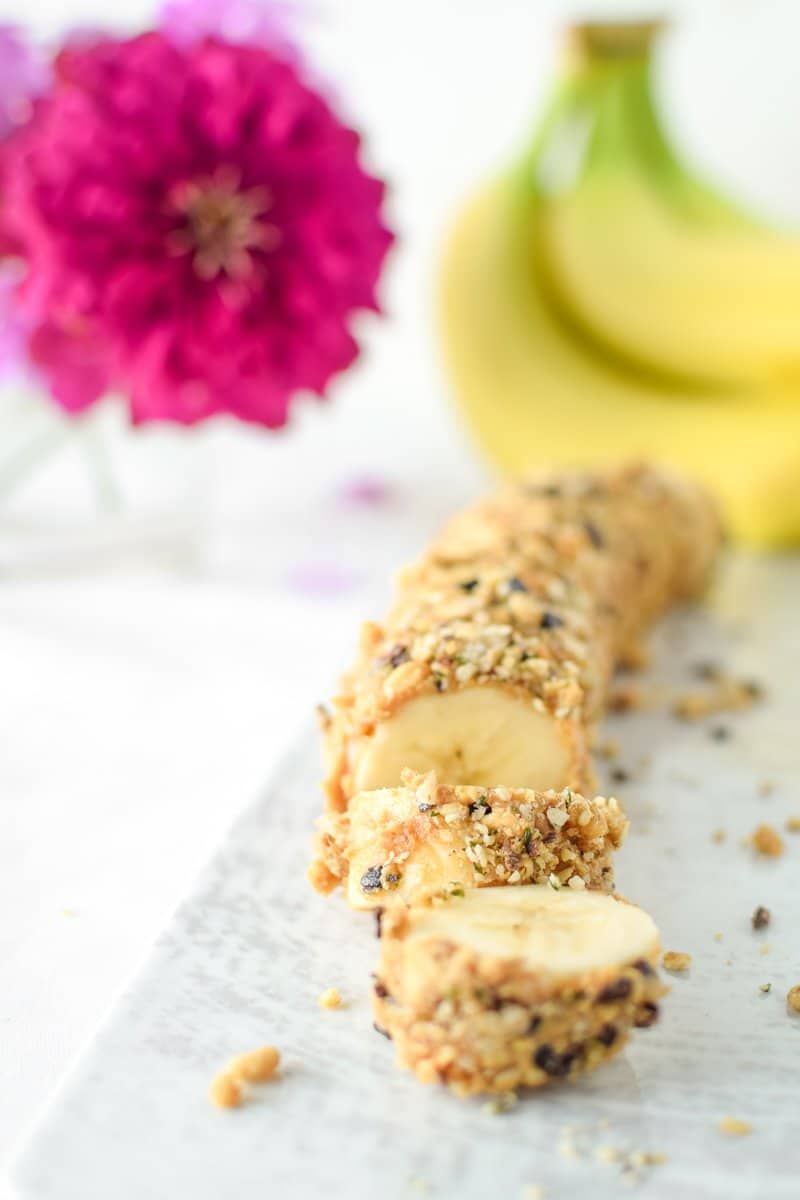 Kids in the Kitchen
This year I am so excited to be able to work along side so many of my dietitian colleagues to celebrate Kids Eat Right Month during the entire month of August.
What is Kids Eat Right Month?
Kids Eat Right Month is celebrated every August by the Academy of Nutrition and Dietetics. It is a month-long initiative that focuses on the importance of healthful eating and active lifestyles for kids and families.
Celebrate Kids Eat Right With Us
As my friend, colleague, and overall super-mom Sarah Hass, aka the Cookin RD, knows, that when it comes to raising children – it takes a village.
That is why she has rounded up some of the most fabulous food bloggers on the internet to form a month–long campaign focusing on the Kids Eat Right Month initiative.
By searching the hashtag #kidsinthekitchen on your favorite social media platform you will find a dietitian posting about his or her own favorite ways to get kids in the kitchen.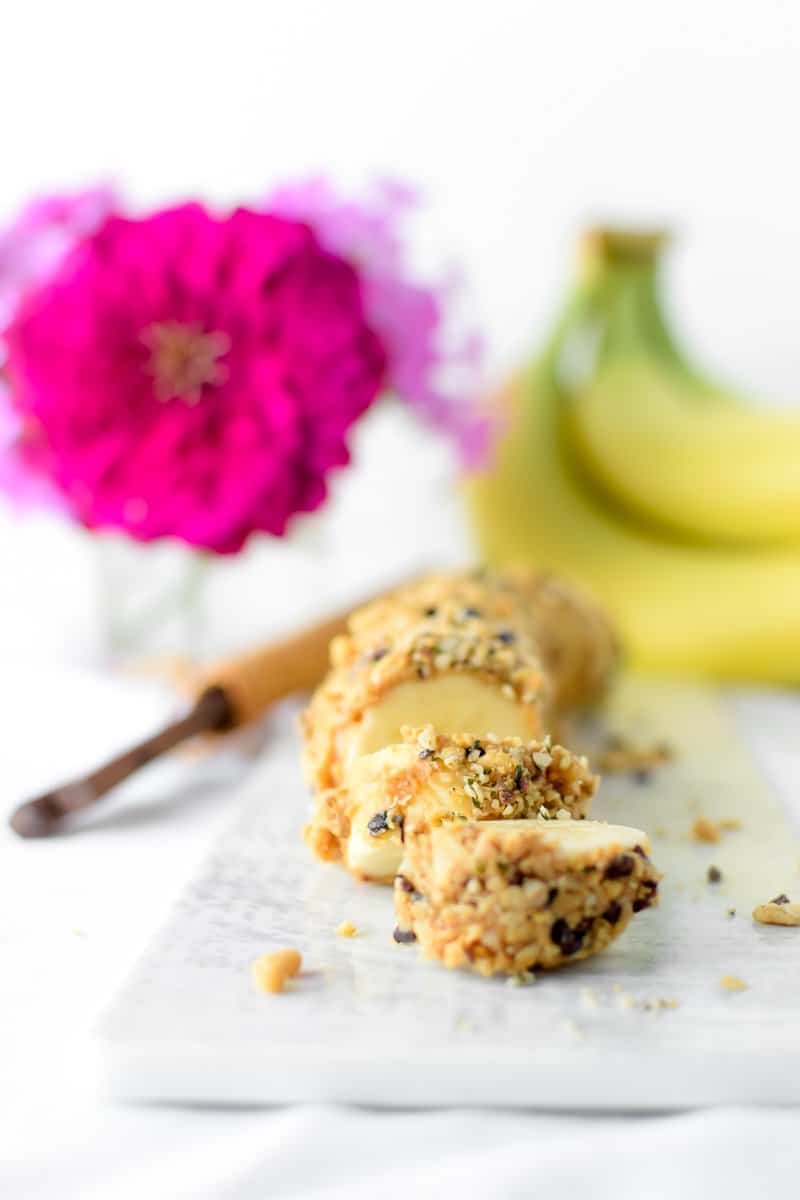 Easy Homemade Banana Sushi
Now this idea for banana sushi came from Pinterest, and what I love the most is that you can customize it however you want.
The Nut Butter
Love peanut butter? Perfect, PB and bananas go perfect together.
Have a peanut allergy? Almond butter works great too.
Have a nut allergy? Try sunflower seed butter.
The Topping
You can roll your delicious peanut butter dipped banana in just about anything you choose.
Both granola and cereal work great, as well as a variety of seeds and nuts – and even, chocolate chips.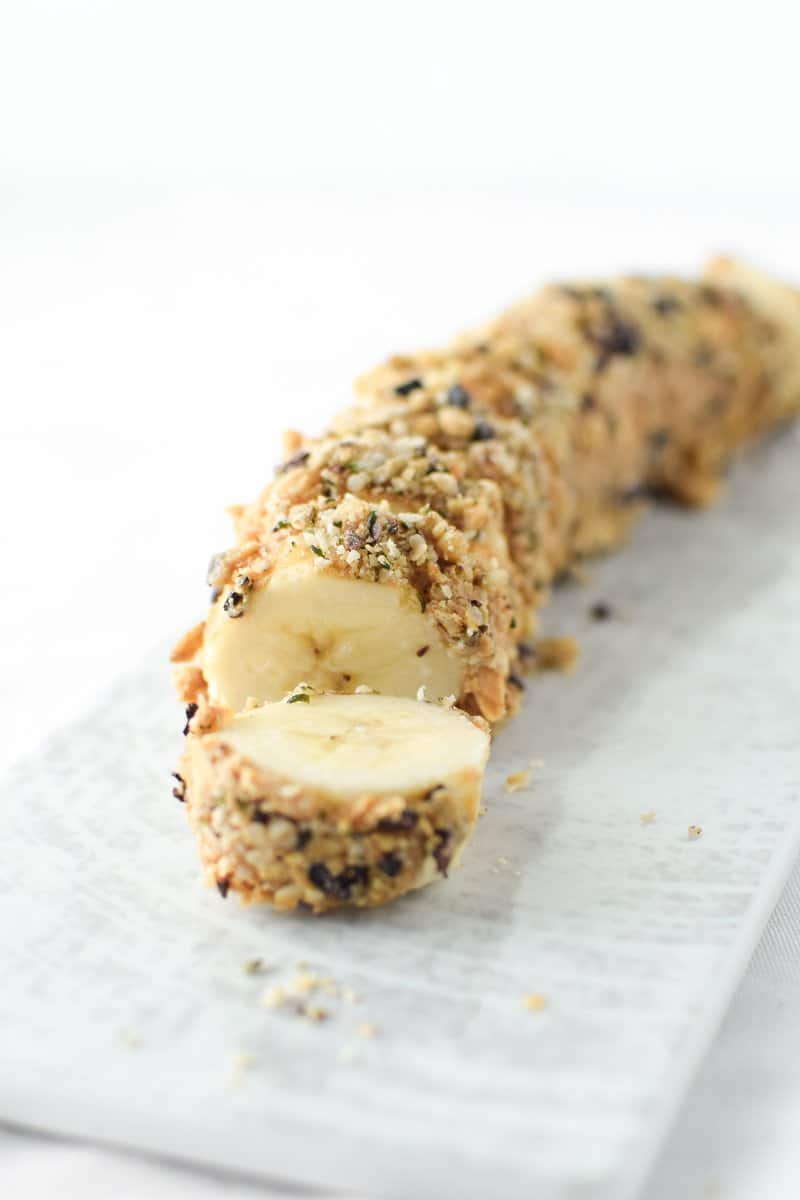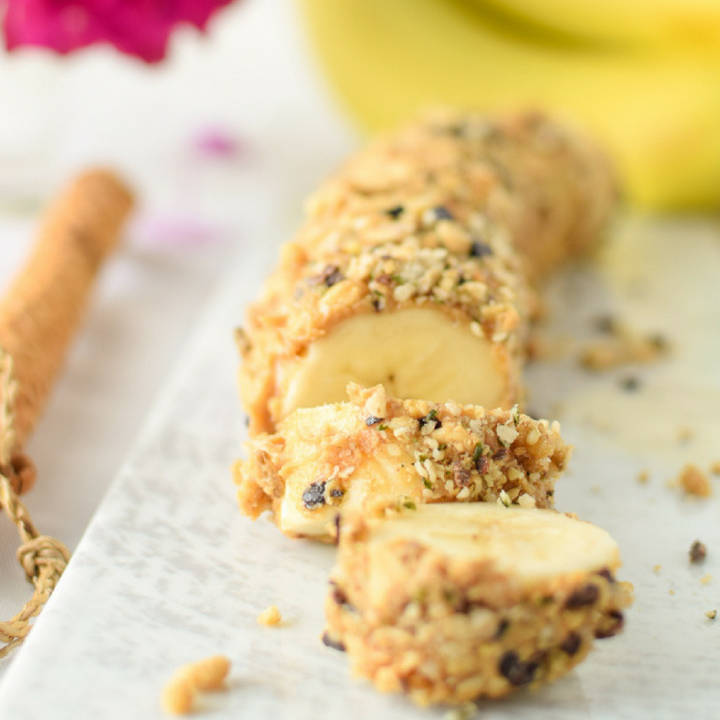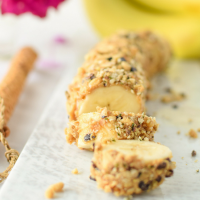 Easy Banana Sushi
Everyone in the whole family will love this Easy Banana Sushi, an easy, fun-to-make treat that will help to get your kids in the kitchen to develop a love of cooking at a young age.
Ingredients
1 banana
1 tablespoon peanut butter, or nut butter
1/2 cup granola
1 tablespoon hemp seeds
1 teaspoon raw cacao nibs or chocolate chips
Instructions
To start place your granola, hemp seeds and cacao nibs into a plastic bag and remove as much air as possible. Seal tight.
Using a rolling pin, crush the cereal until it is broken down into fine pieces. Set aside.
Peel the banana and evenly cover all sides in your choice of nut butter.
Place the coated banana in the crushed cereal and roll many times to cover completely. Use your hand to press the cereal into the banana as needed.
Using a knife, cut the banana into 1/4-1/2" pieces.
Enjoy!
Download Your FREE Meal Plan Before You Go!
If you're looking for additional help in meal planning or discovering new and delicious recipes to try, be sure to download my Free eBook – The Happy & Healthy Flexible Meal Plan below:
---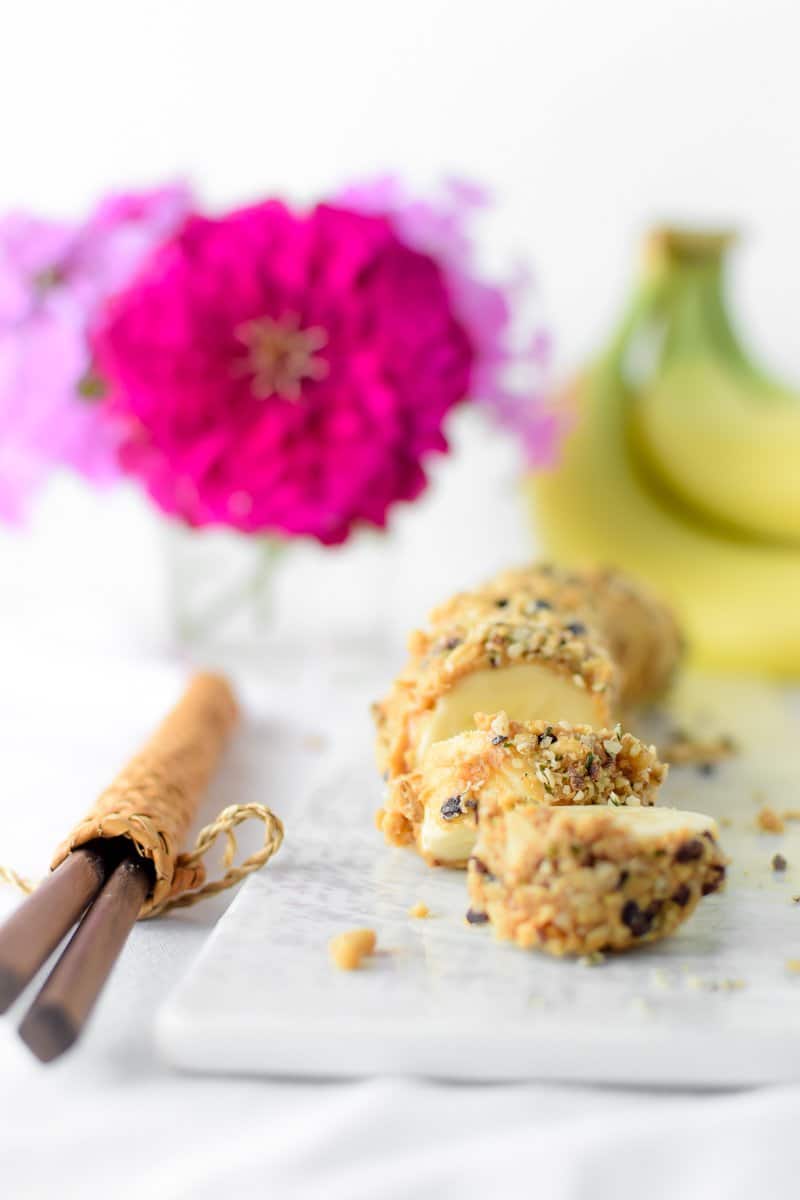 Welcome! I'm Emily Kyle, a nationally recognized media registered dietitian nutritionist & holistic cannabis practitioner providing holistic health care for those living with autoimmune and inflammatory conditions. To help you, I offer food sensitivity testing, cannabis education, and this blog which provides free resources including anti-inflammatory recipes, holistic health, wellness and nutrition related articles, and evidence-based cannabis education.