Become a Food Smart  Family with 4-H! This post was sponsored by the National 4-H Council as part of an Influencer Activation for Influence Central and all opinions expressed in my post are my own.
Learn more about how you can Become a Food Smart Family with the National 4-H Council's Food Smart Families program. Their "Teens as Teachers" model engages youth at a critical age for gaining skills and establishing behaviors that become sustainable, healthy habits for their families and communities tomorrow.

Growing Up as a 4-H Kid
I was lucky enough to have a mom who wholeheartedly believed in the importance of community service, who dedicated her life to ensuring that my sister and I had everything needed for a perfect childhood.
Being a member of the 4-H club was something we got the joy of experiencing, and I fully believe the lessons learned during those years have carried on in my adult life. Now don't laugh, but I had to call my mom and have her remind me of all the fun things we did in 4-H when we were younger, as I don't remember much bring young, probably between the age of 6-9.
My mom was the 4-H group leader and we all met every 2 weeks to do a community project, there were 6 people in the group and it was a fun way to to get together and make new friends. Some of the members have remained life long friends.

A Focus on Community Service
One of my most vivid memories was our longest project, the recreation of a Victorian Doll house that displayed at our local Hemlock Fair. But we also did so many great activities together in 4-H when we were younger that have had a huge impact on me and my work today.
I remember learning how to bake cookies with my mom, and later taking them to the nursing home to share with the residents. We also spent an entire summer planting a community flower and vegetable garden in our small town for everyone to enjoy. I think this is where my passion for gardening came from.
All of these activities were always rooted in the act of community service and what we could learn to do to help make the lives of others better. I strive every day to continue on this tradition with my own son. 
Now that I am older with a family of my own, I am so happy to continue to support the 4-H group and the 4-H Food Smart Families program which creates food secure homes by teaching families how to plan, shop and prepare healthy meals on a budget. This program can help your family become a food smart family as well!
Become a Food Smart Family and get involved with your Community with 4-H!
Click To Tweet
Want to learn more about the Food Smart Families program? Check out this super helpful info graphic below!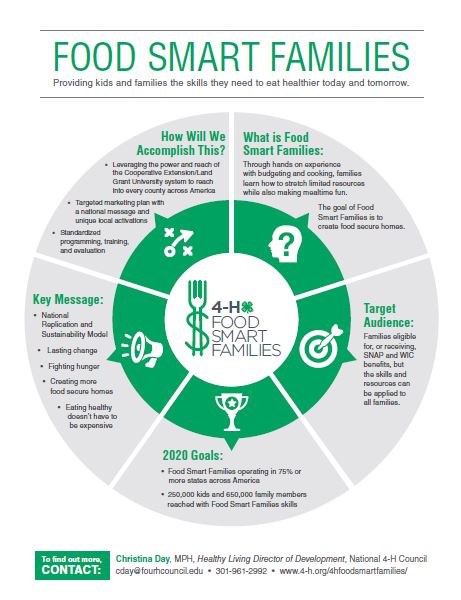 Become a Food Smart Family
It is a startling statistic, but nearly 16 million children live in households that are food insecure, meaning they don't have consistent access to food throughout the year.
Whenever I think about this statistic, I think about how lucky I am and how it is important to help those in need.
4-H allows all of us to step up and do what we can to help those in our communities who need it, and become our own food smart family as too. Inspiring others to help out in both their own home and their communities is important as well, especially our younger generations.
This is why I love the Food Smart Families program which incorporates an effective 4-H "Teens as Teachers" model. This model leverages the proven influence of young people by engaging teens to empower their peers and families today and to help establish life-long healthy habits for their families and communities tomorrow.
Over the years, 4-H and the Food Smart Families program have helped more than 400 youth become trained to be Teens as Teachers to serve as role models and mentors in their own communities, educating younger youth and empowering their parents and families to shop better and cook smarter today.
This program has demonstrated some amazing changes for all involved. It is a huge success to see that 90% of youth participants now think being active is fun and good for fitness and 89% now encourage their families to eat meals together, which we all know is critical to raising healthy eaters.

My love for helping others live a happy and healthy lifestyle was absolutely influenced by my participation in 4-H as a young girl, and I can't wait for my son to join 4-H when he is ready as well.
I am thankful that programs like this exist to continue to help those in our communities who need it the most. Since 2011, UnitedHealthcare and 4-H have partnered together to deliver healthy living programs to more than 340,000 youth and their families in 14 states.
If you are ready to learn more about Becoming a Food Smart Family check out the 4-H Food Smart Families Website here. You can also connect with 4-H on Facebook, 4-H on Twitter, 4-H on Instagram and 4-H on YouTube.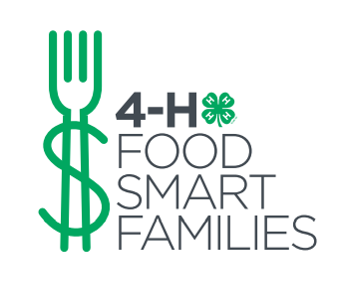 LETS STAY CONNECTED
Subscribe to the Wellness Wednesday Newsletter - holistic wellness, health & happiness delivered directly to your inbox!

The following two tabs change content below.
Hi there! I teach women like you how to get healthy, and stay happy, without ever having to diet again! To help you, I provide individualized nutrition coaching and have created
The School of Health & Happiness
, an online training program to help you develop a positive relationship with food. This blog focuses on holistic health, plant-centric, whole food
recipes
, and real-life Mindful & Intuitive Eating Practices.
Learn more here
.
Lets Connect!   
Facebook
»
Instagram
» ♥
Latest posts by Emily Kyle (see all)