Made with fresh berries, fresh mint, and bananas, this no-churn black raspberry nice cream is just as creamy and delicious as regular ice cream, making it the perfect summertime treat to be enjoyed in a bowl, cone, or as a yummy popsicle.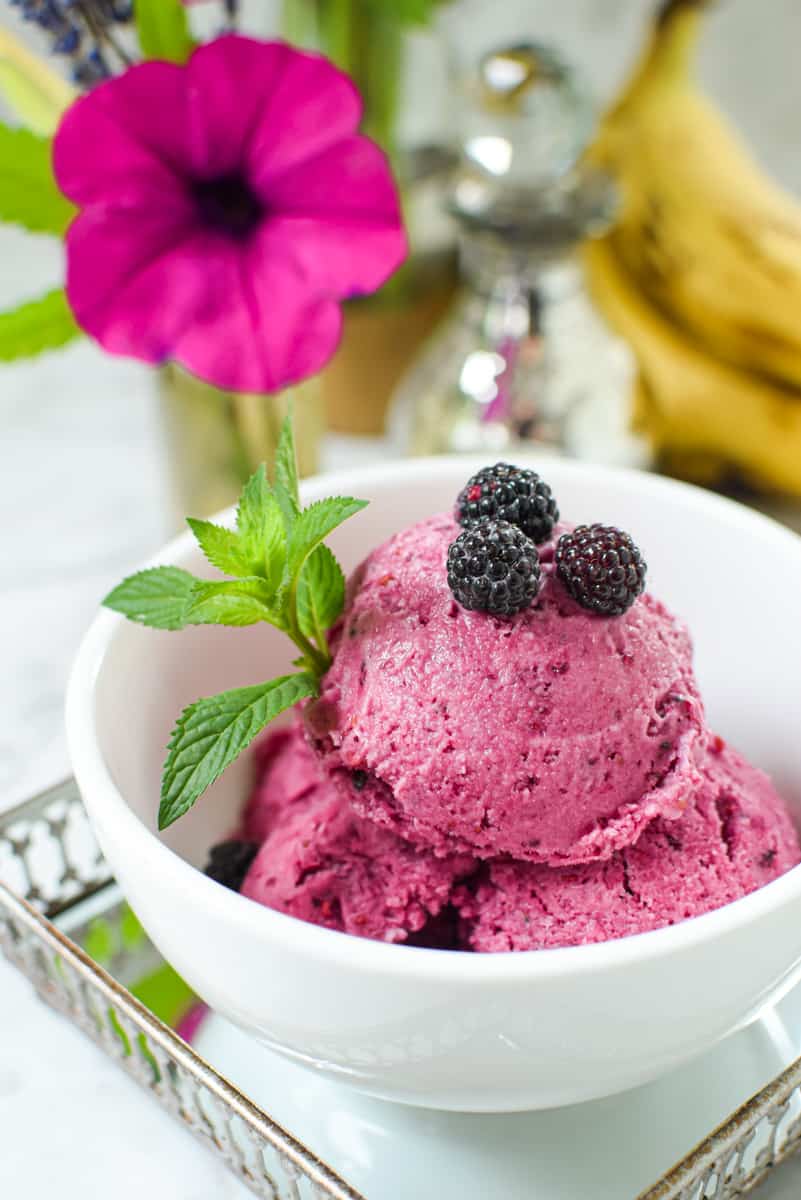 Ransom's Black Raspberry Nice Cream
It's hard to believe that I am posting Ransom's first official post on the blog. For those of you who don't know, Ransom is my 5-year-old son and the reason I started this blog and Instagram in the first place.
When he was just a baby I was torn because I knew I didn't want to go back to work in the hospital as a dietitian full-time.
But I also felt stuck and unfulfilled at home as a stay-at-home mom and wanted to use the education I just paid so much for.
One day I randomly decided I was going to start a blog, not even knowing what a blog actually was.
Five years later, this blog has grown to serve content to over one-million viewers and counting while allowing me to not only stay at home with Ransom, but allowing my husband to retire and do so as well!
I have cherished (and oftentimes cursed) every moment being home with Ransom and it's hard to believe five years have flown by so quickly.
I love being home, and we all love where we live, and we love our gardens, our chickens, and our country life.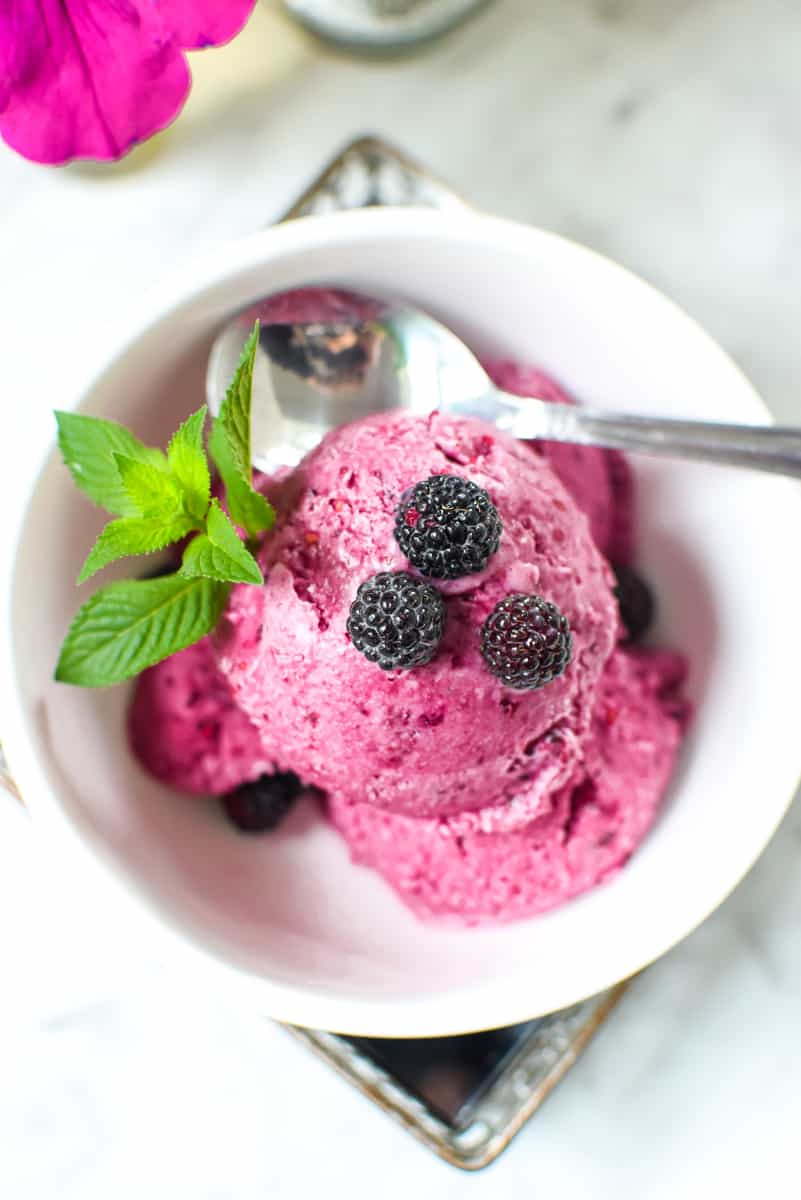 Wild Black Raspberries from Conesus, NY
One of our favorite things to do in the summertime is to pick wild black raspberries in our backyard.
We live in upstate New York on a lake called Conesus Lake which is said to have been named by the Native Americans as "land of the berries".
Year after year we spend our hot summer days outside picking black raspberries and eating as many as possible, before freezing or canning the rest.
This summer has been a little different for us now that we're settled into the 'new normal' post corona.
Ransom briefly went to kindergarten last year for 4 months before the virus hit and has been home with us ever since.
It's been a blessing and a curse. As much as we love spending time together, mom still needs to work to pay the bills.
This has been a great learning opportunity for Ransom to learn more about how his mom, a dietitian, and his dad, a Chef, work together in our business.
He is starting to understand the concept that we create recipes for other people to enjoy.
So, when he came to me with his very own first recipe, I was heart-warmed. It was a black raspberry he picked from the garden stuffed with a piece of freshly picked mint leaf.
Everyone agreed it was absolutely creative and delicious, and I asked him if he'd like to put his own recipe on the blog. He said yes, and the work began.
We talked about recipe concepts, flavorings, and all the unlimited options. Eventually, Ransom and dad settled on this amazing, creamy, delicious blackberry nice cream recipe.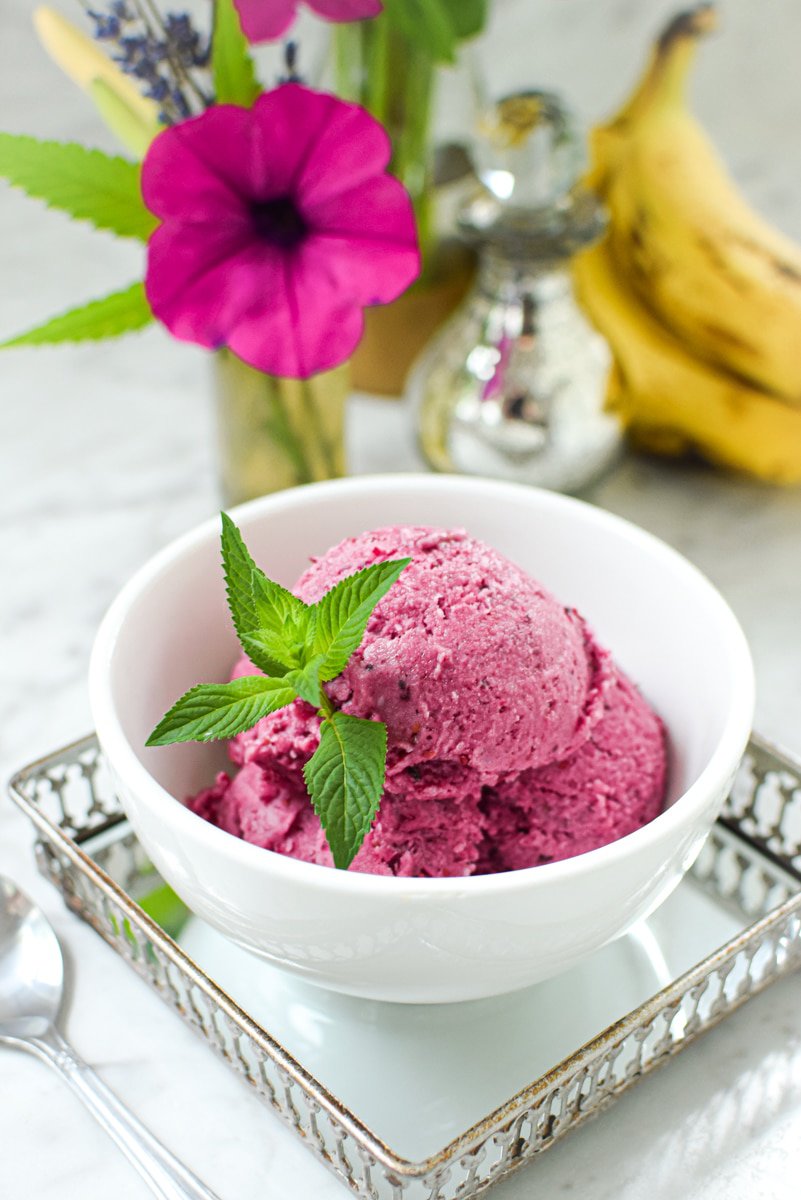 About The Recipe
This dish is considered 'nice' cream, aka, banana ice cream.
When frozen and then blended, bananas develop a wonderfully smooth and creamy texture that proves to be a lovely no-churn alternative for ice cream.
The best part about nice cream is that it is no-churn!
No need for a fancy ice cream maker or anything else, this nice cream is still just as creamy can be enjoyed just like regular ice cream or in popsicle molds.
Additionally, you can customize this recipe and make it your own by swapping out different kinds of berries depending on what you have in season.
It is simple really, just frozen bananas blended together with whatever additives you desire, I've got many different nice cream recipes in my cookbooks.
You can blend the bananas with things like plant-based milk, your favorite sweetener, and any other tasty ingredient you may like.
Compared to traditional ice cream, nice cream helps good health by adding vitamins and minerals that help your body function at its best, like potassium and fiber.
Each banana provides approximately 3 grams of dietary fiber which will help you keep you full and feel satisfied. In addition to fiber, potassium is an electrolyte that can help promote heart health by maintaining good blood pressure levels within the body.
Ultimately, what I always like to show Ransom is that living a healthy lifestyle doesn't mean that you have to give up your favorite treats like ice cream.
It means you truly enjoy them when you have them, savoring both the taste and the experience.
We hope you enjoy this recipe from our backyard to yours and don't forget to check out my interview with Chef Ransom below along with the recipe!
Interview with Chef Ransom – Age 5, July, 2020
Mom: What has been your favorite moment as a 5-year-old?
Ransom: "Picking black raspberries" (Mom: I swear I didn't tell him to say that!)
Mom: What is currently your favorite food?
Ransom: "Carrots and apples".
Mom: What about a least favorite food?
Ransom: "Black beans and brown beans and chickpeas".
Mom: What new food might you want to try in the next year?
Ransom: "Maybe green beans, you know, like the ones that are all juiced and boiled".
Mom: If you could only eat one thing for a whole week, what would you choose?
Ran: "Carrots!"
Mom: "Not even, like, cake?"
Ran: "I like cake and stuff, but I LOVE carrots. But not baby carrots, only big carrots."
Mom: What is your favorite restaurant? What do you like to eat there?
Ran: "My grandma and grandpa's restaurant, I like to eat pizza."
Halfway through our interview, Ransom whispered to me, "can I ask, what do you like most about your family?"
Ran: "I like being with my stuffy and my mom and dad, and I have the funniest cat named Frank"
Mom: What is your favorite thing to do with mom/dad/…?
Ran: "Go to my barn" (aka Grandpas house)
Mom: Which toys do you like to play with?
Ran: Tractors
TO MAKE BLACK RASPBERRY POPSICLES
We enjoy this recipe as is out of a bowl, inside a yummy ice cream cone, and especially in popsicle form. This is our favorite popsicle mold because it doesn't tip over in the freezer!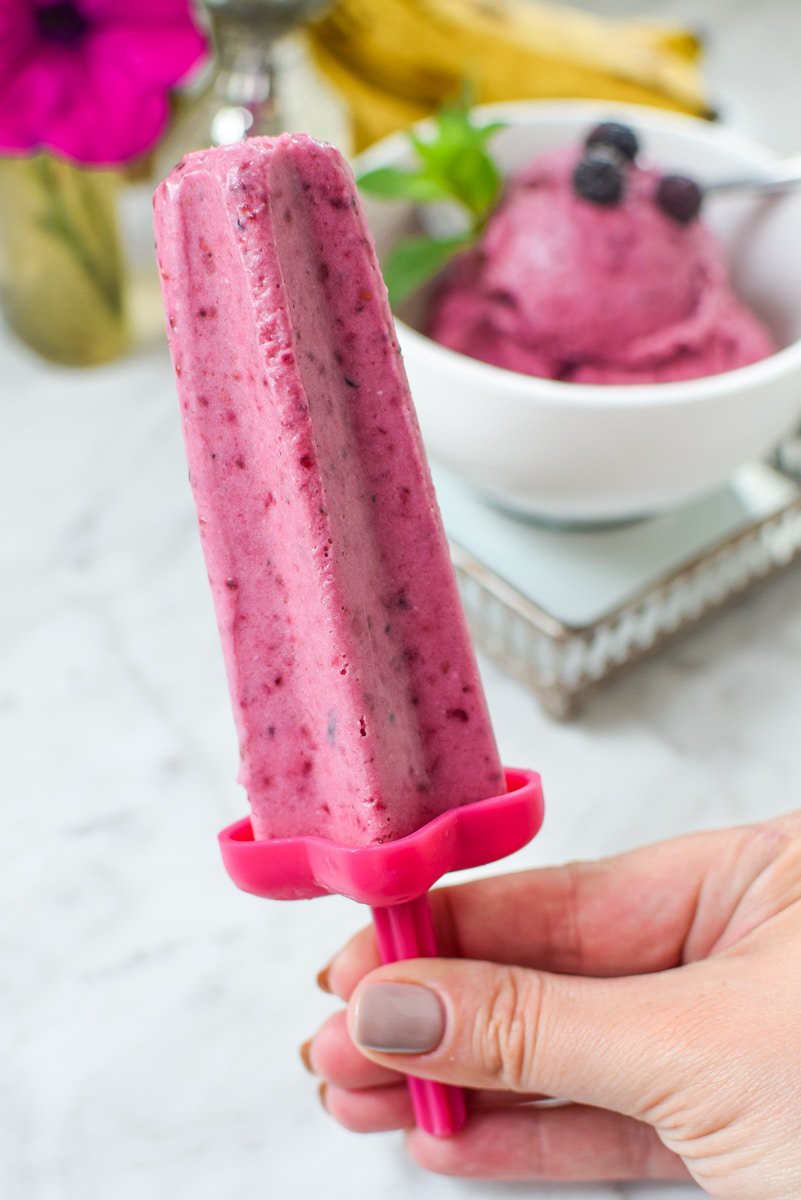 More Recipes You Will Love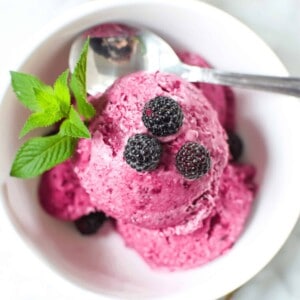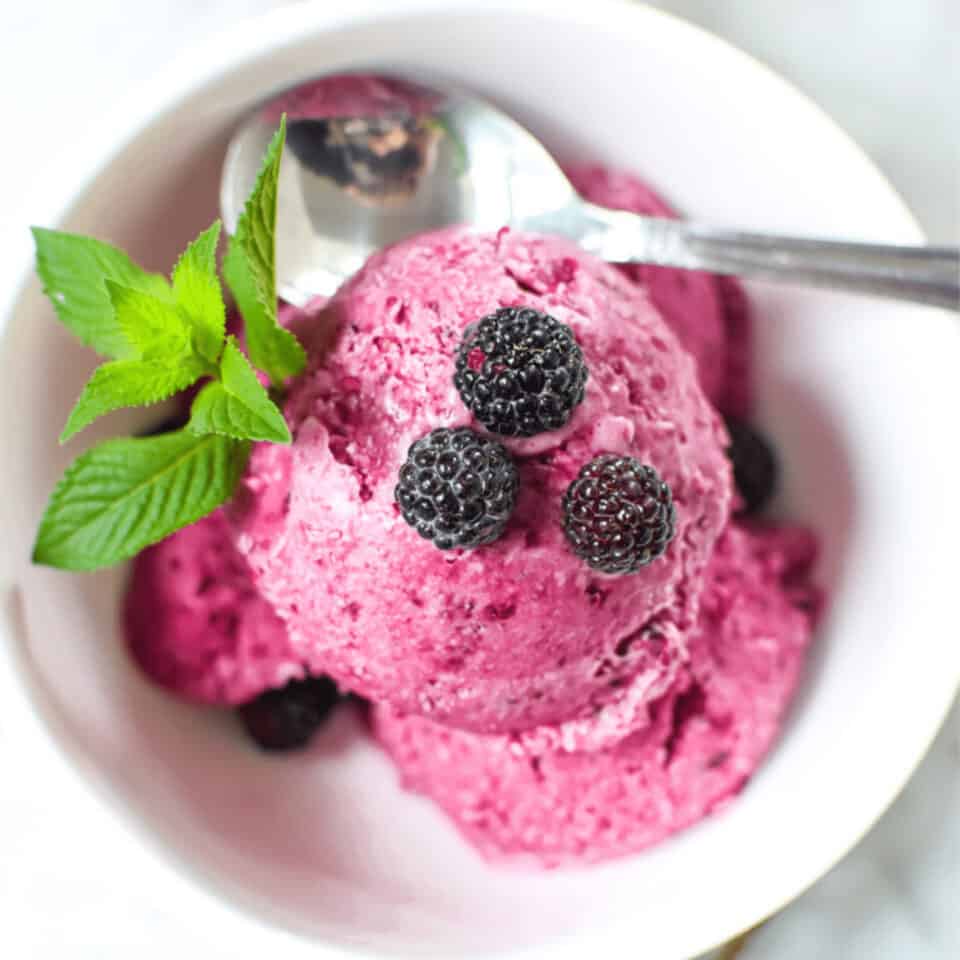 Black Raspberry Nice Cream
Made with fresh berries, fresh mint, and bananas, this no-churn nice cream is just as creamy and delicious as regular ice cream, making it the perfect summertime treat to be enjoyed in a bowl, cone, or as a yummy popsicle.
Ingredients
3

bananas

1

pint

berries

½

teaspoon

fresh chopped mint

1

full-fat coconut milk

1

15 ounce can of coconut cream

⅛

teaspoon

vanilla extract
Instructions
In a food processor or blender, add the bananas, berries, and mint. Pulse for 3, 15-second intervals.

Add the coconut milk, coconut cream, and vanilla extract. Blend on high for 60-90 seconds, or until smooth.

Portion out into a freezer-safe container or popsicle mold.

Place in the freezer for at least 1 hour, ideally overnight.

Notes
You can use any berry you want in this recipe: raspberry, black raspberry, blackberry, even strawberry.
Nutrition
Serving:
1
popsicle
|
Calories:
405
kcal
|
Carbohydrates:
43
g
|
Protein:
4
g
|
Fat:
27
g
|
Saturated Fat:
22
g
|
Polyunsaturated Fat:
4
g
|
Cholesterol:
7
mg
|
Sodium:
56
mg
|
Fiber:
6
g
|
Sugar:
27
g
Did you make this recipe or have a question?
Join hundreds of members inside private Well With Cannabis Community for help, support, and to share your edible creations!