This post may contain affiliate links, to find out more information, please read my disclosure statement.
Whether it is for breakfast, lunch, or dinner, everyone will love this fresh, savory and naturally gluten-free Caprese Salad Grain Bowl anytime of the day!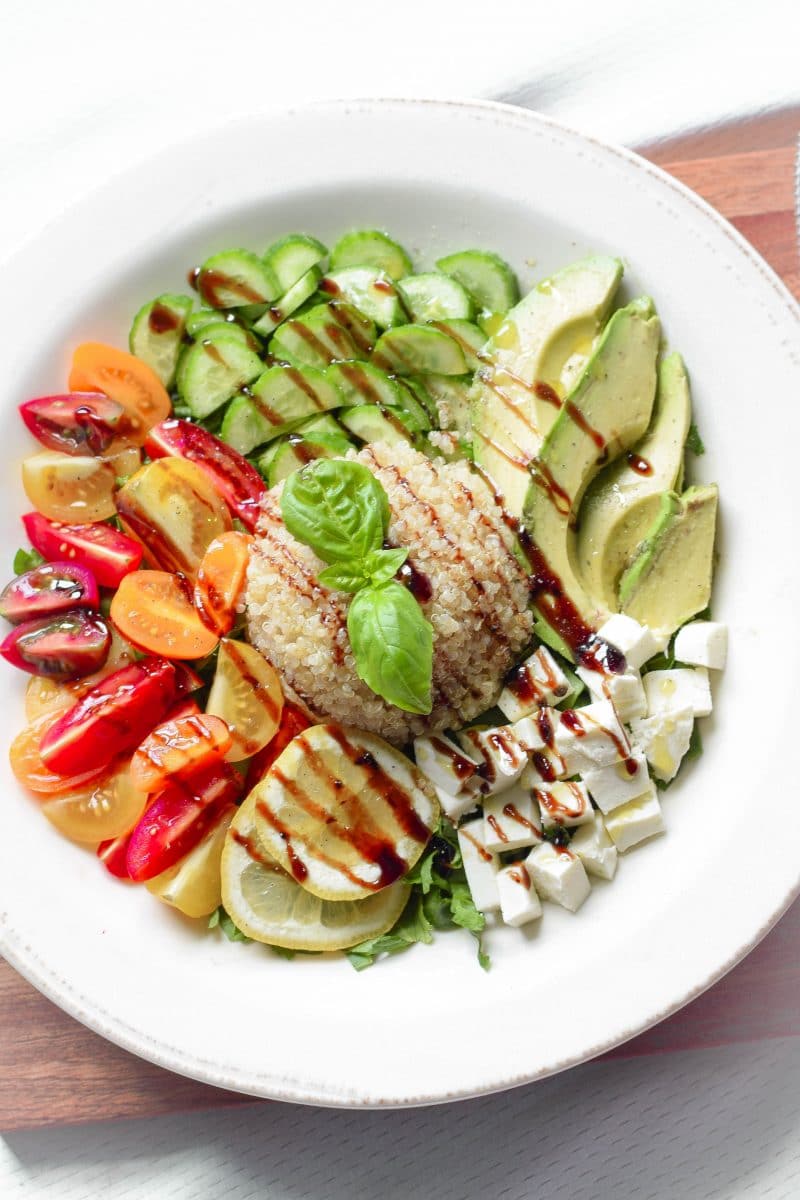 The Recipe Redux Theme August 2017 Theme
Ah, there is nothing like the monthly The Recipe Redux post to remind me just how fast time is truly going by!
This month we got a fun theme, to create a savory breakfast recipe. Lucky for me, I consider myself to be the Queen of the breakfast salads.
Never had a salad for breakfast before? Well my friend, you are missing out!
Here is the prompt for this month:
"Rise and Shine with a Savory Breakfast

The trend of protein-packed breakfasts is catching on…and back-to-school time is looming. This month, show us new healthy takes on eating savory or dinner-inspired dishes for breakfast. Think egg burritos, beans and rice, or maybe even pasta?!"
With summer in full swing, I am eating ALL the fresh garden produce I have, including my abundance of cucumbers and tomatoes. But with so much fresh produce, we certainly have to get creative with how we use it up!
The Breakfast Salad
Breakfast sandwiches are totally a thing, which is why I don't see why breakfast salads can't be either!
I have always enjoyed a salad for breakfast, especially in the summer months when I am not only using up my fresh garden produce, but also sick and tired of cooking. Sometimes I will take a breakfast salad to work with me, and everyone always looks at me like I'm crazy.
And that's totally OK. If breakfast salads are wrong, I don't want to be right!
Especially a salad as good as this Caprese Grain Bowl. We are currently in the dog days of summer and there is no better flavor combination than that of fresh tomatoes and basil from the garden, paired with creamy mozzarella and a little zing from the balsamic glaze.
If you are new to the Caprese salad flavor combo, you are truly missing out. It's safe to say this could be one of the most amazing flavor combinations ever created.
Caprese Salad Grain Bowl
This Caprese Salad Grain Bowl totally works at breakfast time because it has everything you need to stay full and focused until lunch time. I typically like my quinoa sweet, but in this recipe I am using quinoa as out complete protein in this savory salad.
Paired together with the fat from the avocado and fresh mozzarella, this salad has the right proportions of fat, complex carbs, and protein to make an outstanding breakfast nutritionally speaking.
Flavor, which is obviously more important, is certainly not lacking in this dish either.
Just imagine all of this summer goodness together in one bite. Heaven.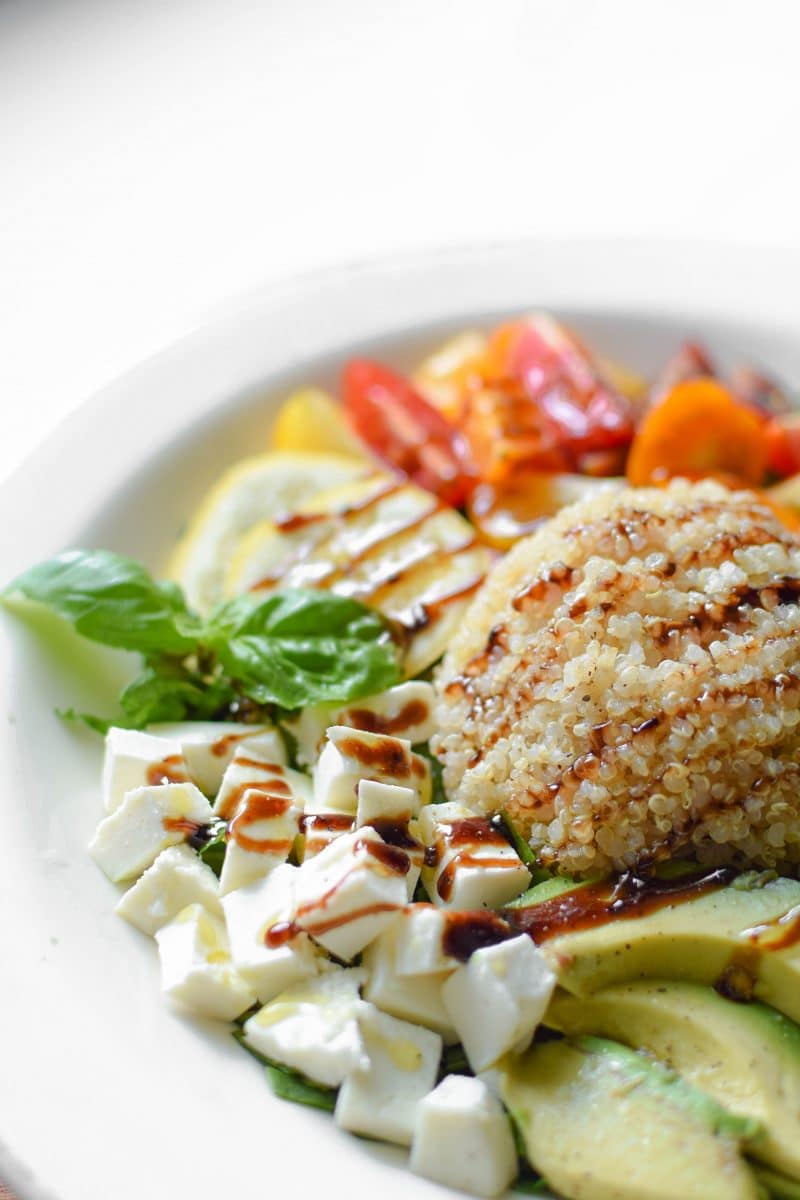 Click Here to Download Your 5 Day Happy & Healthy Meal Plan – FREE!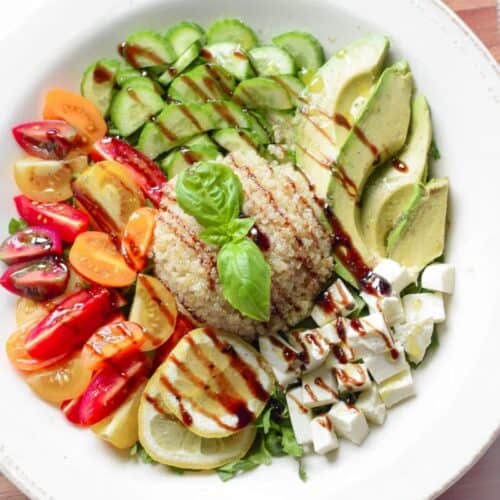 Caprese Salad Grain Bowl
Enjoy a Caprese Salad Grain Bowl for breakfast, lunch, or dinner!
Ingredients
6

cups

of spinach

shredded

1/2

cup

of basil

shredded

2

cups

of cooked quinoa

1

pint

of cherry tomatoes

sliced

1

avocado

sliced

6

ounces

of fresh mozzarella cheese

diced

1

teaspoon

olive oil

1

tablespoon

balsamic glaze

1

lemon

juiced

Salt

pepper to taste
Instructions
Prepare all your ingredients ahead of time so you have your mise en place ready.

Toss the basil and spinach together.

Divide the spinach and basil combo evenly among 2 large bowls or Tupperware containers.

Add 1 cup of cooked quinoa to each bowl.

Divide cherry tomatoes, avocado, mozzarella evenly among each bowl.

Just before serving, drizzle half the olive oil and half the balsamic glaze onto each salad.

Finish with a squirt of lemon juice and salt and pepper to taste.

Enjoy!
I hope you love this Caprese Grain Bowl as much as I do, and I hope you get creative and try some new savory breakfast recipes!
If you're looking for some more inspiration, be sure to follow the link at the bottom of this page for even more savory breakfast recipe inspirations!
Have you tried this recipe yet? Or a breakfast salad? Let me know in the comments below!

P.S. Are you ready to take the next step in your happy & healthy holistic lifestyle? Enroll in my FREE 3-Day Online Video Training Course to learn to become a more Mindful Eater! Learning to master the practice of Mindful Eating will help you to gain control of your healthy lifestyle and treat your body with love and respect.
The following two tabs change content below.
Hi there, I'm Emily Kyle, a nationally recognized media dietitian & nutrition communications expert on a mission to help you create the happy & healthy holistic lifestyle you deserve. To help you on your wellness journey, I offer holistic health counseling and resources that focus on holistic health & wellness, anti-inflammatory, whole food recipes, and my love for gardening inside #TheMillennialGarden.
Latest posts by Emily Kyle (see all)