Enjoy a fresh take on the classic French dessert with this modern Dairy-Free Mango Crème Brûlée that is naturally gluten-free, lactose-free, coconut-based and Paleo-friendly.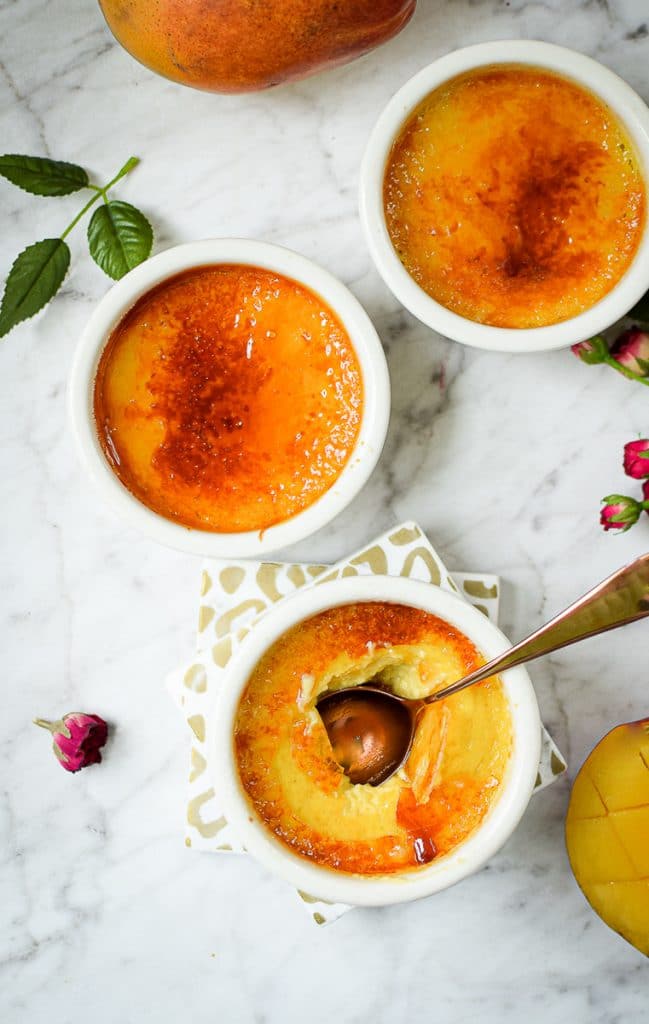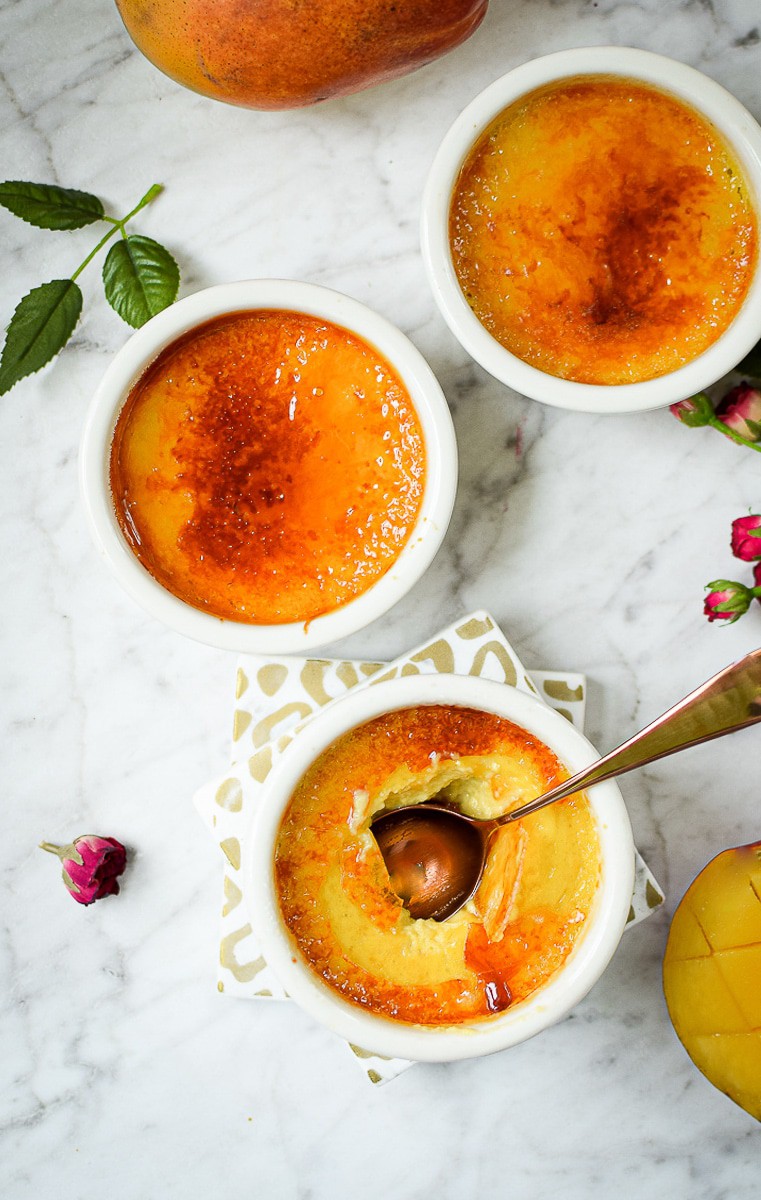 Proudly sponsored by the National Mango Board, this creamy custard is bursting with nutrition, a beautiful vibrant color, and of course, delicious taste.
Dairy-Free Mango Crème Brûlée
Crème brûlée is a classic French dessert that is traditionally made with just four simple ingredients: cream, egg yolks, sugar, and vanilla.
First made into a custard, the dessert is then topped with sugar and caramelized to create a hard caramel top.
While it may sound fancy, making homemade crème brûlée is easier than you may think.
Once you get the process down, you can experiment with yummy flavors — like mango, in this case.
This mango crème brûlée is the perfect example of experimenting with a staple dessert recipe to make something new and delicious.
For this dairy-free version, fresh mango is pureed smooth and combined with egg yolks and coconut cream to make a delicious tasting mango custard.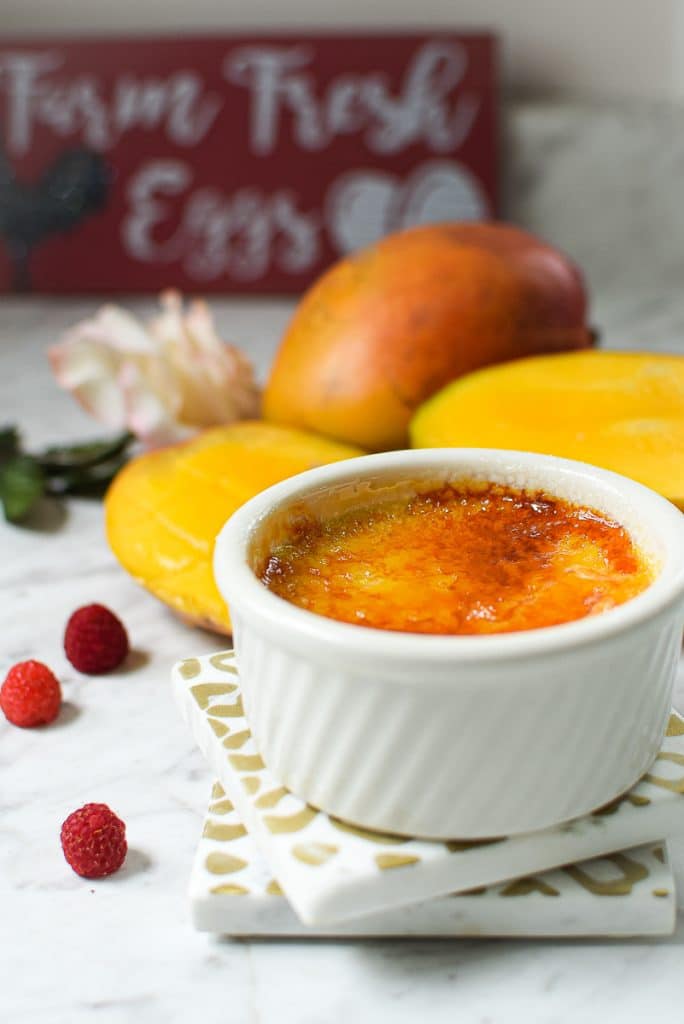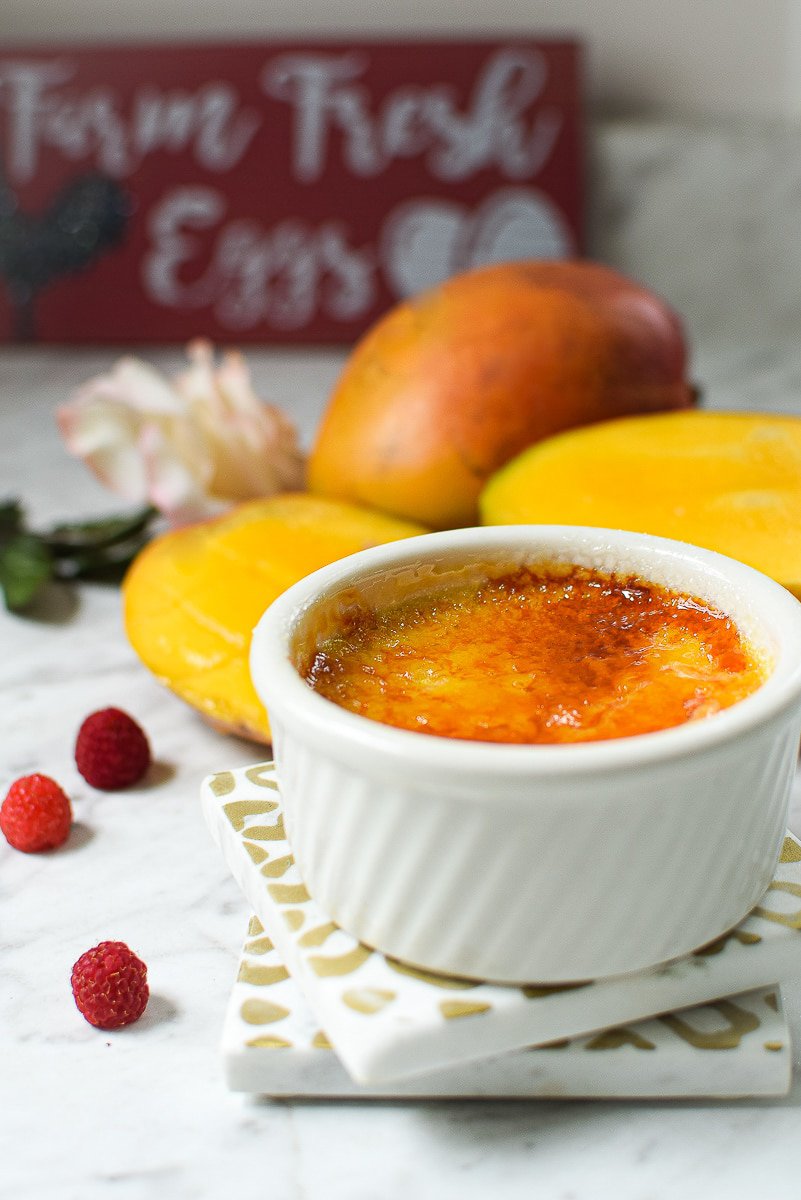 How to Make Dairy-Free Crème Brûlée
While the traditional recipe is made with heavy cream, many people (including me) are sensitive to or intolerant of dairy — or they are simply looking for a plant-based alternative.
In this recipe, coconut milk replaces the heavy cream, resulting in a naturally lactose-free crème brûlée that is still creamy and delicious.
The coconut milk still provides the creamy texture needed to make this custard silky smooth, while also catering to those who prefer a dairy-free or lactose-free option.
Is Crème Brûlée Gluten-Free?
Yes, crème brûlée is gluten-free as long as you can verify that all of the ingredients used are gluten-free and free from cross-contamination.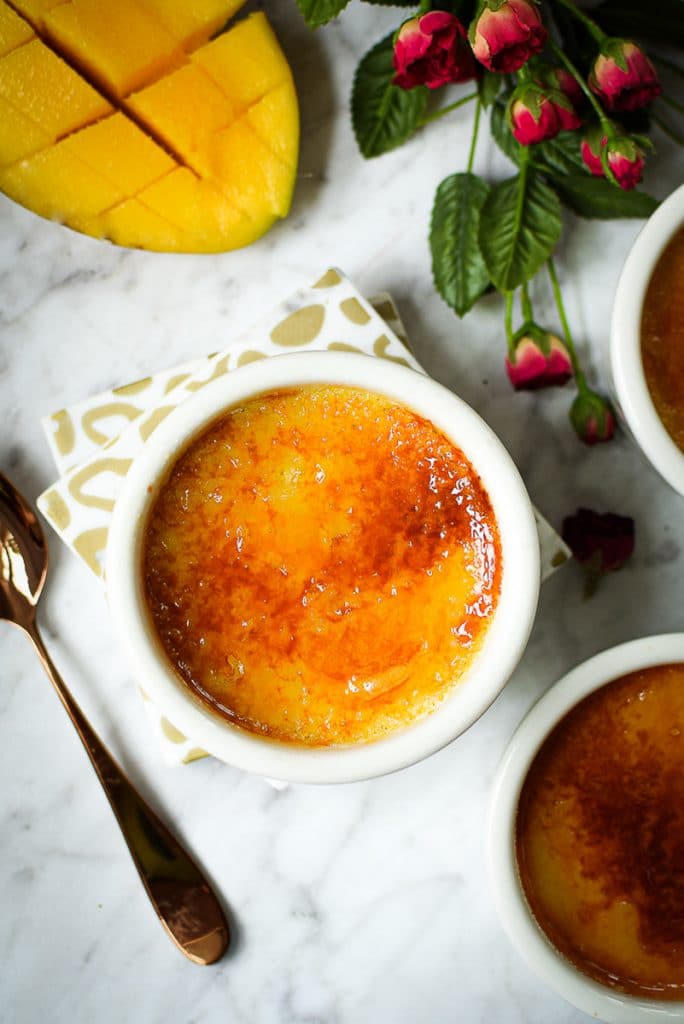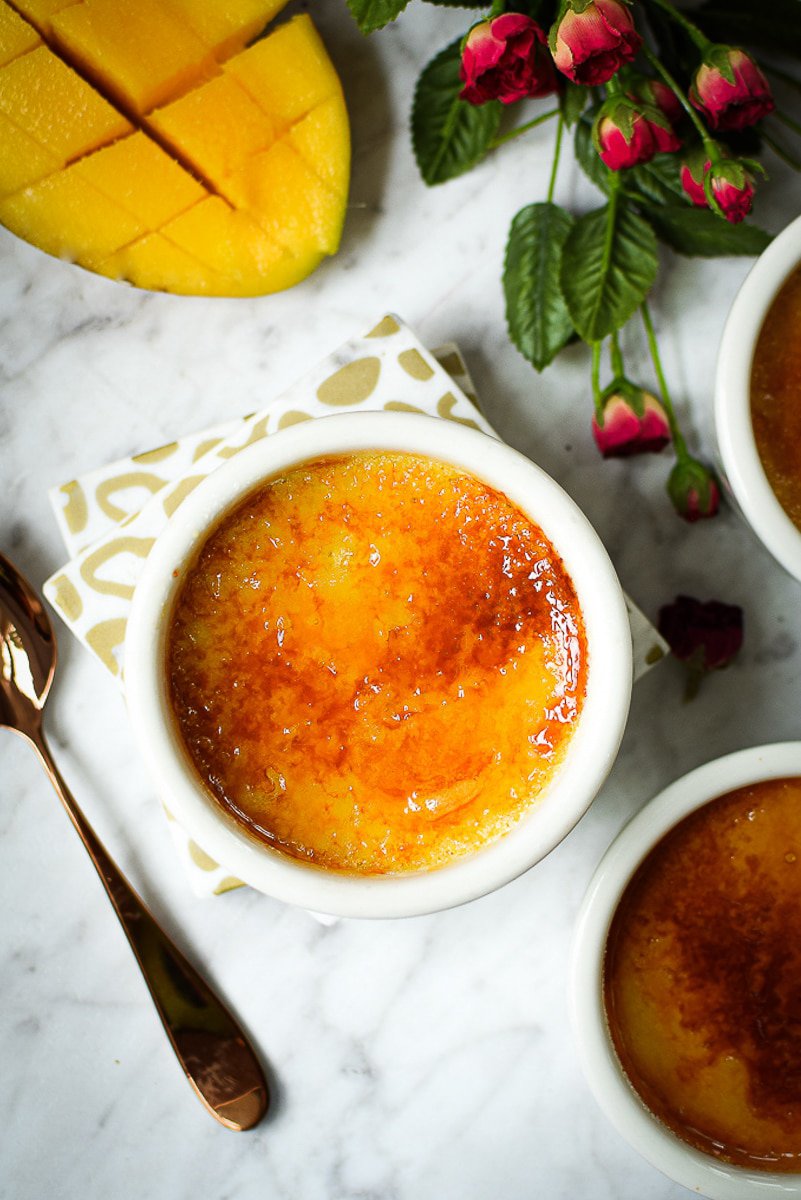 Mango Crème Brûlée
Not only does fresh mango give this crème brûlée its beautiful color and amazing taste, but it also adds important nutrients as well.
In fact, the cup of mango used in this recipe provides 100 percent of your daily recommended Vitamin C!
Mangos are no doubt the sunniest fruit in the produce aisle. Their sweet flavor and rich health benefits make them the most widely consumed fruit in the entire world.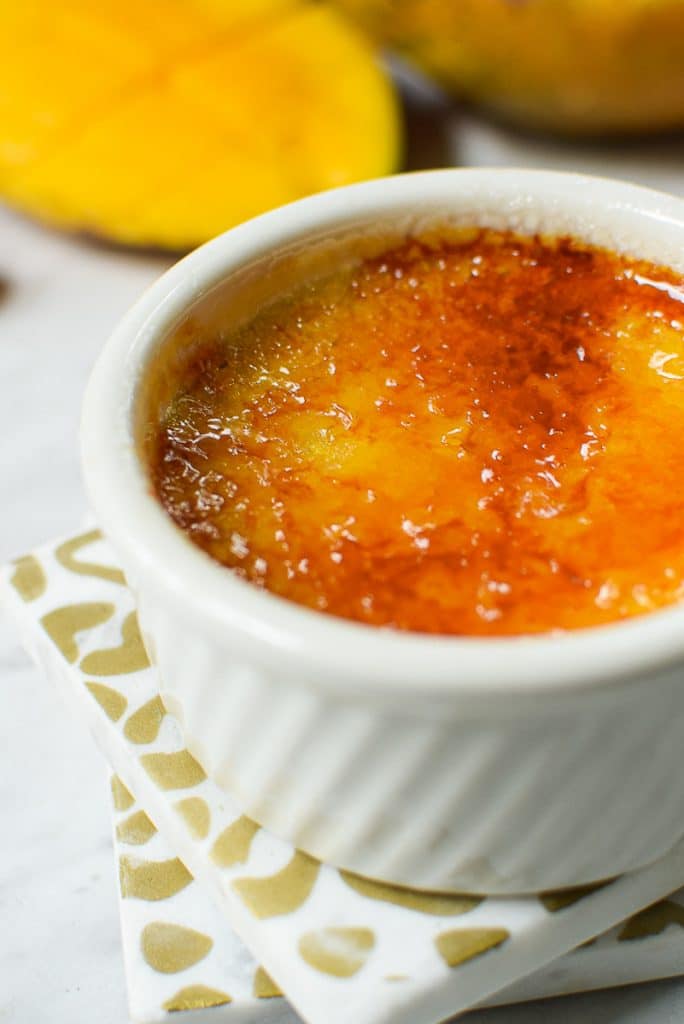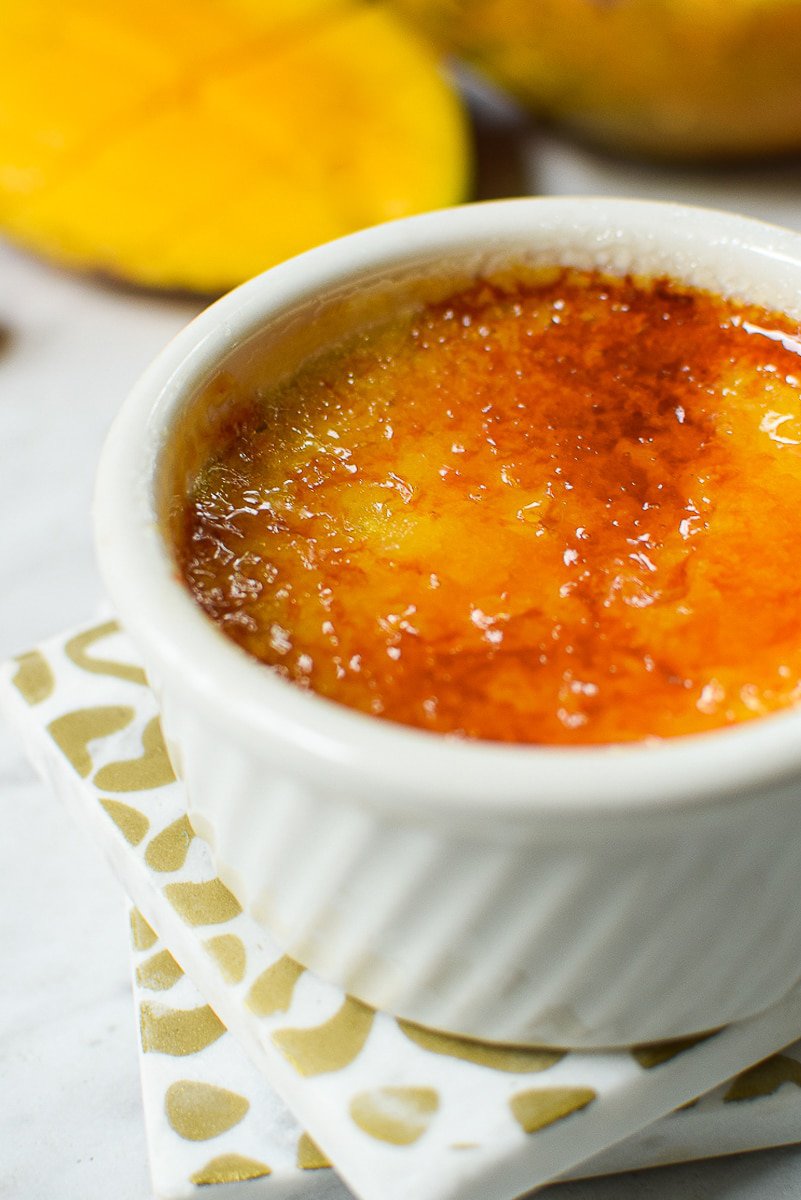 MANGO NUTRITIONAL BENEFITS:
The National Mango Board committed to increasing consumption of fresh mangos and bringing the world's love of mangos to families across the U.S. in easy and delicious ways.
Surprising Mango Health Benefits:
Each serving of mango is fat-free, sodium-free and cholesterol-free.
One serving of mango offers 100 percent of daily Vitamin C and 35 percent of daily Vitamin A.
Just one mango contains 12 percent of your daily fiber requirement.
If you are not familiar with fresh mangos or have never cut one yourself, visit this page for a video and full tutorial on how to cut a mango. It's so simple!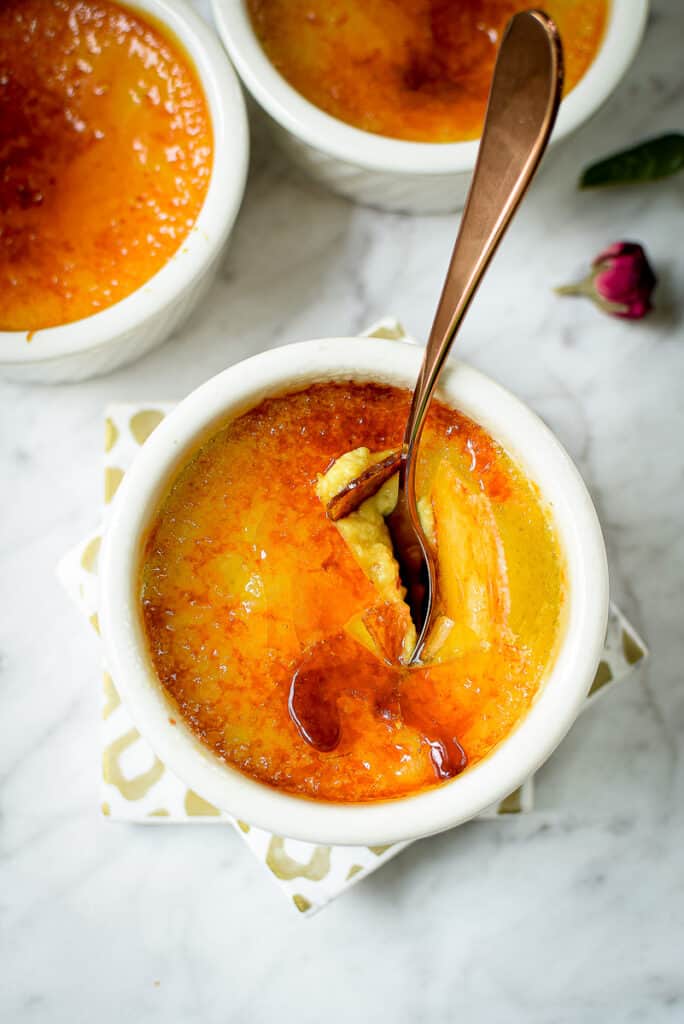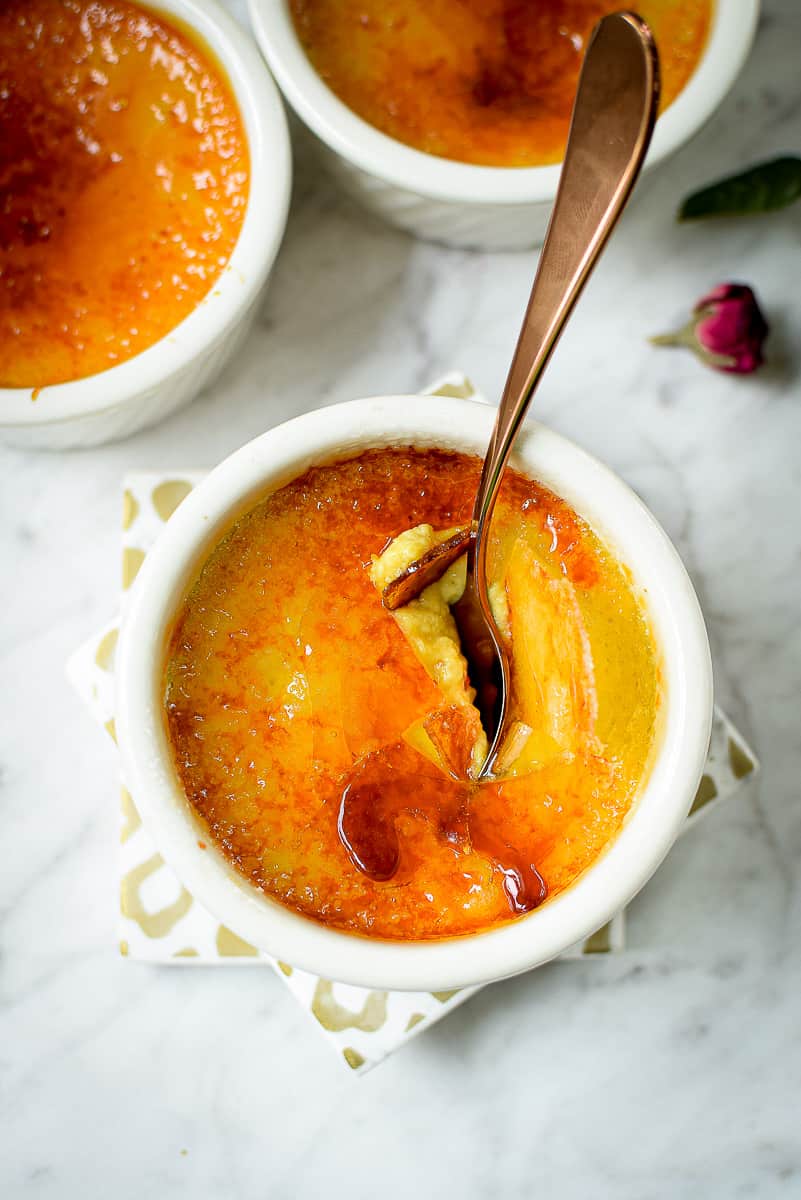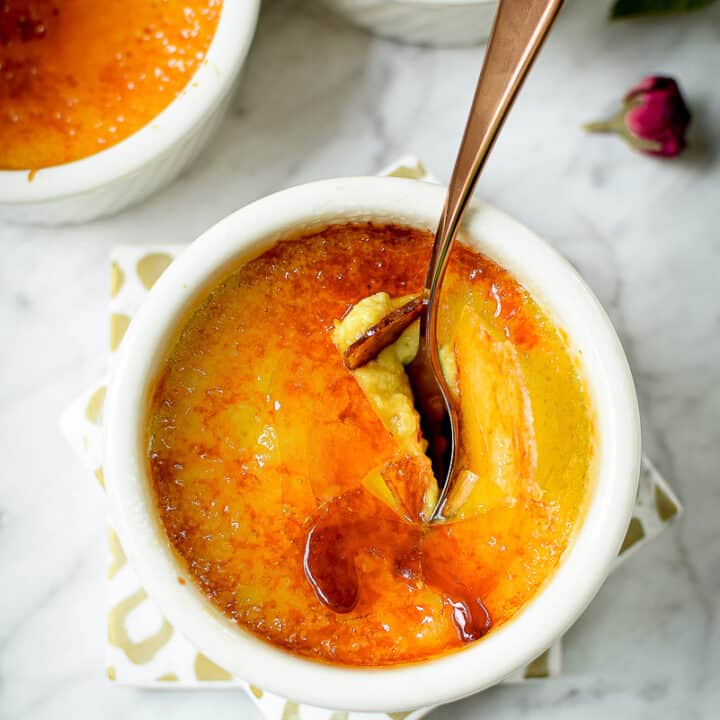 Dairy-Free Mango Crème Brûlée
Yield:
4 (8-ounce) servings
Total Time:
4 hours
10 minutes
This creamy custard is bursting with good nutrition, a beautiful vibrant color, and of course, delicious taste. A fresh take on the classic French dessert, this modern Dairy-Free Mango Crème Brûlée is gluten-free, lactose-free, coconut-based and Paleo friendly.
Ingredients
1 cup fresh mango puree
1 (13.5 ounce) can full-fat coconut milk
1 vanilla bean, split and scraped
8 farm fresh egg yolks
1/2 cup sugar, divided
Instructions
Preheat oven to 325 degrees F.
In a medium pot on the stovetop or in a tea kettle, bring 6-8 cups of water to a boil.
In a small saucepan over medium-high heat, combine the fresh mango puree, coconut milk and vanilla bean. Stir well. Bring mixture to a boil.
Once boiling, turn the heat off and allow the mixture to stand for 10 minutes.
In a separate bowl, whisk together the egg yolks and 1/4 cup sugar until well combined.
While whisking, slowly ladle the mango cream into the egg yolk mixture until all of the cream is fully incorporated.
Pour the final mixture evenly into small oven-safe ramekins.
Place the ramekins into another larger, oven-safe vessel.
Pour the boiling water into the vessel, around the ramekins, until the water reaches 2/3 of the way full.
Carefully place into the oven and bake for 40 minutes. You want to make sure the custard is set on the outside edge with a soft (but not soupy) center in the middle.
Carefully remove the pan from the oven. Allow the ramekins to cool while still in the water bath.
When able to handle ramekins safely, place in the refrigerator, uncovered, to finish cooling.
Allow to cool completely, at least 3 hours. Overnight is best.
Crème Brûlée can sit in the refrigerator for 2-3 days before caramelizing if needed.
Caramelized Sugar Topping
When caramelizing the tops of your Crème Brûlée, be sure to work one ramekin at a time for best results.
Sprinkle 1 tablespoon of sugar over the Crème Brûlée and gently shake to distribute evenly among the top.
With a lit torch, hold the base of the Crème Brûlée in your hand and gently torch the sugar.
As the sugar starts to melt, keep the torch and ramekin moving in circular motions to evenly distribute the heat and prevent burning.
The sugar should be golden brown and create a syrup like consistency that will be rock hard when cool.
Allow to cool for 2 minutes before serving.
Garnish with fresh mango as desired.


Notes
* Your cooking time will vary depending on the size and depth of your ramekin.
* When placing your ramekings into an oven safe baking dish, add a tea towel to the bottom of the dish to prevent the ramekins from slipping.
Recommended Products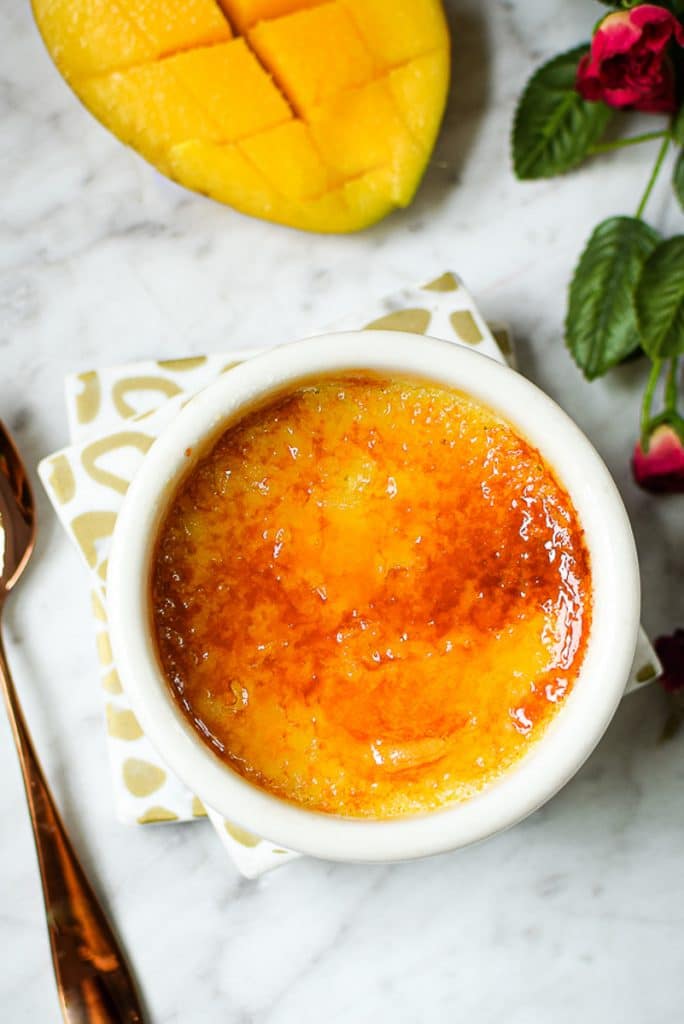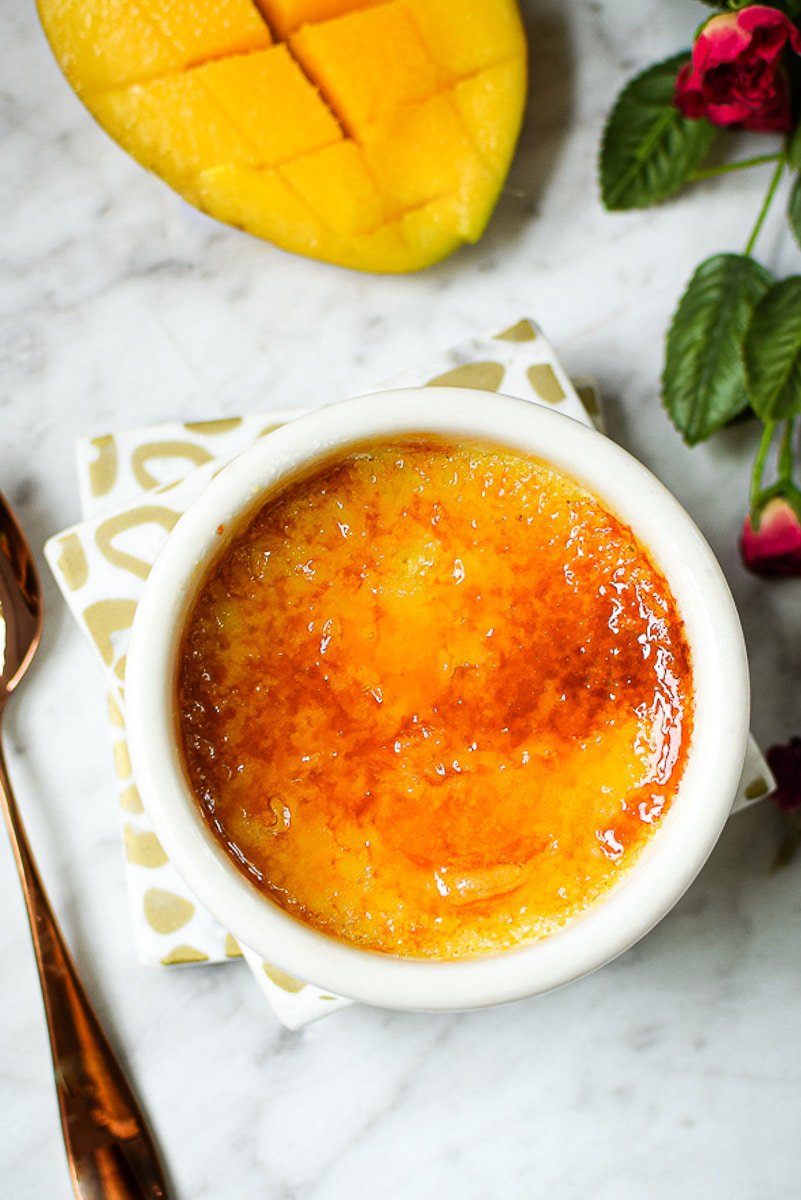 More Mango Recipes
Delicious and nutritious recipes made with fresh mango.
Mango Drink Recipes
Get the recipe for this plant-based, nutrient-dense, gluten-free and completely customizable Springtime Mango Smoothie Bowl with Edible Flowers plus fun facts about mango nutrition.
This Green Dream Hemp Seed Smoothie inspired by my book, The 30-Minute Thyroid Cookbook, is a whole-food, plant-based, vegan, gluten-free, dairy-free smoothie that tastes amazing while delivering an abundance of nutrients and antioxidants. This smoothie includes options for infusing this drink with CBD oil.
Mango Side Dish Recipes
This naturally vegetarian, gluten-free Mango Jicama Prebiotic Salad is a light and refreshing salad made with fresh jicama, mango, and avocado that is also an excellent source of the prebiotic, inulin.
Everyone will love this Mango Jelly Sandwich, which is the perfect meal-prep staple item to have ready for the busy back-to-school season ahead. Made with vibrant mango, this jelly can be used on sandwiches, to top crackers, as a fruit dip, and more.
This delicious Mango Jalapeño Gluten-Free Cornbread Stuffing brings a fresh twist to this classic comfort staple with fresh, juicy mangos that pair perfectly with spicy jalapeños and homemade cornbread for a delicious gluten-free cornbread stuffing everyone at the table will love.
Enjoy this high-protein, gluten and dairy-free Korean Bulgogi Beef Salad Bowl made with fresh butter lettuce, avocado, juicy mango and lean beef jerky for a wholesome, filling meal.
Mango Dessert Recipes
These Mini-Mango Fruit Tarts are a cute, delicious, plant-based, gluten-free dessert that is easy to make and fun to enjoy. Made with nutritious ingredients like fresh mangos, these tiny tarts are perfect for summer entertaining and fit almost any dietary need.
Enjoy a fresh take on the classic French dessert with this modern Dairy-Free Mango Crème Brûlée that is naturally gluten-free, lactose-free, coconut-based and Paleo-friendly.
This delicious Mango Yule Log Gingerbread Cake is a delicious sweet roulade that features homemade spiced gingerbread cake and fresh mango cream filling for a festive holiday dessert that everyone around the table will love.
A fresh alternative to the Halloween classic Candy Corn, this trifle combines layers of mango nectar soaked sponge cake, fresh homemade mango custard, fresh mango, and whipped cream for a sweet mango recipe that is not a trick, only a treat!