Learn how quick, easy, healthy, and budget friendly it can be to create your very own DIY Healthy Halloween Popcorn bar to ensure your Halloween Holiday is just as fun as it is delicious!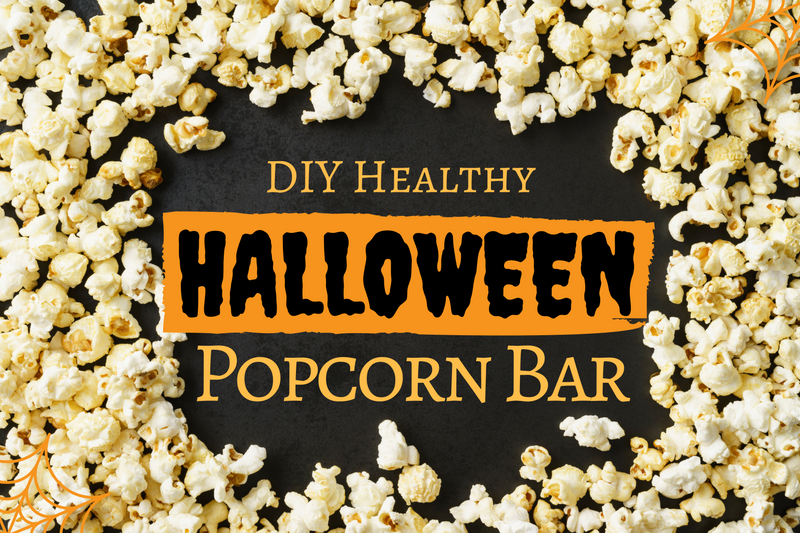 Healthy Halloween Popcorn Bar
My son is only two and I am already terrified of Halloween. How much candy can one toddler safely eat? Because if I know my kid, he would eat as much as he could until he got sick. Literally.

As a dietitian, and most importantly as a mom, I want my son to enjoy the holiday and not be worried about having to give up candy, but I also get concerned with the amount of sugar he will no doubly eat in the coming days.
[bctt tweet="Learn how to set up your own #DIY Healthy #Halloween Popcorn Bar!" username="EmKyleNutrition"]
Sure, a little sugar overload won't kill him for just one day, but do you let them keep all of their candy after Halloween? Do you ration it out or make them give some up? (Moms – let me know what you do in the comments section below!)
Gowing up as a child, my little sister had type 1 diabetes which means that holidays like this were really difficult for my mom. How do you allow your child to enjoy the normal everyday joys and activities that shape our childhood while also worrying about their health? Watch the video below to learn more my inspiration behind this Healthy Halloween Popcorn Bar.
Watch the Video
Click Here to Download Your Plant-Based, No Added Sugar Meal Plan – FREE!

10 Healthy Popcorn Bar Toppings
Toppings are the most fun part, right!? But that doesn't mean that they all have to be loaded with sugar and
---
#1 Dried Cranberries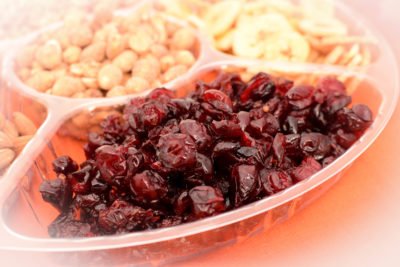 Ocean Spray Craisins, also known as dried cranberries, make an excellent addition to this popcorn trail mix. Sweet and slightly chewy, these little bundles of dried fruit give the same texture of traditional chewy candies with no added sugar. The benefit is that a single serving of dried cranberries can provide is equivalent to a 1/2 cup serving of fresh fruit! They also contain no artificial flavors, colors, or preservatives but do provide 3 grams of dietary fiber per serving.
---
#2 – Almonds

Almonds add a satisfying crunch and density to this popcorn trail mix. Whether you enjoy them raw, roasted, salted or flavored, they contain a lot of health benefits in a small amount. Almonds are high in monounsaturated fatty acids, known as MUFA's, which is the good kind of fat that can help the body burn calories effectively. Almonds are also high in fiber which helps to keep you fuller, longer. (All the fiber in this mix!)
Fun Fact – did you know that an almond is really the seed from the fruit of an almond tree?
---
#3 Dried Banana Chips

Dried banana chips are a fun addition to any popcorn bar. Their distinctive sweetness and hard, crunchy texture blend perfectly into this trail mix addition.
While a fresh banana provides more nutrients, these are an all natural way to add a touch of sweetness. They also provide dietary fiber and potassium.
---
#4 – Roasted Peanuts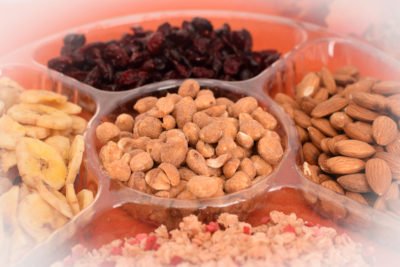 Roast peanuts are usually on the top of everyone's favorite snack list. Just remember, dry roasted is best to avoid too much salt, and in this version, I used dry roasted honey roasted for a sweet flavor.
Peanuts are rich in monounsaturated fatty acids and many studies have shown that they contain many heart-healthy benefits. Peanuts are rich in protein and antioxidants, and they also contain important elements such as copper, manganese, and B vitamins.
Visit the National Peanut Board to learn more!
---
#5 – Granola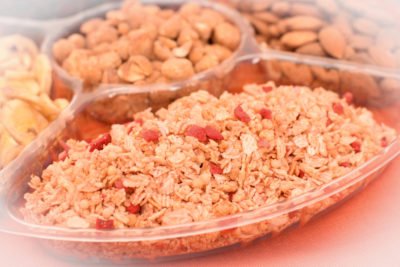 Granola is a great addition, but sometimes store-bought versions contain a lot of sugar. Try one of these dietitian-approved recipes for a healthier homemade version instead!
---
 #6 – Pumpkin Seeds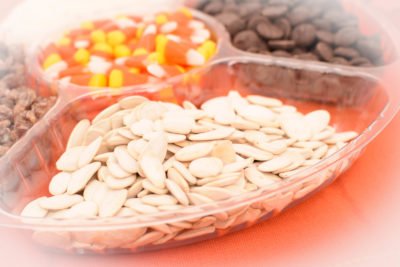 Pumpkin seeds are rich in vitamin E. Even better is the fact that they provide vitamin E in a variety of different forms, which are most beneficial to our health. Some forms have been shown to have an antioxidant effect on the body.
Additionally, they are an excellent source of the minerals manganese, phosphorous, magnesium and copper.
Pumpkin seeds are also high in iron, which is a mineral that is lacking in the diets of many women. Iron deficiency anemia is the #1 nutrient deficiency among women in developed countries.
---
#7 – Chopped Dates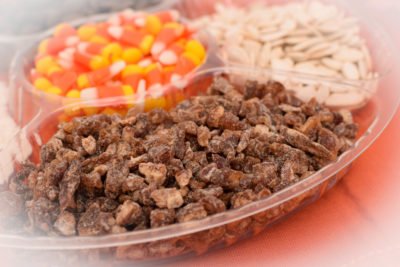 Chopped dates are a fun addition to any popcorn bar because of their super sweet nature. I was able to convince my son this was 'candy' (mom win!).
Although dates are packed full of naturally occurring sugars, they also provide essential minerals such as calcium, iron, phosphorus, sodium, potassium, magnesium and zinc. They also contain vitamins such as thiamin, riboflavin, niacin, folate, vitamin A and vitamin K.
---
#8 – Unsweetened Coconut Flakes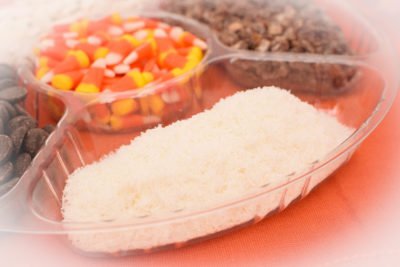 Unsweetened coconut flakes are one of my personal favorite additions because I love the taste and flavor of coconut anything.
While coconut flakes are calorically dense, you only need a small sprinkle to get the great taste of this tropical nut.
---
 # 9 – Dark Chocolate Chips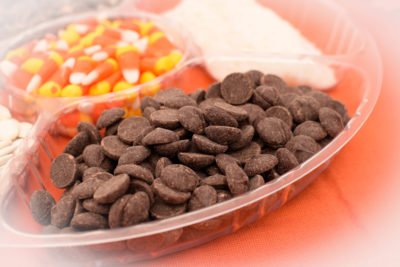 Someone once said that dark chocolate is healthy and the rest of the world will stick with that statement for the rest of time 😉
While chocolate is still chocolate, the darker the chocolate you choose, the more nutritional benefits you will see.
Here I used 70% dark cacao chips which means that there are more antioxidants and healthful compounds like flavonols to help lower blood pressure and improve blood flow.
---
 *And #10 is candy corn, which is 100% not healthy, but it's Halloween after all 😉
All of the super cute decorations I got for this segment were from the Dollar Tree – all in all, I spent less than $17 dollars for the setup!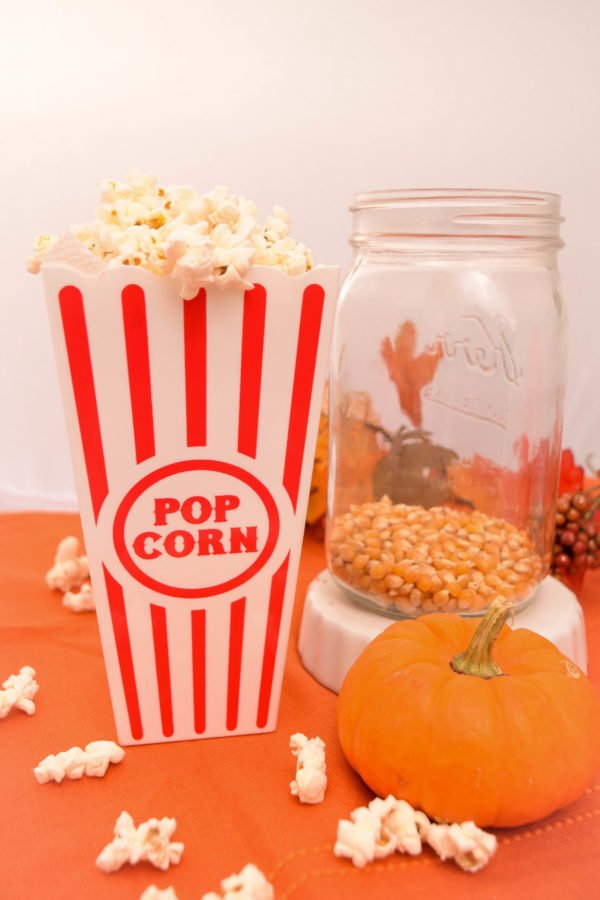 I hope you love this DIY Healthy Halloween Popcorn Bar as much as my family did, and I hope you enjoy a Happy & Healthy Halloween this year!  What is your Healthy Halloween Hack? Let me know in the comments section below!




P.S. Are you interested in learning more about plant-based eating? Do you want to get healthy & stay happy without ever having to diet again? Be sure to sign up below for your free 5 Day Plant-Based, No Added Sugar, Meal Plan to see exactly how delicious plant-based eating can be!
LETS STAY CONNECTED
Subscribe to the Wellness Wednesday Newsletter - holistic wellness, health & happiness delivered directly to your inbox!

The following two tabs change content below.
Hi there! I teach women like you how to get healthy, and stay happy, without ever having to diet again! To help you, I provide individualized nutrition coaching and have created
The School of Health & Happiness
, an online training program to help you develop a positive relationship with food. This blog focuses on holistic health, plant-centric, whole food
recipes
, and real-life Mindful & Intuitive Eating Practices.
Learn more here
.
Lets Connect!   
Facebook
»
Instagram
» ♥
Latest posts by Emily Kyle (see all)