A Fresh Zucchini Panzanella Salad made with zucchini, mushrooms, vine-ripened tomatoes, homemade croutons and Asian dressing that can be easily adapted for gluten-free and dairy-free lifestyles.
Fresh Zucchini Panzanella Salad with Asian Dressing
Plant-based eating continues to be a popular trend in the health and wellness space, and for good reason. Not only is plant-based eating better for the environment, but it is better for your overall health as well.
Studies show that consuming more whole, plant-based foods on a daily basis can help to reduce the risk of several chronic illnesses including coronary artery disease. I always tell my clients that the best way to enjoy more plant-based dishes is to swap some of the ingredients in your favorite dishes for plant-based ingredients, for a fresh, nutritious twist.
This summer at your family BBQ try this Fresh Zucchini Panzanella Salad instead of your traditional anti-pasta salad made with white pasta and processed meat. This delicious twist that will help you to enjoy a mouth-watering plant-based salad swap with an extra serving of veggies.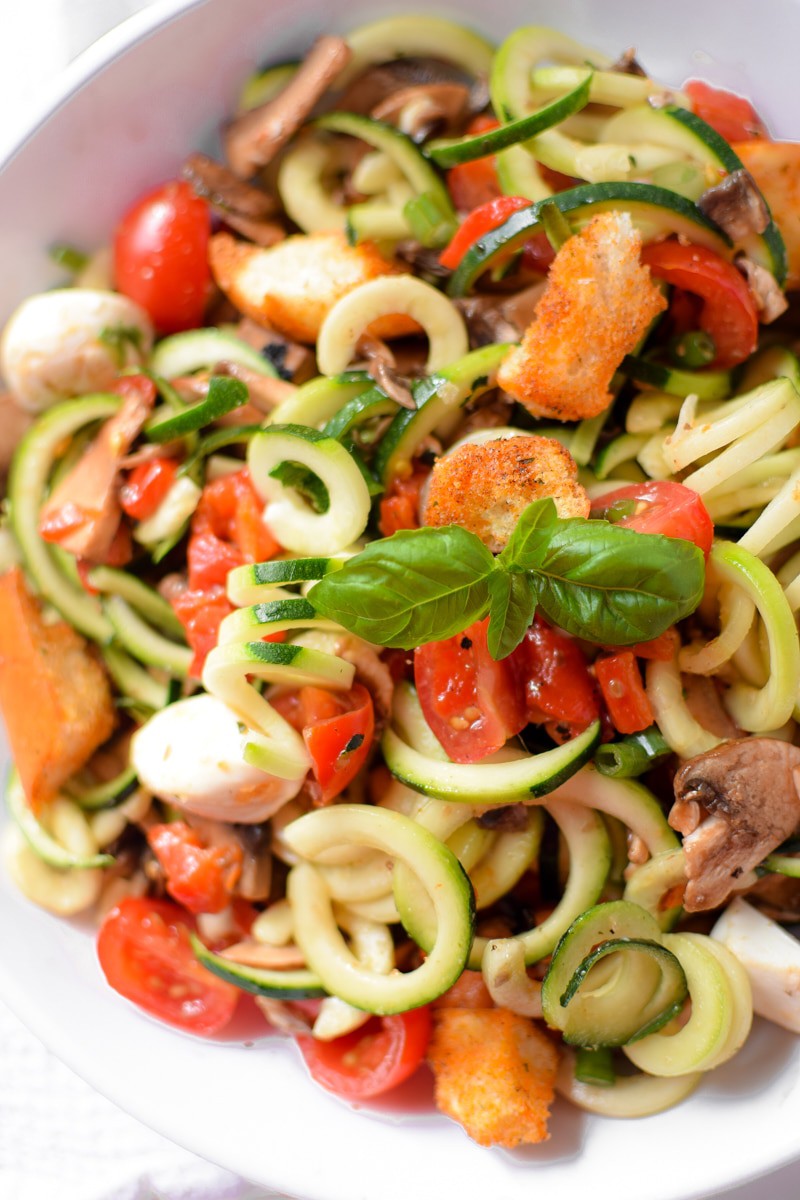 Coronary Artery Disease – What You Need to Know
Coronary artery disease (CAD) is the most common type of heart disease and the leading cause of death in the United States in both men and women. CAD occurs when blood vessels of heart become narrow, making it difficult for blood to flow to the heart. [i] People with CAD may experience pain, shortness of breath, fatigue or even nothing at all. They also may be at risk for a heart attack.[ii]
While people should absolutely take steps to prevent CAD, the primary goal is to clear arteries that have become "clogged" in order to restore blood flow to the heart. CAD may be managed with a mixture of lifestyle changes and treatment options, with medications often being chosen as a first line of treatment.[iii]
In some cases, surgery may be needed. But there are other options too; including percutaneous coronary intervention (PCI), a minimally invasive procedure that is used to manage CAD.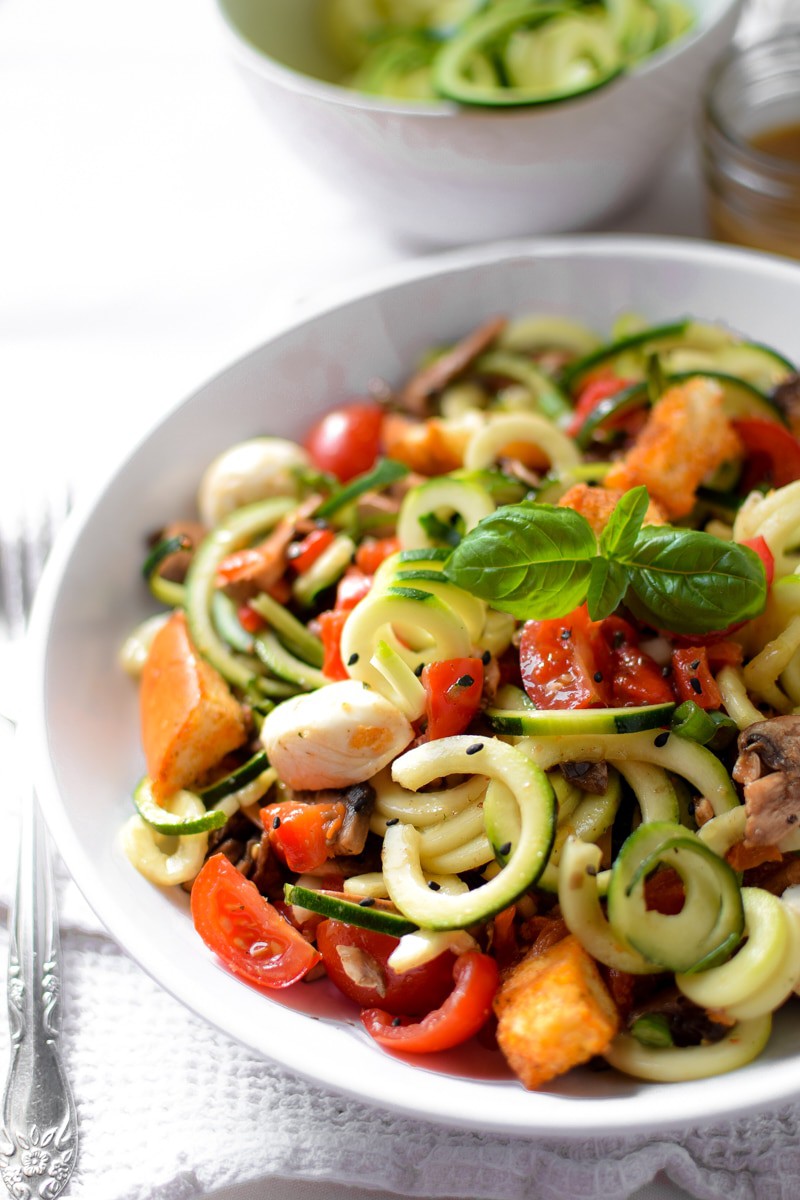 Heart Healthy Ingredient Swaps
One message I am passionate about is that everyone – regardless of their health – should enjoy their food and lifestyle while being mindful of their wellness. By making heart-healthy ingredient swaps, you can make a popular dish better for your heart.
By swapping this Fresh Zucchini Panzanella Salad for the traditional anti-pasta salad made with white pasta and processed meat, you are deciding to support your heart heath. Some other delicious heart healthy ingredient swaps include:
Using plant proteins rather than meat – think tofu, tempeh or beans.
Replace cow's milk with soy, almond, rice or oat milk.
Use whole grains rather than refined grains.
Instead of reaching for the salt, load up on fresh herbs and spices to give your meals a little extra kick of flavor.
When in need of sweetener, use a natural sugar substitute such as maple syrup, honey or stevia.
Use avocado as a healthy fat.
Of course, it is important to remember that some heart-healthy swaps and recipes may not be right for everyone. Talk to your doctor or other qualified health care provider before making any changes to your diet. You should follow your doctor or dietitian's guidelines for dietary restrictions for heart disease.
Fresh Zucchini Panzanella Salad with Asian Dressing
Enjoy the fresh taste of summer with this Fresh Zucchini Panzanella Salad made with zucchini, mushrooms, vine ripened tomatoes, and homemade croutons. 
Ingredients
2 small fresh zucchini, spiralized
½ pint grape tomatoes, sliced
1 large roasted red pepper, diced
4 ounces baby portabella mushrooms, sliced
2 whole scallions, diced, white and green parts
6 ounces fresh mozzarella, optional
Homemade Croutons
¼ loaf of day old French bread, drizzled with olive oil, minced garlic and parsley. Bake for about 10 minutes at 350 F. Cool and slice into croutons. Use gluten-free bread for a gluten-free option.
Dressing
Use a small jar with a cover or small container with a lid to shake the dressing for thorough mixing.
2 tablespoon extra virgin olive oil
1 tablespoon red wine vinegar
1 teaspoon soy sauce, or coconut aminos
½ teaspoon chili oil, more or less to taste
salt and pepper to taste
Instructions
Use a spiralizer to make the zucchini noodles (zoodles), rough chop and place in a fine mesh strainer. Lightly salt with a few grinds of the salt shaker and toss to coat. Allow zoodles to drain for 20 minutes or so. This will reduce the water content of the zucchini.
In a small bowl add the roasted red pepper, tomatoes, mushrooms, scallions and mozzarella (if using).
After zucchini is drained combine and toss all ingredients together and chill in the fridge while you make the croutons and dressing.
Assemble the dressing in a covered container and shake well to mix. Adjust flavor to taste if desired.
5 minutes before serving add the croutons to the salad mix and add the dressing over the top of all. Lightly toss to coat and serve immediately.
We liked this recipe so much that I made it two nights in a row. Enjoy!
Notes
Note: This is best served fresh, so I made this in a small quantity. I don't think it would this would refrigerate well.
To make this recipe gluten-free, start with a gluten-free loaf of bread instead of French bread and follow the same process. Ensure all of your other ingredients are gluten-free as well including your soy sauce and other dressing ingredients.
To make this recipe dairy-free, eliminate the mozzarella or opt for a plant-based cheese alternative.
Nutrition Information:
Yield:

2
Serving Size:

1 salad
Amount Per Serving:
Calories:

460
Saturated Fat:

11g
Cholesterol:

45mg
Sodium:

1050mg
Carbohydrates:

35g
Fiber:

4g
Sugar:

12g
Protein:

27g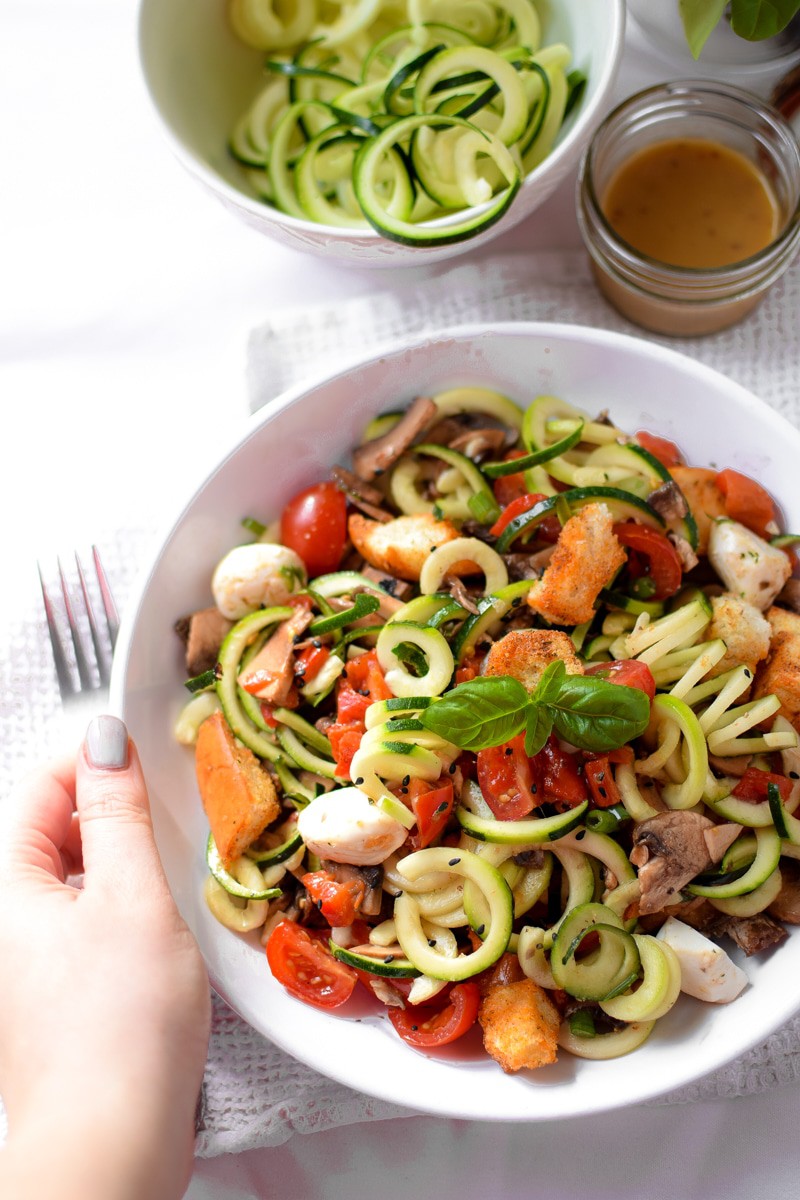 More Garden Inspired Recipes
Delicious, plant-based recipes inspired by the fresh garden harvests from The Millennial Garden grown by Emily Kyle. Spotlight produce items include recipes made with: black raspberries, red raspberries, snow peas, cucumbers, tomatoes, zucchini, yellow squash, winter squash including butternut squash, acorn squash, spaghetti squash, brussels sprouts, red and green cabbage, broccoli, brussels sprouts, and more.