Whether you love the taste of garlic & lemon or are just looking for another hearty meatless meal to add to your collection, these Greens & Beans Stuffed Portabello Mushrooms are perfect for you!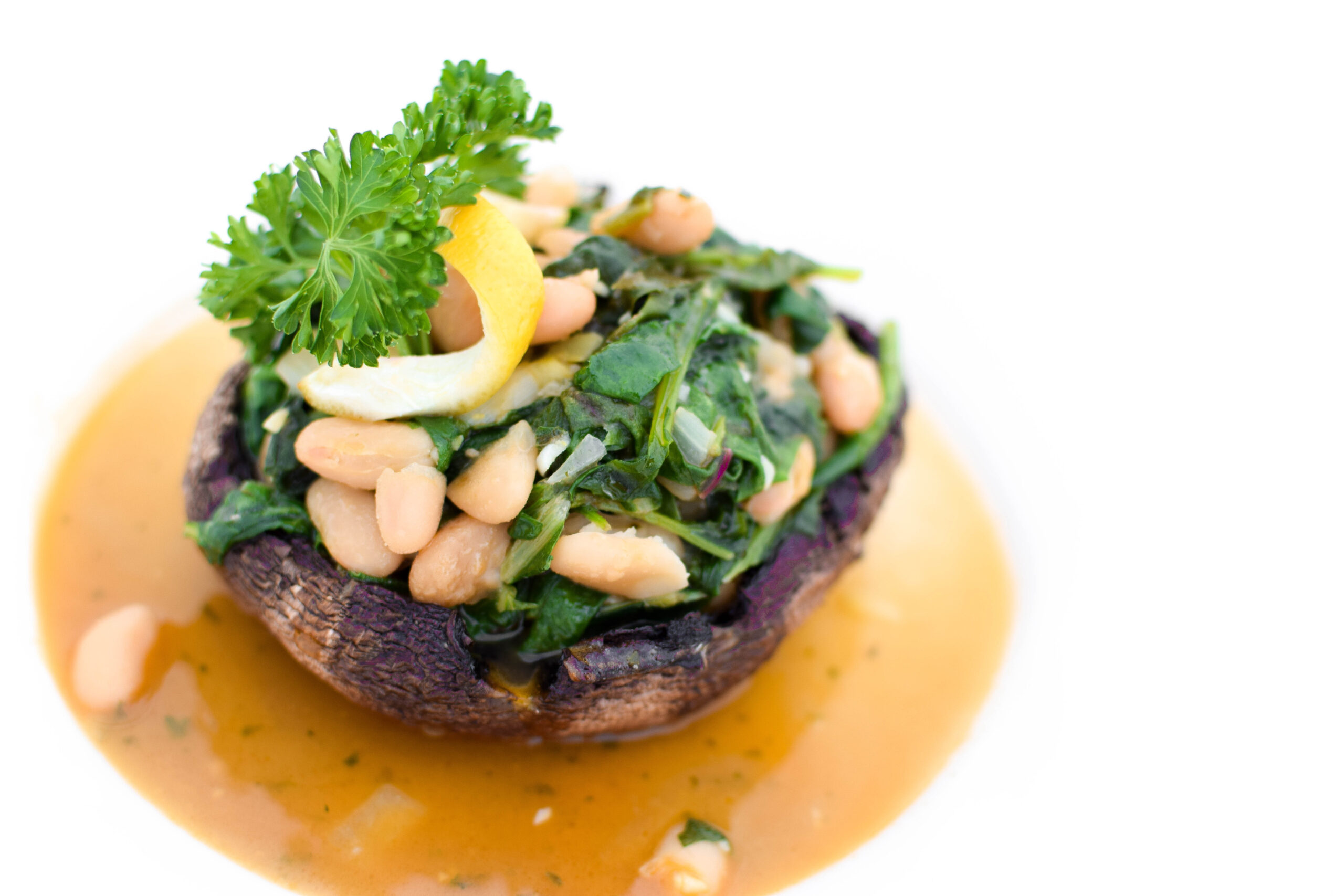 Greens & Beans Stuffed Portabello Mushrooms
If you're looking to add more meatless meals to your weekly meal plan you must try this nutritious and delicious go-to dinner recipe that features white beans, kale and fresh lemon juice nestled inside a baked portabella mushroom.
These Greens & Beans Stuffed Portabello Mushrooms are a perfectly healthy Meatless Monday dish that will keep you and the whole family coming back for more week after week.
If you love the flavor of garlic & lemon, this recipe is perfect for you. This is the best meatless dinner because the portabella mushroom cap is so hearty, you will never miss the meat.
The white beans in this dish provide you with the protein and fiber needed to keep you full all night long, and all of that kale will give you vitamins K, A & C, calcium and B vitamins and more fiber.
Don't care for kale? NO PROBLEM! You can use any hearty green in this dish including spinach, collard greens, swiss chard or beet greens.
This dish is a nutrient powerhouse that tastes amazing. I make this recipe at least once a week in the summer when there is an abundance of fresh kale or swiss chard in my garden.
If you're looking for a little more flavor, add a bit of mozzarella cheese to the dish, but if you're vegan go ahead and skip the cheese and enjoy this tasty meal as is.
Green's & Beans Stuffed Portabella Mushrooms
Greens & Beans Stuffed Portabella Mushrooms features fresh kale, garlic, and lemon juice to create a hearty and delicious plant-based, meatless dish.
Ingredients
2 portabella mushroom caps
2 tablespoons olive oil, divided
1 tablespoon minced garlic
4 cups kale or other dark leafy green, chopped
1 cup vegetable stock
1 14 ounce can of white beans, cannellini, or pinto, rinsed
2 lemons, juiced
2 tablespoons mozzarella cheese, optional
Instructions
Preheat the oven to 375 degrees.
Line a baking sheet with parchment paper or foil. Set aside.
Lightly drizzle 1/2 tablespoon of olive oil over the cap of the mushroom and flip over so the mushroom is gill side up. Lightly drizzle 1/2 tablespoon olive oil over the gill side. Season with salt and pepper to taste and place into the oven for 10 minutes.
While the mushrooms are cooking, add remaining olive oil to a cast iron skillet and set the heat medium.
Add 1 tablespoon of garlic and let cook for 60 seconds.
Begin to add the kale by the handful, it will begin to wilt down as it cooks.
Gradually add the vegetable stock as the kale wilts.
After you've added all of the kale and it has cooked down, add the beans and the lemon juice.
Let cook for another 2 minutes.
After the portabella mushrooms have cooked for 10 minutes, remove them from the oven and fill the caps with the greens & beans.
Sprinkle with a bit of mozzarella cheese if desired. Place back into the oven for 3 minutes, or until cheese has melted.
Remove and enjoy!
Nutrition Information:
Yield:

1
Serving Size:

mushroom
Amount Per Serving:
Calories:

330
Saturated Fat:

1g
Sodium:

610mg
Carbohydrates:

48g
Fiber:

15g
Sugar:

8g
Protein:

21g
Before You Go!
Are you ready to gain control over your anxiety? Download this Free Meal Plan that will teach you how to use food & plant-based supplements, like CBD oil, to naturally manage anxiety so you can reclaim your day-to-day joy and productivity!

Download the Free eBook – The Anti-Anxiety Meal Plan (PLUS Tips for Using CBD Oil) below: