This page may contain affiliate links. Read my full disclosure here.
---
Learn more about the autoimmune thyroid condition Hashimoto's, hypothyroidism, how women are affected and what you beed to know. Plus learn more about how diet and The 30-Minute Thyroid Cookbook: 125 Healing Recipes for Hypothyroidism and Hashimoto's can help you to restore your good health.
Hashimoto's: How Women are Affected and What You Need to Know
What is Hashimoto's Thyroiditis?
Hashimoto's disease, or Hashimoto's thyroiditis, is classified as an autoimmune disorder that often causes hypothyroidism, also known as an underactive thyroid.
The thyroid functions as a hormone-regulator, affecting many organs within the body. When the thyroid is underactive, not enough hormones are being released, leading to problems beyond the thyroid.
Hashimoto's Signs and Symptoms
How do you know if you have Hashimoto's or hypothyroidism?
There are a variety of signs and symptoms linked to Hashimoto's, however, there are often no evident symptoms at first. Before being diagnosed, the thyroid typically gets larger. The enlarged thyroid is called a goiter.
Hashimoto's Symptoms Include:
Excessive tiredness

Fatigue

Weight Gain

J

oint Pain

Muscle pain

C

onstipation

D

ry and thinning hair or eyebrows

Sensitivity to cold
H

eavy or irregular menstrual periods

Heart palpitations
Anxiety
Depression
Hypothyroidism Symptoms
Hypothyroidism (Underactive Thyroid) occurs when the thyroid gland is not producing a sufficient level of thyroxine (T4) and triiodothyronine (T3).
Hypothyroidsm Symptoms Include:
Weight gain
Fatigue or feeling tired all the time
Slow pulse or heart rate
Hair loss or thinning
Poor tolerance of the cold
Depression
Dry, coarse or thickened skin
Constipation
Hand tingling or pain (carpal tunnel syndrome)
Irregular period or low sex drive
Muscle cramps
Impaired memory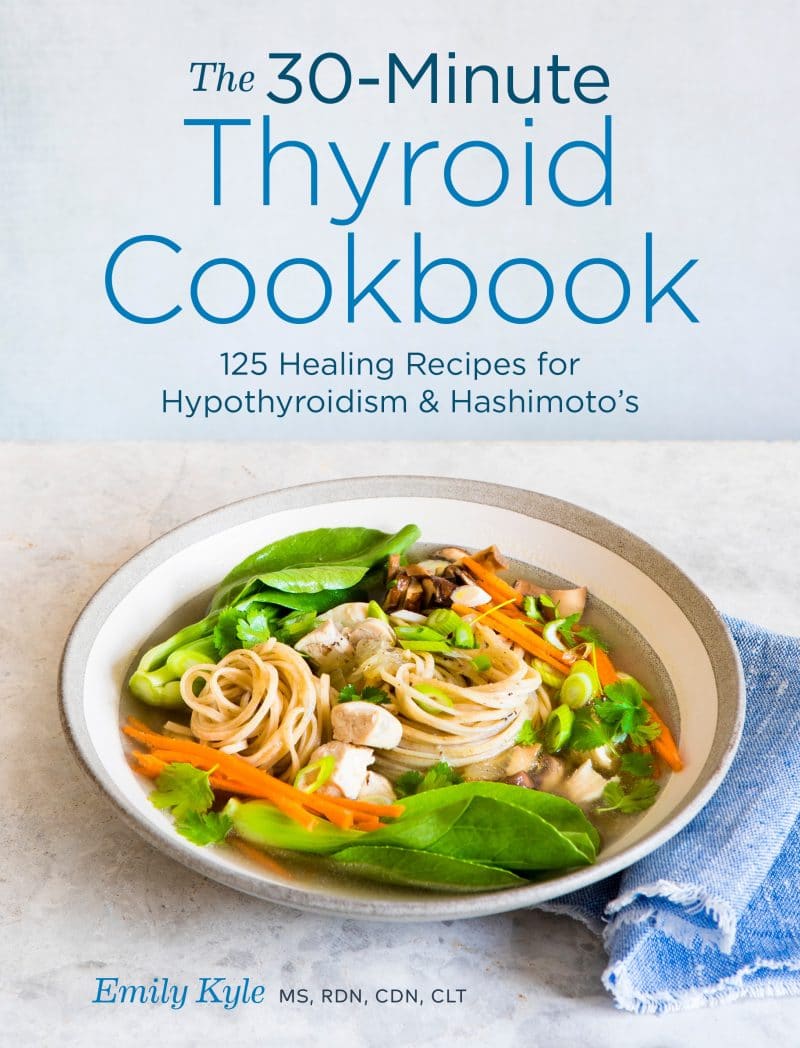 Testing for Hashimoto's and Hypothyroidism
If you are concerned that your signs and symptoms may be due to the development of Hashimoto's thyroiditis, there are many options available today to help get you a definitive diagnosis.
You can start by going to your doctors office and sharing with them your symptoms and concerns to see if they feel it is necessary to run a thyroid panel.
Thanks to advancement in medical technology, you can also order your own thyroid panel, allowing you to bypass the doctors office all together.
At Home Test for Hashimoto's and Hypothyroidism
I am proud to work with a personal home testing platform called LetsGetChecked.
LetsGetChecked is a diagnostics platform linking customers to laboratories for personal health testing and subsequently providing actionable information and robust clinical pathways for customers in need of treatment and care.
LetsGetChecked customers can order tests online or attend participating pharmacies to get checked within a dedicated consultation suite.
Customers can take confidence in knowing that their tests are anonymised with a unique barcoding system. Once your kit is activated through a personal online account, you can collect your sample and return to our laboratory using the pre-paid envelope provided. Your results will be processed, analysed and returned to your personal account in a matter of days.
At any stage during the process, you can request a call from a registered nursing team from your personal dashboard by pressing the "CALL NURSE" function. This human touch point is there, for those who need it and to make the testing process personal.
LetsGetChecked provides the opportunity for people to take a more proactive approach in managing their health, the work around people's busy schedules and provide a more accessible route for testing.
An Interview With LetsGetChecked
I was lucky enough to chat with LetsGetChecked and to share my thoughts on how chronic illness management can be linked back to what we are putting in our bodies.
The inclusion of certain foods in your diet will not cure your thyroid condition, however, alongside other positive lifestyle changes and medication there are a number of nutrients that can radically help to balance your thyroid hormones and improve your symptoms.
Purchase an At Home Thyroid Antibody Test
The thyroid antibody test from LetsGetChecked will determine how your thyroid is performing by looking at thyroid stimulating hormone (TSH), free thyroxine (T4), free triiodothyronine (T3), TGAB and TPEX. The presence of TGAB or TPEX antibodies can indicate thyroid damage which can include autoimmune disorders.
Why Understanding Hashimoto's Matters
Hashimoto's is seen in around 5 out of 100 people and it is the most common reason why people experience hypothyroidism. In the U.S., over 14 million people have been diagnosed with Hashimoto's. Women are more likely (about 8x to be exact!) to have Hashimoto's than men.
The disease is more prevalent for women between the ages of 40 and 60.
Studies have found that genetic factors contribute to a person's likelihood of developing the condition, in addition to environmental factors and other autoimmune disorders. More recent studies have looked into nutrition as a factor in the development of Hashimoto's.
While there is still a lot of research being done on nutrition and Hashimoto's, researchers have found evidence that certain micronutrient levels play a role in the disease. High iodine intake and deficiencies in selenium, iron, and vitamin D have been linked to Hashimoto's.
Diet can also help in the treatment of Hashimoto's disease, which is why I wrote the book: The 30-Minute Thyroid Cookbook: 125 Healing Recipes for Hypothyroidism and Hashimoto's which is available to order now.
In my private practice, I have helped many women put their Hashimoto's symptoms into remission through the development of a customized anti-inflammatory diet based on the MRT food sensitivity test results.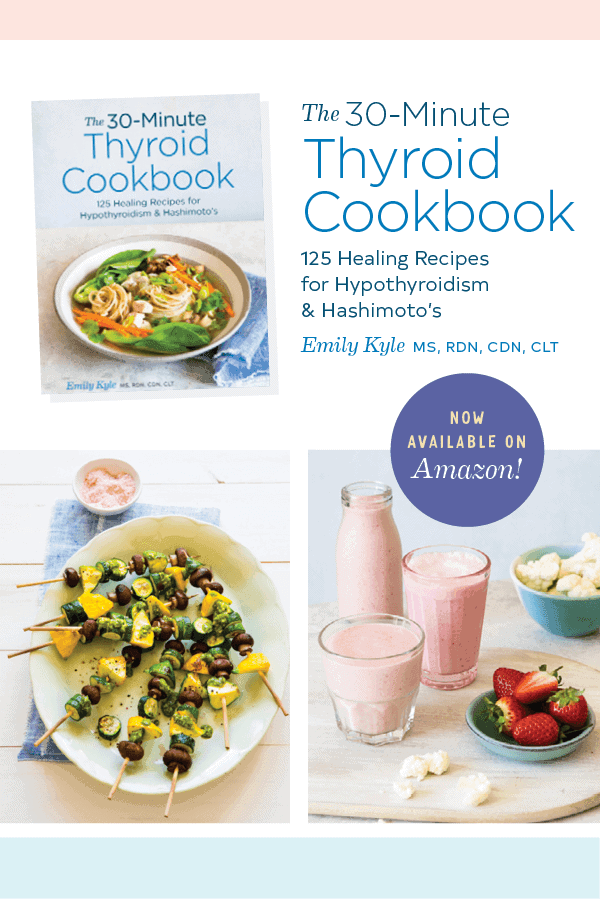 Important Nutrients to Consider for Hashimoto's Patients
Iodine for Hashimoto's
Iodine intake is very tricky for people Hashimoto's because individuals should take in less iodine, but it is also important to ensure you are consuming enough.
The main food sources of iodine are kinds of seafood (seaweed, scallops, shrimp, salmon, and tuna), animal products (yogurt, milk, eggs), and fruits like cranberries and strawberries. You should also watch out for iodized salt, which is a major source of iodine.
Selenium for Hashimoto's
People with Hashimoto's can benefit from adding more selenium to their diet.
Selenium is found in soil and gets passed on to plants. Foods high in selenium are Brazil nuts, oysters, wild-caught tuna, sunflower seeds or sunflower milk, high-quality pastured meats, and mushrooms.
Vitamin D for Hashimoto's
People with Hashimoto's are encouraged to increase their intake of vitamin D. Vitamin D is a fat-soluble vitamin that supports the body's absorption of calcium.
The easiest way to get vitamin D is to step outside into the sunshine!
However, those of us that live in places with cold, dark winters need to find other ways to get our vitamin D. Food sources of vitamin D are fish (cod liver oil, wild-caught salmon, sardines) and organic dairy products.
Going Gluten Free for Hashimoto's
There is not clear evidence that a gluten free diet can prevent autoimmune diseases such as Hashimoto's.
However, a connection has been found between Hashimoto's and Celiac disease, an autoimmune disorder where the intake of gluten damages the small intestine.
Due to this finding, people with Hashimoto's are advised to follow a gluten-free diet as a part of treatment, along with getting tested for Celiac disease.
Even if Celiac is ruled out, it is recommended that all Hashimoto's patients abstain from gluten indefinitely.
Gluten is found in wheat, barley, rye, and oats that are not certified gluten free. These grains are often in breads, pasta, cereals, and baked goods to name a few.
Be sure to look for gluten free certification, especially if you are diagnosed with Celiac disease, or a gluten free label on packaging at the grocery store.
Additional Nutrients to Consider for Hashimoto's
Additionally, foods high in phytonutrients, quality fats, and probiotics are all beneficial to people with Hashimoto's.
An overall nutritious diet full of fruits, veggies, healthy fats, and whole grains can benefit everyone, especially those with an autoimmune disorder.
While diet can help increase or decrease your intake of micronutrients, some patients may benefit from additional supplementation as part of an individualized treatment plan when working with their registered dietitian.
The Bottom Line for Hashimoto's and Hypothyroidism
The prevention and treatment of different diseases includes a nutritional approach more and more these days. The management of Hashimoto's and Hypothyroidism is best when approached in a whole holistic lifestyle way.
People are becoming more proactive and the medical field is catching up to the philosophy that medical problems should be prevented rather than treated. Medicine is becoming less reactive, and we have discovered that prescribing medications to treat a problem is not a long-term solution.
For those who are diagnosed with Hashimoto's or any other autoimmune disorder, diet can make a difference and help to treat a disorder and therefore, relieve symptoms.
That is where the importance of The 30-Minute Thyroid Cookbook: 125 Healing Recipes for Hypothyroidism and Hashimoto's comes in.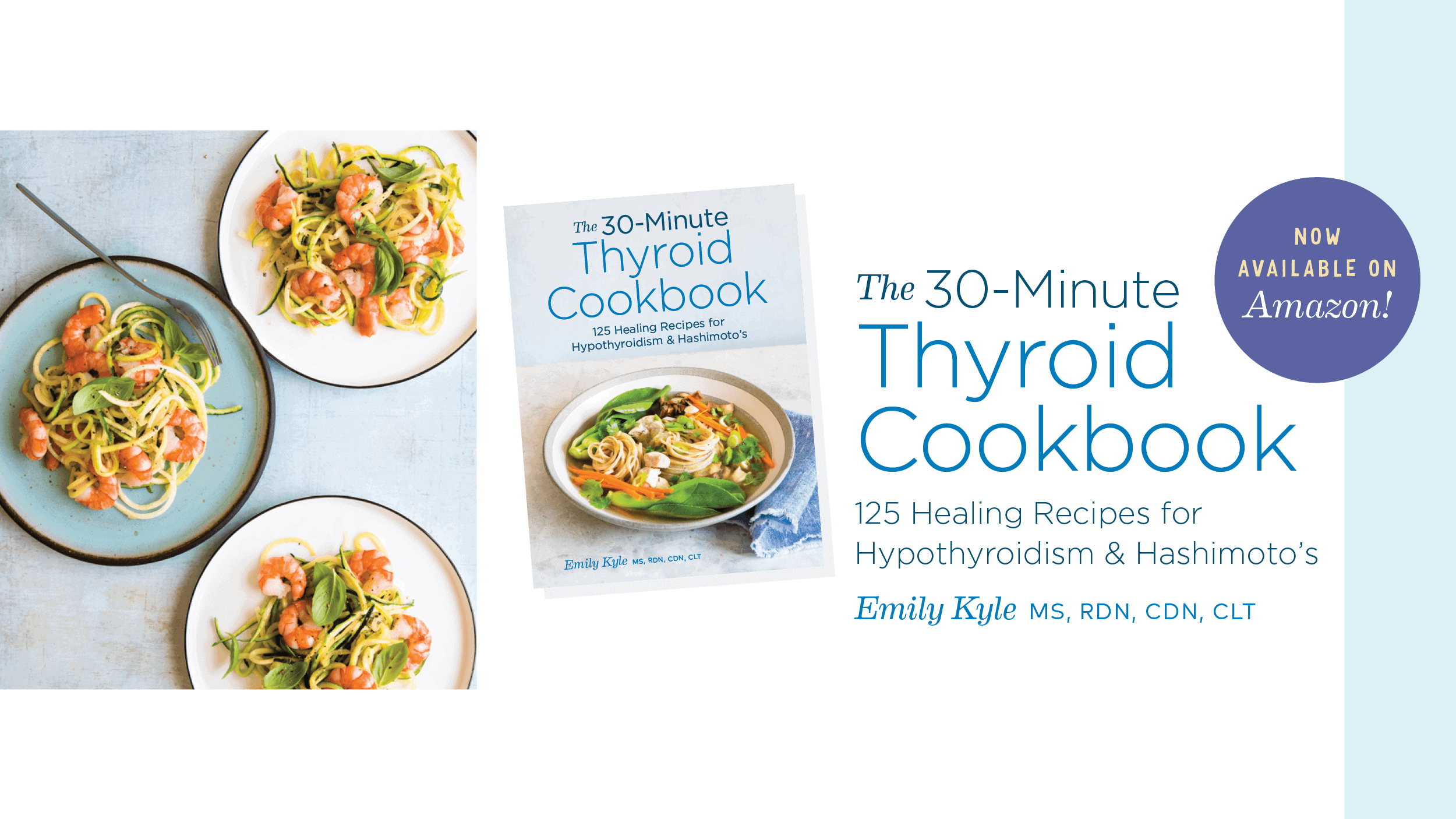 The 30-Minute Thyroid Cookbook for Hashimoto's and Hypothyroidism
The 30-Minute Thyroid Cookbook offers the fastest, everyday recipes to take control of hypothyroidism and Hashimoto's symptoms for long-term relief.
When you're dealing with symptom flare-ups, the last thing you want to do is spend hours cooking. The 30-Minute Thyroid Cookbook offers quick recipe solutions to manage hypothyroid and Hashimoto's symptoms, so that you can get in and out of the kitchen and back to your life.
From Crispy Baked Tempeh Fingers to Rub Roasted Pork Tenderloin, these no-fuss recipes combine quick and easy prep and cook times for table-ready meals in 30-minutes or less.
Complete with a guide to setting up a thyroid-friendly kitchen, plus tons of tips and tricks to make home cooking easier, The 30-Minute Thyroid Cookbook is an everyday solution to get long-term symptom relief.
The 30-Minute Thyroid Cookbook includes:
An essential introduction that explains the thyroid-diet connection, and offers instruction on foods to eat and avoid, along with guidelines for preparing your pantry and eating out.
125 recipes that are all gluten-free and dairy-free, and ready to eat in 30-minutes or less.
Quick reference labels that allow you to choose what to eat based on your needs, with labels for Paleo, Autoimmune Protocol (AIP), Elimination Provocation (EP), and more!
Don't let a busy day get in the way of eating foods that support optimal thyroid function. Heal your body with nourishing, quick and easy recipes from The 30-Minute Thyroid Cookbook.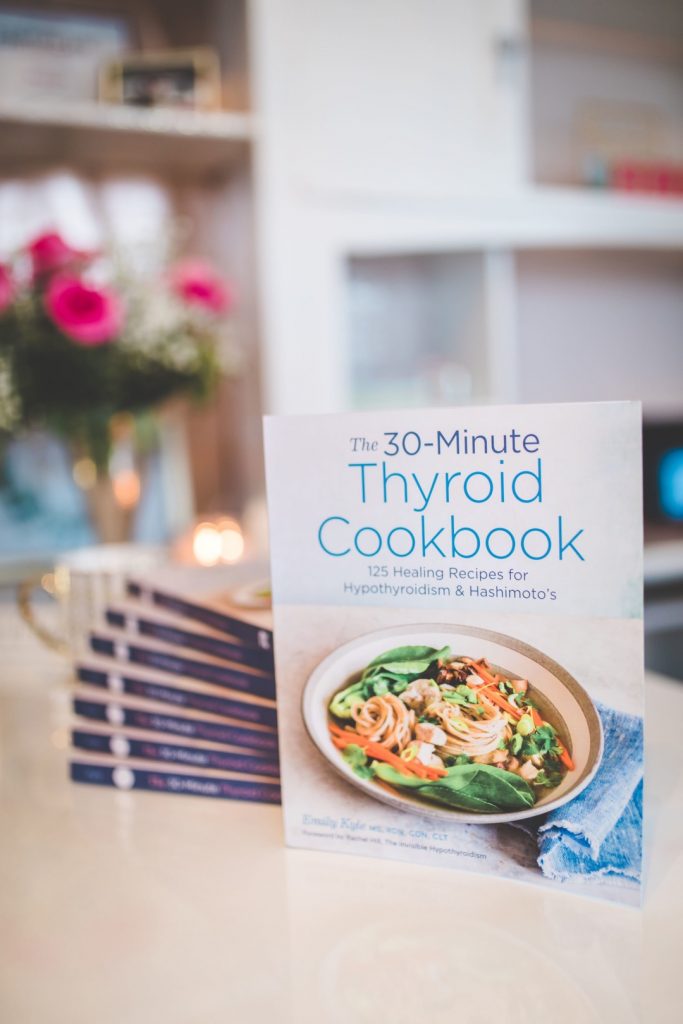 Download Your FREE Meal Plan Before You Go!
If you're looking for additional help in meal planning or discovering new and delicious recipes to try, be sure to download my Free eBook – The Happy & Healthy Flexible Meal Plan below:
---
Welcome! I'm Emily Kyle, a nationally recognized media registered dietitian nutritionist & holistic cannabis practitioner providing holistic health care for those living with autoimmune and inflammatory conditions. To help you, I offer food sensitivity testing, cannabis education, and this blog which provides free resources including anti-inflammatory recipes, holistic health, wellness and nutrition related articles, and evidence-based cannabis education.