Skip the traditional cake pop and enjoy one of these Healthy Cake Pops that are vegan, gluten-free, and absolutely delicious.
Date Pops – The Healthy Cake Pop
If you're looking for a fun and healthy dessert that tastes amazing too, you've found it!
These raw, vegan, no bake date pops were created to provide you with the same joy of eating a sweet treat on a stick, like the traditional cake pop, while providing you with wholesome ingredients that will fuel your body with energy and nutrients to keep you happy & healthy.
Healthy Cake Pops
Everyone loves the infamous cake pop!
They seem to show up at every Pinterest inspired birthday party, wedding or baby shower, and they even have their own National Cake Pop Day on February 1st.
Sure, everyone loves a sweet treat on a stick, but traditional cake pops are the ultimate unhealthy dessert. Sure, one won't hurt, but can anyone ever stop at just one?
Traditional cake pops have little to no nutritional value; aside from being a calorically dense source of energy, found in the form of simple sugars and carbohydrates.
These simple sugars and carbohydrates are notorious for causing the infamous blood sugar spike followed by an intense crash that could leave you feeling crappy and tired.
It is no secret that I am a girl that loves all things cute, sparkly and shiny.
So when this month's recipe theme was to 'pick a new ingredient that you've been wanting to try… and cook or bake up a new recipe in the new year' – I knew what I wanted to use!!
Edible glitter 🙂
With a little experimenting I created a healthy cake pop made with good-for-you ingredients like oatmeal, chia seeds, dates, and almond butter.
*If you want these Date Pops to be as healthy as possible, you can skip the chocolate dipping phase altogether (but I don't think a little chocolate has ever hurt anyone!).
Aside from the chocolate, these are 100% raw vegan, meaning they are created with all of the plant goodness that Mother Nature has to offer. You can also choose vegan chocolate chips for your chocolate dip.
Healthy Cake Pops
Skip the traditional cake pop and enjoy one of these Healthy Cake Pops that are vegan, gluten-free, and absolutely delicious.
Ingredients
1 cup quick cook oatmeal, gluten-free
1/4 cup chia seeds
1/4 cup ground flax seeds
2/3 cup slivered almonds
10 dates, chopped
1/2 cup plant-based milk
1/4 cup almond or peanut butter
1 tablespoon coconut oil
1/4 cup maple syrup
1/2 teaspoon almond extract
1/2 teaspoon coconut extract
For the Chocolate Dip:
1 cup dark chocolate chips
1 teaspoon coconut oil
Supplies:
10 paper straws, cut in half
Instructions
Linea baking sheet with a sheet of parchment paper and set aside.
In a food processor, add the oatmeal, chia seeds, ground flax seeds, and slivered almonds. Mix together for 30 seconds, or until an even, yet slightly coarse texture is achieved. Transfer this to a large mixing bowl when done.
Add the dates and milk coconut milk to the large mixing bowl and stir well.
In a microwave safe container warm the almond butter and coconut oil on high for 30 seconds. Mix well.
Add the agave syrup, almond extract, and coconut extract to the wet ingredients and mix well.
Mix all of the ingredients together well.
Use a 1" scoop to evenly portion the dough into balls. Messy is OK at this point. When finished scooping all 20 balls, place them in the refrigerator for 20 minutes.
After the dough chills, remove the dough one by and roll between your palms until they are perfectly ball-shaped, set the finished ball on the parchment paper.
Using your paper straw, carefully push the end through the center of each pop until they are approximately 3/4 of the way through. Then remove.
Freeze for 10 minutes.
Chocolate Coating
While the pops are in the freezer you will need to prepare the chocolate.
Place the chocolate chips and coconut oil in a small microwaveable container, like a glass cup.
Microwave on high for seconds. Remove, stir and return to the microwave for another 30 seconds.
Remove and stir, and if needed microwave for an additional 30 seconds.
Dip the end of each cake pop stick into the chocolate and place in the hole you already made. Return each pop to the freezer for another 5 minutes.
Note: * Make sure everything is set up and ready to go before you start dipping. I taped together two pieces of foam board and used a pen to make a hole so I would have somewhere to rest my pops.
When you're ready, remove the pops from the freezer dip each one in the chocolate and gently twirl until the excess chocolate has dripped off.
Place in your foam board stand. If you're going to garnish your pops with anything, now is the time to do so. I used raw unsweetened coconut flakes, sprinkles, and my edible pink glitter sugar.
Enjoy!
Nutrition Information:
Yield:

20
Serving Size:

1 Cake Pop
Amount Per Serving:
Calories:

146
Total Fat:

9g
Saturated Fat:

3g
Trans Fat:

0g
Unsaturated Fat:

5g
Cholesterol:

1mg
Sodium:

24mg
Carbohydrates:

15g
Fiber:

3g
Sugar:

9g
Protein:

3g
This data was provided and calculated by Nutritionix on 2/10/2019
Healthy Cake Pop's Made By Readers
Thanks to Rya who made these Healthy Cake Pops and shared her photos with us!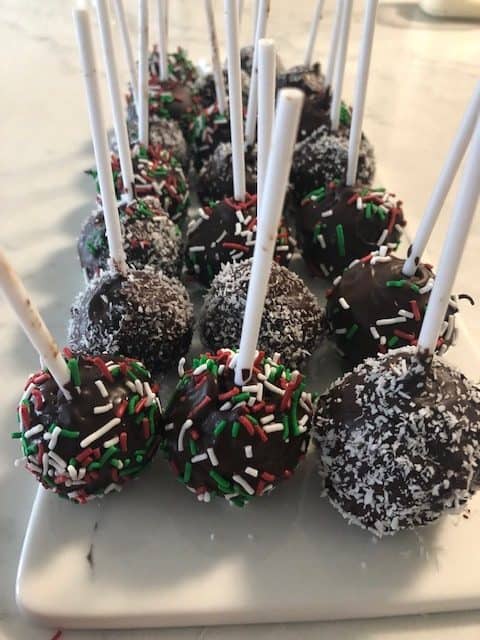 I hope you feel inspired by these Date Pops – The Healthy Cake Pop!! Part of living a healthy lifestyle means that you get to enjoy all the fun, sweet treats in life – just in a different way.