Made with just five simple ingredients, this easy and healthy French toast recipe will quickly become your family's favorite go-to breakfast. Make this recipe convenient for busy mornings by making healthy French toast sticks that are both delicious and portable.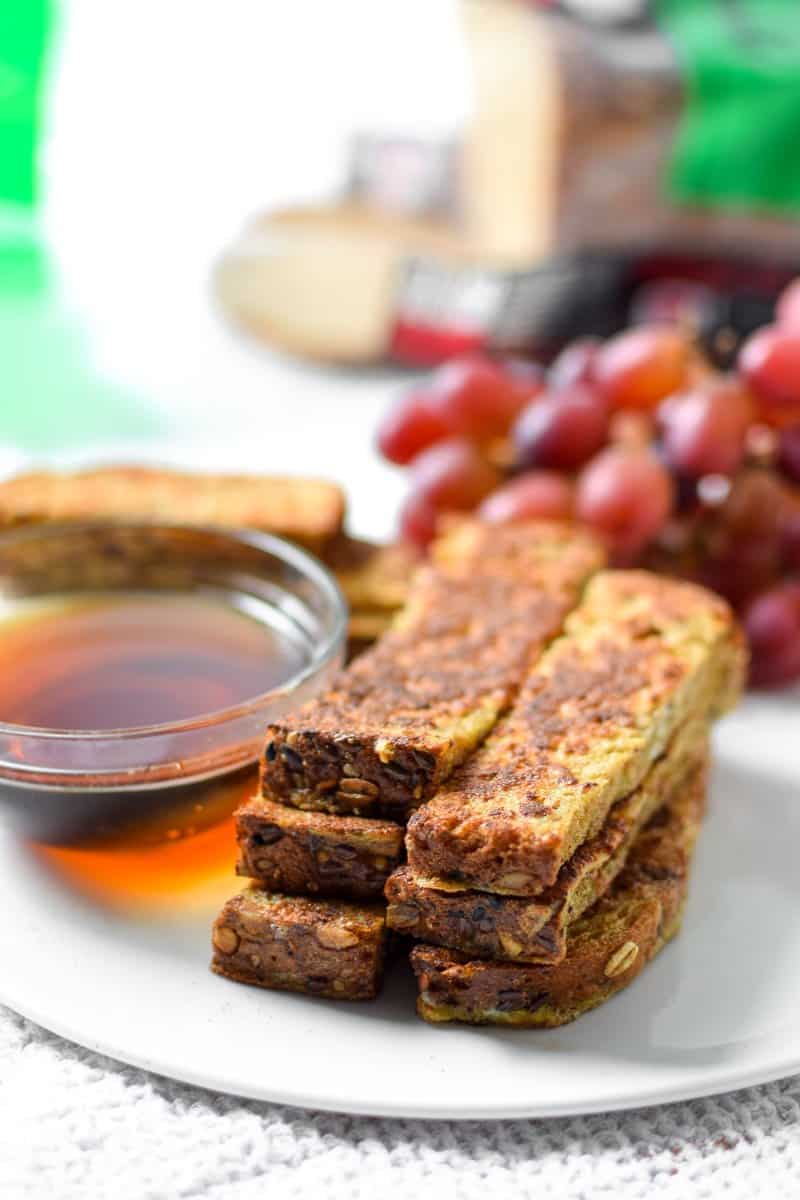 This recipe comes with options for a gluten-free French toast, a paleo French toast, and a plant-based Vegan French toast option.
Healthy French Toast Sticks
I think we can all agree that Saturday mornings are the perfect time to enjoy a slower pace.
Time to actually enjoy your coffee while it's hot and to enjoy making a delicious homemade breakfast together as a family.
Whether it is pancakes and French toast, my son Ransom and I always take a little more time to enjoy a weekend breakfast together.
But, of course, not all Saturday mornings offer the luxury of enjoying a slower pace.
Sometimes you just need to get breakfast in quickly so you can get out the door.
That's where these easy-to-make, Healthy French Toast Sticks come in!
It doesn't take much extra time to slice your bread into sticks, but it does make it more convenient, and less messy, to enjoy a yummy breakfast on-the-go.
Eating your French toast in stick form is also easier for little ones, like my 4-year old, to eat on their own without making a huge mess.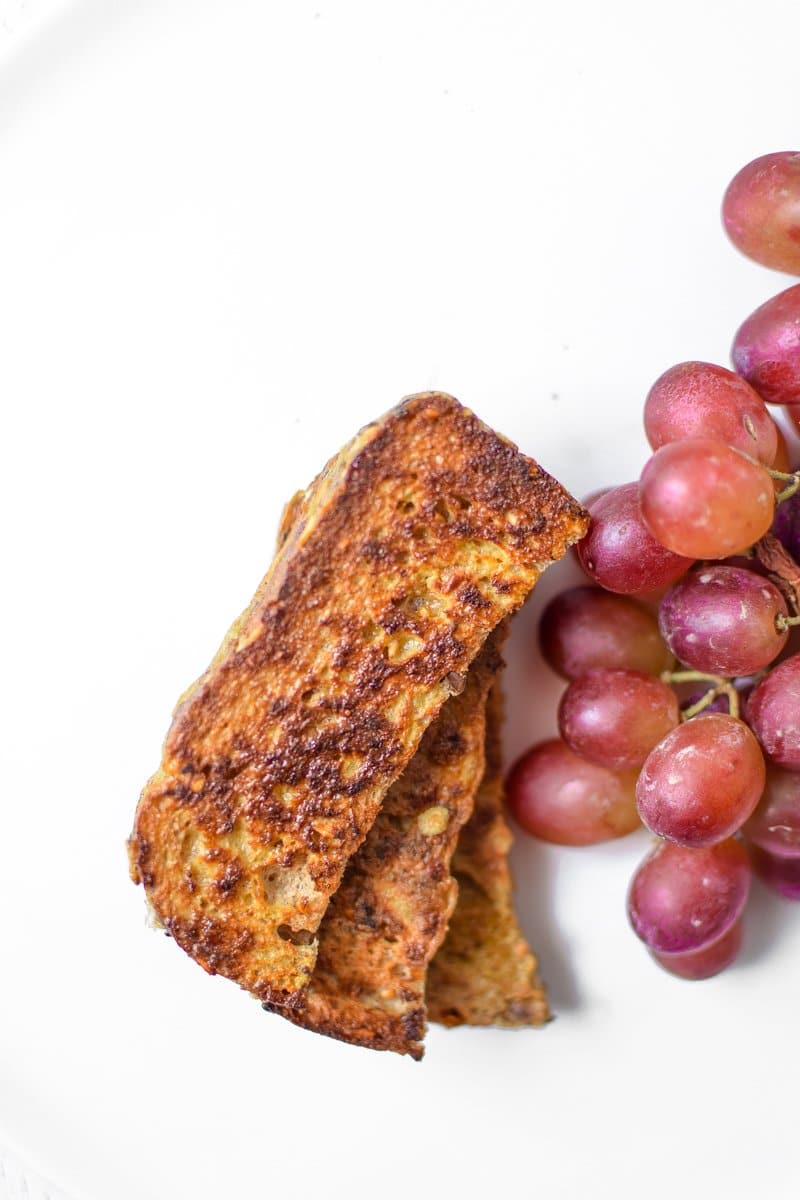 What is Healthy French Toast?
These are definitely not the greasy, fried French toast sticks of your Elementary School dreams (although they were by far one of the most popular lunch choices at my school).
Instead, these healthy french toast sticks are made with just five simple ingredients you already have on hand: bread, eggs, real butter, pure vanilla, and fresh cinnamon.
The one thing I try and teach my clients is that 'healthy' looks different to everyone, and what may be healthy for me, may not necessarily be healthy for you.
That is why it is so important to define your healthy, so you can pick the right combination of ingredients that will work for you and your family.
Below you will find options for gluten-free French toast, paleo French toast, and plant-based Vegan French toast so you can match that recipe with whatever a healthy diet looks like for you.
Healthy French Toast Recipe For Those with No Dietary Restrictions
I never grew up eating plain white bread, so making the switch to whole wheat or whole grain bread has never been difficult for me, but I know many of my clients found that the switch can be hard at first.
Gradually switching from a white to whole wheat to a whole grain bread can be a simple change that can make a big difference in your overall diet.
Plus, you need a hearty bread that will stay strong as you coat it in egg, cook it in the griddle, and most importantly, dip it in syrup for your French toast breakfast.
Instead of traditional white bread, I like to opt for a hearty whole-grain or gluten-free bread, as the whole grains help provide the body with more dietary fiber and nutrients than traditional white bread.
Dietary fiber is important because fiber is beneficial to your digestive system as a prebiotic.
Consuming adequate amounts of fiber at mealtimes can help you feel fuller, longer.
Gluten Free Healthy French Toast Sticks Recipe
With this healthy French toast sticks recipe, the only thing you need to do is to choose a gluten-free bread you enjoy.
The other ingredients: the eggs, butter, vanilla, and cinnamon, are all naturally gluten-free.
Of course, you can always make your own homemade gluten-free bread for a more decadent French toast recipe, but if you're looking for convenience, purchasing a good gluten-free bread from the grocery store is key.
Paleo Healthy French Toast Sticks Recipe
It is technically against the fundamental ideas behind the Paleo diet to transform a traditionally 'unhealthy' recipe into a 'healthy' one, but sometimes a girl wants French toast!
I have worked with a bread company in the past called Barley Bread that offers 100% grain-free, gluten-free, low-carb bread, and it is really tasty.
You would need to use bread like this, one that is completely grain-free, for it to be paleo compliant.
Additionally, you would need to use coconut oil or ghee in place of the butter.
Otherwise, the eggs, cinnamon and vanilla extract should be good to go for you.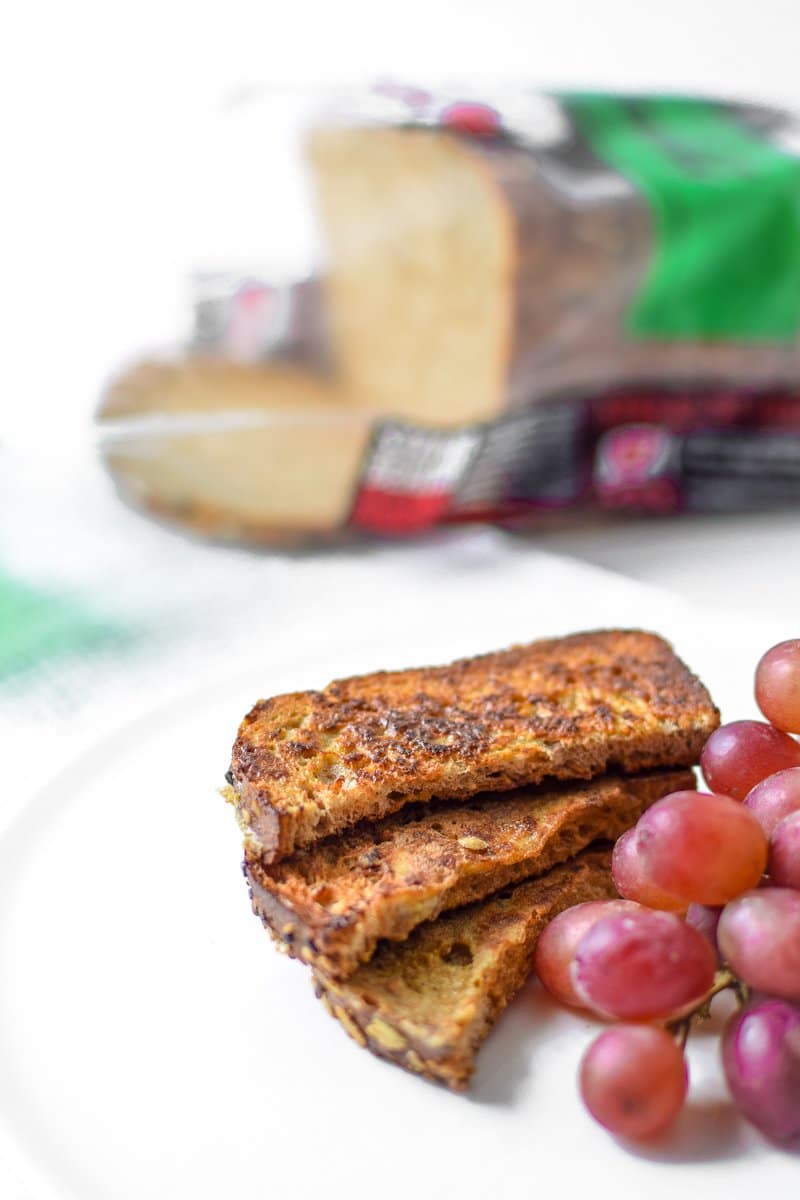 Plant-Based Vegan Healthy French Toast Sticks Recipe
For those who are adopting a more plant-based diet, the overall goal may be for you to eat a predominately plant-based diet.
Some people define a plant-based diet as one that contains little to no animal products, while others opt for a completely vegan diet that allows for no animal products at all.
If you are looking for a predominantly plant-based diet, you should be able to enjoy this recipe the way it is.
The eggs make up an overall small percentage of the recipe, and it is predominantly plant-based from the grains found within the bread.
If you want this recipe to be completely vegan, you will need to substitute the traditional eggs for a flax egg.
A flax egg is made by combining one tablespoon of ground flaxseed meal with six tablespoons of warm water.
Stir gently and let sit for 10 minutes to thicken.
You would want to double that flax egg formula for this recipe and use a total of 2 tablespoons of ground flaxseed meal with 6 tablespoons of warm water.
Allow the mixture to sit for 10 minutes to thicken before stirring in the vanilla and cinnamon.
And of course, remember that you will want to use coconut oil in place of butter to make this recipe completely vegan.
Remember, 'healthy' looks different to everyone, and that there is no right or wrong way, just a way that works best for you.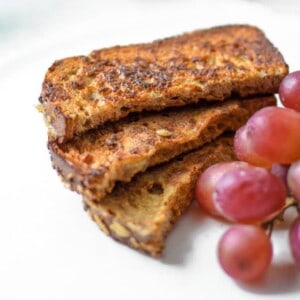 Healthy French Toast & French Toast Sticks
Made with just four simple ingredients, these healthy French toast sticks will quickly become your families favorite go-to breakfast.
Instructions
Gently cut each slice of bread into 4 'sticks'. Set aside.

Preheat a griddle over medium heat. Coat with butter or coconut oil.

In a shallow bowl, whisk together the eggs and cinnamon.

Gently dip each strip of bread into the egg mixture, flipping once to coat evenly. Place on the hot griddle.

Cook each french toast stick for 2-3 minutes before flipping.

Cook an additional 2-3 minutes on the other-side until the french toast sticks are golden brown.

Remove from heat and enjoy! Dip in syrup or your favorite sweet dip, like yogurt!
Nutrition
Calories:
260
kcal
|
Carbohydrates:
23
g
|
Protein:
15
g
|
Saturated Fat:
3
g
|
Cholesterol:
300
mg
|
Sodium:
280
mg
|
Fiber:
5
g
|
Sugar:
5
g
Did you make this recipe or have a question?
Join hundreds of members inside private Well With Cannabis Community for help, support, and to share your edible creations!