Enjoy the delicious taste of homemade tortillas along with the amazing health benefits of the beautiful beetroot in these easy to make Homemade Beet Tortilla Wraps that have been sponsored by my friends over at Love Beets.
Delicious and Nutritious Beets
It's no secret that I love Pink.
Just take a peek around my website, you will surely see some element of pink everywhere you look. It's by far the most beautiful color ever produced by Mother Nature. Even my wedding dress was pink!
What I do not love is artificial dyes. Especially Red Dye #40. Why use the fake stuff when Mother Nature has provided us with everything we need to make a wide range of beautiful colors, from baby pink to vibrant hot pink?
That is why we owe her a big fat thank you for the creation of the beetroot, also known as beets, the most beautiful root on the planet.
Love Beets Beetroot Powder made from 100% beets, has 0g added sugar, is non-GMO, gluten-free, dairy-free and vegan.
What Can you Make?
I have used beetroot to both dye and accompany a variety of beautiful dishes, like these fresh fruit spring rolls, these naturally dyed deviled eggs, this spiralized beet & walnut salad and my pink gremolata hummus.
If you're new to using beets in the kitchen, Love Beets has you covered with a wide variety of products to help you create your perfect dish (without having to get your hands dirty!).
They have pre-cooked beets & baby beets in a variety of flavors like honey & ginger, mild vinegar & white wine and balsamic. They also make a package of shredded beets which is awesome for throwing right into fresh salads.
Of course they also carry organic beet juice which proves to be the most awesome natural food dye, and they make this awesome Beetroot Powder made from 100% beets which has 0 grams of added sugar, and is non-GMO, gluten-free, dairy free and vegan.
I am obsessed with the beetroot powder because it has a much more mild and subtle taste to it, which makes it a perfect addition to anything you're already cooking or baking with the addition of the beautiful color.
Want to learn more about how beets are grown?
Join me for a Beet Farm Tour with Love Beets right in Rochester, NY.
The Health Benefits of Beets
The fact is, beetroot is just plain good for the human body.
Having a variety of ready to use products, from cooked to juiced beets, is awesome because it makes it easier than ever to consume this beautiful root in a way that makes your taste buds happy too.
There have been numerous studies that have proven the power of this mighty root and its ability to help the body function at its optimal peak.
Just take a look at this excerpt from the article The Potential Benefits of Red Beetroot Supplementation in Health and Disease:
"Based on the available data, beetroot appears to be a powerful dietary source of health promoting agents that holds potential as therapeutic treatment for several pathological disorders. The powerful antioxidant, anti-inflammatory and vascular-protective effects offered by beetroot and its constituents have been clearly demonstrated by several in vitro and in vivo human and animal studies; hence its increasing popularity as a nutritional approach to help manage cardiovascular disease and cancer." – Source
Nutrition Benefits of Beets
Which means that the more beets you eat, the more good you are doing for your body.
Beets for Heart Health
Beets are rich in potassium, which is one of the main minerals responsible for muscle contraction, including the contraction of the heart.
A diet rich in beets and other potassium-rich foods can help decrease the risk of cardiovascular disease and stroke.
Beets for Blood Pressure
Beets contain two important nutrients that can help lower blood pressure: potassium and nitrate.
Potassium works with sodium to maintain the volume of blood in circulation steady. More sodium in the body means more water, more blood volume, and higher blood pressure.
Consuming more potassium helps flush sodium out of our system, naturally lowering blood pressure.
Beets for Bone Health
Beets contain the mineral silica, which helps the body to utilize calcium, so it's important for musculo-skeletal health and reducing the risk of osteoporosis.
Beets for Increased Energy
In the 16th century, it was given as a "blood builder" to people who were pale and run down.
At the time, doctors and patients may not have known why it was so efficacious, but health experts now know that the high iron content in raw beets can be helpful for people who suffer from anaemia and fatigue.
Beets for Sexual Health
Since Roman times, beets have been viewed as an aphrodisiac. It contains high amounts of boron, which is directly related to the production of human sex hormones.
Homemade Beet Tortilla Wraps
This recipe is really quite easy to make, and if you have never made homemade tortillas before, I think you will really enjoy the delicious, fresh taste compared to the ones you've bought at the store.
You will also love the added nutritional benefits and the beautiful color from the beetroot powder. You can pick up this beetroot powder from your favorite grocery store, mine is Wegman's, or directly from the website here.
Now I have tried many, many different substitutions for the whole wheat flour in attempts of making this recipe gluten-free friendly as well, but I have yet to come up with a recipe that I liked.
If you have experimented and were able to create a gluten-free version that you love, please do share it in the comments below!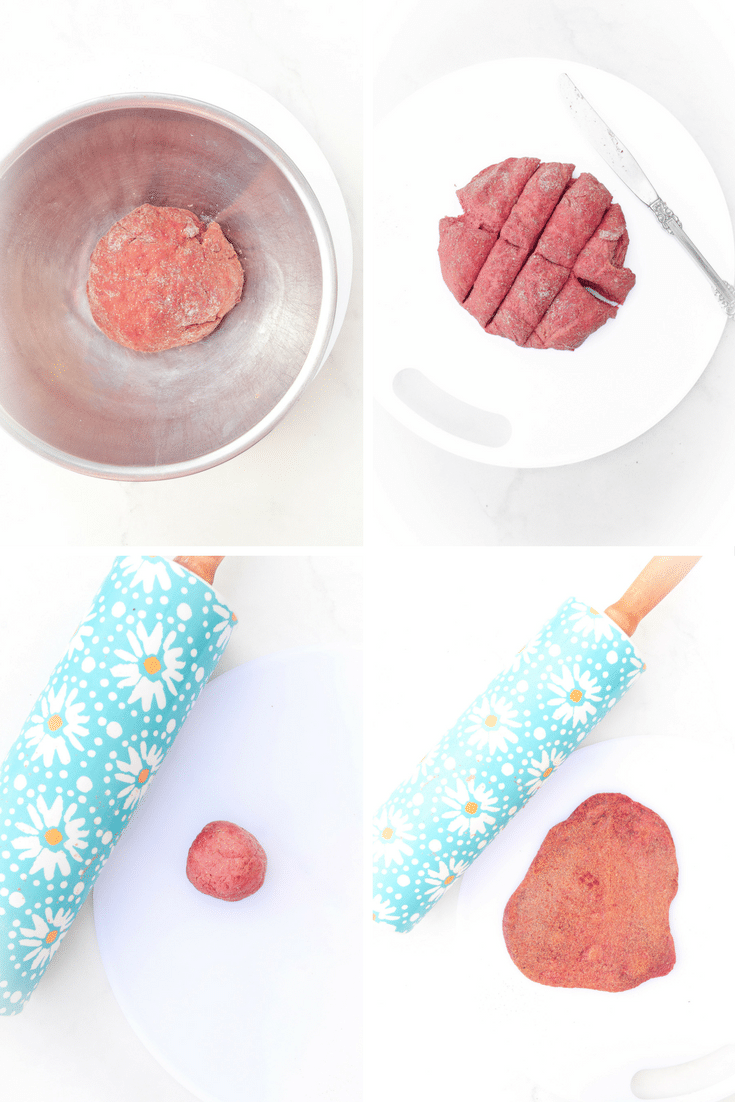 What to Make with Homemade Beet Tortillas?
Try these Rainbow Hummus Beet & Veggie Wraps.
Homemade Beet Tortilla Wraps
Enjoy delicious homemade tortillas and the amazing health benefits of beets in these easy to make Homemade Beet Tortilla Wraps.
Ingredients
1 3/4 cups whole wheat flour
2 tablespoons Love Beets Beetroot Powder
1/2 teaspoon salt
1/2 teaspoon granulated garlic
3 tablespoons olive oil
1 1/3 cup of warm water
Instructions
In a large bowl, whisk together the wheat flour, beetroot powder, salt and granulated garlic until there are no clumps.
Make a well in the middle and add the olive oil.
Slowly add in the warm water and mix until a dough ball has been formed.
Knead the dough for 1-2 minutes.
Let rest for 20 minutes.
Divide into even sized balls, depending on what size wrap you want to make. The larger the dough ball, the larger your wrap.
Using a rolling pin, roll the wrap as flat as possible (but not paper thin).
Heat a cast iron skillet over high heat, grease lightly.
Lay the wrap in flat and cook for 1-2 minutes on each side.
Let cool and enjoy.
Nutrition Information:
Yield:

8
Serving Size:

1 tortilla
Amount Per Serving:
Calories:

140
Total Fat:

6g
Saturated Fat:

1g
Trans Fat:

0g
Unsaturated Fat:

5g
Cholesterol:

0mg
Sodium:

141mg
Carbohydrates:

20g
Fiber:

3g
Sugar:

1g
Protein:

4g
Before You Go!
Are you ready to gain control over your anxiety? Download this Free Meal Plan that will teach you how to use food & plant-based supplements, like CBD oil, to naturally manage anxiety so you can reclaim your day-to-day joy and productivity!

Download the Free eBook – The Anti-Anxiety Meal Plan (PLUS Tips for Using CBD Oil) below: