This creamy, delicious Homemade Sunflower Seed Milk is a natural plant-based milk alternative that is ready in as little as 30 minutes. Sunflower milk is naturally dairy-free, gluten-free, Paleo-friendly and a great allergy-friendly milk alternative for those with nut or tree-nut allergies.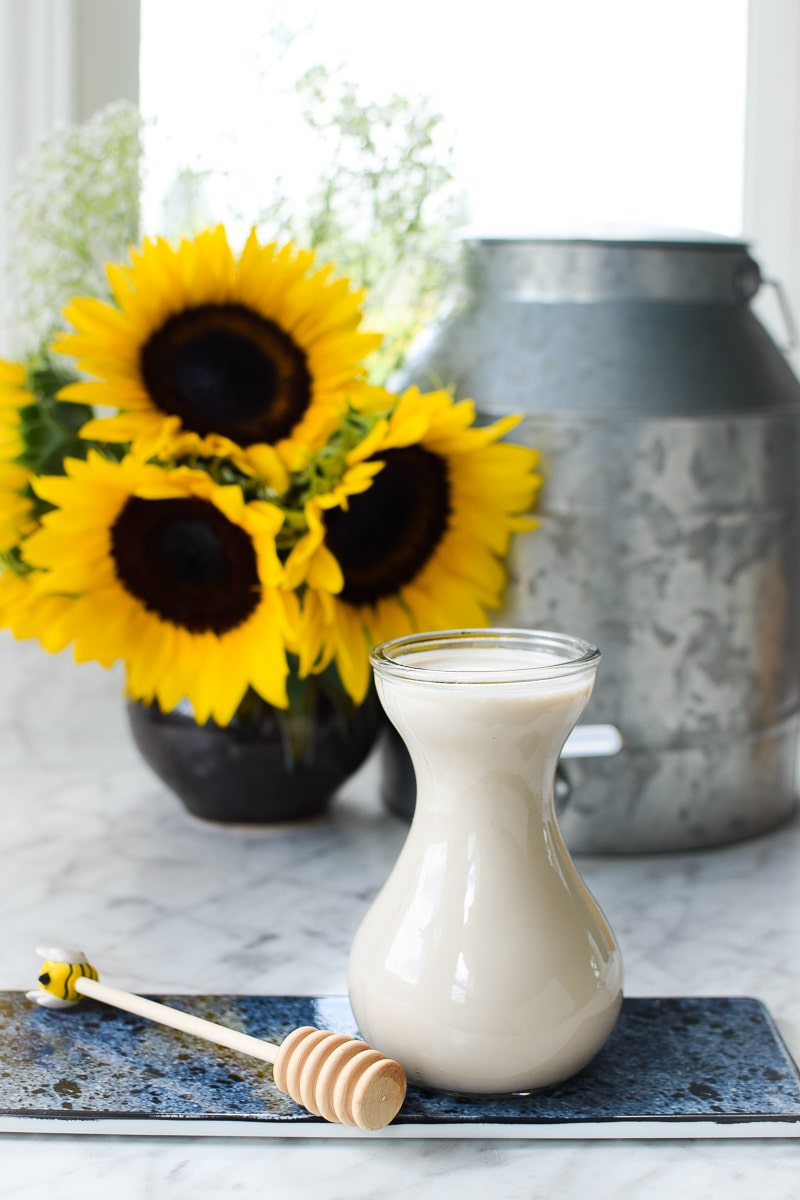 Homemade Sunflower Seed Milk
Over the years, you have probably noticed the milk aisle at the grocery store is slowly changing.
Milk is no longer just dairy or cow-based milk, and there are now literally hundreds of traditional dairy milk and plant-based milk options to choose from.
As the demand for dairy-free and plant-based products continues to increase, grocery stores continue to make more shelf space for new options.
Nut-based milk, like almond milk and cashew milk, have become an increasingly popular alternative for those following a dairy-free diet.
But, did you know that seed-based types of milk are another great alternative to cow, soy and nut milks as well?
Seed milk contains a good source of various nutrients and is ideal for individuals who have food sensitivities or are living with tree-nut or peanut allergies.
Why Plant-Based Milks Are a Hot New Health Trend
People always love a trend, and thankfully plant-based is the hottest trend right now, fueling the desire for multiple plant-based milk sources.
Certain plant-based milks, like banana milk or hemp seed milk, are appealing to consumers because they are free of many of the top-8 allergens that are typically present in the more traditional milks including almond or soy.
Having a wider variety of products on the market makes milk, a beverage traditionally off-limits for people with certain health conditions, accessible to everyone.
Individuals with certain health conditions that may prevent them from enjoying traditional forms of food, like dairy-based milk, are increasingly interested in the alternative options coming to the marketplace.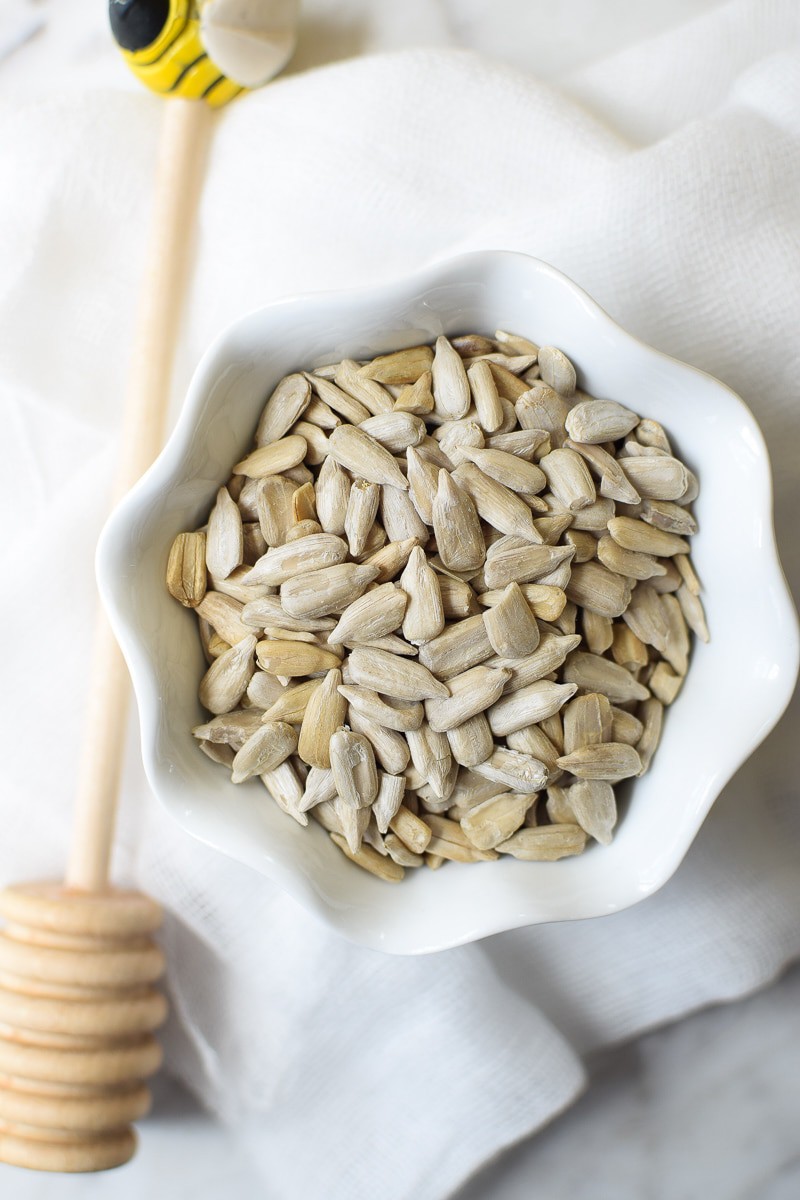 Why Sunflower Seeds Make Delicious Sunflower Milk
You probably haven't heard much buzz about sunflower seeds lately, much less making them into a seed-based milk.
Thankfully, the plant-based milk trend has made any and all nuts and seeds into potential plant-based milk producers.
If you're looking for a dairy-free milk alternative, you're likely on the hunt for something that will have a subtle taste, that can be consumed by itself or can be combined with other flavors and not be too overpowering.
Sunflower seeds have a mild, nutty flavor making them an ideal option with a light flavor to make delicious dairy-free sunflower milk.
Let's not forget that these seeds are packed with nutrients and making your own sunflower seed milk is also cost-effective in comparison to its supermarket competition!
The Health Benefits of Sunflower Seeds
One serving of shelled sunflower seeds is equivalent to about an ounce in weight. A serving delivers:
Nearly 6 grams of plant-based protein
At least 2.5 grams of important dietary fiber
A healthy dose of heart healthy fats
Sunflower seeds are a good source of manganese, folate, phosphorus, magnesium, iron, calcium, copper and zinc¹.
Sunflower seeds are notably high in Vitamin E and selenium; these are antioxidants that neutralize free radicals and protect against cell damage. Selenium is an important nutrient needed to help manage thyroid conditions.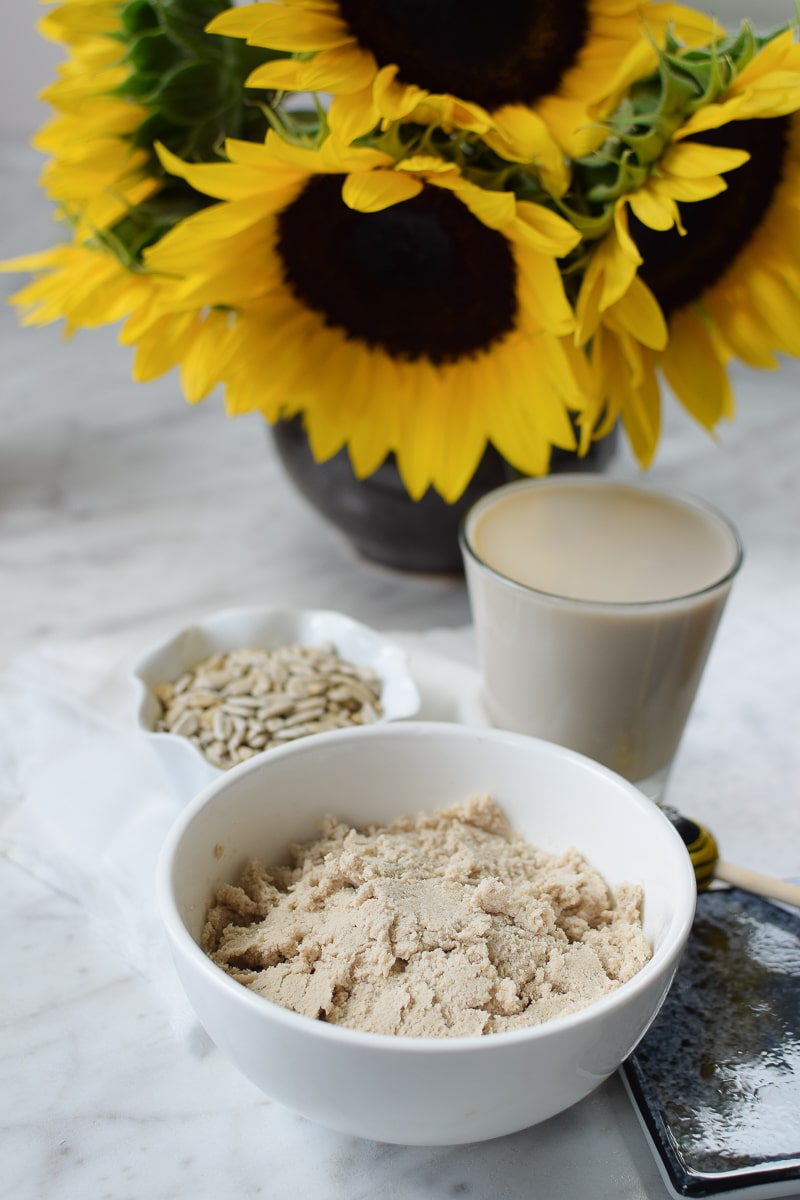 What to Do With The Leftover Sunflower Seed Pulp
If you have never made your own sunflower seed milk, nut milk or other seed milk before, I highly recommend investing in a nut milk bag.
It makes the process much easier and quicker, thus more enjoyable.
You may also be surprised to know that there is a sizable amount of 'pulp' leftover after making the sunflower seed milk.
You went through the trouble of buying these seeds and making the milk, so you wouldn't want to throw out the remaining portion of it!
You achieved making your sought-after seed milk, but did you know that you can incorporate the pulp into other recipes? Talk about getting more bang for your buck!
There are many options for using up the sunflower seed pulp such as turning it into sunflower seed flour, sunflower seed cheese, or even sunflower seed hummus.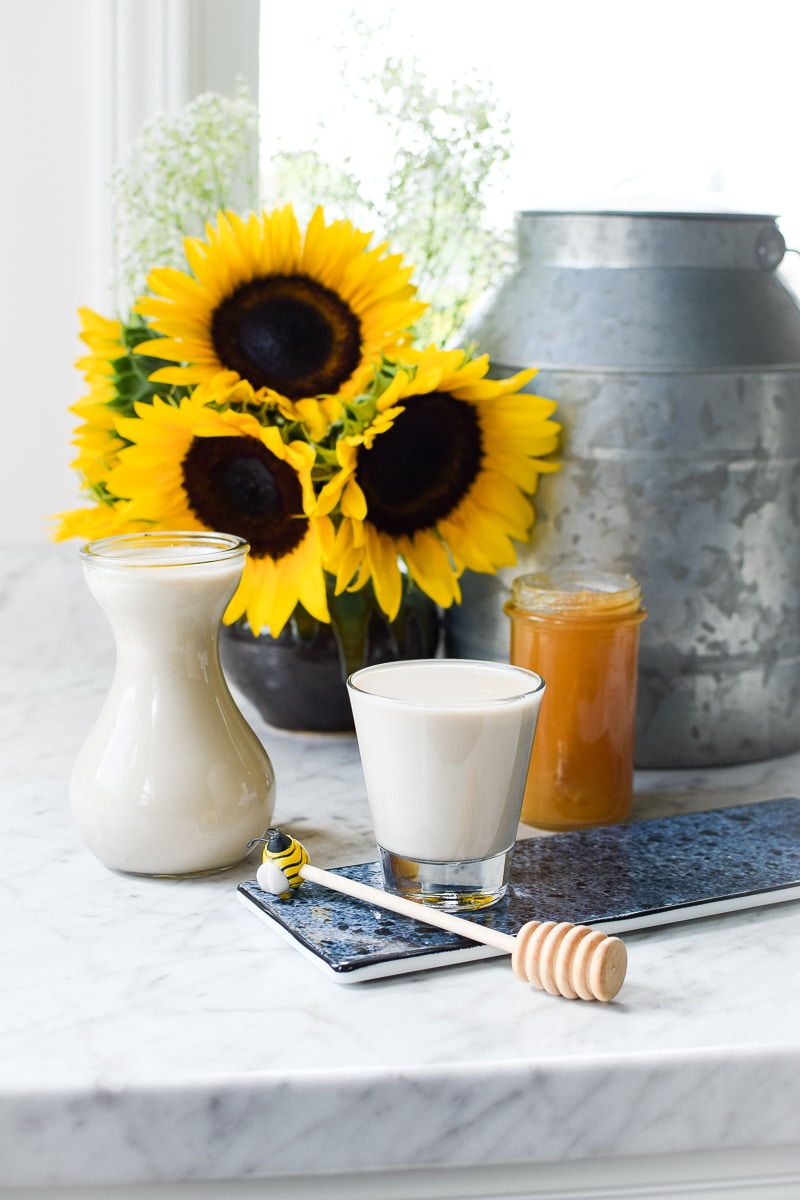 The Versatility of Sunflower Seeds
Maybe you need a break from this seed milk, but not from the nutrients it offers. Let's discuss other amazing things we can do with sunflower seeds.
Sunflower seeds are a popular grab and go snack at many convenience and grocery stores. They are sold in a variety of flavors that it's almost impossible to find one you would not like.
However, be wary of the sodium levels in these packages. A perfectly healthy snack can be quickly altered to a snack you need to eat in moderation.
Instead, opt for a handful of raw, shelled sunflower seeds as an accompaniment to a cheese board or snack plate.
So, what else can I do with sunflower seeds?
Adding texture to a recipe may be something you're craving and sunflower seeds can do just that. Adding sunflower seeds to tuna salad, yogurt parfaits, salads, and casseroles are all wonderful ways to incorporate this seed.
Allergic to peanut butter but craving that creaminess on your breakfast toast?
You can turn sunflower seeds into a sunflower seed butter that provides you with a similar texture minus the allergic reaction. I'm positive this seed milk will be hitting store shelves soon!
If you've made it already or plan on doing so, consider yourself early to the game!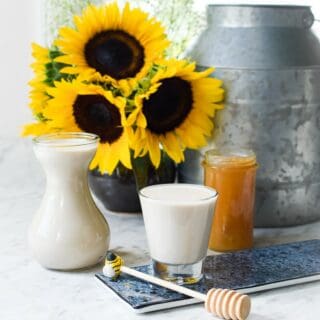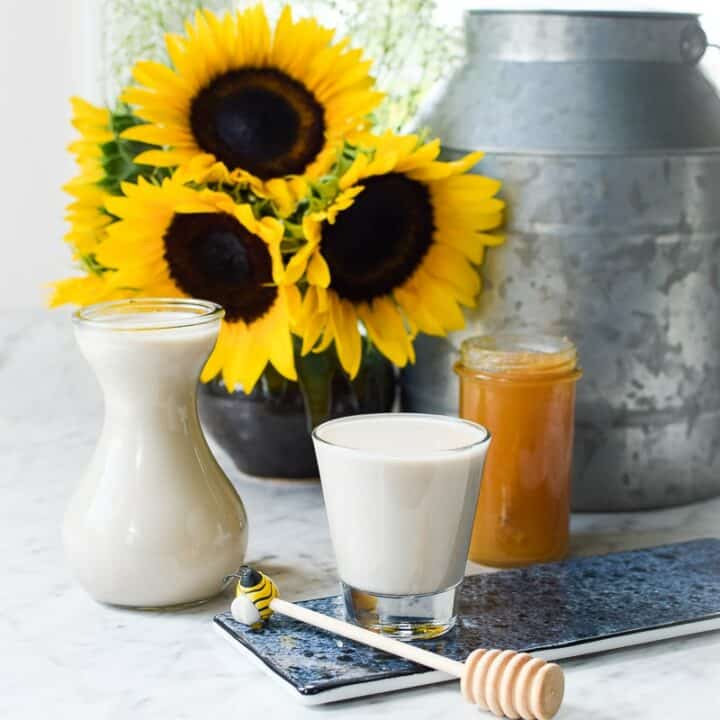 Sunflower Seed Milk
This creamy, delicious Homemade Sunflower Seed Milk is a natural plant-based milk alternative that is ready in as little as 30 minutes. Sunflower milk is naturally dairy-free, gluten-free, Paleo friendly and a great allergy-friendly milk alternative for those with nut or tree-nut allergies.
Ingredients
1

cup

sunflower seeds

raw, shelled, unsalted

4

cups

water

2

whole

pitted, chopped dates

⅛

teaspoon

salt
Instructions
Place the sunflower seeds, water, dates, and salt in a high-speed blender.

Allow sunflower seeds to soak in the blender for 30 minutes. This process allows seeds to soften before blending.

After 30-minutes, turn the blender on high speed for 60-seconds, or until smooth.

Strain through a fine-mesh sieve, pour the mixture into a nut milk bag or strain through cheesecloth if desired.

Pour milk into a container to serve or refrigerate.

It can be refrigerated for up to 5 days.
Nutrition
Serving:
1
cup
|
Calories:
85
kcal
Did you make this recipe or have a question?
Join hundreds of members inside private Well With Cannabis Community for help, support, and to share your edible creations!