This post may contain affiliate links, to find out more information, please read my disclosure statement.
Kale & Red Pepper Shakshuka, also known as Eggs in Tomato Sauce, is a hearty, vegetable based meal that is packed with fertility boosting foods to help support you & your partners reproductive health!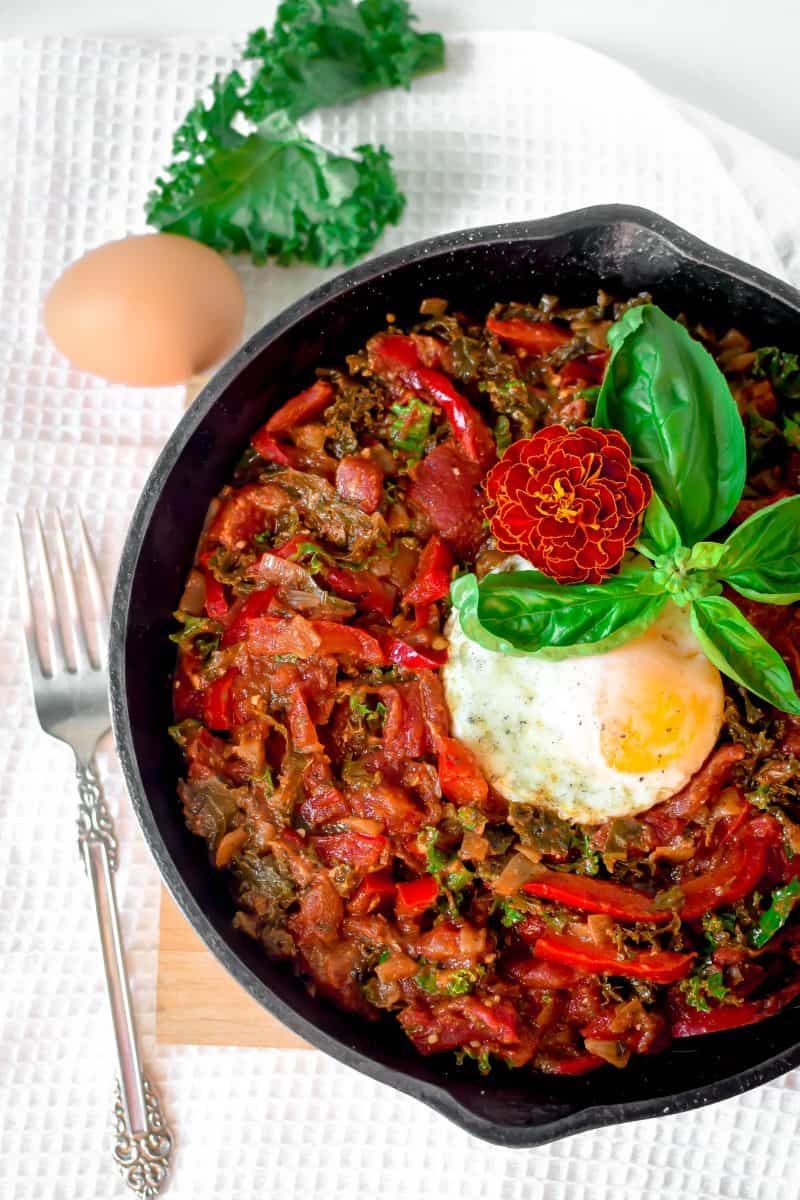 A Personal Connection
Have you ever met someone on the internet and told them that you loved them, before you ever even met them?
Well my friends, I have!
May I introduce you to my beautiful friend Ms. Elizabeth Shaw, MS, RDN, co-author of the Fertility Foods Cookbook!
That is the beauty of the internet these days. Liz and I met through a supportive online group of dietitians and hit it off right away, even though we live on opposite sides of the country, me in New York and Liz in California.
We bonded over our passion for online entrepreneurship, and eventually began to share more parts of our personal lives with each other.
I shared my struggles of being a young mother, and she shared her struggles of trying to start a family of her own.
Catch our LIVE Chat!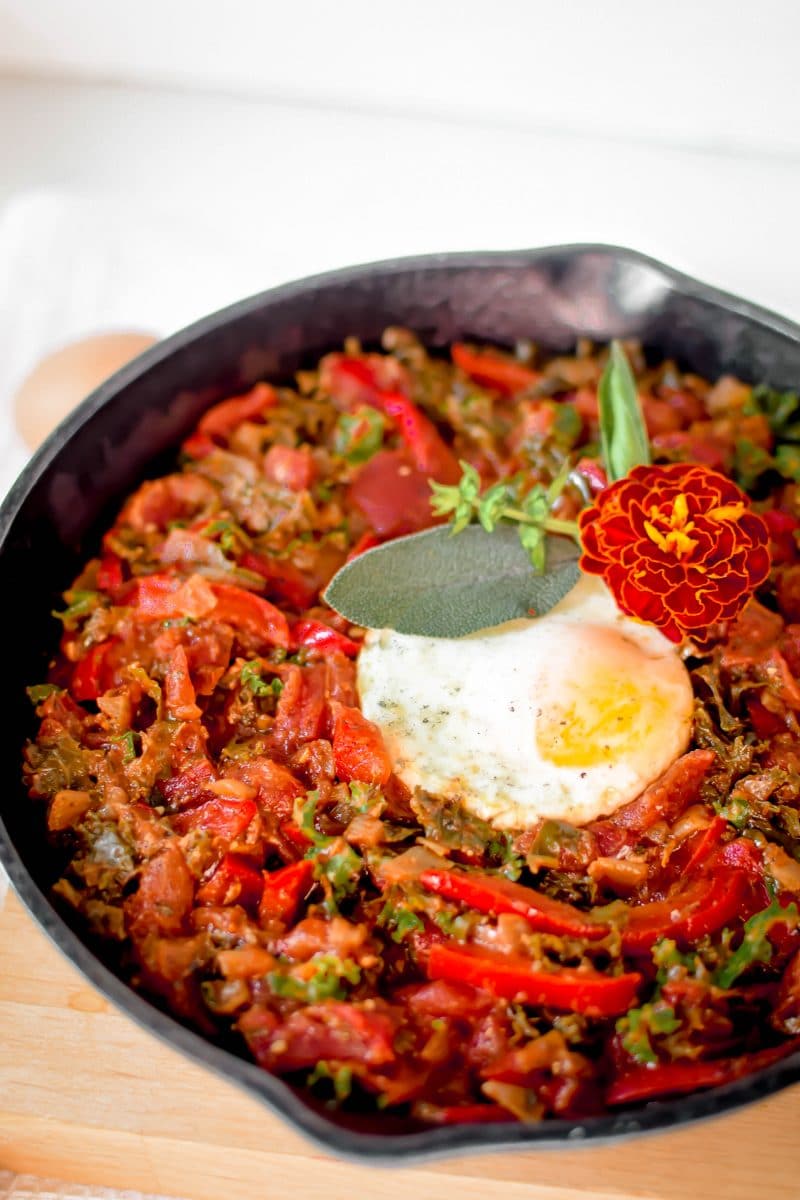 My Experience with Infertility
Never in a million years did I think that infertility would be a reality in my own life.
I remember being a teenager and my mother saying to me, "this family is so fertile, someone could sneeze and you will get pregnant". It was a big joke among the women in my family, and low and behold I gave birth to my beautiful son Ransom when I was just 23 years old.
Two years after he was born, I had a horrible reaction to my IUD which led me to develop pelvic inflammatory disease. I was sick for quite some time, in and out of the hospital, and eventually found out that I lost function in my left ovary and fallopian tube.
My husband and I decided that for my health, we would count or blessings and be content as a family of three.
Infertility is More Common Than We Think
Infertility is such a painful topic for so many, which is why I think we don't hear about it as much. Many strong women hide behind their pain, and hold in their stories for fear of judgement and lack of understanding.
But infertility is much more common than we think. Did you know that 1 in 8 couples (or 12% of married women) have trouble getting pregnant or sustaining a pregnancy? (2006-2010 National Survey of Family Growth, CDC).
That is a huge statistic!
That is why I am so proud of the authors of the Fertility Foods Cookbook, Elizabeth Shaw and my other dear friend Chef Sara Hass for being so brave and turning their pain into something that will no doubt help so many.
Kale & Red Pepper Shakshuka (Eggs in Tomato Sauce)
I knew I wanted to make a dish from the Fertility Foods Cookbook to show off how amazing these talented women are, but from over 100+ delicious recipes, it was hard to choose!
Because I am literally drowning in eggs, thanks to my six beautiful backyard chickens, I decided to make the Shakshuka found on page 76.
This traditional Israeli breakfast dish is the perfect addition to any brunch. It's a simple meal that
tastes wonderful paired with crisp greens, like the Arugula Salad with Apricots and Champagne
Vinaigrette (page 147).
Not only is the book so beautifully laid out, but each recipe offers a Fertility Focus so you know exactly what benefits you are getting.
This Kale Shakshuka fertility focus?
The beauty of this dish is that it provides a hefty dose of vegetables first thing in the morning! Plus, Shakshuka is made with canned tomatoes,
which are a great source of the powerful antioxidant lycopene, known to be a fertility fueling food.
I adapted this recipe slightly from the book to put my own twist on it (mainly because I have so much kale growing in the garden I need to use it all up). Whether you make my recipe or directly from the cookbook, I hope you take the chance to check out the Fertility Foods Cookbook and share with anyone in your life who may be struggling with fertility issues as well.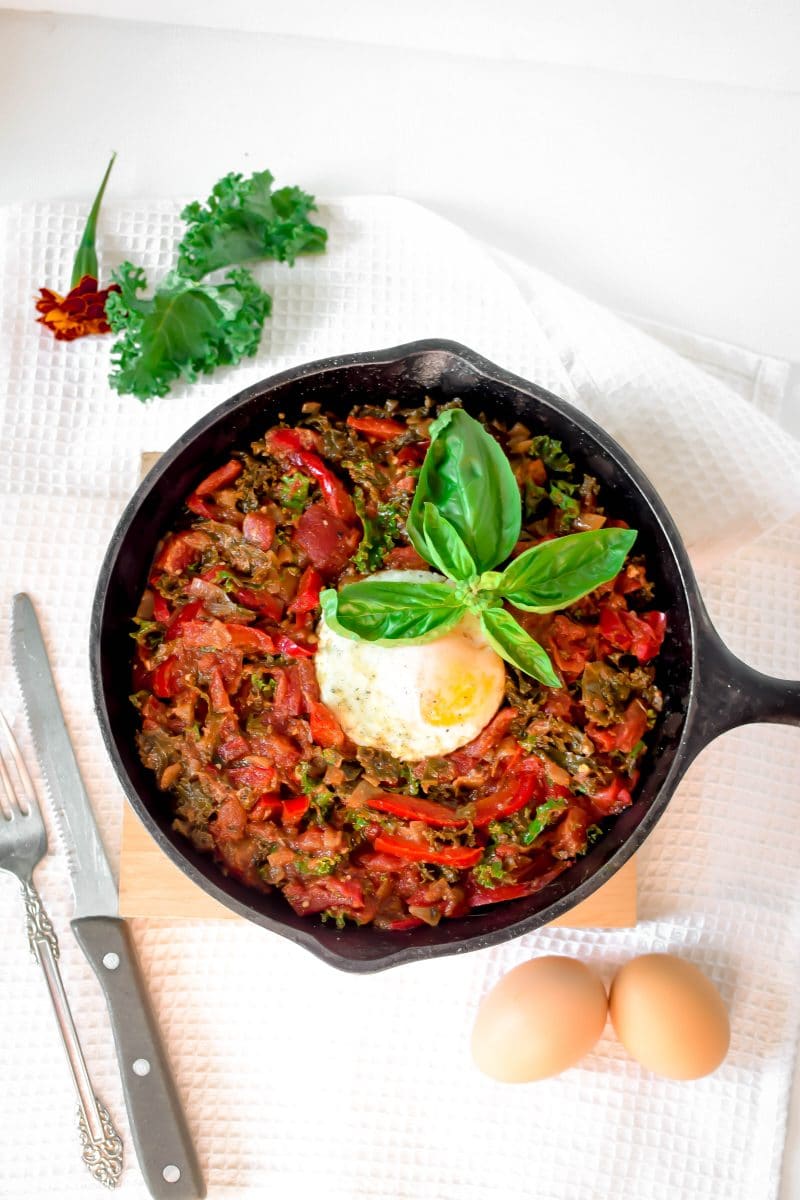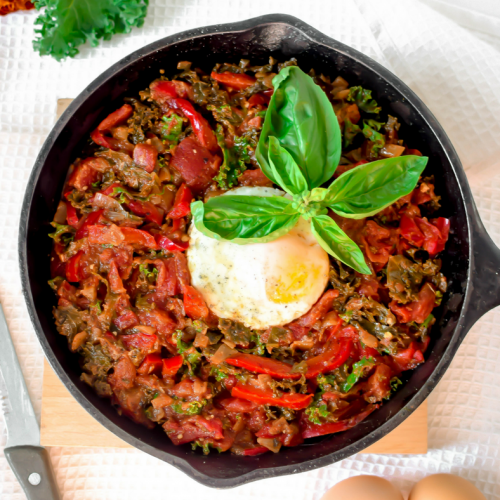 Kale & Red Pepper Shakshuka
A hearty, vegetable based meal that is packed with fertility boosting foods to help support you & your partners reproductive health!
Keyword:
Kale & Red Pepper Shakshuka
Ingredients
1

tablespoon

olive oil

1

small

yellow onion,

diced

1

medium

red bell peppers,

sliced into thin strips

2

cloves

garlic,

minced

2

cups

fresh picked kale,

chopped

1

tablespoon

red wine

1

teaspoon

Italian seasoning

1/2

teaspoon

black pepper

1/4

teaspoon

roasted red pepper flakes,

optional

1/4

teasoon

salt,

to taste

2

14 ounce

cans of diced tomatoes.

no-added salt

4

large

eggs,

farm fresh
Instructions
Heat olive oil in a large nonstick skillet (like a cast iron pan) over medium heat.

Add onions and cook 2-3 minutes.

Add the bell pepper and cook an additional 5 minutes, stirring frequently until softened.

Stir in the minced garlic.

Add kale by the handfuls until it is all wilted.

Deglaze the pan with the red wine, stirring frequently for 60 seconds.

Stir in the Italian seasoning, black pepper, crushed red pepper, and salt.

Add the diced tomatoes and stir well until all ingredients are incorporated.

Turn the heat to medium, cover, and let cook for 5 minutes.

Remove the lid and create four wells in the mixture.

Gently add a cracked egg into each well.

Cover again and cook for an additional 6 minutes, or until the white is firm and yolk is set.

Remove from heat and enjoy!
Nutrition Facts
Kale & Red Pepper Shakshuka
Amount Per Serving
Calories 200
Calories from Fat 72
% Daily Value*
Total Fat 8g 12%
Cholesterol 195mg 65%
Sodium 105mg 4%
Total Carbohydrates 18g 6%
Protein 11g 22%
* Percent Daily Values are based on a 2000 calorie diet.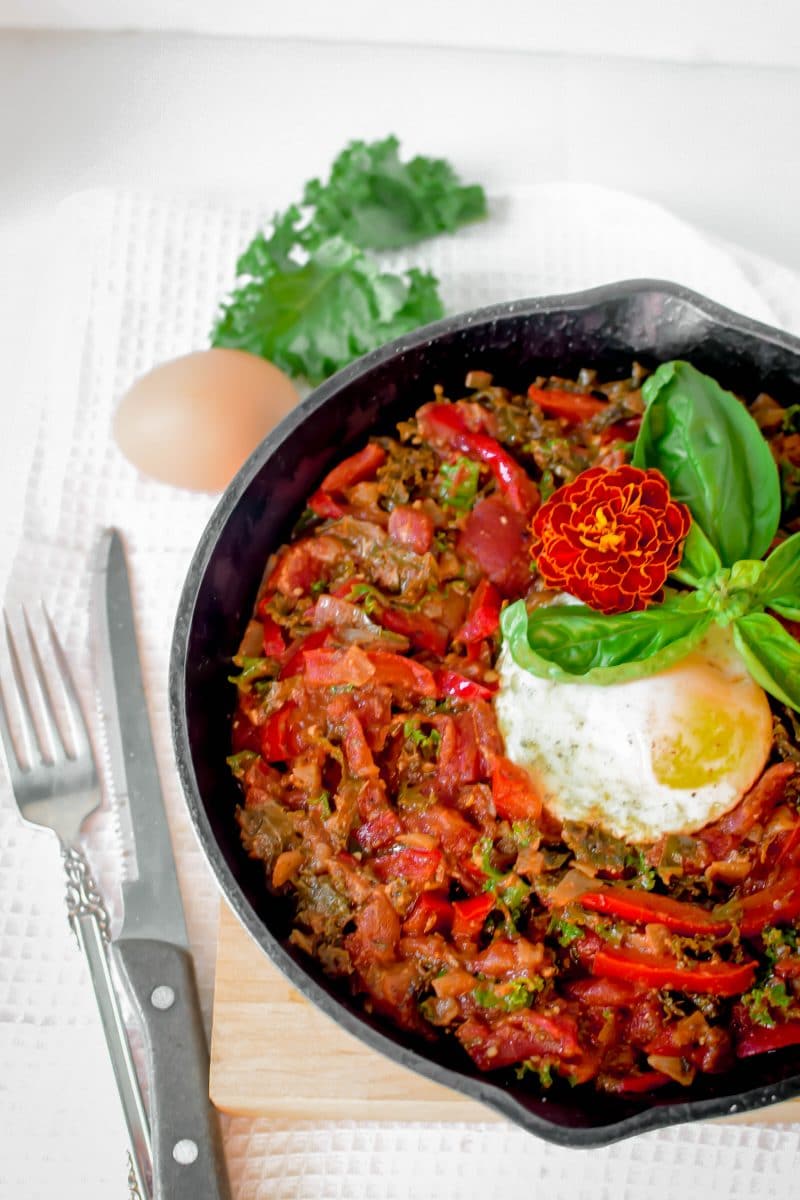 DON'T FORGET YOUR MEAL PLAN!
I hope you love this recipe as much as I do, and I hope you are inspired to go pick up your copy of the Fertility Foods Cookbook right now! If you're looking for additional help in meal planning or discovering new and delicious recipes to try, be sure to download my Free 16 page eBook – The 5 Day Happy & Healthy Meal Plan below!
Have you tried this recipe? Be sure to tag me on Facebook, Instagram, or let me know in the comments below ♥ 

The following two tabs change content below.
Hi there, I'm Emily Kyle, a nationally recognized media dietitian & nutrition communications expert on a mission to help you create the happy & healthy holistic lifestyle you deserve. To help you on your wellness journey, I offer holistic health counseling and resources that focus on holistic health & wellness, anti-inflammatory, whole food recipes, and my love for gardening inside #TheMillennialGarden.
Latest posts by Emily Kyle (see all)