Kale & Red Pepper Shakshuka, also known as Eggs in Tomato Sauce, is a hearty, vegetable-based meal that is packed with fertility-boosting foods to help support you & your partner's reproductive health.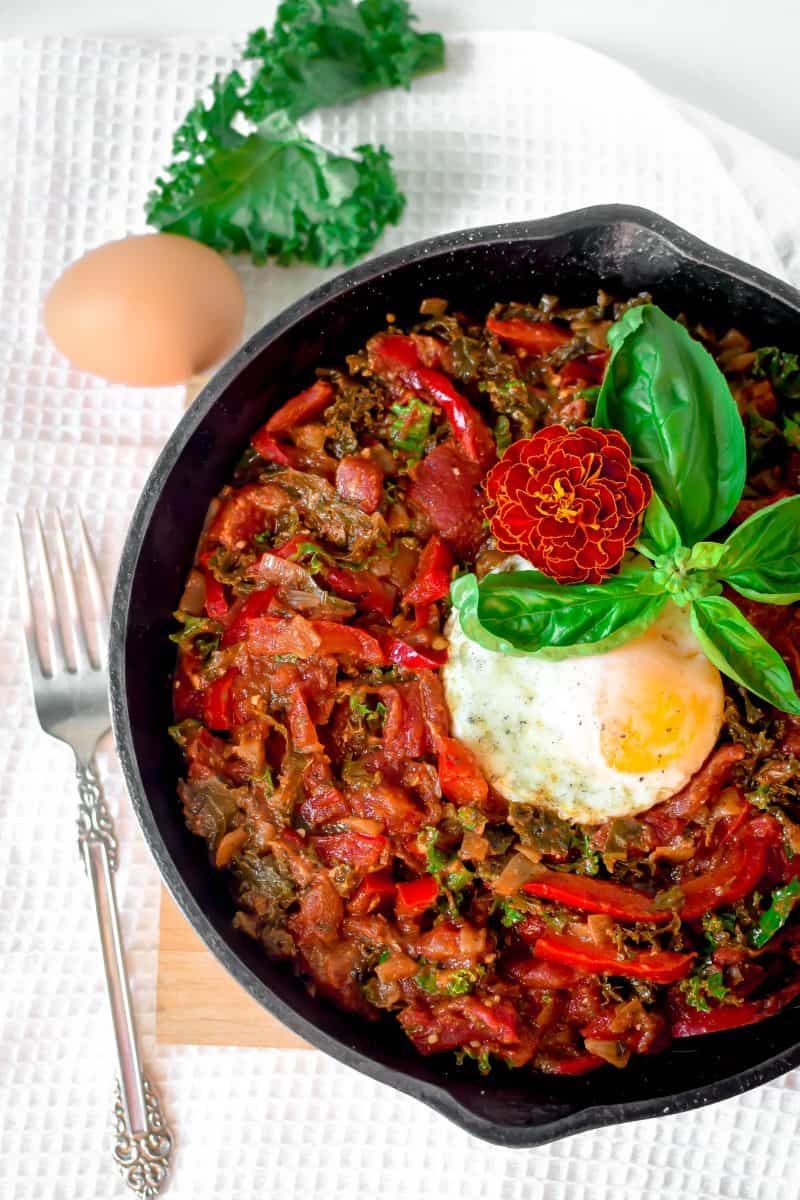 Infertility is More Common Than We Think
Infertility is such a painful topic for so many, which is why I think we don't hear about it as much. Many strong women hide behind their pain and hold in their stories for fear of judgment and lack of understanding. But infertility is much more common than we think.
Did you know that 1 in 8 couples (or 12% of married women) have trouble getting pregnant or sustaining a pregnancy?
That is why I am so proud of the authors of the Fertility Foods Cookbook, Elizabeth Shaw and my other dear friend Chef Sara Hass for being so brave and turning their pain into something that will no doubt help so many.
Kale & Red Pepper Shakshuka (Eggs in Tomato Sauce)
I knew I wanted to make a dish from the Fertility Foods Cookbook to show off how amazing these talented women are, but from over 100+ delicious recipes, it was hard to choose!
Because I am literally drowning in eggs, thanks to my six beautiful backyard chickens, I decided to make the Shakshuka found on page 76.
This traditional Israeli breakfast dish is the perfect addition to any brunch. It's a simple meal that tastes wonderful paired with crisp greens, like the Arugula Salad with Apricots and Champagne
Vinaigrette (page 147).
Not only is the book so beautifully laid out, but each recipe offers a Fertility Focus so you know exactly what benefits you are getting. The beauty of this dish is that it provides a hefty dose of vegetables first thing in the morning!
Plus, Shakshuka is made with canned tomatoes, which are a great source of the powerful antioxidant lycopene, known to be a fertility fueling food. I adapted this recipe slightly from the book to put my own twist on it (mainly because I have so much kale growing in the garden I need to use it all up).
Whether you make my recipe or directly from the cookbook, I hope you take the chance to check out the Fertility Foods Cookbook and share it with anyone in your life who may be struggling with fertility issues as well.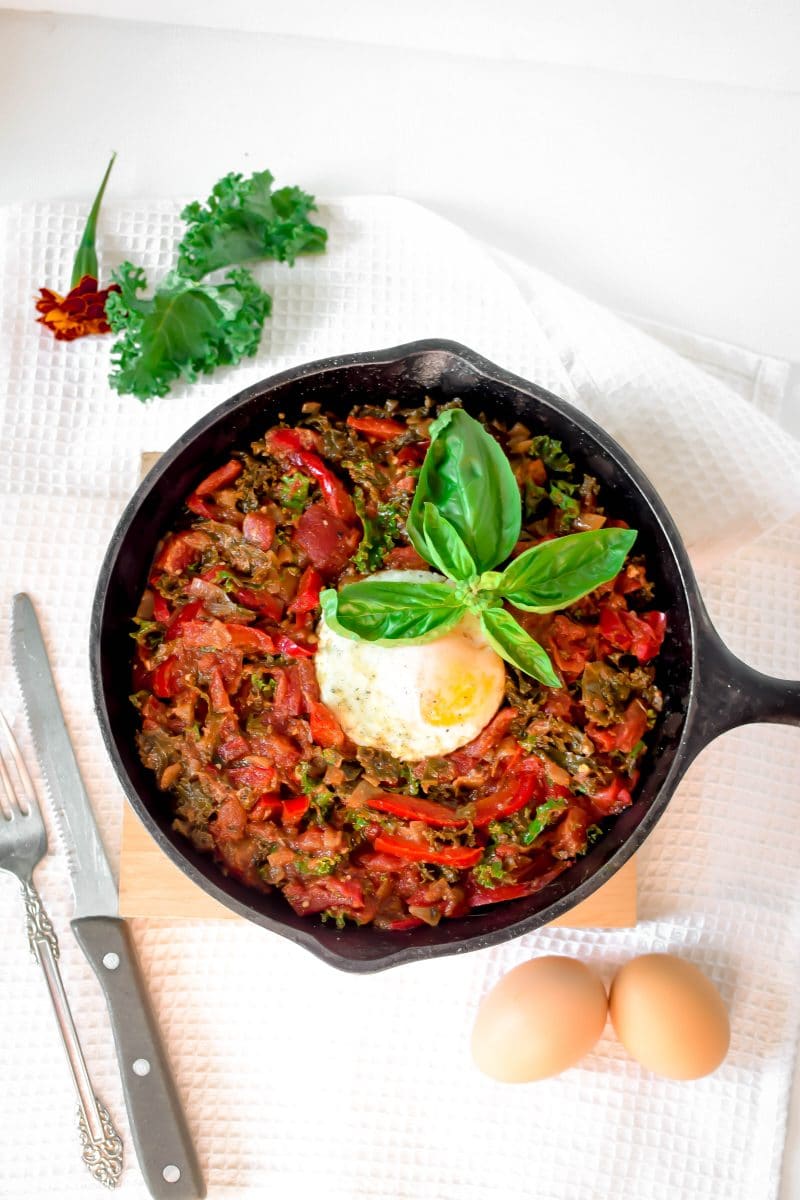 Red Pepper Shakshuka (Eggs in Tomato Sauce)
A hearty, vegetable-based breakfast or dinner that is packed with nutrient-dense foods like kale, red peppers, and farm-fresh eggs that will help support your health and fertility.
Ingredients
1 tablespoon extra-virgin olive oil
1 small yellow onion, diced
1 medium red bell peppers, sliced into thin strips
2 cloves garlic, minced
2 cups chopped kale
1 tablespoon red wine vinegar
1 teaspoon Italian seasoning
½ teaspoon black pepper
¼ teaspoon crushed red pepper flakes, optional
¼ teaspoon salt, to taste
1 (28 ounce) can no-added-salt diced tomatoes
8 farm fresh eggs
Instructions
Heat olive oil in a large cast-iron pan or nonstick skillet over medium heat.
Add the onions and cook for 2-3 minutes, stirring frequently.
Add the bell pepper strips and cook an additional 5 minutes, stirring frequently until peppers and onions are softened.
Stir in the minced garlic. Add kale by the handfuls, stirring continuously, until it is all wilted.
Deglaze the pan with the red wine, stirring frequently for 60 seconds.
Stir in the Italian seasoning, black pepper, crushed red pepper, and salt.
Add the diced tomatoes and stir well until all ingredients are incorporated.
Turn the heat to medium, cover, and let cook for 5 minutes.
Remove the lid and create eight wells in the mixture.
Gently add a cracked egg into each well. Cover again and cook for an additional 6 minutes, or until the white is firm and yolk is set.
Nutrition Information:
Amount Per Serving:
Calories:

200
Saturated Fat:

1.5g
Cholesterol:

195mg
Sodium:

105mg
Carbohydrates:

18g
Fiber:

4g
Sugar:

10g
Protein:

11g