Enjoy this high-protein, gluten, and dairy-free Korean Bulgogi Beef Salad Bowl made with fresh butter lettuce, avocado, juicy mango, and lean beef jerky for a wholesome, filling meal.
Korean Bulgogi BBQ Beef Salad Bowl
With summer in full swing, I am all about enjoying as much fresh summer produce as possible – while spending as little time in the kitchen as possible!
It is simply too hot to turn the oven on, and after spending the day out in the garden, the last thing I want to do is spend hours preparing dinner.
Enter, my Korean Bulgogi Beef Salad Bowl which takes just five minutes to put together. But what is Bulgogi you ask? Bulgogi is a Korean dish of thin beef slices marinated and grilled on a barbecue.
And since I have no patience for cooking, I simplified this recipe by using the delicious homemade Korean BBQ beef jerky my husband made, which makes this salad super easy to throw together for an ultra-satisfying meal.
Home for the Summer
This summer has been truly special, as it is the first summer I am not working a traditional job and instead working for myself. This was something I could have only ever dreamed of last year, and sometimes I have to remind myself how truly lucky I am.
Working from home full time, while also being a stay-at-home mom full time has had its fair share of both ups and downs. I recognize how lucky I am to be with Ransom all day, but it is also hard to juggle it all. Thankfully, I know the importance of self-care and that it is so important to nourish my body with wholesome foods to keep my energy up and my focus clear.
Unfortunately, I don't really like to cook. But once I learned this about myself, I understood that it was much easier to fuel my healthy lifestyle with quick and easy meals that I know I can throw together in as little as 5 minutes.
The wholesome ingredients found in this delicious salad bowl, like garden-fresh lettuce, edamame, mango, avocado, and lean beef keeps me fueled and enables me to continue to live my best, healthy life every day, without devoting hours and hours to meal prep on the weekends.
How to Make Homemade BBQ Beef Jerky
My husband first turned me on to homemade beef jerky after raving about how much he forgot he loved it after someone shared some with him at work one day. I was skeptical at first, as he could care less about the nutritional value of the food that he eats, but was so pleasantly surprised when he told me that it is made with only a few simple ingredients.
Most importantly to me, you can make your own jerky with high-quality meats, opting for only 100% grass-fed beef or venison. Making your own jerky ensures that you won't find preservatives, added growth hormones added MSG, or added nitrites.
We haven't gotten adventurous enough to make our own yet, but we followed this recipe from Jerkyholic for his Korean BBQ Beef Jerky and loved how it turned out!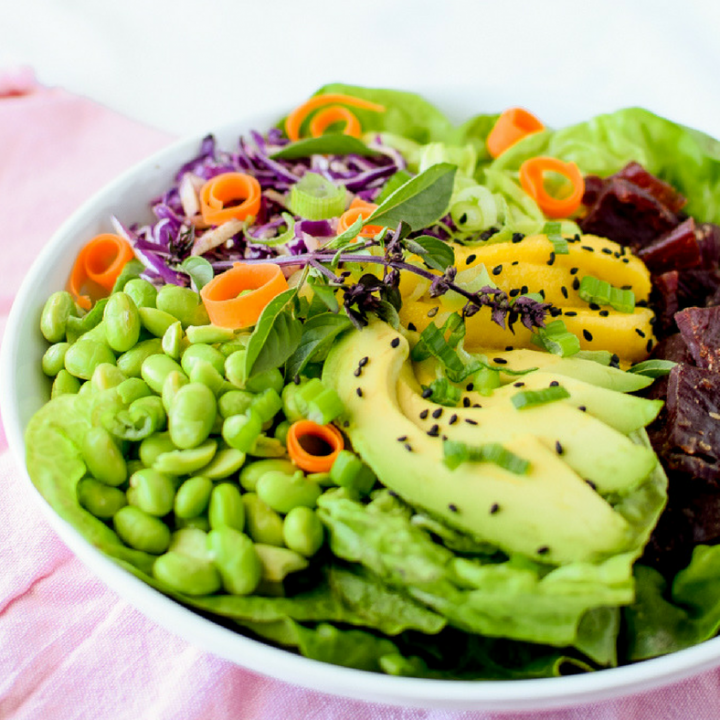 Korean Bulgogi Beef Salad Bowl
Enjoy this high protein Korean Bulgogi Beef Salad Bowl made with fresh lettuce, avocado, mango and lean beef for a wholesome, filling meal.
Ingredients
1 head butter lettuce, washed and roughly chopped
1 handful Thai basil, (or regular basil)
¼ cup shelled edamame, thawed if frozen
¼ cup shredded red cabbage
¼ cup shredded carrot
¼ mango, sliced
¼ avocado, sliced
2 ounces homemade Korean BBQ Beef Jerky, chopped
1 scallion, white and green parts, chopped
½ teaspoon sesame seeds, optional
2 tablespoons ginger sesame dressing
Instructions
In a medium bowl, add butter lettuce and Thai basil.
Top with edamame, cabbage, carrots, mango, and avocado.
Add chopped beef jerky.
Garnish with scallions, sesame seeds, and dressing. Enjoy!
Nutrition Information:
Yield:

1
Serving Size:

salad
Amount Per Serving:
Calories:

430
Saturated Fat:

2.5g
Cholesterol:

50mg
Sodium:

280mg
Carbohydrates:

40g
Fiber:

7g
Sugar:

11g
Protein:

25g