You'll be the star of the party when you show up with this mouthwatering Lemon Chili Sweet Potato Toast appetizer that uses only 4 ingredients, is plant-based, naturally gluten-free, and is ready in less than 30 minutes.
Sweet Potato Toast
Now don't get me wrong, there is NOTHING wrong with bread. But vegetables are awesome too. That is why I am loving this new sweet potato toast trend. Apparently avocado toast is so 2018 and sweet potatoes are the new toast of the future.
I'm not complaining one bit.
When baked or toasted, sweet potatoes turn into a deliciously warm and tasty little treat. They are nice and crisp on the outside and warm and fluffy on the outside. And you don't even have to do that much work!
You can easily put your sweet potato slices into the toaster or toaster oven and run the cycle 1-2 times to get the consistency you're looking for, but for this recipe I used the oven. It helped to get that cracker like consistency I was going for.
NOTE: Cutting your sweet potatoes into a uniform size may be difficult. I always use a mandolin because it is way easier BUT don't use one without a cut resistant glove, I learned my lesson the hard way 🙁
The Health Benefits of Sweet Potatoes
I am loving the sweet potato toast trend because sweet potatoes are full of good-for-you ingredients that can benefit each and every one of us. Noted as one of The Worlds Healthiest Foods, its no wonder these pretty roots are quickly becoming a recognized 'superfood'.
Each year we try to grow our own sweet potatoes, and while they don't always perfect, we did have some success this year! Sweet potatoes are beautiful plants with dark green leaves, but the good stuff is what grows underground (hence the dirt).
The bright orange color of sweet potatoes is brought to you by a pigment called beta-carotene, an important nutrient that our bodies use to turn into the fat soluble vitamin A. The amazing health promoting properties of sweet potatoes stem from a rich source of antioxidants, vitamin A, C and a wide range of B vitamins.
All together sweet potatoes have the ability to help reduce inflammation in the body, regulate blood glucose levels, and keep you fuller longer.
Lemon & Chili Sweet Potato Toast
I love this recipe because it is so easy to make and only requires 4 ingredients, many of which you may already have on hand. Whether you're toasting your sweet potatoes in the oven or the toaster, you can quickly mix together the topping while they are cooking.
You can also control how spicy you want this recipe by how much chili sauce you add. Like it HOT?? Add some more!! Either way, the flavor combination of the lemon and the chili sauce make a super delicious and refreshing topping for your tasty toast.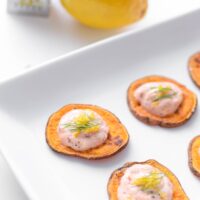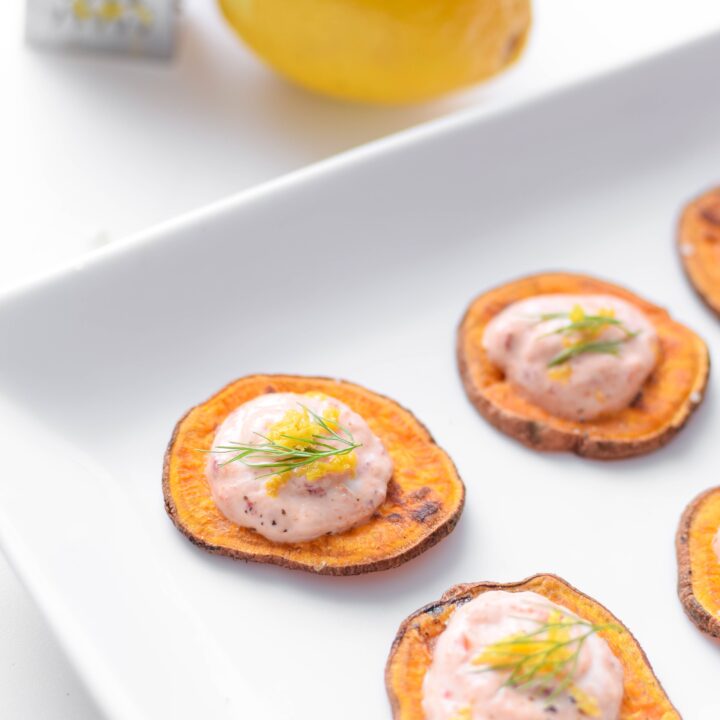 Lemon & Chili Sweet Potato Toast Bites
You'll be the star of the party when you show up with this mouthwatering Lemon & Chili Sweet Potato Toast Bites that uses only 4 ingredients and is ready in less than 30 minutes.
Ingredients
4 large sweet potatoes
cooking spray
2 tablespoons chili garlic sauce
1 lemon, juiced & zested
salt & pepper to taste
Instructions
Preheat the oven to 425 degrees Fahrenheit, use the convection setting if available.
Line a baking sheet with foil, set aside.
Slice the sweet potatoes into 1/4" slices - very carefully! Use a mandolin to help.
Place the sweet potatoes on the foil lined baking sheet and spray with cooking spray. Flip over and spray the other side.
Put into the oven for 15 minutes.
After 15 minutes, flip each sweet potato over and return to the oven.
While the sweet potatoes are cooking, mix together the cream cheese style spread, chili garlic paste and lemon juice.
Once your sweet potato toasts are ready, top them with the Greek yogurt mixture. and garnish with lemon zest and fennel if desired.
Enjoy! (P.S. You can enjoy the sweet potato toasts both warm from the oven or cool!)