Break out of your traditional lunch routine with this easy-to-make Lemon Salmon Avocado toast that is easily customized to include whatever ingredients you're loving at the moment!

Lemon Salmon Avocado Toast
Last week a published a post called A Simple Way to Enjoy Seafood that was sponsored by Starkist, and I have to honestly say I am obsessed with their Starkist Selects Salmon in E.V.O.O.
So much so, that this post is not sponsored, its just because I love the product! 
I do love salmon, but I really hate to cook it, because as I said in my last post, I did set a pan on fire in the oven recently.
I usually order some type of seafood when I go out to dinner because it feels like such a treat to have someone else prepare it, and I feel like it always just tastes better.
But in all reality, I don't go out to eat that often, and I know that I am not eating nearly enough seafood in my diet.
A Simple Way to Enjoy Seafood
That is why I am in love with these single serve packs, I can get all the salmon goodness without having to cook it.
For those of you who don't know, about 6 weeks ago I quit my job at the hospital, and honestly, it was the best decision I have ever made.
I was feeling unfulfilled in my work, and getting up to go in everyday began to cause me a lot of anxiety. I always talk about finding joy and happiness in our days and lives, and I needed to take the step to take my own advice.
I am so excited to have the opportunity to be present in my business full time, and have big plans going in to 2018, but working from home full time has been an interesting transition.

 A New Routine
Of course, I have had to develop new routines, and have found that through intuitive eating, that I don't really like to eat three standard meals per day.
That's right, I said it!
I actually prefer to eat my larger meal at lunch time and have something smaller for dinner. It has actually been quite freeing to not feel like I need to eat at a specific time of day just because that is what we are conditioned to do.
Because I don't want to waste TOO much time in the kitchen on lunch either (which is just too easy to do) I love this recipe because you can throw it together in literally five minutes.
This recipe is 100% customizeable too! Really, you can add any ingredients you want or have on hand, it usually all tastes good together in the end 😉
I'd love to see your creations! If you make your own Lemon Salmon Avocado Toast, be sure to tag me on Instagram so I can see your creation!
Click Here to Download Your 5 Day Happy & Healthy Meal Plan – FREE!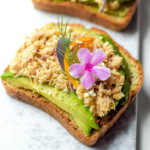 Lemon Salmon Avocado Toast
Ingredients
1

2.6oz

packet of Starkist Selects Wild Caught Pink Salmon in EVOO

1

teaspoon

lemon juice

2

slices

of bread

gluten-free or whole wheat

1

whole

avocado

sliced

1/4

teaspoon

roasted red pepper flakes

optional

1/4

teaspoon

salt and pepper

to taste
Instructions
Toast your bread to your desired doneness.

While the bread is toasting, mix together the salmon and lemon juice.

Lay the sliced avocado on your toast and top with the salmon mixture.

Garnish with red pepper flakes, salt, pepper and anything else you can think of!
I hope you enjoy this super simple recipe as much as I do! What is your favorite quick and easy lunch creation? Let me know in the comments below!



P.S. Are you ready to take the next step in your happy & healthy holistic lifestyle? Enroll in my FREE 3-Day Online Video Training Course to learn to become a more Mindful Eater! Learning to master the practice of Mindful Eating will help you to gain control of your healthy lifestyle and treat your body with love and respect.
LETS STAY CONNECTED
Subscribe to the Wellness Wednesday Newsletter - holistic wellness, health & happiness delivered directly to your inbox!

The following two tabs change content below.
Hi there! I teach women like you how to get healthy, and stay happy, without ever having to diet again! To help you, I provide individualized nutrition coaching and have created
The School of Health & Happiness
, an online training program to help you develop a positive relationship with food. This blog focuses on holistic health, plant-centric, whole food
recipes
, and real-life Mindful & Intuitive Eating Practices.
Learn more here
.
Lets Connect!   
Facebook
»
Instagram
» ♥
Latest posts by Emily Kyle (see all)