What exactly will life after The School of Health & Happiness will look like? What do you get as a result of enrolling in the program? Learn more about the results you will see after you go through the program leading you to creating a happy & healthy lifestyle you love.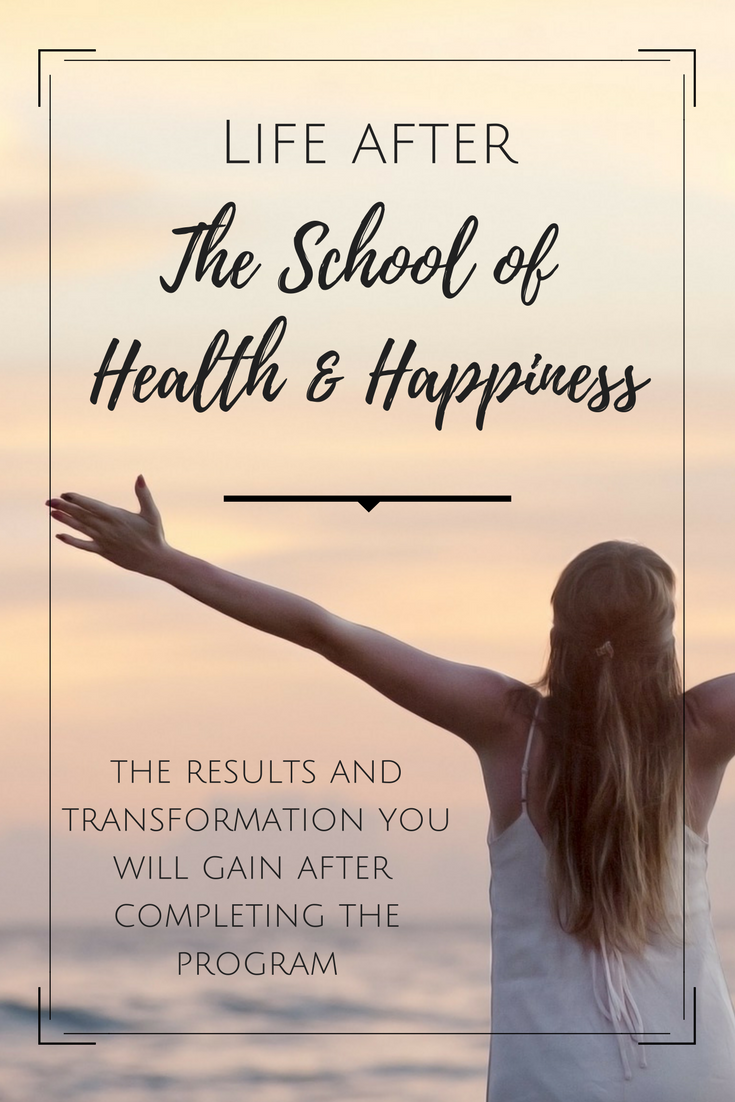 Catch the LIVE discussion of this topic below!
You're Interested
You are interested in enrolling in The School of Health & Happiness, but you're hesitant. How will your life be different after the program?
You have expressed interest in the course material presented over the past few weeks, from no longer counting calories, to learning to love food again, to developing a positive body image and overcoming disordered eating habits. You may have downloaded the free workbooks, quizzes, or taken a free mini-course from the resource library.
Maybe you're in the Private Health & Happiness Facebook Community, or perhaps you're on my email list and receive the Wellness Wednesdays newsletter. Maybe we have spoken either online or in person and you have expressed interest in wanting to learn learn from or work with me.
I am here today reaching out to say:
"Hey I know you're super busy, maybe you missed this, maybe you are on the fence because you have some doubts or fears, but I know you're interested, lets talk about whether or not this is the right fit for you."
Is it The Right Fit For You?
It is very likely that this approach to health and wellness is different than anything you have ever tried before.
I know that you have tried just about every diet in the book from counting calories, cutting out food group, swapping meals with shakes,  trying countless pills. But it has never worked before, and you are frustrated, at the end of your rope, and ready to give up all together.
This program is different, which is why it works.
This program does not focus on weight loss, it focuses on healthy thoughts and behaviors. You will not be cutting calories, restricting food, or weighing yourself frequently. This program will in fact teach you why these old methods you have tried before in fact did not work for you.
I know that you're really excited to try something new, but something is holding you back.
What questions do you have? What fears do you have? What bonuses are you looking for? Is there something that is missing, where you would be like, "If I had this, yeah I'm in".
Envision Your Future
I want you to start to envision what your life will look like after enrolling in The School of Health & Happiness
The most important result you are going to get from this course is not the information presented within class, it is the transformation you will go through as you learn and apply the lessons to your current life.
This is a results oriented course, every lesson and every module is going to have an anticipated result at the end so that you are constantly meeting mini-milestones and feel like you are making actual, lasting progress as you move along.
The End Result
This is what you will walk away from the course with:
An improved relationship with food.
Freedom from food fear and food anxiety.
An improved body image and newfound comfort in your own skin.
The ability to care for your mind and your body in a kind and compassionate way.
The knowledge of how and why to walk away from any diet or quick-fix program that will lead you away from your true goals.
A happy & healthy lifestyle you can sustain for the rest of your life, that has been created by you, on your own terms.
After you have completed the program
After completing the program there will be no more calorie counting, no more obsessing over the number on the scale, and no more time and money wasted on programs and supplements that do not work. There will be no more questioning yourself and your choices, no more guilt, shame or embarrassment.
Why is this important?
An improved relationship with food is important so that you're not wasting any more of your precious time worrying about what you should eat, beating yourself up over what you did eat, and living in an anxiety ridden state over what you will eat.
Freedom from food fear and food anxiety is critical so that you can feel confident in your food choices and know you are making the right choice for you and your body, every time you eat.
The ability to care for your mind and your body in a kind and compassionate way is important to your mental health and physical well-being. An improved relationship with yourself and your body image will help you to feel comfortable and confident in your own skin, always.
Most diet programs tell you exactly what to do and how to do it, and unfortunately do not adapt to your current lifestyle. This program is different, and offers you a framework to create a happy & healthy lifestyle you can sustain for the rest of your life on your terms, according to your own needs and preferences. By developing a new lifestyle on your terms, it will be more likely to work for you long term so that you do not ever need to diet or waste money on other programs again.
Life After The School of Health & Happiness
How will you get to your goals, the expected end result?
Each lesson inside of the program will lead you to a small result, and together all of those small results will lead into your end result, your happy & healthy lifestyle.
You will learn to improve your relationship with food and to trust your body though Intuitive & Mindful Eating lessons and an accept the emphasis of changing your mindset before changing anything else.
You will overcome your fear and anxiety of food through specific lessons that will teach you evidence-based nutrition, removing all of the BS claims that have left you confused and frustrated in the first place
You will improve your relationship with yourself by doing the work in every lesson with your Success Sheet, which provides you with the opportunity to ask yourself the hard questions that hold you back from discovering and living your truth.
Together, all twenty lessons presented in the course will lay the framework you need to believe that you can and deserve to create a happy & healthy lifestyle. These are small cumulative wins that will come together and lead you to the overall result.
Together, the information you will learn and the transformation you experience through these twenty lessons will lead you to your goals in the fastest way possible.
In my private coaching programs, it takes individuals over six months to begin to see the same end results.
Only the most important information has been included in each lesson, so that you will never feel like you are wasting your time, and so that you will be able to reach your most meaningful transformation quickly and easily.
You're not just buying this course just to understand the concepts presented, you're buying this course to learn how to apply those concepts to your real life to see meaningful, lasting transformation quickly.
You are busy, you are overwhelmed, you have a lot going on and I know that even squeezing out a half an hour a day to take this course is a lot to commit to.
Small, bite sized lessons and modules will get you the most important information delivered quickly and effectively. There is a course checklist that you can download to keep you moving along, to help you see which lessons you have already completed so you can track your progress and help you to see those small wins and stay engaged, day after day.
This course is a high quality, professionally designed simple and effective way to get you results, without having to spend the huge investment of time and money to work with an individual therapist, counselor, or registered dietitian.
Once you enroll in the program, you are going to be immersed in a safe, welcoming space where you are going to have everything you need from videos and workbooks, community and personal support to help you on your journey to developing a better relationship with food.
Everyone learns differently, and while it is recommended that you follow along with the suggested course timeline, you will immediately have access to the entire course so that you are able to dive right into the lessons and start working through the course at your own pace if you wish.
As for the support, you will have access to as much or as little support as you need. From real live human interaction with me, the course creator, in our weekly Live Q & A sessions to immediate access to other members of the group in our private Facebook forum, you will never be alone (unless you want to be 😉 ).
The Promise
And if you're looking for a safety net, don't worry. The School of Health & Happiness offers a full refund policy, meaning that if  you do all of the work, and the program truly does not work for you, you are entitled to a 100% money back guarantee.
As the course founder, and nationally recognized registered dietitian nutritionist, I have used this exact step-by-step process to change my own life, and the lives of my clients, and I believe in the power of this program to bring you results too.
I am here to support you and help you achieve the lifestyle transformations you have been longing for so long.
I want you to envision what a life without food worry, guilt, and obsession could look like. What a life without food struggles would mean for you.
I want you to begin to envision what your life will look like after you enroll in the program and undergo your own transformation.
The School of Health & Happiness is waiting, enroll today.
And if you're still feeling a sense of hesitation or have any more lingering questions, I want you to join me for one of my two Live Q & A sessions where you will be able ask me one-on-one questions about the program to really understand if this is the right program for you.
When: Monday September 11th, 2017 at 3pm EDT or Friday September 15th at 3pm EDT.
Where: Emily Kyle Nutrition LIVE on Facebook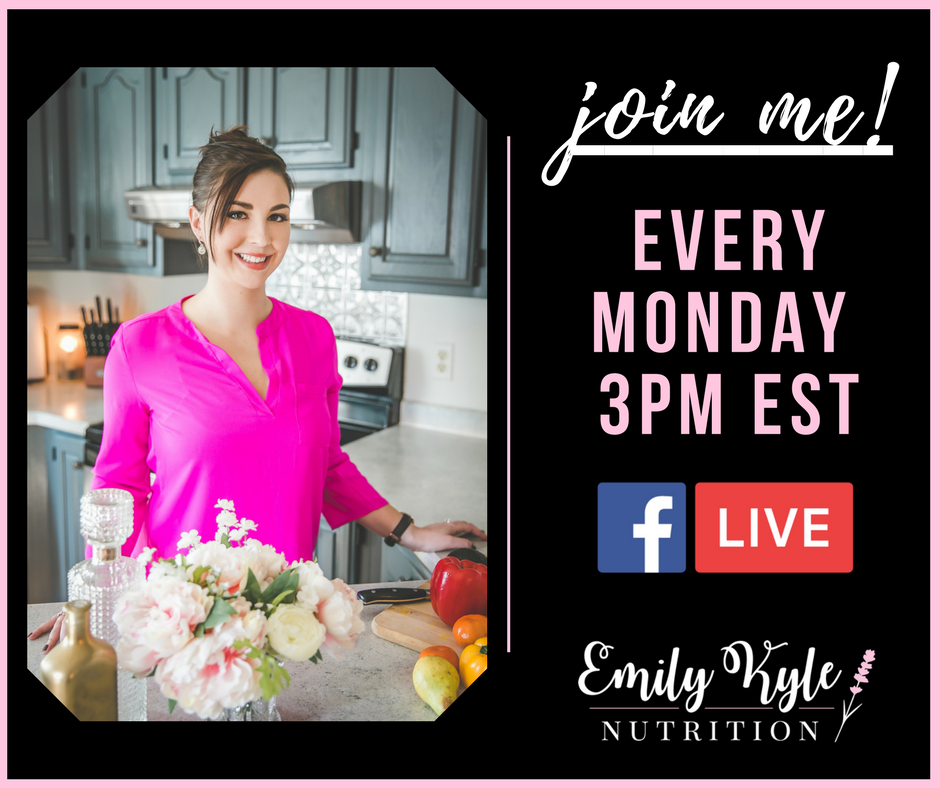 LETS STAY CONNECTED
Subscribe to the Wellness Wednesday Newsletter - holistic wellness, health & happiness delivered directly to your inbox!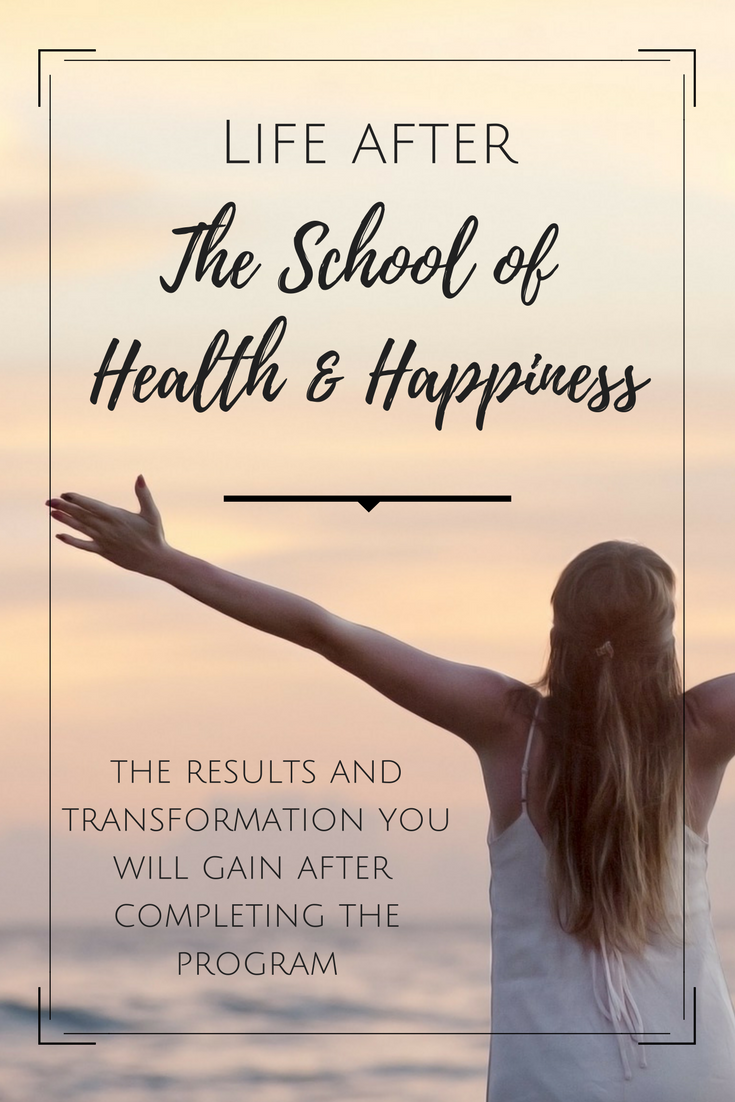 The following two tabs change content below.
Hi there! I teach women like you how to get healthy, and stay happy, without ever having to diet again! To help you, I provide individualized nutrition coaching and have created
The School of Health & Happiness
, an online training program to help you develop a positive relationship with food. This blog focuses on holistic health, plant-centric, whole food
recipes
, and real-life Mindful & Intuitive Eating Practices.
Learn more here
.
Lets Connect!   
Facebook
»
Instagram
» ♥
Latest posts by Emily Kyle (see all)