This green tea ginger overnight oats recipe takes just 5 minutes to prepare so that you can have a nutritious and delicious breakfast ready to run out the door with you on those busy mornings.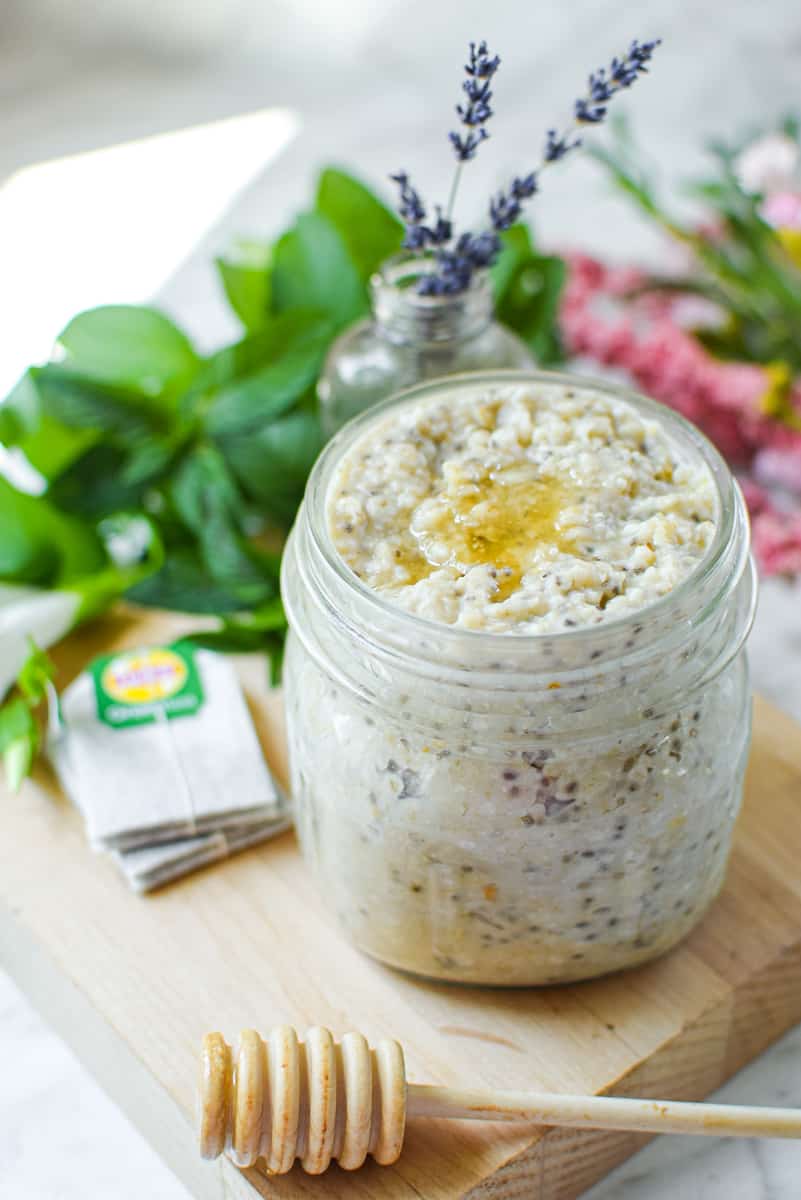 Inspired By My Clean Eating Meal Prep Cookbook
I am so excited to share this recipe with you from my latest Clean Eating Meal Prep Cookbook that was released in January 2021.
This is the fourth cookbook I've written, but the first one that I feel like is a true reflection of how I actually eat in real life.
This Clean Eating Meal Prep Cookbook details the exact way I've combined meal prepping and a clean eating lifestyle to get my munchies, my health, and my weight under control.
Green Tea Ginger Overnight Oats
Breakfast is one of the most difficult times to eat a clean, healthy meal, mostly due to a lack of time and convenience.
That is why I love preparing overnight oats because they require just 5 minutes of prep work before bed, and when you wake up in the morning, you have a nutritious and delicious breakfast ready to run out the door with you.
Overnight oats are clean eating meal prepper's dream because time will do all of the cooking for you. This tasty green tea and ginger version harnesses the powerful antioxidants found in green tea with the subtle sweet taste of ginger and honey for a delicious breakfast you'll be excited to wake up to and grab on your way out the door.
Instead of making overnight oats with plain water, green tea is a great way to add flavor and nutrition.
Green tea has a naturally refreshing taste and pairs well with ginger and figs, making it the perfect complement to this delicious breakfast that is the perfect uplift for a positive day.
Antioxidant-rich Green Tea
Food and drinks are more than just food; they have a way of connecting us to some of our favorite memories in time.
Food has the ability to bring us back to a special moment, and remind us that some of the greatest experiences in life are actually the most simple.
Growing up, some of my warmest and most comforting memories started with a hot cup of tea. Tea was the comfort food of choice for everyone in the family.
I will always cherish the memories of family dinners at home with my mom, dad, and sister, and as we cleaned up the kitchen, my dad would ask us all of we would like a cup of tea.
We drank so much tea that eventually my dad had a hot water dispenser installed in the kitchen, so perfectly hot water was always immediately available.
Like warm milk before bed, a warm cup of tea has the ability to soothe, the ritual evoking a sense of calm and comfort before drifting off to sleep.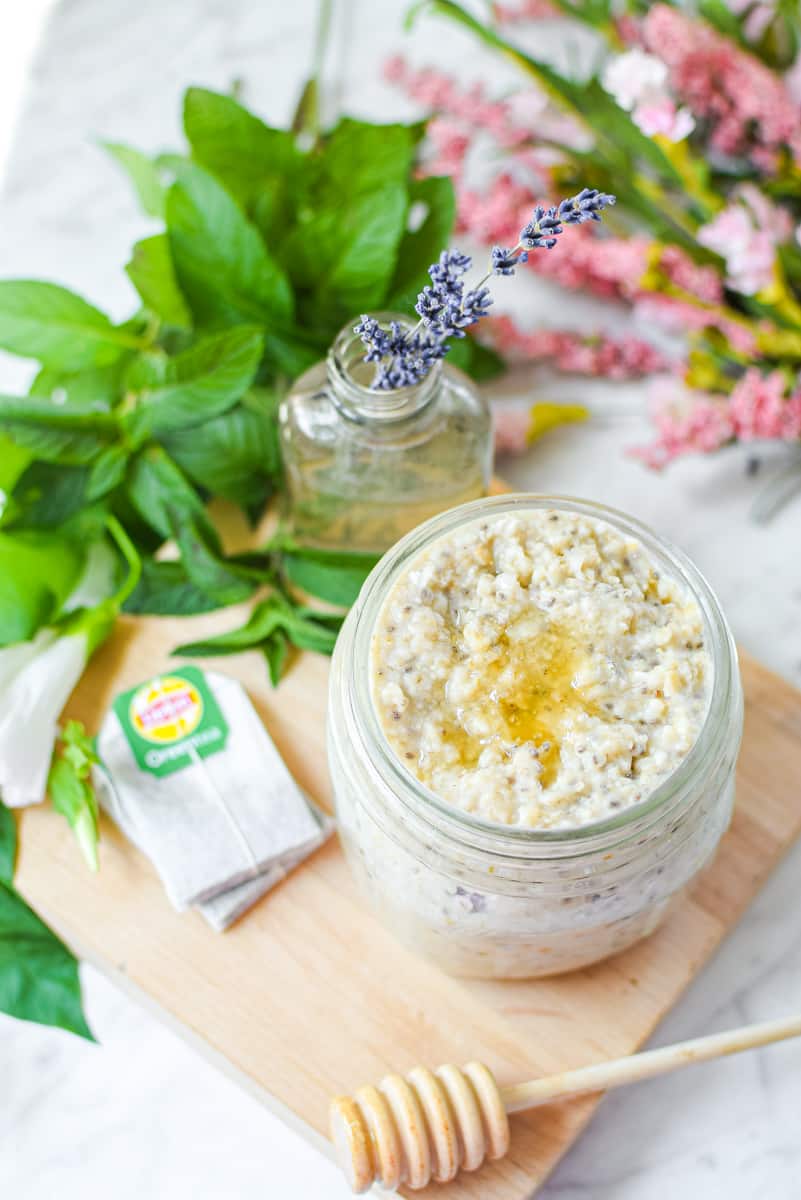 Green Tea for Health
Green tea can continue to play a pivotal role in our health and how we feel.
From supporting our immune health to easing digestive discomfort, green tea can be a very beneficial ingredient to keep on hand.
There are many different types of tea that can be used for a variety of purposes, but I am always drawn to green tea due to its nutritious benefits and versatility.
To Brew The Perfect Cup of Green Tea
Brew and enjoy your green tea at the proper temperature, between 140-185 degrees F.
If you brew your green tea with water that is too hot, your tea will become bitter and astringent due to a release of polyphenols known as tannins.
Brewing at a lower temperature will preserve the sweet and delicate flavor of the tea.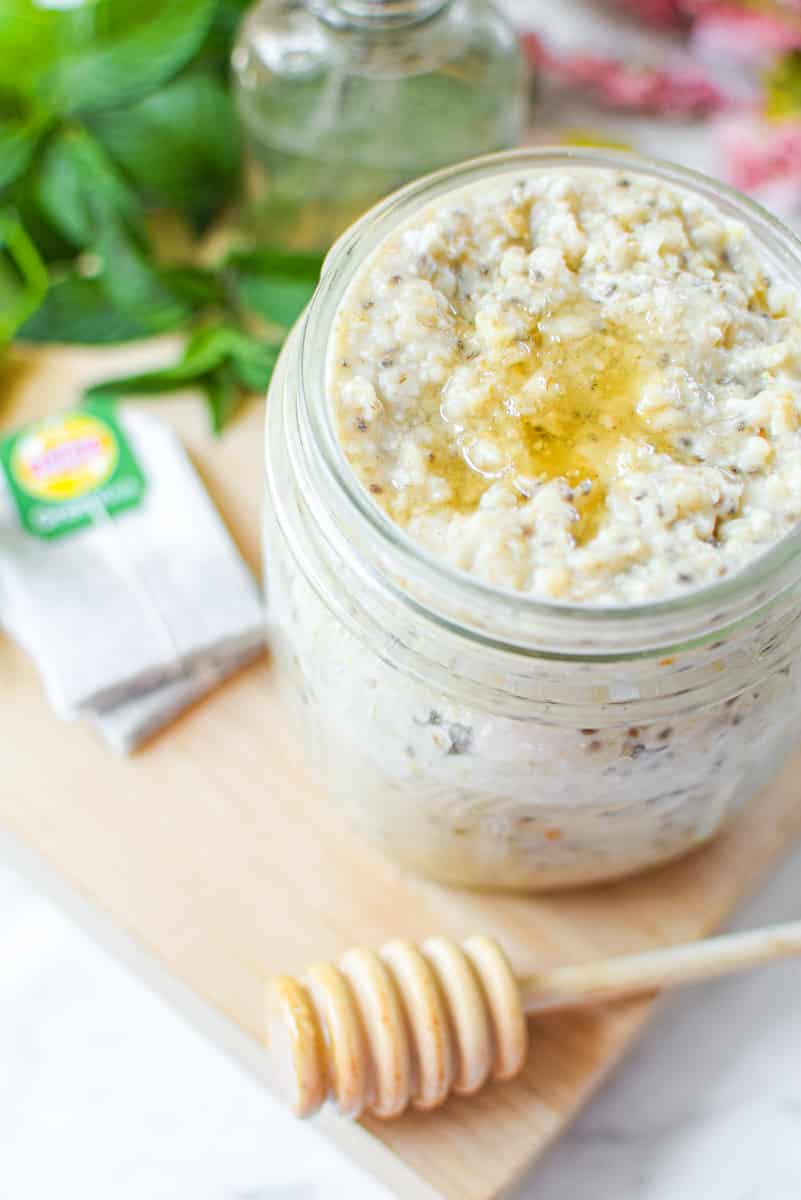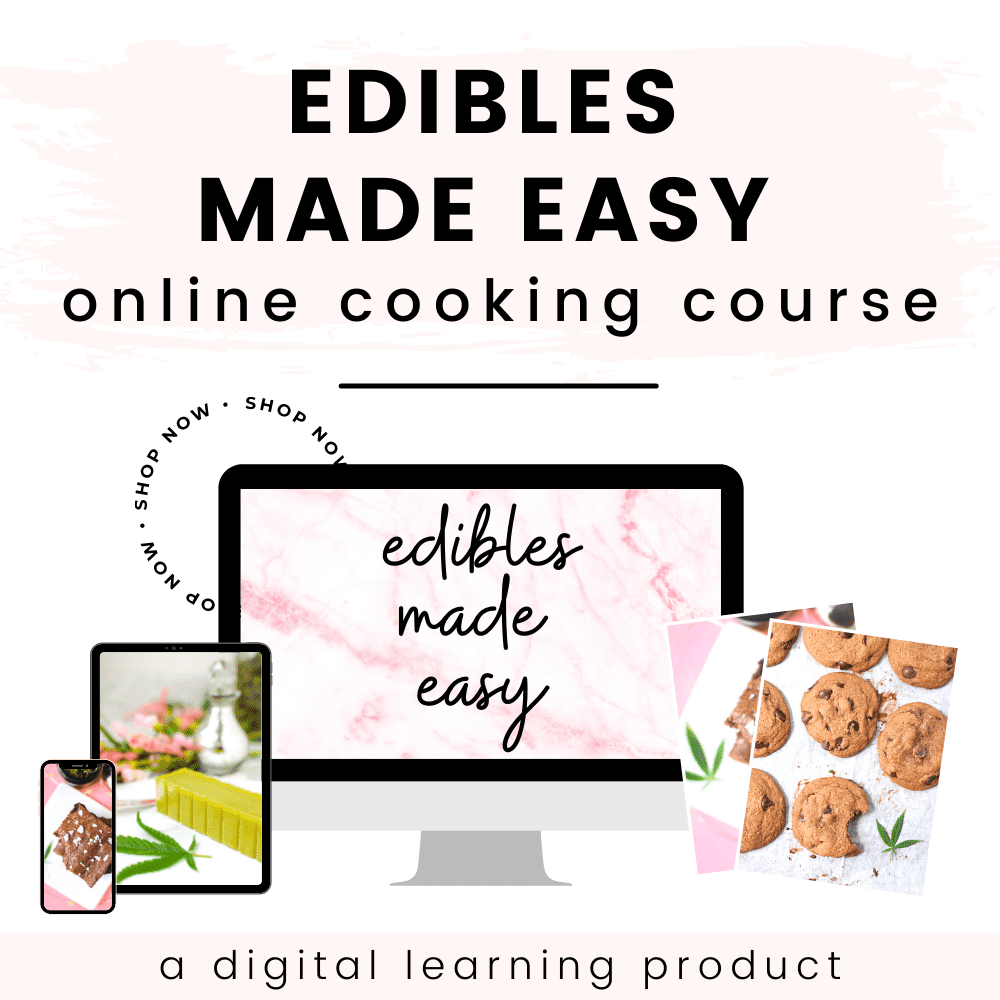 My Edibles Made Easy Online Cooking Course will teach you how to easily make cannabis edibles and topical recipes at home. This step-by-step video course will teach you how to infuse, extract, and create edibles with many different product types - all from the comfort of your own home.

Learn more and enroll today →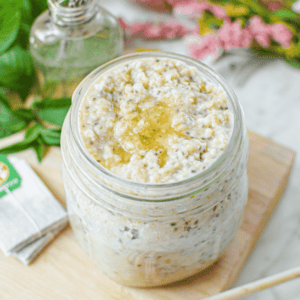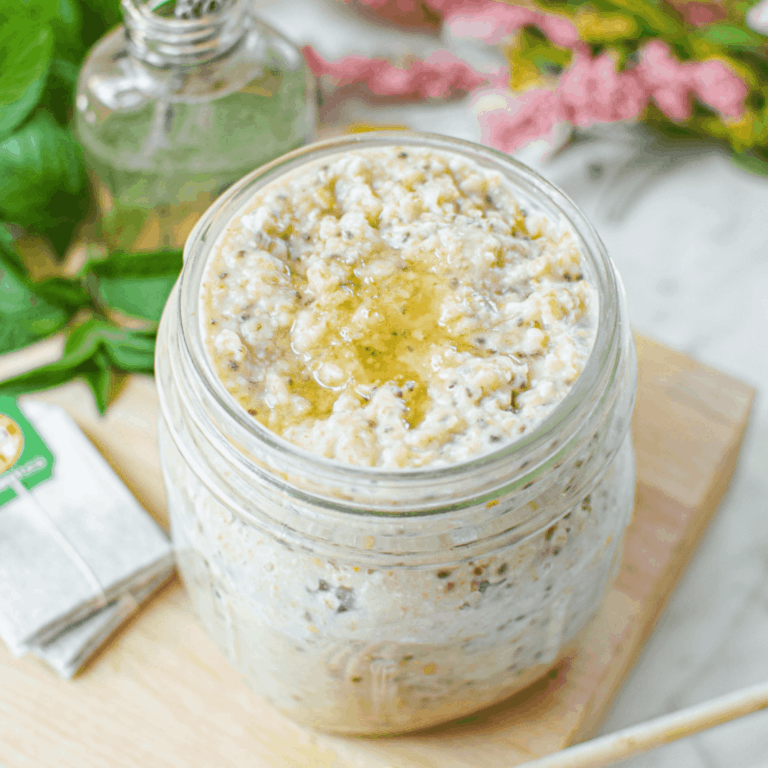 Green Tea Ginger Overnight Oats
This Green Tea & Ginger Overnight Oats recipe takes just 5 minutes to prepare so that you can have a nutritious and delicious breakfast ready to run out the door with you on those busy mornings.
Ingredients
2.5

cups

quick-cook oatmeal

divided

5

teaspoons

chia seeds

divided

5

teaspoons

honey

divided

1.25

teaspoons

fresh minced ginger

divided

5

each

green tea bags

divided

5

cups

boiling water

divided
Instructions
In each pint-sized mason jar, add ½ cup of oatmeal, 1 teaspoon of chia seeds, 1 teaspoon of honey, ¼ teaspoon of fresh ginger, and 1 green tea bag.

Pour 1 cup of boiling water over the oats in each jar. Secure a tight-fitting lid and shake well.

Place the jars in the refrigerator at least 4 hours, ideally overnight, before serving.

Notes
Storage: Store in the refrigerator for up to 5 days. These oats can be warmed up before enjoying or served cold—your choice. The mixture will continue to thicken the longer it sits. Add 1 tablespoon of hot water at a time to thin the oats as needed.
Nutrition
Serving:
1
jar
|
Calories:
130
kcal
|
Carbohydrates:
22
g
|
Protein:
4
g
|
Fat:
3
g
|
Polyunsaturated Fat:
2
g
|
Sodium:
18
mg
|
Fiber:
3
g
|
Sugar:
6
g
Did you make this recipe or have a question?
Join hundreds of members inside private Well With Cannabis Community for help, support, and to share your edible creations!