Looking for a quick and easy shoppable post to stock up your kitchen? This guide is the one for you! We cover all of the kitchen equipment, storage containers, and other products we use and recommend for meal prep.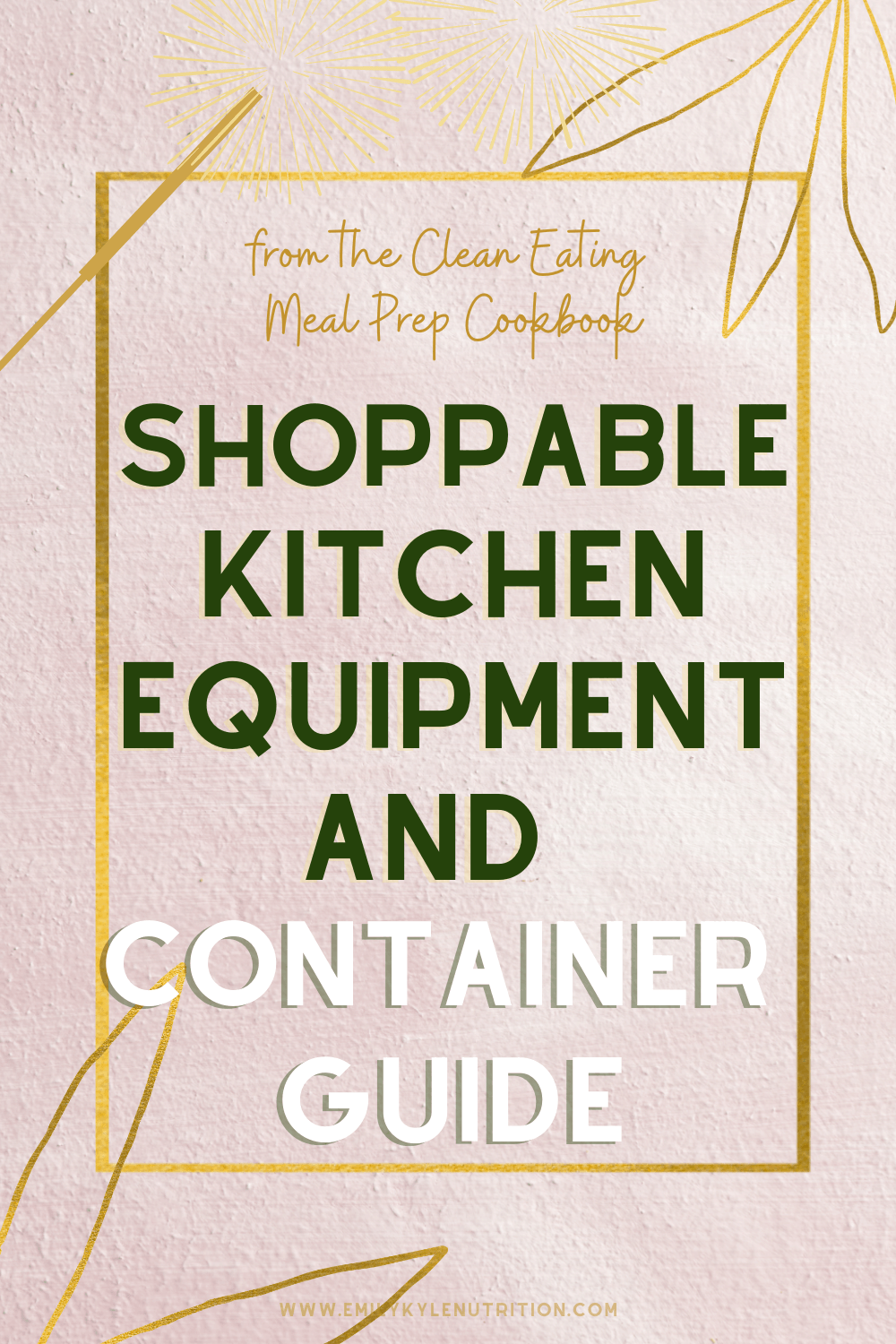 Set Yourself Up For Success in the Kitchen
Taking time to set yourself up for success in the kitchen before your first meal prep session will help make the process easier and more enjoyable.
Meal prep does not require special tools or equipment—you can likely use the kitchen essentials you already own to prepare these recipes.
But if you're brand new to cooking and meal prepping, this clean eating meal prep shoppable guide will help you stock your kitchen with basic equipment.
Essential Kitchen Equipment For Meal Prep
Baking sheets—From making double batches of oven-roasted protein recipes to easy sheet pan meals, we recommend at least two large rimmed baking sheets to use on prep day.
Blender—It doesn't need to be an expensive one, but having a blender will help you make smoothies, salad dressings, sauces, desserts, and more.
Cast iron skillet or sauté pan—You can use either, but you'll want at least one 12-inch skillet or pan to cook stovetop recipes in.
Cutting boards—We recommend having two large cutting boards, one to use with raw meat and protein and another for produce.
Knives & utensils—Having high-quality knives (especially a chef's knife and paring knife) will save a ton of time, especially when prepping fresh meat and produce,
Measuring cups and spoons—Measuring cups and spoons serve two purposes in meal prep: first to ensure accurate measuring when cooking recipes, and second to help guide appropriate portion sizes.
Mixing bowls—You'll need small, medium, and large mixing bowls to use for preparing recipes.
Slow cooker, rice cooker, or pressure cooker (such as the Instant Pot)—While it's not 100% necessary, having one of these options is a worthy investment to save time prepping grains and large batches of protein.
Storage Essentials For Meal Prep
Quality storage containers (or meal prep containers, as we call them in this book) are an important investment for successful clean eating meal prep.
They will ensure your amazing dishes stay fresh and flavorful and are ready to eat. Having a generous supply of meal prep containers is important, too—you don't want to run out halfway through prepping.
If you plan to prep multiple meals for breakfast, lunch, and dinner for each weekday, you'll need at least 15 different containers (3 meals a day, 5 days a week).
We recommend a combination of single- and multi-compartment containers since different recipes have different storage instructions using single, double, or triple-compartment containers (and mason jars).
Keeping containers in multiple sizes is helpful, too, as you'll be packing dishes ranging from entrées to snacks to small sides of dressing.
There are countless meal prep containers on the market today, so it's important to know what to look for.
Only buy items that are microwave, freezer, and dishwasher-safe, since you'll be portioning, storing, and reheating in the same container.
We recommend purchasing glass meal prep containers.
Plastic containers may contain BPA, an industrial chemical that may be responsible for adverse health effects on the brain and reproductive system. For smaller storage (especially for items like dressing), we recommend small stainless steel containers.
If you use plastic storage containers, ensure they are labeled as BPA-free and food-grade.