This post, New York Apples: From Farm to Table, is sponsored by New York Apple Sales. As always, the opinions stated here are always my own.
As Featured on Good Day Rochester
Apples: From Blossom to Fruit
Spring Apple Blossoms
Last May, I had the pleasure of joining Jim Allen, the Vice President of Marketing with New York Apple Sales (NYAS) for a tour of Lamont Fruit Farm in Waterport New York. The apple trees were in full-bloom and it was one of the most beautiful sights I had ever seen.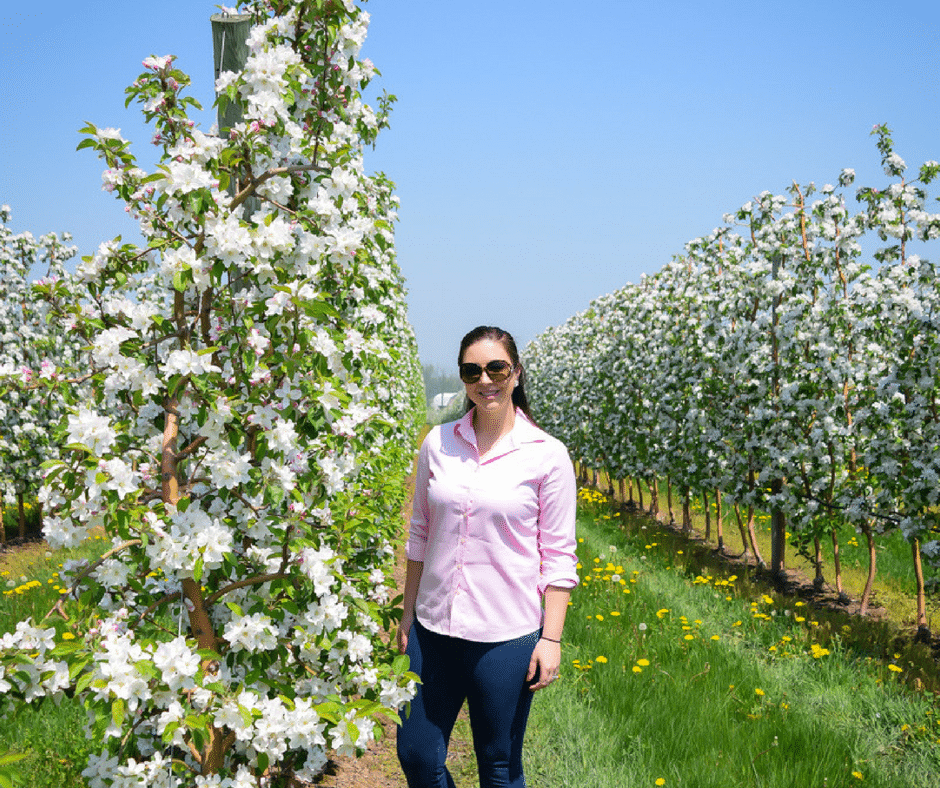 You can catch up on the Apple Farm Tour here.
Fall Apple Harvest
When I returned to to the Zingler Apple Farm in Kendall, NY this October, it was even more amazing and meaningful to see those beautiful trees ripe with fruit.
In just a few months, the perfect combination of sunlight, water, and love by dedicated farmers had transformed those beautiful white flower buds into one of America's most beloved fruits.
My Favorite Apple Variety of The Year – The KORU® Apple
While New York Apple Sales packages and distributes a wide variety of apples, my favorite apple variety this year is the KORU® Apple.
Born in New Zealand, and now produced here in Western New York, the KORU® apple is names after the Maori word that symbolizes "new life, growth, strength and peace". This crisp, sweet apple is naturally delicious and slightly aromatic with a hint of sweet honey.
KORU® apples offer a high profile flavor, combining the mild low acid Braeburn with the high sugary, somewhat tart flavor of the Fuji. Both parents of the KORU® apple are considered hard, crunchy apples whose flesh shatters when bitten into, much like a Honey Crisp. This apple demonstrates these traits as well.
The KORU® apple is great for both snacking and cooking because the apple slices stay intact after cooking and do not fall apart. And the best part? It retains the fresh, just harvested condition and flavor for an extended time under refrigeration, which means you can keep this delicious variety stocked in your fridge all Fall long.
Where to Buy KORU® Apples
Now that you are so excited to get your hands on a KORU® apple, the good news is that Tops in the Rochester, NY area will roll out KORU® apples starting on December 9th, 2018 – so keep an eye out the next time you're grocery shopping.
New York Apple Sales
New York Apple Sales (NYAS) is the largest, most geographically diverse sales agency in New York State that partners with both growers and packing facilities to deliver the best selection of apples, all year long.
NYAS represents over 50 growers who farm over 5,000 acres of apple orchards across New York. In this fully integrated partnership, NYAS is able to invest in the orchards through growing the varieties of apples that consumers want, as well as testing new varieties in their tree nurseries.
You may be familiar with Cortland, Empire, Fuji and Gala apple varieties. Thank's to NYAS, they continue to bring you the apple varieties you love the most, year after year, including this year's exclusive KORU® Apple.
Watch the video below to learn more about New York Apple Sales and how they work with farmers across our region to bring you the best apples while supporting local agriculture.

New York Apple Farms
Fun Fact: The 5,000 acres of apple farms across New York State are harvested by hand.
That is truly incredible when you think about the fact that New York produces approximately 30 MILLION bushels of apples each and every year.
Farmhands stand or sit on a large piece of machinery to harvest the apples. They are harnessed to the machine to to keep safe when reaching for the top of the tree, and at the bottom are the large apple bins that sit and collect the most perfect apples.
This piece of machinery actually does not need a tractor to pull it. It is entirely self propelled and is run by GPS, like most farm tractors these days, to ensure accuracy.
It is incredible to see the technological advances that farmers use to make the most efficient, sustainable, and profitable crop models.
Apple Packaging & Delivery
You may think that the production system stops there, but I learned that there is a lot more than needs to happen to that apple before it ends up on your dinner table.
Sure, you may be able to buy freshly picked apples from your local Farmers Market or roadside stand, but the apples that you purchase in the grocery store go through quite a journey before they make their way to you.
Lake Ontario Fruit: Northeast Apple Packing & Storage
Jim took me to Lake Ontario Fruit, just a short ride from most of the Apple farms we had visited, to learn more about how an apple truly makes it from the farm to your table.
Formed in 1982 as a partnership of eleven local apple growing families, Lake Ridge Fruit Company, LLC and its subsidiary, Lake Ontario Fruit, Inc. has grown into one of the largest apple packing and storage operations in the Northeast.
They were kind enough to let me tour the facility and get a first hand look at the care and love that goes into providing you with the BEST apple.
As you can see in the NYAS video above, the apples go through quite the journey to arrive to you table. First the apples are rinsed in a water bath before being transported along on a conveyor belt that helps to remove any dirt or debris that are leftover in the apple.
They then run through a heater to remove the excess water, and then a sorter which sorts each apple by size and weight. Each apple is inspected inside and out using state of the art technology to remove any apple with a potential blemish or defect.
Once the apples are sorted, they are packaged in a variety of different packs depending on their final destination. Buying apples from Costco? They were probably packaged here.
Before You Go!
Are you ready to gain control over your anxiety? Download this Free Meal Plan that will teach you how to use food & plant-based supplements, like CBD oil, to naturally manage anxiety so you can reclaim your day-to-day joy and productivity!

Download the Free eBook – The Anti-Anxiety Meal Plan (PLUS Tips for Using CBD Oil) below: