This Homemade Non-Dairy Coconut Milk Yogurt is made with two simple ingredients: coconut milk and probiotics to create a thick and tangy yogurt that is dairy-free, vegan, plant-based, gluten-free, Keto, Paleo, and AIP-friendly. Includes a high-protein option.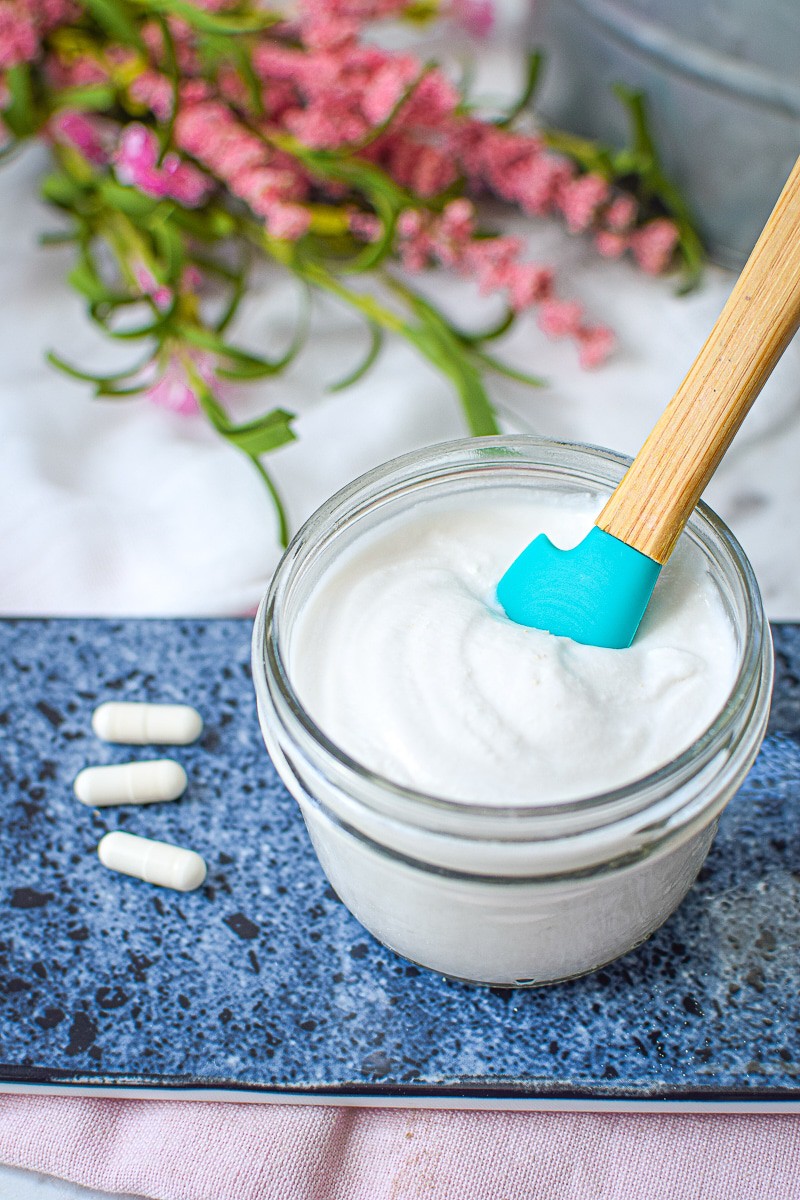 Homemade Non-Dairy Coconut Milk Yogurt
This homemade yogurt truly has become a favorite dairy-free staple in my home.
I first discovered how to make non-dairy yogurt from plant-based milk with the use of probiotics from Minimalist Baker, and have since practiced and perfected my own version.
After discovering how much I loved the taste and simplicity, I realized that this dairy-free yogurt is a much-needed staple in many diets ranging from a plant-based diet to a Paleo diet, to those following the Paleo Autoimmune Protocol.
This dairy-free yogurt takes a bit of time to make, but once it is ready it is the perfect staple item to add to your breakfast routine, cream-based sauces, dips and more.
The Health Benefits of Non-Dairy Yogurt
Most of the clients I work with will need to adopt a dairy-free lifestyle at some point, especially when working through protocols to determine the best autoimmune diet for them.
In my practice, I serve those with autoimmune and inflammatory conditions with a holistic lifestyle approach combining nutrition and lifestyle interventions with cannabis education.
For those who are experiencing a flare, unmanageable mystery symptoms, or gut dysbiosis, the underlying cause tends to be uncontrolled inflammation.
While I provide a unique, tailored approach to each and every one of my clients, generally one of the first steps towards healing is to remove dairy from the diet.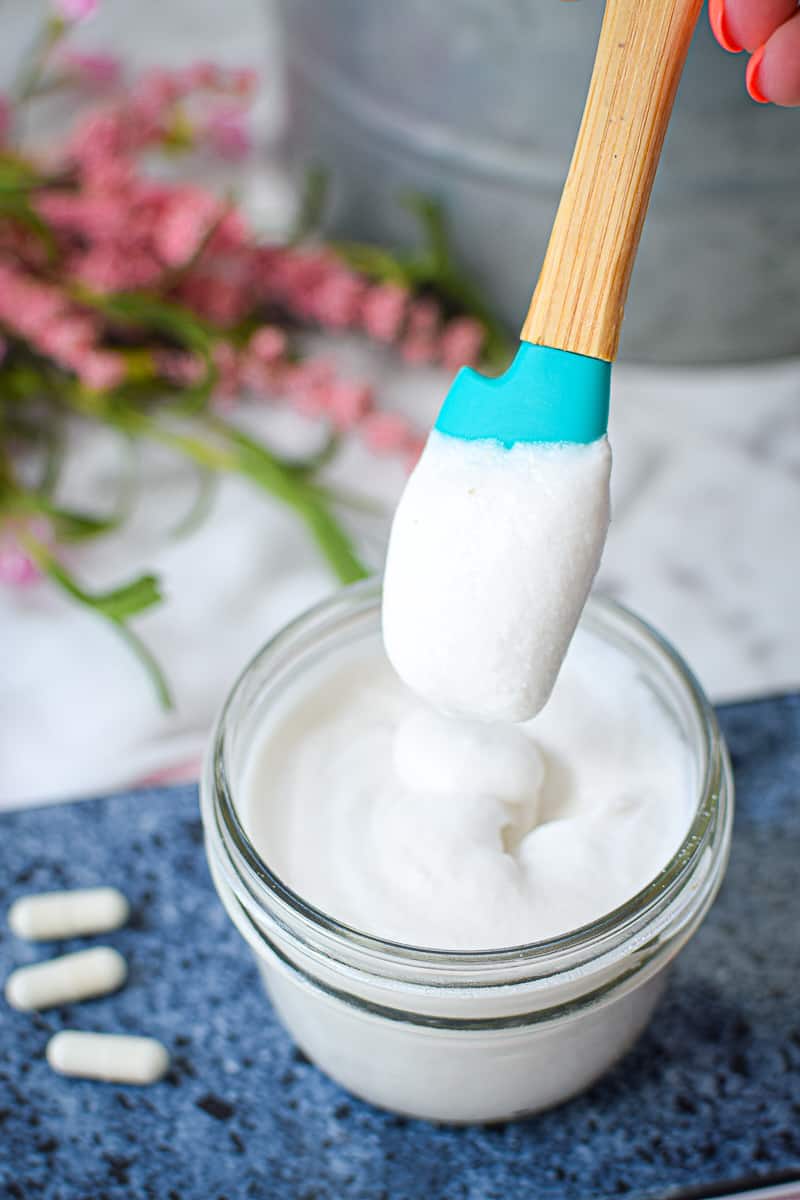 Is Dairy Inflammatory?
As a trained registered dietitian nutritionist with more than 5 years of experience in clinical practice, I know enough to know that inflammation is highly unique to each individual.
This means that dairy is not inflammatory to everyone or everybody.
In fact, many of my clients who come to me are actually able to add dairy back into their lifestyles over time. Nearly two years after experiencing my own health crisis, I am now able to tolerate small amounts of cheese and dairy.
There is a lot of conflicting evidence presented both for and against including dairy products in one's diet. Unfortunately, many of these studies are funded and heavily influenced by the dairy industry.
Interesting enough, inflammation related to dairy may go beyond the simple milk itself and have more to do with the type of milk or way the milk is processed.
In a paper funded by a grant from Danone, written by authors associated with Danone, Alliance for Better Bone Health, MSD, Eli Lilly, Pfizer, Novartis, Servier, Merck, Medtronic and Roche and more:
"Although dairy foods have in the past been considered pro-inflammatory [107], studies of dairy consumption demonstrate that full-fat dairy products and dairy fats in fact have either a neutral or inverse effect on levels of circulating inflammatory biomarkers."

Effects of Dairy Products Consumption on Health
This suggests that full-fat dairy products may be more beneficial for the health of those who choose to include dairy in their diet.
Should You Go Dairy Free?
Unfortunately, I believe that people and their health and food decisions are more influenced by their social and cultural experiences than their own personal experiences.
Going dairy-free is not right for everyone, but for some, it may help to alleviate unwanted digestive or immune symptoms when managing chronic inflammatory and autoimmune conditions.
You Can Make Yogurt with Probiotics?
I was skeptical when I first tried this method of making dairy-free yogurt, but it was surprisingly easy and actually worked. The yogurt gets thick and closely resembles a lactose-free Greek yogurt.
The most important step in ensuring this recipe turns out correctly is to choose a probiotic that will work. Be sure to read the ingredients label and ensure there are at least 12 strains with no added ingredients like prebiotics.
Is Yogurt Gluten-Free?
Yes, yogurt is naturally gluten-free. If there are additives in the yogurt, be sure to confirm that all of the ingredients used to make the yogurt are also gluten-free.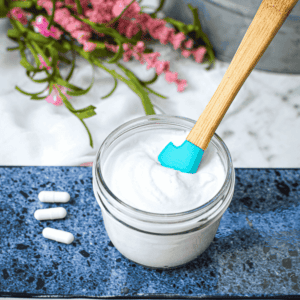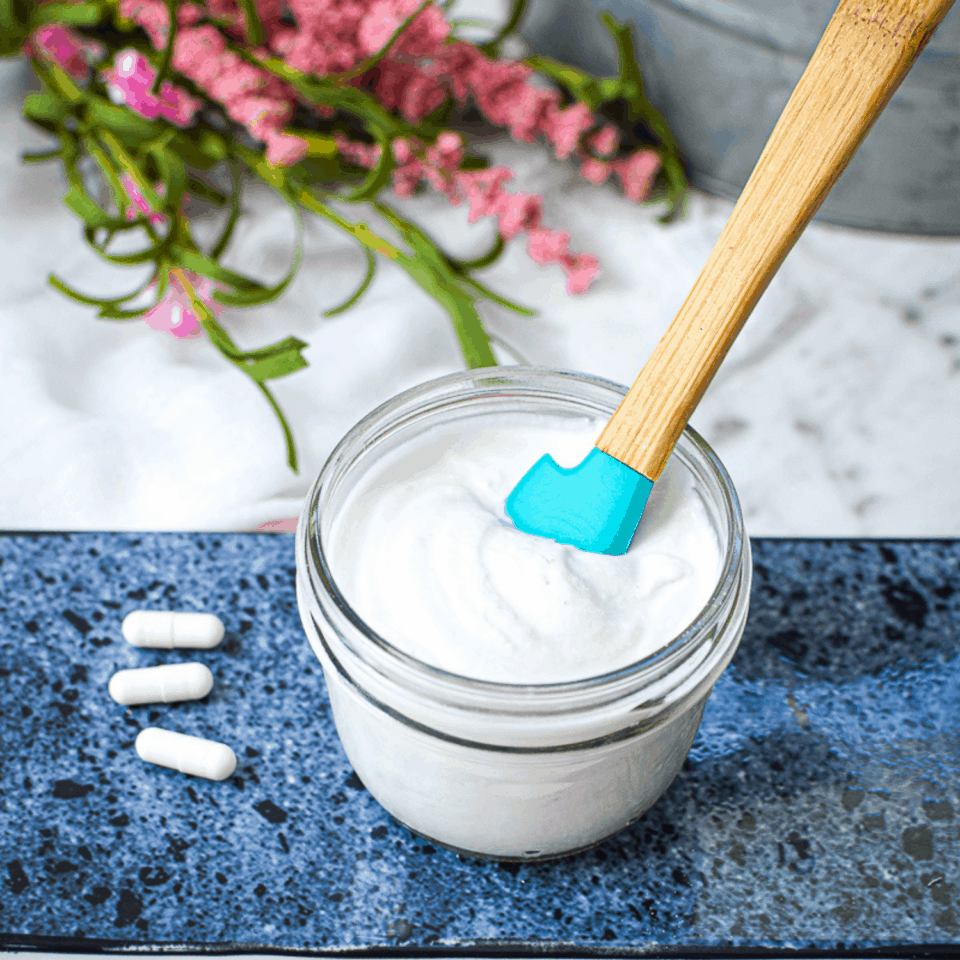 Homemade Non-Dairy Coconut Milk Yogurt
Delicious Homemade Lactose-Free Coconut Milk Yogurt can be made at home using the traditional method of combining liquid with 'cultures', or bacteria with coconut milk. This leads to fermentation, where the bacteria convert the sugar into lactic acid, giving the yogurt the traditional thickness and tang of yogurt.
Instructions
Sterilize a mason jar or other glass container with a tight-fitting lid by submerging it in boiling water. This will kill any pathogens that may potentially infiltrate your yogurt.

Add the can of full-fat coconut milk to the sterilized container and shake or still until well combined and smooth.

Carefully twist the probiotic capsules until the end caps come apart, sprinkle the contents into the mason jar.

Shake or stir vigorously until well combined.

Allow the jar to sit on the counter, covered with a mason jar lid, for 24-48 hours to allow the fermentation process to activate. Shake occasionally.

After 24-48 hours, put the mason jar into the refrigerator. This will allow the mixture to thicken to your desired consistency.

Stir in the maple syrup, sea salt, and collagen peptides if using. Refrigerate for up to 7-days.

Notes
Using the right probiotic capsule will make or break this recipe. You want a high-quality probiotic capsule that contains probiotics in the billions, ranging from 10-50 billion. Ensure your capsule does not have any other added ingredients or prebiotics.
*Omit the maple syrup if using the coconut milk yogurt for savory applications.
Nutrition
Serving:
1
serving
|
Calories:
200
kcal
|
Carbohydrates:
3
g
|
Protein:
2
g
|
Fat:
21
g
|
Saturated Fat:
19
g
|
Sodium:
87
mg
|
Potassium:
220
mg
|
Sugar:
1
g
|
Vitamin C:
1
mg
|
Calcium:
19
mg
|
Iron:
3
mg
Did you make this recipe or have a question?
Join hundreds of members inside private Well With Cannabis Community for help, support, and to share your edible creations!