Welcome the return of Spring with Sesame Snow Peas & Purple Cauliflower, a quick and easy side dish that will bring a delicious Asian flair to any meal you pair it with. 

Featured on Good Day Rochester
The Return of Spring
It is currently one week into April and here in Upstate New York it is a balmy 24 degrees and it is STILL snowing!
While it could be, and is, all to easy to complain about the weather, I like to think that it will make the return of Spring just a little but sweeter.
Every year, the first thing we plant in The Millennial Garden are Spring Peas. They are one of the few crops we can plant early because of their ability to withstand a late season frost.
That also means they are one of the first crops ready for harvest, which is always exciting.
Types of Spring Peas
I read once that Spring peas help to bridge the gap between the winter and summer harvest seasons, and if you live in a climate like mine, you know that can be a big, long gap.
They also serve as a sign of hope for those of us who are eagerly awaiting until Memorial Day to plant the rest of our crops in the ground.
There are three different types of peas that you can grow in the spring time, each with a different taste and texture.
Snow Peas
Snow peas, as featured in this recipe, are the most tender of all pea pods. They are flat, with very small peas inside. Also known as Chinese peas, this variety is typically eaten whole and provides a sweet taste and a crunchy texture.
Snap Peas
Snap peas, sometimes called sugar snap peas, are a cross between snow peas and garden peas. Their pod is slightly rounder, very crispy, and usually eaten whole. The peas inside are very sweet and can be enjoyed raw or cooked.
Garden Peas – aka English Peas or Shelling Peas
Garden peas are the traditional big, round peas you may be accustomed to seeing in other dishes. The peas need to be 'shelled' before consuming, and the pod is discarded. The longer the peas are left to grow, the bigger and more starchy they become.
The Health Benefits of Peas
With modern day agriculture, we can thankfully enjoy peas any time during the year. However, for the maximum health and taste benefits, sourcing locally grown peas during their peak harvest season is ideal. Plus, they're usually less expensive at this time!
Peas are an exceptionally nutritious food and have many beneficial antioxidant ad anti-inflammatory properties in addition to their rich vitamin and mineral content.
Exceptionally high in the fat-soluble vitamin K, peas are also rich in manganese, B vitamins, and dietary fiber. Peas also povide the carotenoid phytonutrients, lutein and zeaxanthin, which are known to promote vision and eye health.
How to Enjoy
My favorite way to enjoy these Sesame Snow Peas & Purple Cauliflower is as a side dish to whatever Asian inspired meal I am having.
One thing I always stress to my holistic health counseling clients is that in a happy & healthy lifestyle, you can truly enjoy whatever foods you want, you just have to be smart about it.
For me, whenever I want to enjoy a Chinese takeout dish, I simply pair my order with a side of veggies, like this. That way I get to enjoy all of my favorite foods, while also getting the health benefits of a veggie based dish as well.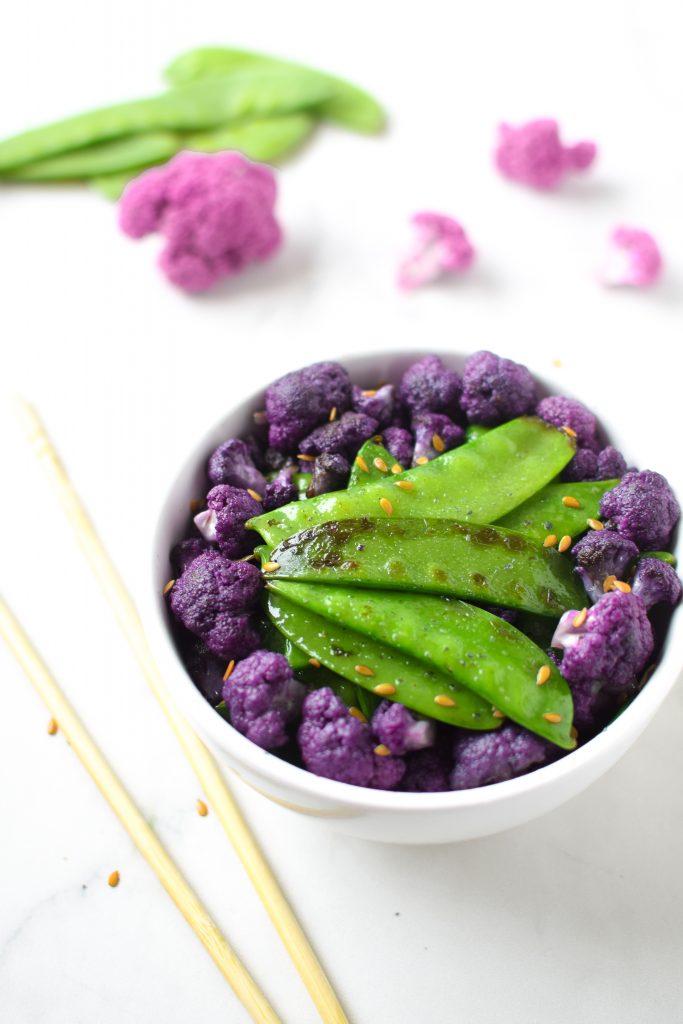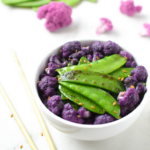 Sesame Snow Peas & Purple Cauliflower
Ingredients
2

tablespoons

sesame oil

divided

1

whole

head of purple cauliflower

cut into florets

3

cups

fresh snow peas

1

teaspoon

coconut aminos

or soy-sauce

1/4

teaspoon

sesame seeds

for garnish
Instructions
*For this dish we are stir frying, meaning cooking at a very high heat for a short amount of time. I used a wok to cook this in, but if you don't have a wok, a cast iron pan will do.

Get the wok or cast iron pan hot and add the sesame oil.

Add the cauliflower florets and cook for 3-4 minutes, stirring constantly.

Add the remaining sesame oil, liquid aminos, and snow peas and cook for 2 minutes, stirring constantly.

Add the sesame seeds and cook for an additional 30 seconds before removing from heat.

DON'T FORGET YOUR MEAL PLAN!
I hope you're inspired to try new and different recipes, like this Sesame Snow Peas & Purple Cauliflower! And more importantly, I hope you're inspired to try new plant-based meal options.
If you're looking for additional help in meal planning or discovering new and delicious recipes to try, be sure to download my Free 16 page eBook – The 5 Day Happy & Healthy Meal Plan below!
 And if you make any of these, be sure to tag me on Facebook, Instagram, or let me know in the comments below ♥ 


LETS STAY CONNECTED
Subscribe to the Wellness Wednesday Newsletter - holistic wellness, health & happiness delivered directly to your inbox!

The following two tabs change content below.
Hi there! I teach women like you how to get healthy, and stay happy, without ever having to diet again! To help you, I provide individualized nutrition coaching and have created
The School of Health & Happiness
, an online training program to help you develop a positive relationship with food. This blog focuses on holistic health, plant-centric, whole food
recipes
, and real-life Mindful & Intuitive Eating Practices.
Learn more here
.
Lets Connect!   
Facebook
»
Instagram
» ♥
Latest posts by Emily Kyle (see all)