This post may contain affiliate links, to find out more information, please read my disclosure statement.
Cut your carbohydrate intake by nearly 75% when you enjoy tender breaded chicken baked into a nutritious spaghetti squash bowl to create the most filling & delicious Spaghetti Squash Chicken Parmesan.
Spaghetti Squash Chicken Parmesan
You know that great feeling of satisfaction when you're stuffed after a great meal?
You will get that feeling after eating this Spaghetti Squash Chicken Parmesan, without the dreaded pasta crash afterward. When you replace traditional spaghetti with spaghetti squash, you cut your carbohydrate intake by nearly 75% so you will feel full and satisfied without feeling tired and bloated.
I spend most of my time cooking with my sister Abbey, who is a type-1 diabetic, so creating low-carb recipes, that still taste amazing, are necessary for us. I am absolutely in love with how delicious this recipe came out with just a few healthy exchanges.
This recipe not only replaces pasta with spaghetti squash but also swaps traditional bread crumbs for all-natural homemade whole wheat bread crumbs.
Looking for a plant-based version? Check out my Spaghetti Squash Eggplant Parmesan
Spaghetti Squash – A Delicious Choice
Swapping spaghetti squash for pasta not only helps to reduce the amount of simple carbohydrates consumed by nearly 75%, but this tasty squash can also supply nearly 10% of your daily value of fiber which plays an important role in keeping you full and preventing blood sugar spikes.
Spaghetti squash is also high in vitamins C & A as well as the minerals potassium and calcium.
While there is nothing wrong with enjoying a serving of whole wheat pasta, we simply tend to eat too much. This recipe allows you to eat and enjoy the entire bowl of squash, without consuming too many calories or carbohydrates.
Grow Your Own
If you're feeling ambitious and love to garden, I highly recommend trying to grow your own.
We had an incredible harvest this year with nearly 40 harvested this fall. As you can imagine, I now have a lot of spaghetti squash recipes to create.
Learn more: The Millennial Garden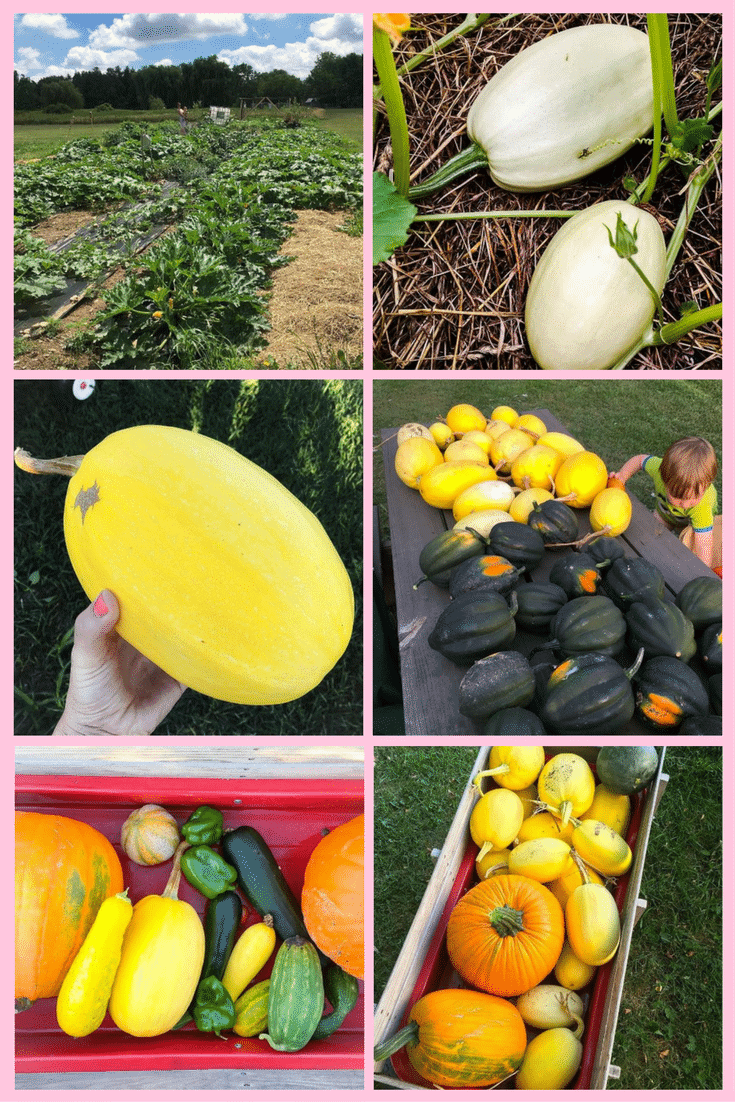 Spaghetti Squash Chicken Parmesan
All-natural, homemade whole wheat breadcrumbs baked into a nutrient dense, spaghetti squash bowl to make the most nutritious & delicious Spaghetti Squash Chicken Parmesan.
Cuisine:
Italian American
Keyword:
Spaghetti Squash Chicken Parmesan
Ingredients
1

small spaghetti squash

1

teaspoon

olive oil

Salt and pepper to taste

1/2

pound

organic thin sliced chicken cutlets

1/2

cup

whole-wheat flour

gluten-free as needed

2

farm fresh eggs

beaten

1/2

cup

whole wheat bread crumbs

gluten-free as needed

1

cup

homemade tomato sauce

warmed

1/4

cup

mozzarella cheese

dairy-free as needed
Instructions
Preheat the oven to 400º (convention bake if available).

Place in the oven to bake for 40 minutes. Prepare the chicken cutlets while the squash is cooking.

Place the breaded chicken on a foil lined baking sheet and place in the oven.

Let the chicken bake for 20 minutes or until it has reached an internal temperature of 165º.

When the chicken is fully cooked, remove the spaghetti squash and fill each half with most of the tomato sauce.

Remove and enjoy!
DON'T FORGET YOUR MEAL PLAN!
I hope you're inspired to try new and different recipes, like this Spaghetti Squash Chicken Parmesan. If you're looking for additional help in meal planning or discovering new and delicious recipes to try, be sure to download my Free 16 page eBook – The 5 Day Happy & Healthy Meal Plan below!
I hope you give this recipe a try and fall in love, just as I did.
See? You can still enjoy your favorite meals, it just takes some creativity to turn them healthy again. Now tell me, do you love this recipe?!? Be sure to tag me on Facebook, Instagram, or let me know in the comments below ♥

The following two tabs change content below.
Hi there, I'm Emily Kyle, a nationally recognized media dietitian & nutrition communications expert on a mission to help you create the happy & healthy holistic lifestyle you deserve. To help you on your wellness journey, I offer holistic health counseling, resources inside The School of Health & Happiness, and this blog which focuses on holistic health and wellness, anti-inflammatory, whole food recipes, and my love for Mother Nature inside #TheMillennialGarden.
Latest posts by Emily Kyle (see all)