This post may contain affiliate links, to find out more information, please read my disclosure statement.
This Spaghetti Squash Eggplant Parmesan recipe features hand-breaded eggplant cutlets baked right into a spaghetti squash bowl for a healthy new way to enjoy this classic dish!
What better way to enjoy Meatless Monday than with the amazingly delicious Spaghetti Squash Eggplant Parmesan? Plant-based eating has never tasted so delicious! Even better, this recipe will help to cut your carb intake by nearly 75% by substituting the spaghetti squash for traditional white pasta while adding in vitamins, minerals, antioxidants and dietary fiber. Yay!


Spaghetti Squash Eggplant Parmesan
A lot of people ask me if I eat meat and in fact, I do! But I really do believe that plants should make up the large majority of the food that we eat, not only for the health benefits associated with a plant-based lifestyle but for the environmental benefits too. If you or your family are struggling to reduce the amount of meat you are eating, joining the Meatless Monday campaign is a great way to get started!
[clickToTweet tweet="Spaghetti Squash #Eggplant Parmesan – the perfect healthy dish for #MeatlessMonday!" quote="This Spaghetti Squash Eggplant Parmesan is the perfect dish for Meatless Monday!" theme="style2″]
By adopting a plant-based diet even just once per week you are doing tremendous good for both your body and the earth. Enjoying a vegetarian entrée on Mondays, like this Spaghetti Squash Eggplant Parmesan, will not only help you to eat more vitamins, minerals, antioxidants and dietary fiber but also help to reduce your risk of cancer, heart disease, and stroke – the nation's leading killer diseases.
I am so passionate about plant-based eating that I have dedicated a large portion of my life to gardening, growing and harvesting my own food. I don't believe there is a healthier food in the world than the food you grew in your own backyard!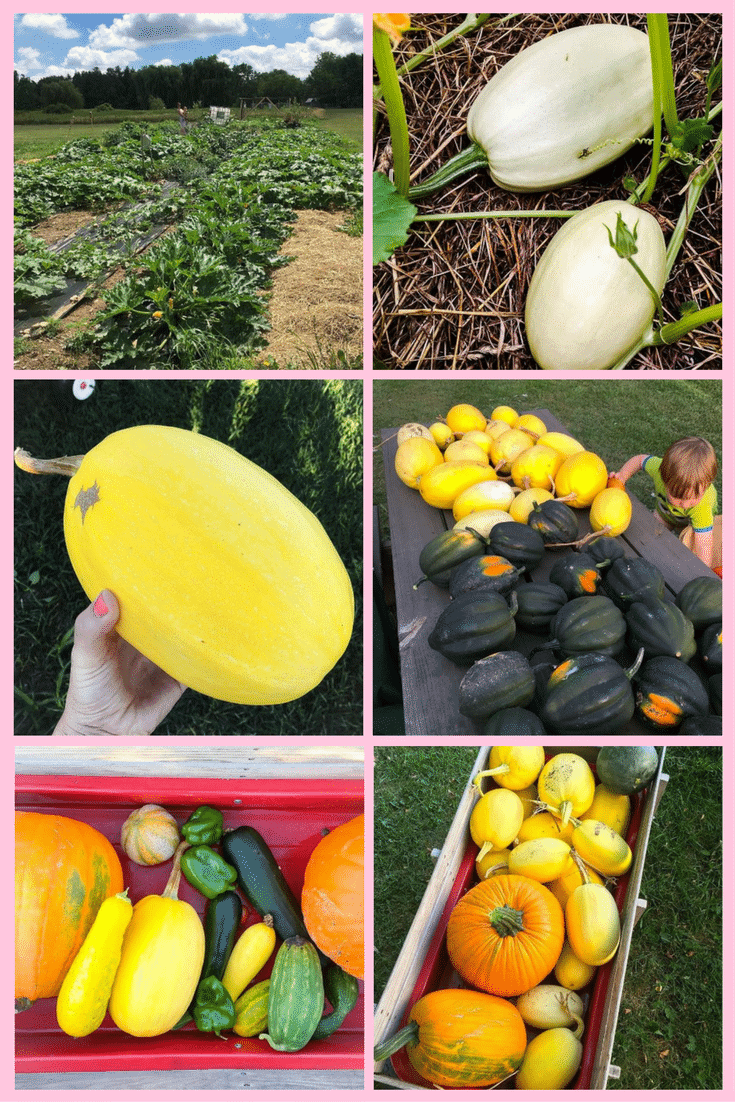 This year we were lucky enough to harvest 37 spaghetti squash from the garden. Thankfully, my husband has built us a root cellar in the basement to store all of these beauties throughout the winter. When stored properly, they should last about 6 months. If you haven't tried growing your own spaghetti squash yet, give it a try! They were a low maintenance plant for me this year and were started from seed, so you know they're hearty.

Click Here to Download Your Plant-Based, No Added Sugar Meal Plan – FREE!
Spaghetti Squash Eggplant Parmesan
Enjoy the beloved vegetarian Italian classic, Eggplant Parmesan, in a plant-based, nutrient dense spaghetti squash bowl.
Ingredients
1

small-medium sized spaghetti squash

1

teaspoon

of olive oil

1

eggplant

zucchini, or yellow squash

1

egg

beaten

1

cup

of homemade whole wheat bread crumbs

1

cup

of homemade tomato sauce

1/4

cup

of fresh mozzarella cheese

1/4

cup

of homemade basil pesto

Dried basil or parsley for garnish
Instructions
Preheat the oven to 400 degrees F

Cut the spaghetti squash in half lengthwise and scoop out the seeds.

Lay the spaghetti squash face up on a foil-lined baking sheet. Drizzle with olive oil, salt, and pepper to taste.

Place in the oven for 40 minutes.

While the spaghetti squash is cooking, prepare another foil-lined baking sheet.

Using a mandoline, slice the eggplant, zucchini, or yellow squash into 1/4 inch thick slices.

Dip in the beaten egg until well coated.

Place each breaded eggplant cutlet on the foil lined baking sheet.

Cook the eggplant for 10 minutes.

Carefully remove from the oven, flip each cutlet, and return to the oven for another 10 minutes or until golden brown.

When the spaghetti squash is fully cooked (easily pierced with a fork) remove from the oven and fill each half with half of your spaghetti sauce.

Top with the eggplant cutlets.

Add the rest of the sauce.

Sprinkle the mozzarella cheese on top.

Place back into the oven for 5 minutes to warm the sauce and melt the cheese.

Remove and garnish with

basil pesto

and dried parsley or basil if desired.

Enjoy!
I hope you enjoy this recipe as much as I do, and learn to love more delicious meatless meals! Have you tried spaghetti squash before? Let me know how you like it in the comments section below!!



[widgets_on_pages]
The following two tabs change content below.
Hi there, I'm Emily Kyle, a nationally recognized media dietitian & nutrition communications expert on a mission to help you create the happy & healthy holistic lifestyle you deserve. To help you on your wellness journey, I offer holistic health counseling, resources inside The School of Health & Happiness, and this blog which focuses on holistic health and wellness, anti-inflammatory, whole food recipes, and my love for Mother Nature inside #TheMillennialGarden.
Latest posts by Emily Kyle (see all)