You're just a few minutes away from a delicious and refreshing cold Spicy Thai Shrimp Bowl!
Cold Spicy Thai Shrimp Bowl
Just because you have to pack your lunch for work doesn't mean your meal needs to be dull and boring! Spend 30 minutes on meal preparation over the weekend to enjoy this protein and veggie packed Cold Spicy Thai Shrimp bowl all week long. This dish is sweet with a little bit of heat nested on top of a zoodle and soba noodle bed of 'pasta', making this dish completely gluten-free!


 The Recipe Redux
It is that time of the month again – The Recipe Redux time – because every recipe deserves to be delicious! This month's theme is all about addressing the dreaded question: what shall I pack for lunch? Packing lunch every day can get monotonous and boring, so I bring to you this Cold Spicy Thai Shrimp Bow.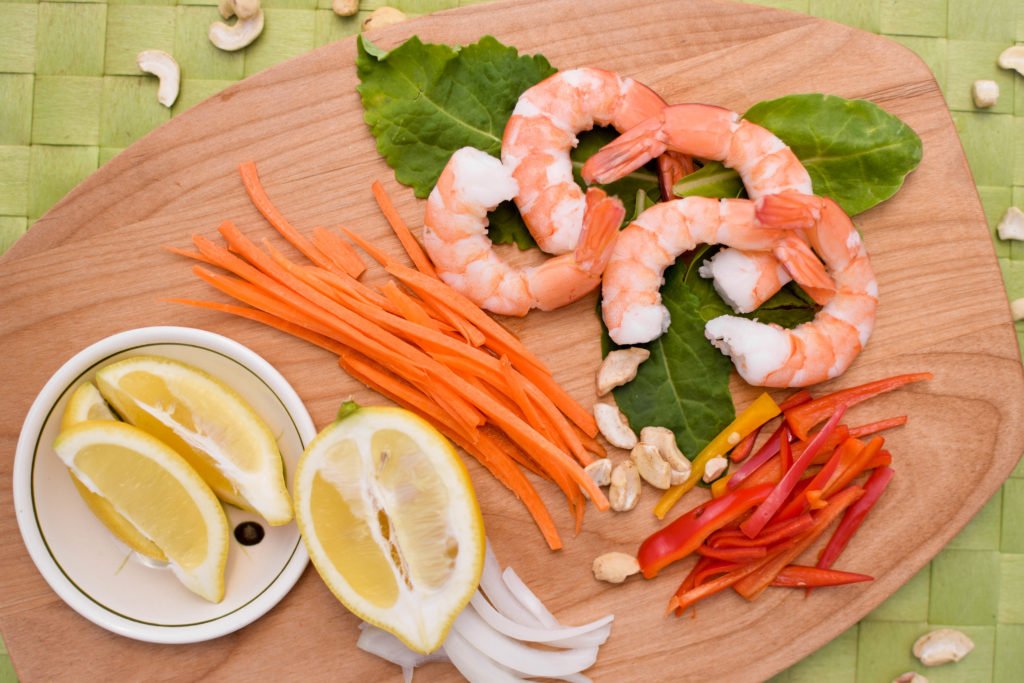 This recipe doesn't have to be hard or complicated, all you need to do is dedicate 30 minutes to meal prepping ahead of time to have a veggie-packed lunch all weekend long! Summer is just around the corner, so it is a perfect time to enjoy a cold salad for lunch.
The inspiration for dish came earlier this week when I found this in the fridge: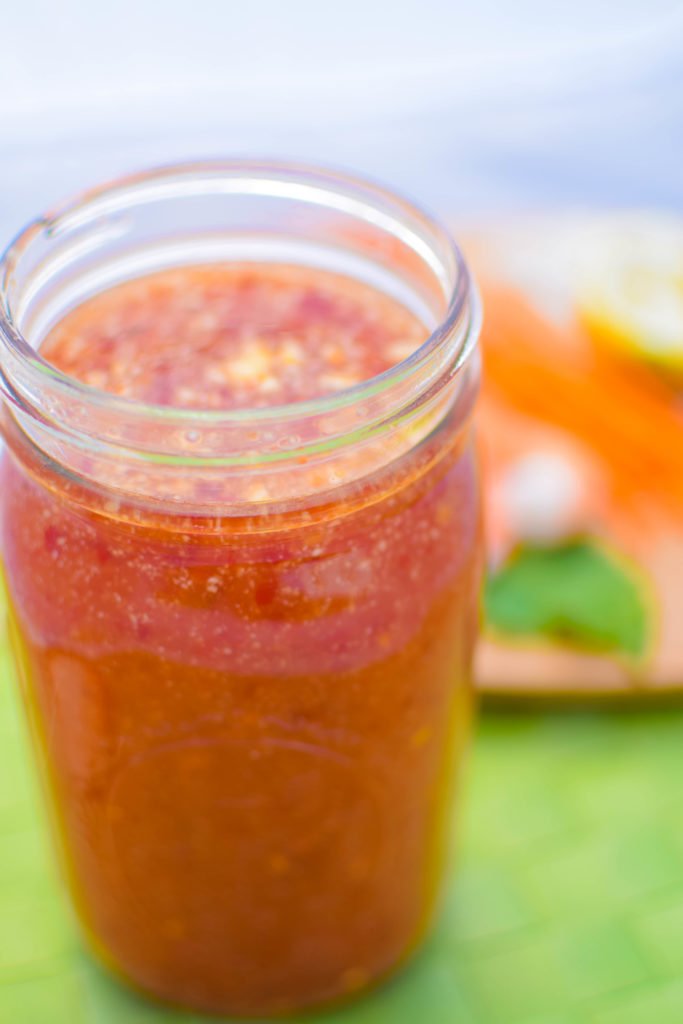 Yes, my husband is a very talented chef, so it is no surprise to come home to new and unique things in the fridge. This week, fish sauce. I was skeptical when he told me this would make a delicious Thia Shrimp dish, but he was right (just don't tell him I said that). And this dish couldn't be any easier to make. If you dedicate just 30 minutes on Sunday to boil your noodles and chop your veggies then later on in the week all you will need to do is throw all of the ingredients in a bowl or Tupperware container.
Quick & Healthy Lunch: Cold #Spicy Thai #Shrimp Bowl | #TheRecipeRedux Click To Tweet
This dish features soba noodles, the traditional noodle of Japan, which are made entirely of buckwheat flour. Contrary to the name, buckwheat is actually not wheat at all and is, in fact, gluten-free by nature. High in protein, fiber, iron and an important nutrient called manganese, these noodles are nutritionally superior to white pasta.
Because including veggies whenever possible is important to me, and should be to you too, I paired my soba noodles with an equal amount of zoodles (zucchini noodles). Together these two 'noodles' make a delightfully refreshing and crunchy base for this cold salad and help to reduce the amount of carbohydrates consumed in the meal while sneaking in an extra vegetable serving. This dish is also bursting with flavor from the bell pepper, onion, and carrot slices which further contribute to your daily veggie intake!
Spicy Thai Shrimp Bowl
This Spicy Shrimp Thai Bowl a veggie-packed dish just bursting with flavor!
Author:
Emily Kyle, MS, RDN
Ingredients
Spicy Thai Sauce

¼ cup fish sauce (you can get this at your local oriental market)
¼ cup fresh squeezed lime juice
2 tablespoons Sambal Oelek (also known as ground fresh chili paste, you can get this at your local oriental market).
2 tablespoons fresh chopped garlic
½ cup white sugar
1 cup warm water
Bowl Ingredients

1 box of soba noodles
1 bell pepper, cut into julienne strips
2 carrots, cut into julienne strips
1 onion, very thinly sliced
1 zucchini, spiralized (don't have a spiralizer? Just cut into julienne strips)
1.5 pounds of frozen cooked shrimp, thawed
¼ cup crushed cashews
¼ cup chopped scallions
Instructions
Ideally, you would prep your spicy Thai sauce a few days ahead of time to let the flavors marinate, but if that's not an option, that's okay too!
Combine all ingredients for the spicy Thai sauce in a mason jar. Secure the top and shake vigorously for 2 minutes. You want to ensure the sugar is completely dissolved.
Bring a large pot of water to a boil. When boiling, cook the soba noodles according to the package directions.
While the noodles are cooking, cut your bell pepper, carrots, onion and spiralize or cut your zucchini.
Now if you're meal prepping, you can just store the ingredients in the fridge, including the noodles until you're ready to put everything together.
When ready, combine ¼th of the soba noodles with the ¼th of the zoodles.
Add ¼th of the vegetables and ¼th shrimp in a large bowl. Add 2 tablespoons of the spicy Thai sauce and toss well.
Making this for lunch? Throw all the ingredients into a Tupperware container & shake! That's it!
If you're making this dish at home, feel free to garnish your dish with some scallions and chopped cashews.
I hope you enjoy this cold spicy thai shrimp bowl as a  tasty lunch and learn that a little bit of time spent prepping meals on the weekend can lead to a fantastic, easy, and delicious meal all week long!
Do you love meal prepping? Let me know in the comments section below! 



P.S. Are you interested in learning more about plant-based eating? Do you want to get healthy & stay happy without ever having to diet again? Be sure to sign up below for your free 5 Day Plant-Based, No Added Sugar, Meal Plan to see exactly how delicious plant-based eating can be!
BEFORE YOU GO!
Subscribe to get your weekly dose of holistic wellness, health & happiness!
The following two tabs change content below.
I am a registered dietitian nutritionist located in Rochester, NY and the founder of
The School of Health & Happiness
, an online program that teaches women like you how to get healthy, and stay happy, without ever having to diet again! My popular
blog
Emily Kyle Nutrition focuses on plant centric, whole food
recipes
, and real-life evidence-based nutrition information. Learn more about me
here
.
Lets Connect!   
Facebook
»
Instagram
»
Twitter
»
Pinterest
♥
Latest posts by Emily Kyle (see all)