This page may contain affiliate links. Read my full disclosure here.
This Strawberry Watermelon Sparkling Lemonade, featuring Lipton® Strawberry Watermelon Iced Herbal Tea, sparkling water and freshly muddled strawberry lemon juice, has been brought to you by my proud partnership with Unilever®. All opinions expressed are my own.
As Featured on Good Day Rochester
My Tea Obsession
If someone were to ask me what my dream brand to work with would be, it would hands down be Lipton® tea. Now I don't just say that because we've partnered together in the Agents of Change Program in 2016 and 2018, I say that because Lipton® Tea has always been a staple in my family.
That's right, I grew up drinking Lipton® Tea, with that classic yellow tag hanging over the side of my mug.
Tasting different types of tea at the Tea Lab inside the Unilever headquarters.[/caption]
I've talked about it often, but rather than sending us to bed with a warm glass of milk, my parents always sent my sister and I to bed with a warm mug of tea.
Lipton® Black Tea to be exact, with half a spoonful of sugar and a splash of half-and-half.
Truly my one comfort food, you can come to my adult home today and you will no doubt find at least one finished cup of tea on the counter with a Lipton® tea bag inside.
And now that I have a little boy of my own, it is even more special to share the tradition of enjoying a cup of tea before bed.
Iced Tea from Lipton
Fast forward to present day, and I have had the incredible pleasure of meeting Alex White, the Pure Leaf® Tea Master, twice now thanks to my work with Unilever®.
His passion for the art and craft of tea making is incredible, and he has truly opened up my eyes to an unlimited world of tea possibilities that go far beyond the traditional black tea.
At our last event together, we had the opportunity to try many, many different types of herbal tea – all made from different plants and different parts of the plants (think flower buds, petals, leaves, seeds, stems and even tree bark).
The sheer variety of the different types of teas that provided such beautiful, natural color and flavor had me in literal tea heaven, and really turned me on to trying new types of tea.
My new favorite? Lipton® Strawberry Watermelon Iced Herbal Tea. I didn't realize how easy it is to brew Lipton® tea either hot or iced, expanding my summer time tea drinking possibilities. It is so easy to make it your own by adding a few slices of fruit or garnishing with your favorite herbs and spices.
Tea for Health
With no artificial flavors, colors, added sweeteners, or caffeine, Lipton® Strawberry Watermelon Iced Herbal Tea is a refreshing blend, that the whole family can enjoy. Carefully crafted with caffeine free andsweet herbs, this tea has no added sugar and still tastes great.
So how does it taste so good and produce such a beautiful deep color? The tea blenders at Lipton have masterfully combined a variety of herbs to deliver this mouth-watering flavor derived from rosehips, hibiscus and chamomile flowers, orange peel, licorice root, and sweet and more.
Lipton® unsweetened tea is 99.5% water, making it just as hydrating & refreshing as traditional, plain water with zero calories.
If you're into other varieties, such as green tea, Lipton® 100% Natural Green tea may also help you maintain a healthy heart as it contains 150mg of flavonoids.*
*Daily consumption of at least 400mg of flavonoids may help maintain a healthy heart as a part of a diet consistent with dietary guidelines.
What I also learned with my time at Unilever®is that all Lipton®tea bags have been sustainably sourced from Rainforest Alliance Certified estates. The Rainforest Alliance is an independent organization that works with individuals, communities and companies to reduce environmental impacts and ensure sustainable livelihoods.
As part of Unilever's Sustainable Nutrition Manifesto to make progress toward a healthier, sustainable food system, Lipton® is guided by the vision of food that tastes good, does good, and doesn't cost the earth.
Strawberry Watermelon Sparkling Lemonade
This Lipton®Strawberry Watermelon Iced Herbal Tea truly is amazing on its own, hot or iced, but I like to make things fancy 😉
This Strawberry Watermelon Sparkling Lemonade contains no artificial colors or ingredients and is a beautiful addition to any party or get-together.
The preparation method is simple, you just need to know how to muddle your fruit.
Muddle your fruit?
As defined by The Kitchn:"Many warm weather cocktails use fresh ingredients such as herbs and fruit, and often, muddling is required. To muddle means to press the ingredients against the side of the glass with a muddler. Muddling helps to release the flavors of the fresh ingredients".
No worries if you don't have a muddler stick, you can simply use whatever you have on hand, like the back of a spoon.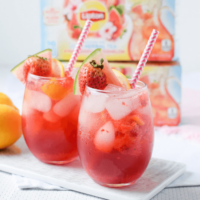 Strawberry Watermelon Sparkling Lemonade
Featuring Lipton Strawberry Watermelon Iced Herbal Tea, sparkling water and freshly squeezed lemon juice this festive cocktail is just as delicious as it is nutritious and hydrating.
Ingredients
4 cups boiling water
2 bags Lipton® Strawberry Watermelon Iced Herbal Tea
1/2 cup strawberries, washed and sliced
1/2 lemon, cut into wedges
1 cup sparkling water, unflavored
4 cups ice
Instructions
Brew 4 cups of boiling water. Add the tea bags and steep for 4-5 minutes. 
While the tea is brewing, muddle together the strawberries and lemon slices using a muddler or wooden spoon. 
Divide evenly among 4 large glasses, removing the lemon rind as able. Fill each glass to the top with ice.
Fill each glass half-way with brewed tea. Refill each glass with ice as needed.
Top each glass with 1/4 cup sparkling water. Gently stir just before enjoying.
Recommended Products
As an Amazon Associate and member of other affiliate programs, I earn from qualifying purchases.
Nutrition Information:
Yield:

8
Serving Size:

1/2 cup
Amount Per Serving:
Calories:

20
Total Fat:

0g
Saturated Fat:

0g
Trans Fat:

0g
Unsaturated Fat:

0g
Cholesterol:

0mg
Sodium:

7mg
Carbohydrates:

4g
Fiber:

1g
Sugar:

3g
Protein:

0g
Download Your FREE Meal Plan Before You Go!
If you're looking for additional help in meal planning or discovering new and delicious recipes to try, be sure to download my Free eBook – The Happy & Healthy Flexible Meal Plan below:
---
Welcome! I'm Emily Kyle, a nationally recognized media registered dietitian nutritionist & holistic cannabis practitioner providing holistic health care for those living with autoimmune and inflammatory conditions. To help you, I offer food sensitivity testing, cannabis education, and this blog which provides free resources including anti-inflammatory recipes, holistic health, wellness and nutrition related articles, and evidence-based cannabis education.