This post may contain affiliate links, to find out more information, please read my disclosure statement.
Enjoy this Thai Coconut Vegan Rice Pudding that is naturally gluten-free and easily made in the rice cooker for a quick and easy treat the whole family will love!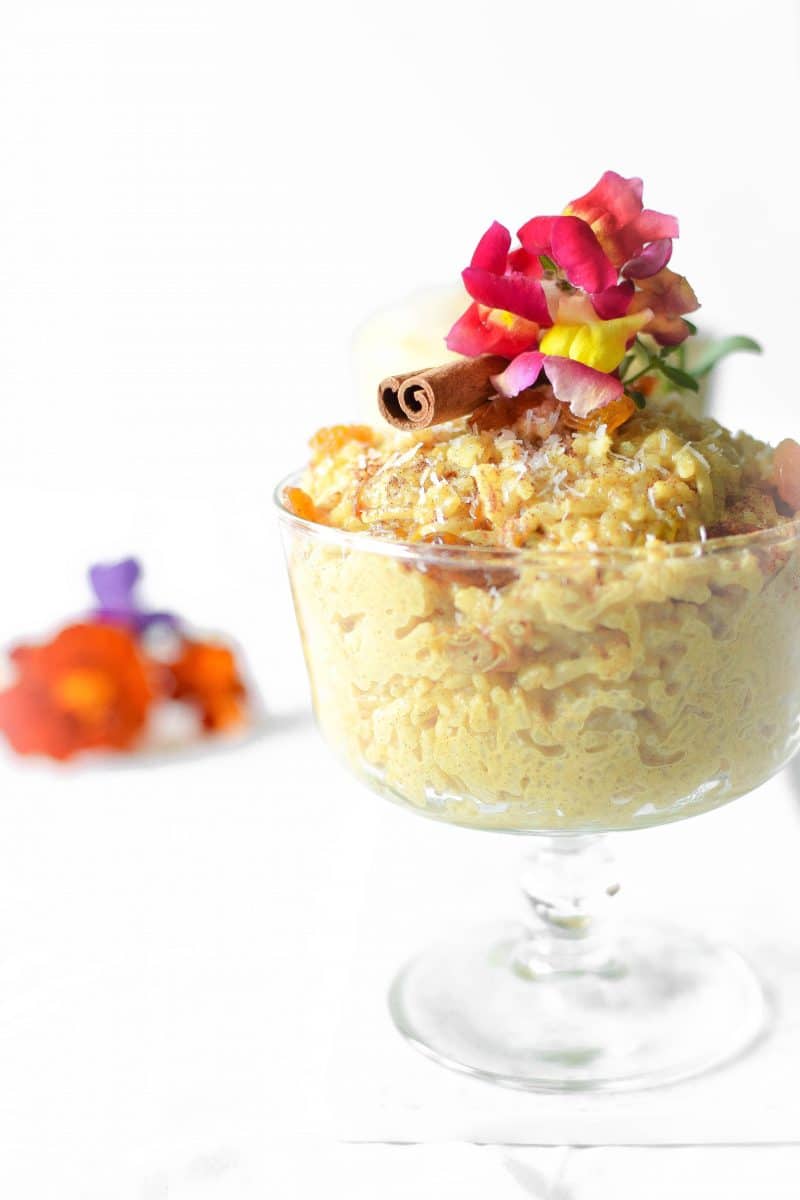 The Recipe Redux
It is that time of month again 😉
I swear, now that I work from home most of the time, my days all seem to melt together. I never know the date, and I'm lucky enough to know the days of the week. And just like it creeps up on me every month, it is time again for another round of The Recipe Redux which happens on the 21st of every month.
We are keeping it cool with this months theme:
Beat the Heat with the Slow Cooker/Instant Pot/Pressure Cooker

Whether you go slow or fast, just don't turn on the oven. Show us how to keep the kitchen cool by using one of these appliances: Slow cooker, instant pot, pressure cooker. (If you have none of these, use the microwave, rice cooker or another keep-cool appliance.)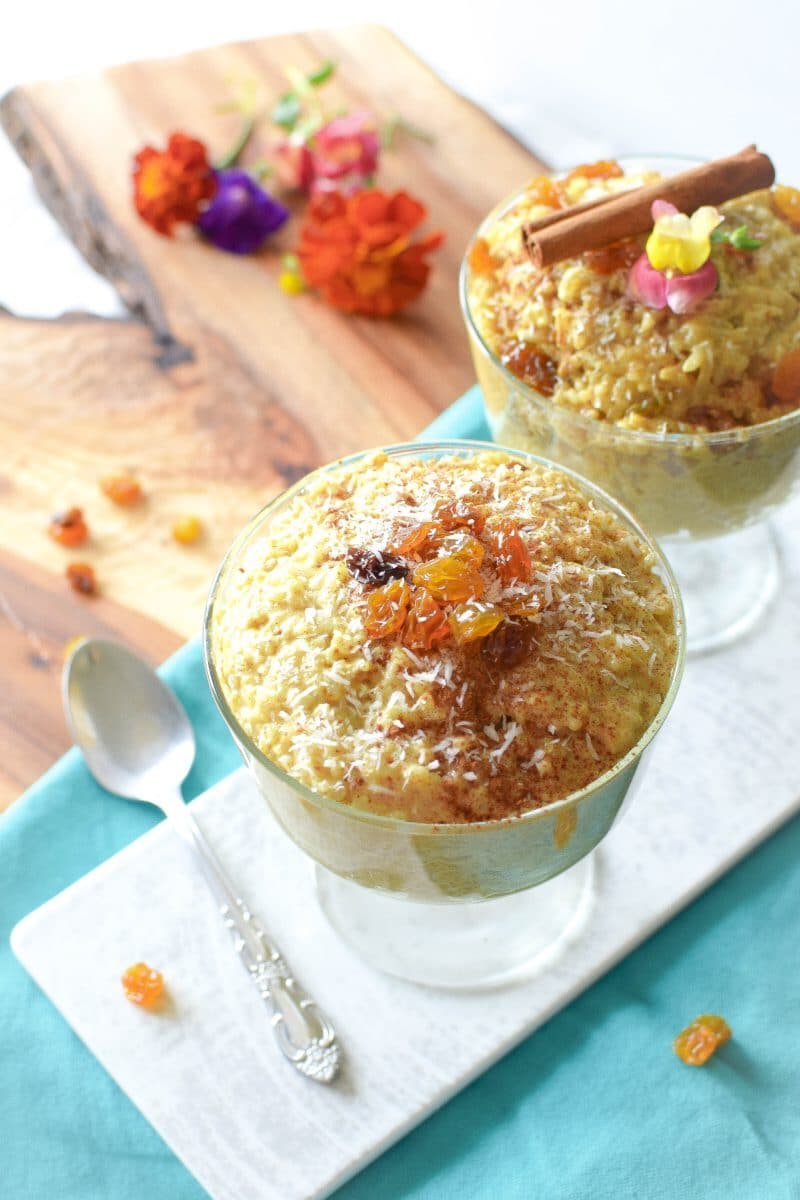 But I'm a Minimalist…
As I get older, each day I turn more and more into a minimalist. I hate clutter and I hate useless things that take up space in my home, especially on the kitchen counter. Which is why I do not have an Instant Pot or a pressure cooker and hate my slow cooker (it's just too cumbersome). I even had the microwave built into our pantry so I could hide it behind closed doors!
So when my husband, equal parts chef and hoarder, brought home this rice cooker (affiliate link), I was none too thrilled. "We barely eat rice", I complained. Well, let me tell you, its been a year later and I freaking love that thing
I know, I know, cooking rice the traditional way is not that hard. But it is! You have to stir it, you have to make sure it never bubbles over, you have to make sure it doesn't burn to the bottom of the pan, and you actually have to pay attention to it. I'm a millennial and I just don't have time for that 😉 😉
Really though, I've been spoiled to see how easy this is and now I can never go back. You literally put the rice and the water inside the pot, close the door, push the button and walk away. Now that makes me happy. And it cooks perfectly every time, no more al dente rice, ewww. Plus, you can cook more than just rice, you can cook nearly any grain from quinoa to oatmeal.
So the rice cooker gets to stay in my kitchen. If you don't have a rice cooker, you can still make this recipe the old fashioned way. But now you know how awesome it can be, why don't you just grab one of these rice cookers before you go.
I've been working like crazy this summer gearing up for my September launch of my nutrition school, The School of Health & Happiness. I am so excited to bring this program to life and share it with the world, but it has been a lot more work than I anticipated! Needless to say, I've been trying to do a lot of batch cooking, meal planning, and easy recipe creating so I can spend less time in the kitchen and more time werk, werk, werking (la la la la).
Next month is also the one year anniversary of my Grandma June's passing, and as I get closer to the date I can't help but think of her more. She was the one who inspired me to pursue my dreams in business and to put myself out there, always believing in me and my ideas. She more than anyone would be proud to know I am launching my dream project soon.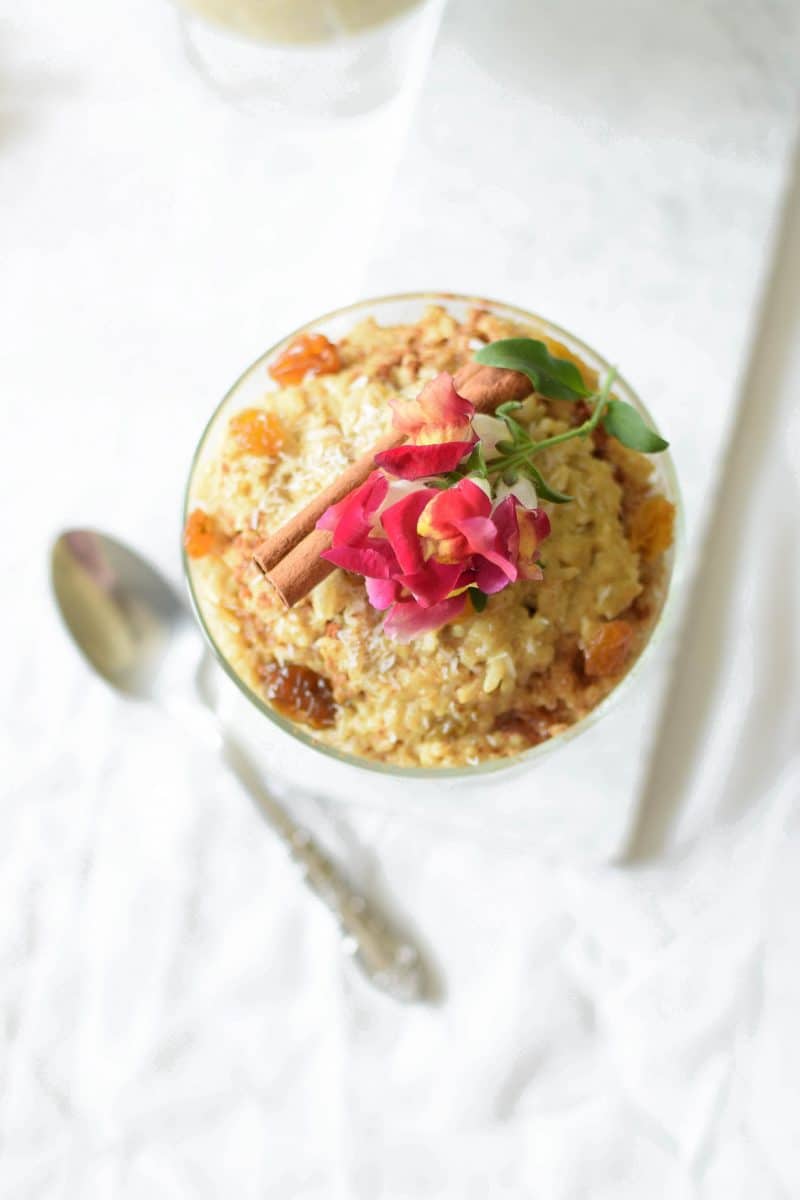 Thai Coconut Vegan Rice Pudding
Grandma June is the one who created my love for rice pudding. Of course, ours was always from the diner, not quite healthy or gourmet, but amazingly delicious none the less. I'm sure she would love my version just as much, even more if I had made it for her ♥
Now if you haven't noticed, I'm kind of obsessed with turmeric and purposefully add it to just about anything and everything and this recipe is no exception. If it can help to prevent inflammation in the body, give it all to me! Combined with the coconut milk, ginger, and cinnamon this rice pudding now has a slightly tropical flavor with the familiar comforts of the traditional version.
Lightened up with golden raisins, my version rice pudding is just as good served cold as it is warm and serves well in both the winter and summer months. You can always feel free to add more raisins and even some toasted coconut to the top for added texture and flavor. Edible flowers are optional!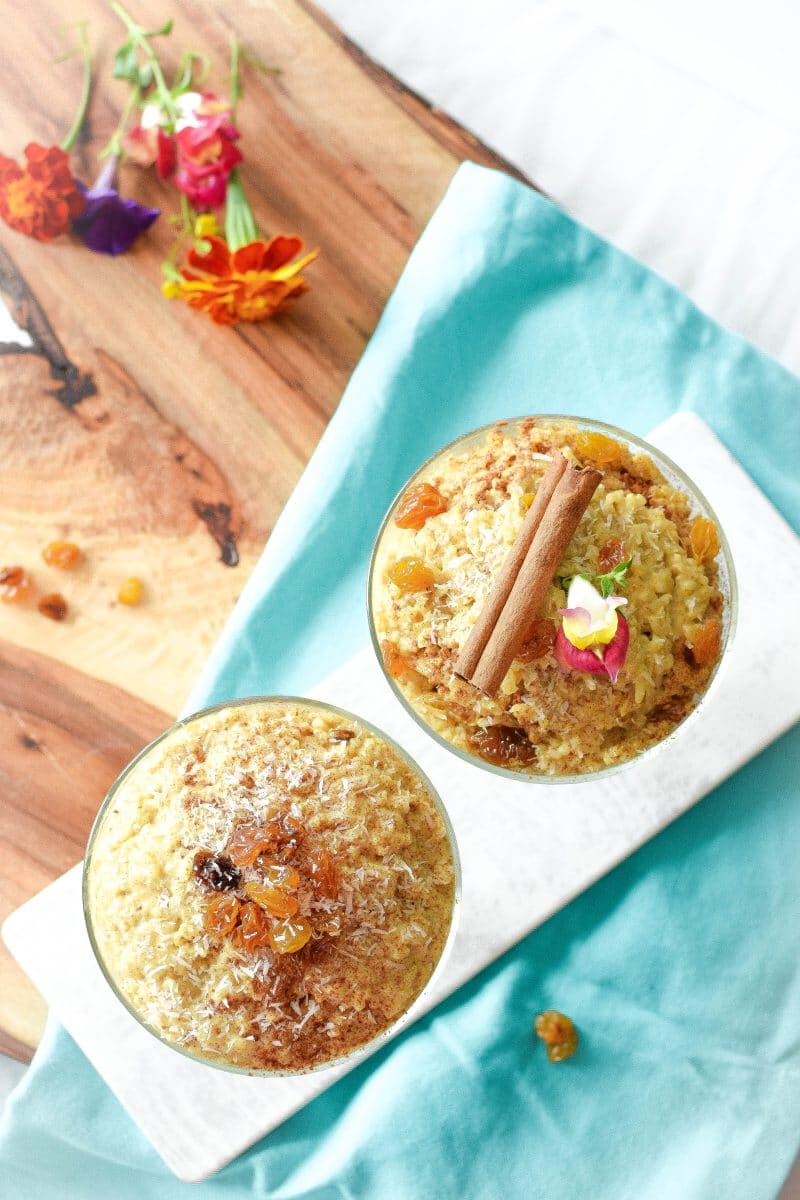 I am so thankful for the time I had with my Grandma June and miss her like crazy everyday! I love finding small ways to remind me of her, and I think that cooking is a great way for many of us to feel connected to special memories or happy times in our life.
Food has an amazing ability to bring us together as friends and family ♥
Click Here to Download Your 5 Day Happy & Healthy Meal Plan – FREE!

Thai Coconut Vegan Rice Pudding
Enjoy this Thai Coconut Vegan Rice Pudding that is naturally gluten-free and easily made in the rice cooker for a quick and easy treat the whole family will love!
Ingredients
2

cups

of jasmine rice

dry

4 1/2

cups

of unsweetened vanilla coconut milk beverage

divided

1

can of full fat coconut milk

cream only

2

tablespoons

of stevia

or sweetener of choice, optional

2

teaspoons

of ground cinnamon

1/2

teaspoon

of ground turmeric

1/2

teaspoon

ground ginger

1 1/2

teaspoon

vanilla extract

1/2

teaspoon

coconut extract

1/2

cup

golden raisins
Instructions
In a

rice cooker

, combine the dry jasmine rice and 3 1/2 cups of the coconut milk beverage.

Turn the rice cooker on and choose the white rice option. It should take approximately 45 minutes to cook.

Once the rice is ready, stir in the cream from the top of a can of full fat coconut milk. Save the rest for another recipe. This is what makes this recipe extra creamy and delicious!

Stir in the remaining ingredients: stevia, ground cinnamon, turmeric, ginger, vanilla and coconut extract and golden raisins.

Note* The recipe includes and extra 1 cup of coconut milk beverage. This is for you to use at your own discretion, depending on how thick or runny you like your rice pudding. Everyone likes it different, so make it however you will enjoy it the most!

Garnish with more golden raisins as desired.

Enjoy!
I hope you enjoy this recipe as much as I do! And if you have made it yourself, feel free to let me know in the comments below!


The following two tabs change content below.
Hi there, I'm Emily Kyle, a nationally recognized media dietitian & nutrition communications expert on a mission to help you create the happy & healthy holistic lifestyle you deserve. To help you on your wellness journey, I offer holistic health counseling and resources that focus on holistic health & wellness, anti-inflammatory, whole food recipes, and my love for gardening inside #TheMillennialGarden.
Latest posts by Emily Kyle (see all)