This post may contain affiliate links, to find out more information, please read my disclosure statement.
I am thrilled to announce the arrival of my new cookbook The 30-Minute Thyroid Cookbook: 125 Healing Recipes for Hypothyroidism and Hashimoto's which is now available for preorder on Amazon.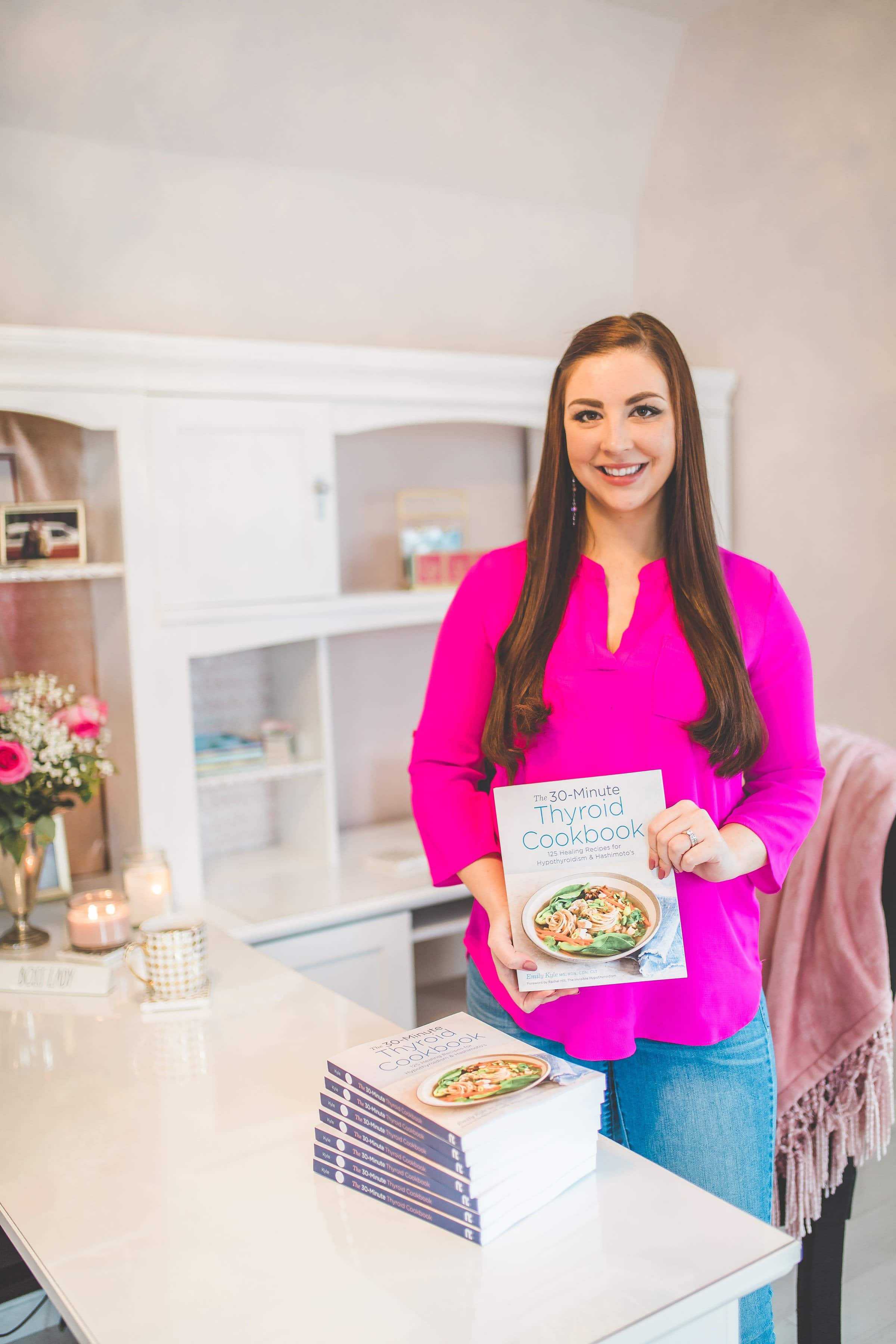 The 30-Minute Thyroid Cookbook: 125 Healing Recipes for Hypothyroidism and Hashimoto's
My face says it all, that amazing feeling when your secret is finally out. Did you catch my official announcement in my Facebook LIVE?
I WROTE A COOKBOOK
It feels so good to finally be able to say that out loud. I've been keeping it a secret from you all for so long now.
The 30-Minute Thyroid Cookbook: 125 Healing Recipes for Hypothyroidism and Hashimoto's IS FINALLY HERE and it is going to be available on Christmas Day.
Here is the official overview:
The 30-Minute Thyroid Cookbook offers the fastest, everyday recipes to take control of hypothyroidism and Hashimoto's symptoms for long-term relief.
When you're dealing with symptom flare-ups, the last thing you want to do is spend hours cooking. The 30-Minute Thyroid Cookbook offers quick recipe solutions to manage hypothyroid and Hashimoto's symptoms, so that you can get in and out of the kitchen and back to your life.
From Crispy Baked Tempeh Fingers to Rub Roasted Pork Tenderloin, these no-fuss recipes combine quick and easy prep and cook times for table-ready meals in 30-minutes or less. Complete with a guide to setting up a thyroid-friendly kitchen, plus tons of tips and tricks to make home cooking easier, The 30-Minute Thyroid Cookbook is an everyday solution to get long-term symptom relief.
The 30-Minute Thyroid Cookbook includes:
An essential introduction that explains the thyroid-diet connection, and offers instruction on foods to eat and avoid, along with guidelines for preparing your pantry and eating out.
125 recipes that are all gluten-free and dairy-free, and ready to eat in 30-minutes or less.
Quick reference labels that allow you to choose what to eat based on your needs, with labels for Paleo, Autoimmune Protocol (AIP), Elimination Provocation (EP), and more!
Don't let a busy day get in the way of eating foods that support optimal thyroid function. Heal your body with nourishing, quick and easy recipes from The 30-Minute Thyroid Cookbook.
CHECK IT OUT ON AMAZON
The Foreward
The Invisible Hypothyroidism website is an invaluable resource for a realistic, compassionate, and knowledgeable approach to living, and thriving, with thyroid conditions.
The founder, Rachel Hill, is a Thyroid Patient Expert and Advocate and is a trusted resource among the thyroid community. I am so thankful that she shared her knowledge and credibility when writing the forward to this book, and I hope you find her to be a valuable resource on your health journey.
Learn more about Rachel Hill and The Invisible Hypothyroidism here.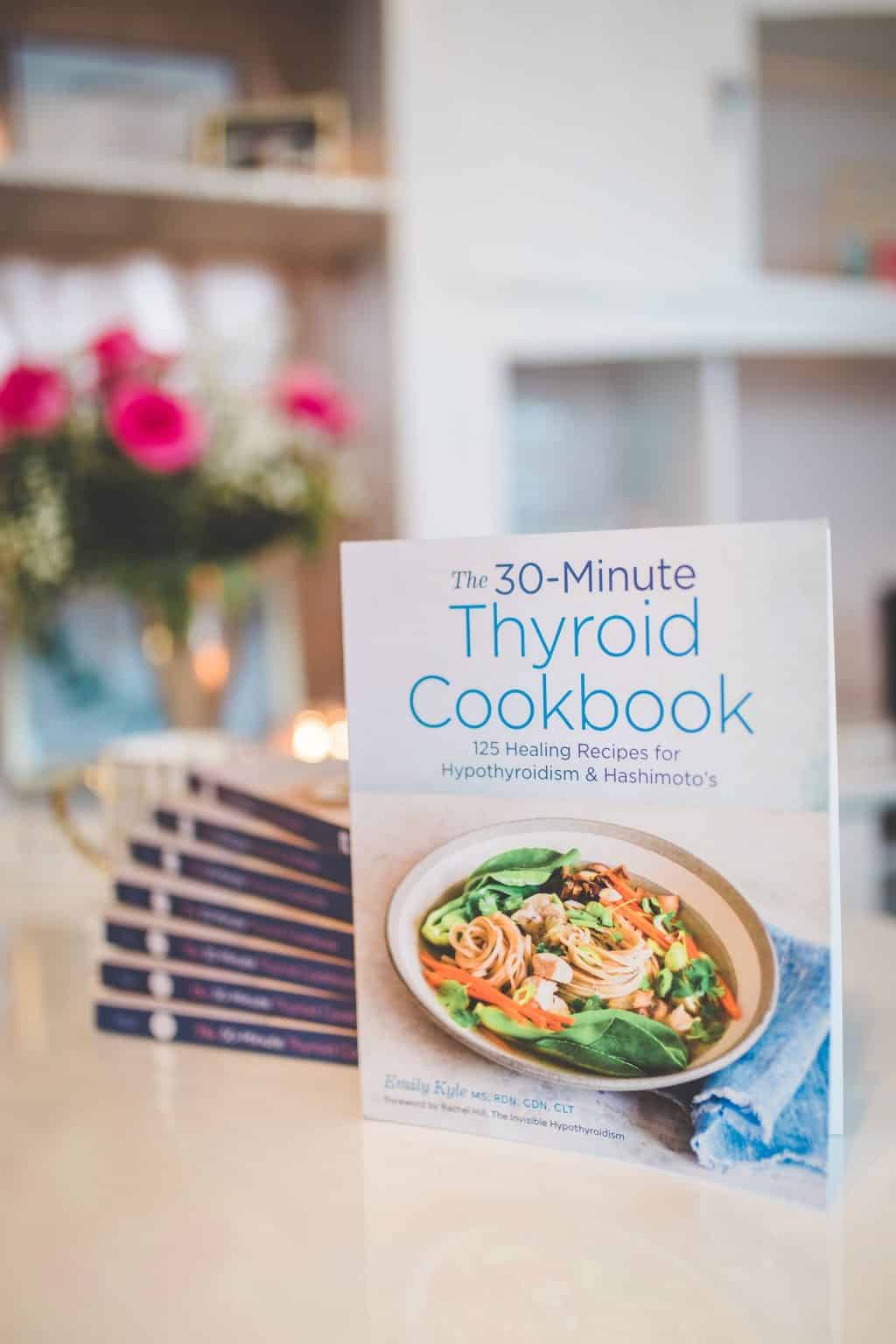 My Inspiration
As many of you know, I have suffered through my own health issues, which was the catalyst for working on this book. With my focus on autoimmune conditions, I am so excited to bring this to the millions of women living with Hashimoto's and Hypothyroidism.
The book itself is dairy-free and gluten-free and goes deep down into the autoimmune protocol, the elimination provocation diet, the paleo diet and even vegan and plant-based diets to help you identify your own inflammatory triggers and create a personalized diet that is right for you.
Over the next 6-weeks I will be sharing recipe excerpts, sneak peeks, and MORE with you gearing up for the official launch day on Christmas, but you can preorder on Amazon starting now.
As I said in my live video – THANK YOU to everyone who has supported me during this journey, this is just the beginning and I can't wait for what is to come! ♥️🎉
PREORDER YOUR COPY NOW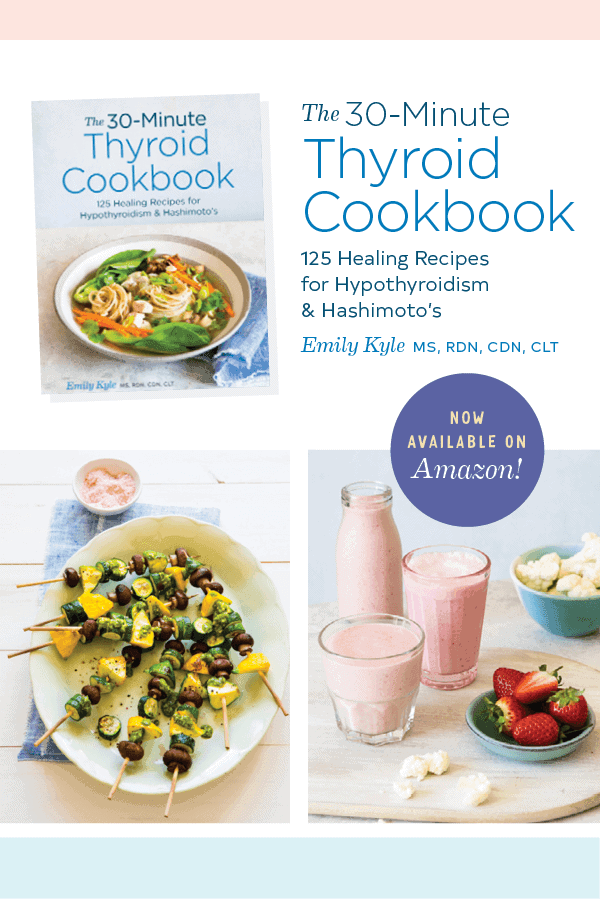 And even more importantly, please share this book with an autoimmune warrior on social media or in the comments below – it is my goal that this book helps as many people possible.
DON'T FORGET YOUR MEAL PLAN!
While you're waiting to get your hands on a copy of my book, you can get started today with a copy of my meal plan. If you're looking for additional help in meal planning or discovering new and delicious recipes to try, be sure to download my Free 16 page eBook – The 5 Day Happy & Healthy Meal Plan below!

Have you ordered your copy yet? Be sure to tag me on Facebook, Instagram, or let me know in the comments below ♥

The following two tabs change content below.
Hi there, I'm Emily Kyle, a nationally recognized media dietitian & nutrition communications expert on a mission to help you create the happy & healthy holistic lifestyle you deserve. To help you on your wellness journey, I offer holistic health counseling, resources inside The School of Health & Happiness, and this blog which focuses on holistic health and wellness, anti-inflammatory, whole food recipes, and my love for Mother Nature inside #TheMillennialGarden.
Latest posts by Emily Kyle (see all)