This smooth and creamy, vegan, and gluten-free Turmeric & Coconut Roasted Butternut Squash Bisque is an antioxidant-packed, anti-inflammatory one-pot-wonder the whole family will love.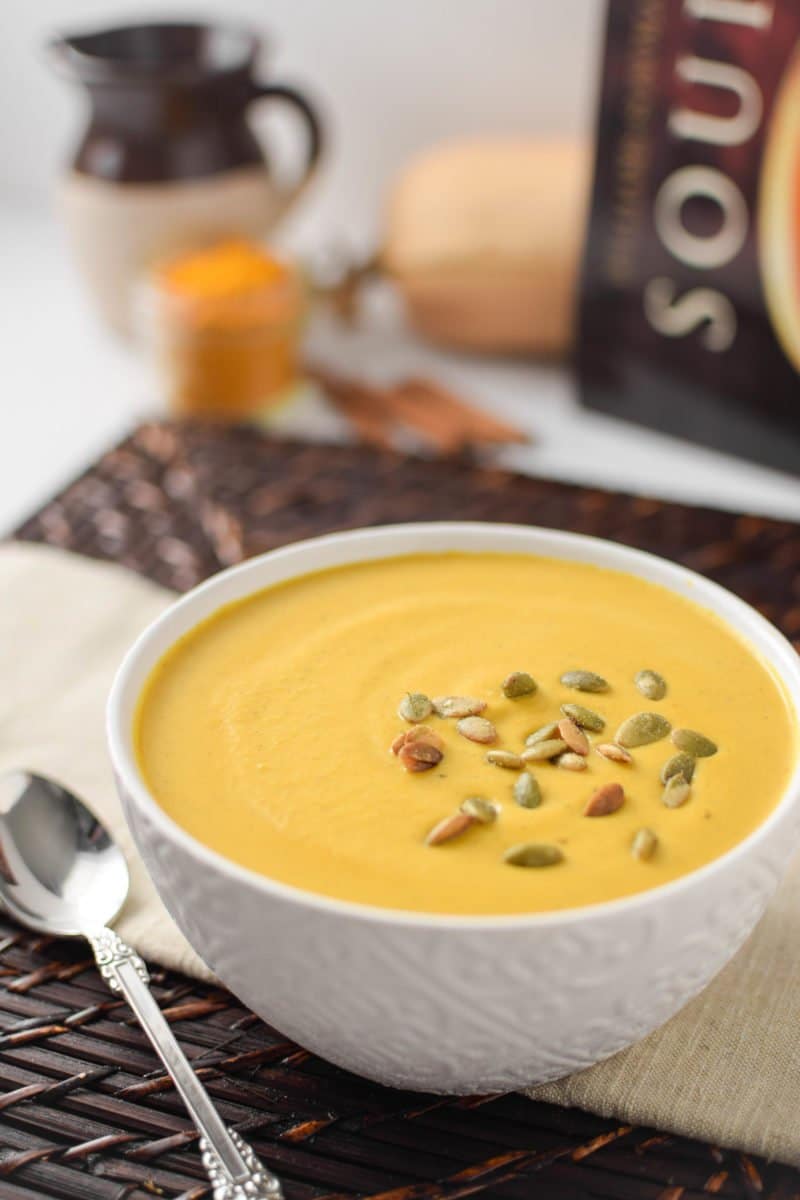 Turmeric & Coconut Roasted Butternut Squash Bisque
To date, this has been my most reader-made recipe from my blog.
Pinned nearly 60,000 times, people are always leaving reviews and taking pictures of their own version of this yummy soup, which is amazing!
This recipe was the first to make me realize that people are actually making my recipes.
Everyone has commented that they totally love this the way it is, so I promise not to update that.
But I am updating this post to add more information about the health benefits of these amazing ingredients and some cooking adaptations I've learned along the way. Enjoy!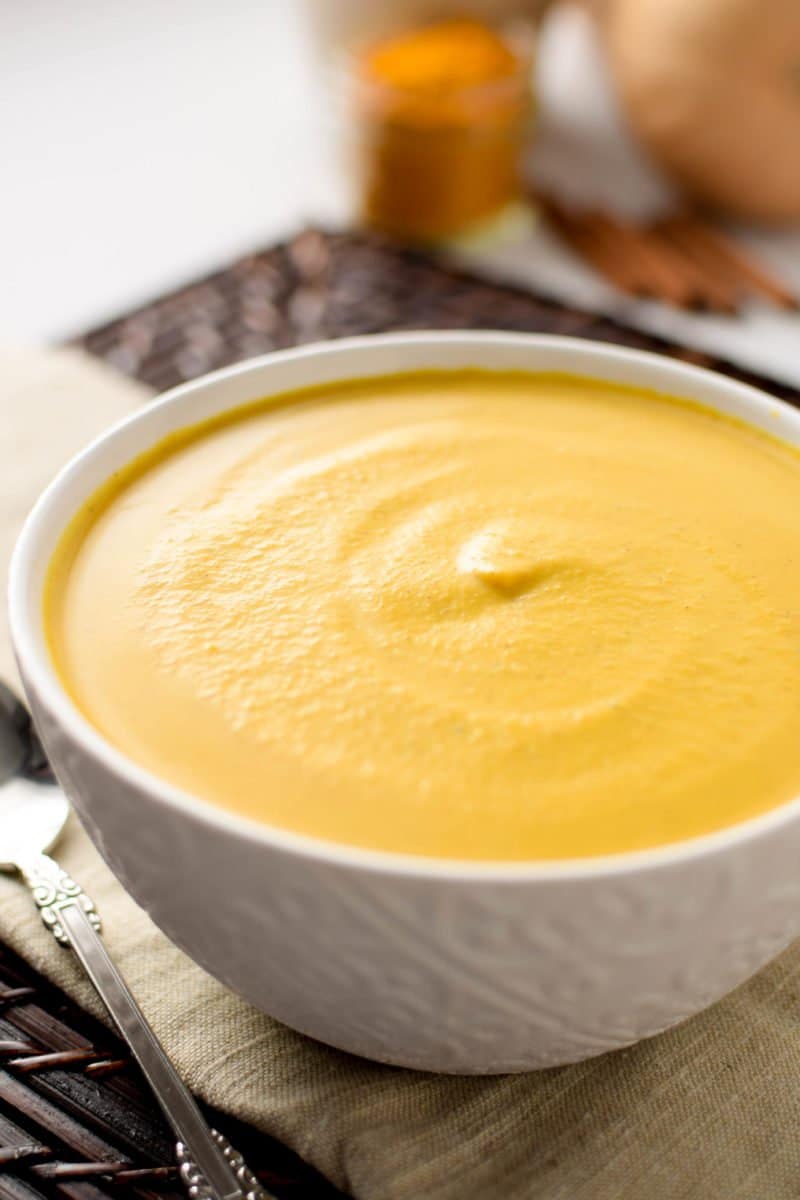 Homegrown Butternut Squash
It seems that everyone has a butternut squash soup recipe on their website these days, but I wanted to share my special twist as well using my own homegrown squash.
The Millennial Garden has brought me an amazingly bountiful garden harvest for nearly 6 years now, along with many other blessings.
My beautiful garden is long gone for the season, but I am still able to enjoy the bountiful harvest we had this year.
Thankfully, my husband is just as passionate as I am about our homegrown produce.
Last year he built us a temperature-controlled root cellar in the basement to help store all of our goodies, including the 40+ spaghetti squash, 30+ acorn squash, and all of these butternut beauties we harvested in September.
The Health Benefits of Butternut Squash Bisque
Eating and cooking food that is not only healthy and healing, but also tastes amazing, is the key to a long-lasting, enjoyable anti-inflammatory diet.
This soup does just that! The sweetness of the butternut squash and the coconut milk pairs well with the bold flavors of the warming spices like turmeric, cinnamon, and black pepper.
Health Benefits of Butternut Squash
Butternut squash, also known as winter squash, is one of the most popular squash varieties, and for good reason.
Not only does it have a sweet, mellow flavor, but it is packed with important nutrients and dietary fiber.
A good source of vitamin E, thiamine, niacin, vitamin B6, folate, and manganese, butternut squash is also of fiber and potassium.
The nutrients found in butternut squash help to aid in digestion, the regulation of blood pressure digestion.
Health Benefits of Turmeric
Turmeric is one of the hottest spices on the wellness scene right now, and for good reason. Prized for its ability to help reduce inflammation in the body, this warming spice is powered by the main active ingredient: curcumin.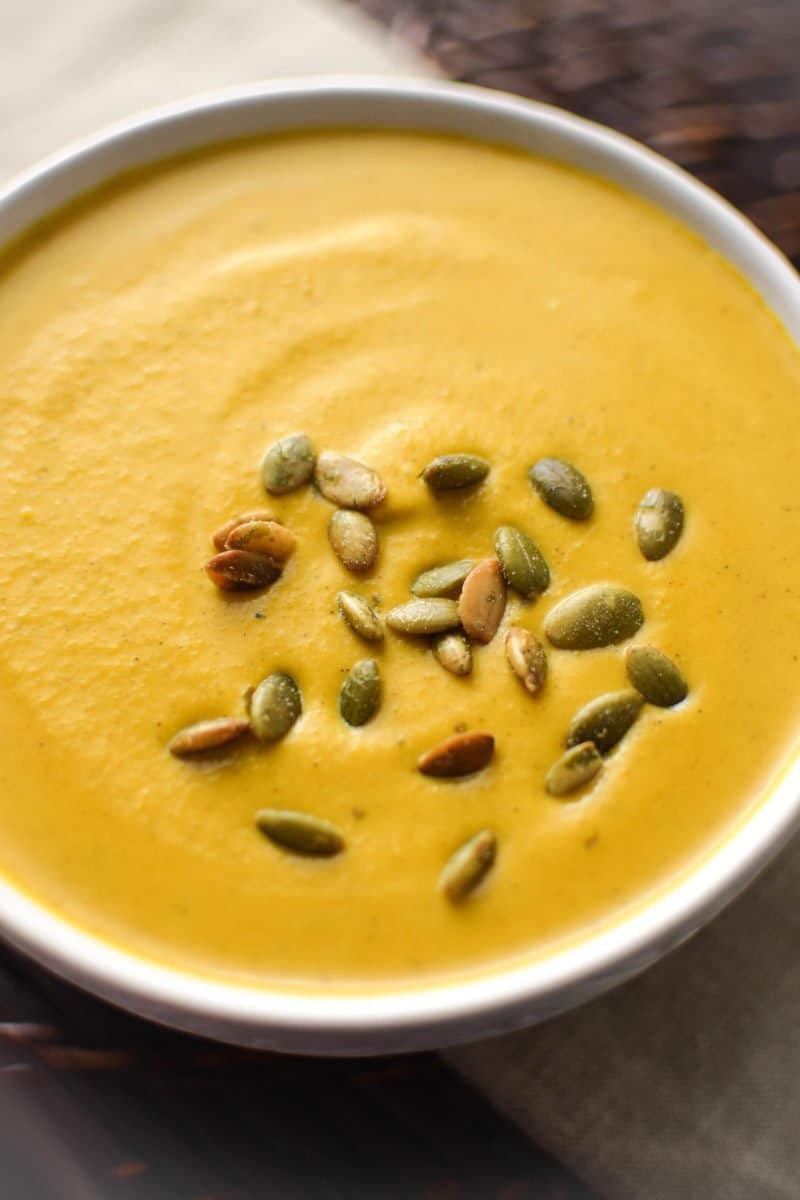 Butternut Squash Bisque Recipe & Cooking Tips
There is no doubt that roasting the butternut squash before cooking this soup adds a unique layer of complexity to the flavor profile of this dish, but it certainly is a time consuming step.
There are two ways to make this step easier:
Start with fresh, pre-cut butternut squash. At Wegman's you can find the 'Cleaned and Cut Butternut Squash' in the prepared produce section. It is more expensive, but sometimes I am willing to pay for convenience. I estimate you would need 8 cups of this for this soup.
You can purchase frozen 'microwaveable diced butternut squash'. You would just need to let it thaw before using. I estimate you would need 6 cups of this, thawed, for this soup.
One thing people have noted is that this recipe makes A LOT of soup.
I personally like to make a big batch and freeze the rest for chilly winter days, but if you don't want so much, you can easily half this recipe.
There is also a little slider bar under the number of servings in this recipe that you can adjust to make the specific amount that you want.
Depending on how much fat you like in your diet, you may want to consider swapping the 3 cans of coconut milk for six cups of unsweetened coconut milk beverage for a lighter soup.
Also, black pepper increases the bio-availability of the curcumin in the turmeric, so don't be shy to add more if you like the taste.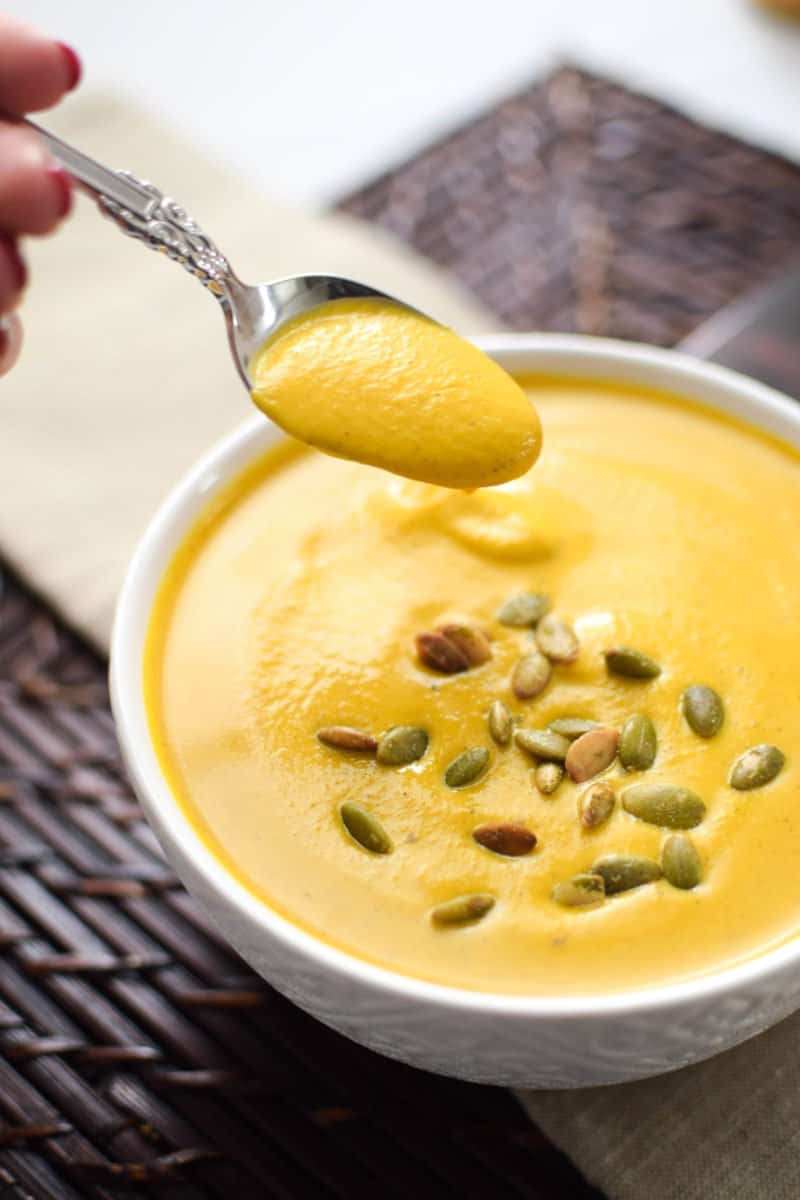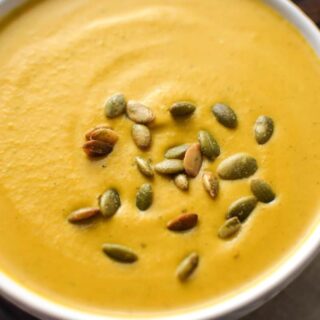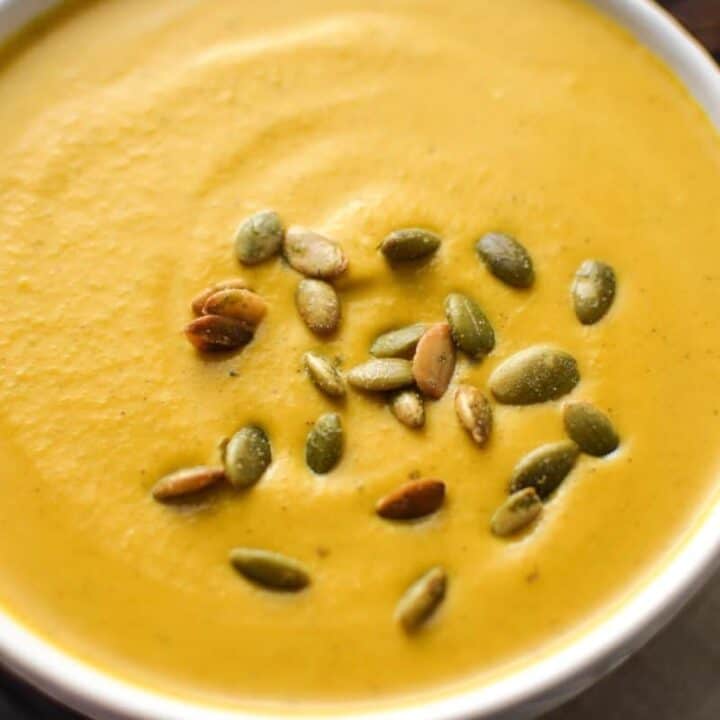 Turmeric & Coconut Roasted Butternut Squash Bisque
This smooth and creamy, vegan, gluten-free & Whole30 friendly Turmeric & Coconut Roasted Butternut Squash Bisque is an antioxidant packed, anti-inflammatory one-pot-wonder the whole family will love.
Instructions
Preheat the oven to 400 degrees Fahrenheit.

Using a large knife, carefully cut the butternut squash in half lengthwise. Scoop out the seeds.

Lay the butternut squash halves face up on a foil-lined baking sheet.

Drizzle with olive oil, salt, and pepper.

Roast in the oven for 1 hour, or until the squash is golden brown on the edges.

Remove the squash from the oven and let it rest until it is cool enough to handle.

Gently scoop the roasted butternut squash out of the skin and into a large soup pot. Discard the skin.

Add the coconut milk and turn the heat to medium, allow the coconut milk and butternut squash to warm for 10 minutes, stirring occasionally.

Add the vegetable stock and all of the spices.

Using an immersion blender, blend all of the ingredients together until the soup is smooth and creamy. 

Allow to cook over medium heat for another 30 minutes, stirring occasionally.

Serve garnished with pumpkin seeds if desired and Enjoy!
Notes
*No immersion blender? Throw all of the ingredients in a traditional blender and blend! Return to the soup pot when smooth.
Nutrition
Calories:
130
kcal
|
Carbohydrates:
18
g
|
Protein:
1
g
|
Saturated Fat:
4.5
g
|
Sodium:
220
mg
|
Fiber:
3
g
|
Sugar:
5
g
Did you make this recipe or have a question?
Join hundreds of members inside private Well With Cannabis Community for help, support, and to share your edible creations!