This smooth and creamy, vegan & gluten-free Turmeric & Coconut Roasted Butternut Squash Bisque is an antioxidant packed, anti-inflammatory one pot wonder the whole family will love!


 Turmeric & Coconut Roasted Butternut Squash Bisque
The Recipe Redux – It's that time of month again, time for another awesome The Recipe Redux themed recipe and another way to remind me just how fast this year has truly flown by.
You are going to love this Turmeric & Coconut Roasted Butternut Squash Bisque!
Click To Tweet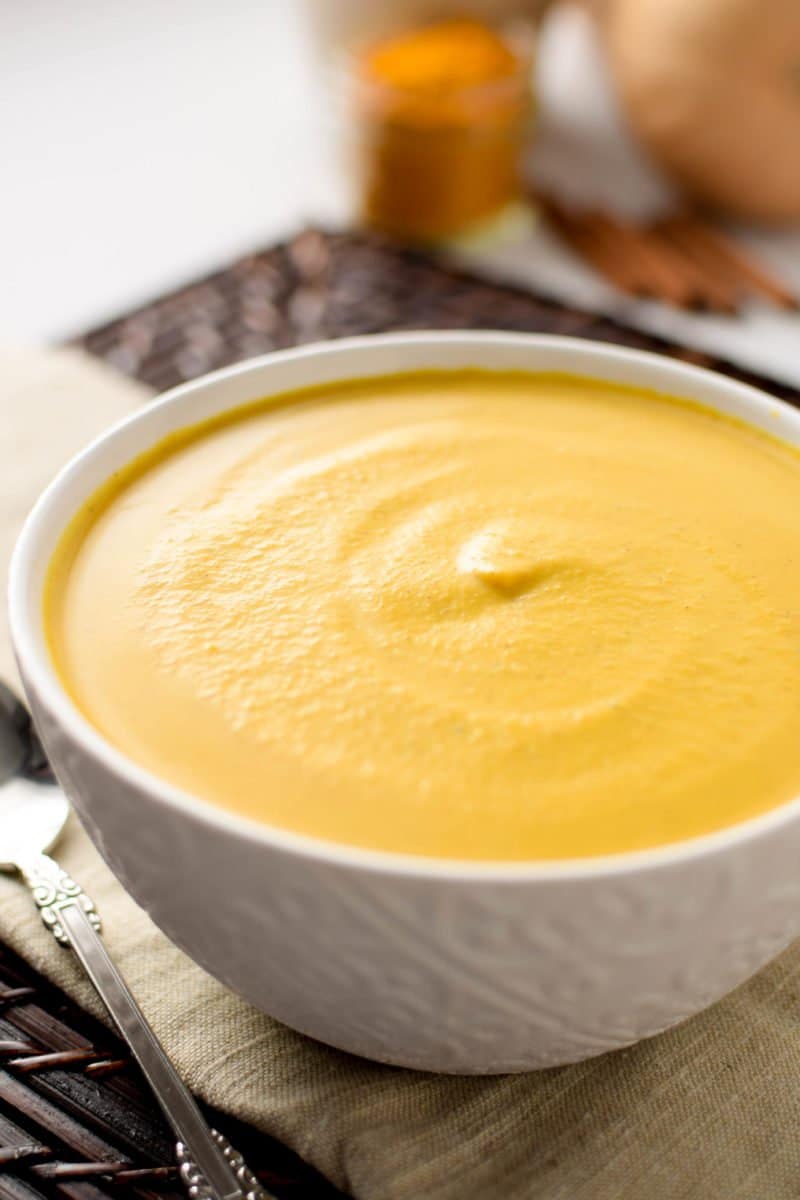 This recipe challenge came at the perfect time, as we have just remodeled our bedroom and I needed to put all the cookbooks back on the shelf. It was the perfect opportunity to look through all of these amazing books and gather some inspiration. One of the best things about being married to a Chef is all the beautiful cookbooks we have.
Over time the collection just seems to grow and grow. For this recipe I settled on recreating the beautiful bowl of squash soup on the cover of the William Sonoma Soup cookbook.
Why the cover you ask?
Because this year was a new beginning for me, the cover of what is to come in my business and my life. I am officially celebrating the 2 year anniversary of Emily Kyle Nutrition this month and love reflecting on all of the wonderful things that have happened this year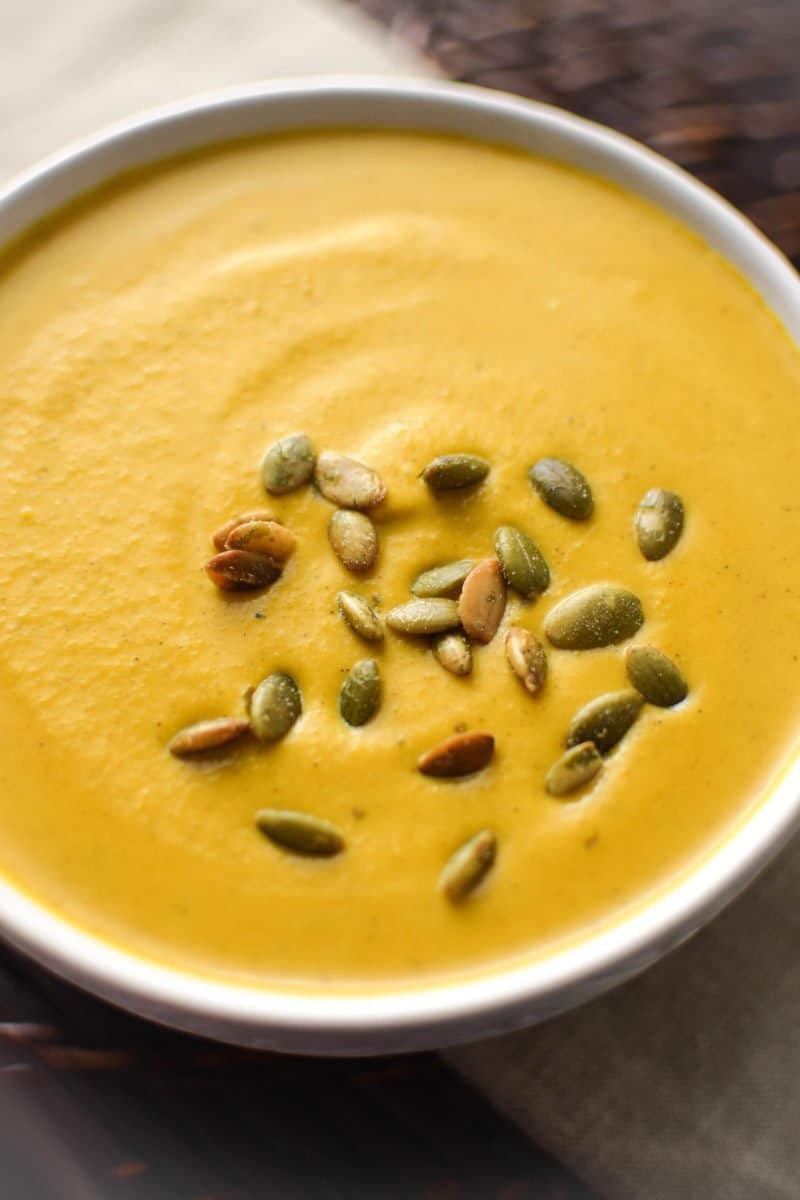 Homegrown Squash
The Millennial Garden has brought me an amazingly bountiful garden harvest along with many other blessings. My beautiful garden is now long gone, but I am still enjoying the bountiful harvest we had this year.
I am lucky enough to have a husband who is just as passionate as I am about our home grown produce. This year he built us a temperature controlled root cellar in the basement to help store all of our goodies, including the 40 spaghetti squash, 30 acorn squash, and all of these butternut beauties.

I need to start using up all of these squash, as they really only last about 6 months in the cellar, and I have A LOT to use. It seems that everyone has a butternut squash soup recipe on their website these days, but I wanted to share my special twist as well.
As Featured on Good Day Rochester
You know I love to share my favorite recipes on Good Day Rochester, so of course this tasty soup made its big debut! And guess what, everyone LOVED it! Watch the video below!
Click Here to Download Your 5 Day Happy & Healthy Meal Plan – FREE!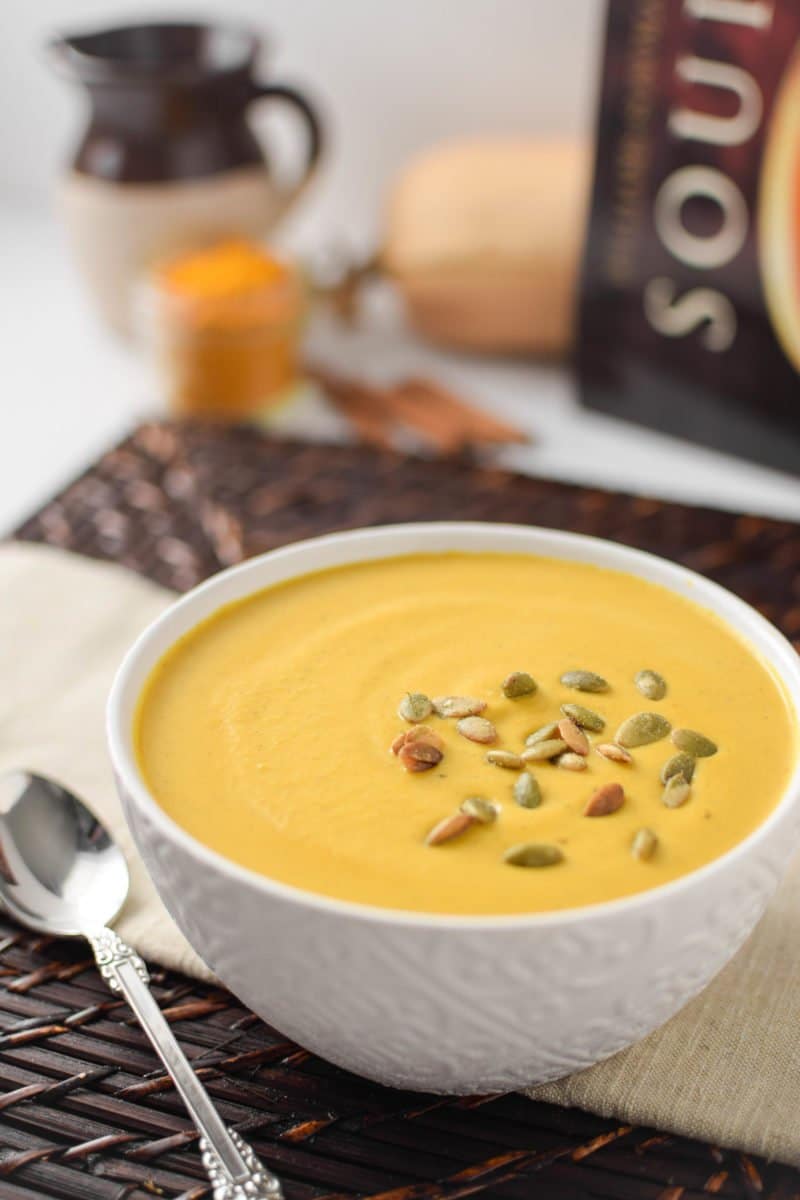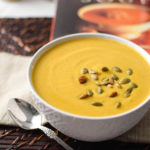 Turmeric & Coconut Roasted Butternut Squash Bisque
Turmeric & Coconut Roasted Butternut Squash Bisque
Ingredients
3

meduim size butternut squash

1

tablespoon

of olive oil

salt and pepper to taste

3

15 ounce cans of coconut milk

16

ounces

of vegetable stock

1

tablespoon

of granulated onion

4

teaspoons

of turmeric

2

teaspoons

of cinnamon

1/2

teaspoon

of cayenne pepper

1/2

teaspoon

of ginger

1/2

teaspoon

garlic powder

1/2

teaspoon

of salt

1/4

teaspoon

of cumin

1/4

teaspoon

of cloves
Instructions
Preheat the oven to 400 degrees Fahrenheit.

Using a large knife, carefully cut the butternut squash in half lengthwise. Scoop out the seeds.

Lay the butternut squash halves face up on a foil-lined baking sheet.

Drizzle with olive oil, salt, and pepper.

Roast in the oven for 1 hour, or until the squash is golden brown on the edges.

Remove the squash from the oven and let it rest until it is cool enough to handle.

Gently scoop the roasted butternut squash out of the skin and into a large soup pot. Discard the skin.

Add the coconut milk and turn the heat to medium, allow the coconut milk and butternut squash to warm for 10 minutes, stirring occasionally.

Add the vegetable stock and all of the spices.

Using an immersion blender, blend all of the ingredients together until the soup is smooth and creamy.

Allow to cook over medium heat for another 30 minutes, stirring occasionally.

Serve and Enjoy!
DON'T FORGET YOUR MEAL PLAN!
I hope you're inspired to try new and different recipes, like this Turmeric & Coconut Roasted Butternut Squash Bisque! And more importantly, I hope you're inspired to try new plant-based meal options.
If you're looking for additional help in meal planning or discovering new and delicious recipes to try, be sure to download my Free 16 page eBook – The 5 Day Happy & Healthy Meal Plan below!
I hope you enjoy this recipe as much as I do! This is a staple in my household during the cold winter months and I love the flavor and nutrition it brings to the table, literally!
Tell me, what's your favorite way to enjoy butternut squash? Let me know in the comments section below!


LETS STAY CONNECTED
Subscribe to the Wellness Wednesday Newsletter - holistic wellness, health & happiness delivered directly to your inbox!


The following two tabs change content below.
Hi there! I teach women like you how to get healthy, and stay happy, without ever having to diet again! To help you, I provide individualized nutrition coaching and have created
The School of Health & Happiness
, an online training program to help you develop a positive relationship with food. This blog focuses on holistic health, plant-centric, whole food
recipes
, and real-life Mindful & Intuitive Eating Practices.
Learn more here
.
Lets Connect!   
Facebook
»
Instagram
» ♥
Latest posts by Emily Kyle (see all)