These Vegetarian Hummus Tacos with Avocado Cream are a delicious. vegetarian meal that even the most carnivorous diner won't turn their nose up at! Packed with veggies and plant-based goodness, the whole family will love these delicious and 10-minute tacos!
My Love for Tacos
I think it is about time I pay a fair tribute to my life long love of tacos.
When I was a little girl, on the rare occasion that my mom would ask my sister and I what we would like for dinner, my answer was always "TACOS" – shouted with enthusiasm.
Of course, my little sister would always scream "MEATLOAF"!
And for our entire childhood: I hated meatloaf, and she hated tacos.
I've never outgrown my love for tacos. Now that I am in my own home with a family of my own, I get to decide what is for dinner.
And yep, you guessed it, at least once a week it is tacos.
RELATED: All Natural, Gluten-Free, Homemade Taco Seasoning
But now that I am a working mom with a family of my own, I fully realize the dread that can come with making dinner after a long day of work.
Ain't nobody got time for that.
Except… I'm starving and everyone still needs to eat.
Vegetarian Hummus Tacos
May I present to you (drum roll please) Vegetarian Hummus Tacos. The greatest 10-minute dinner you will ever make.
Seriously, if you prep all of the ingredients ahead of time, it actually takes less than 10 minutes to prepare (and even eat).
The key is making sure that your ingredients are all prepped ahead of time.
Yes, I know, you're thinking Emilyyyy, ain't nobody got time for that either.
But I am telling you, if you can sacrifice 30 minutes to get all of the fresh ingredients washed and cut up, you will have a quick and easy meal all week long.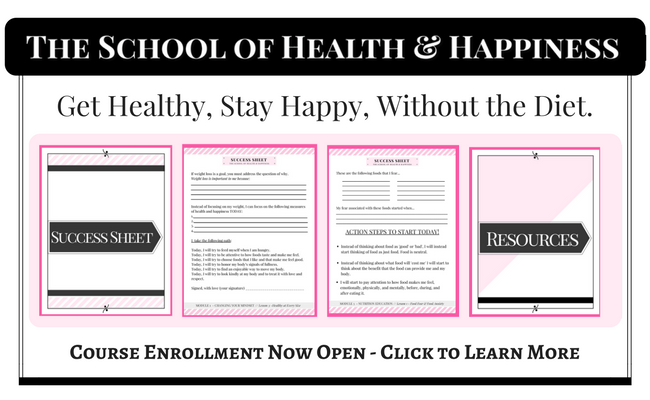 I actually have to give credit to my husband for this recipe.
Yep, my husband: the meat and potatoes, vegan-hating, back yard hunting manliest man came up with the idea for these Vegetarian Hummus Tacos.
So when I say this is a meal that your carnivorous family won't turn their noses up at, I actually really mean that.
But you will be pleasantly surprised when you see how filling and delicious the hummus makes these tacos.
Click Here to Download Your 5 Day Happy & Healthy Meal Plan – FREE!
5 Minute Vegetarian Tacos with Avocado Cream
Author:
Emily Kyle, MS, RDN
Ingredients
For Avocado Cream
½ avocado
1 cup plain Greek Yogurt
1 lime, juiced
1 teaspoon homemade taco seasoning
For Tacos
8 whole wheat tortillas
1 cup roasted red pepper hummus
1 cup grape tomatoes, diced
1 small cucumber, diced
1 bell pepper, diced
½ cup black beans
½ cup frozen corn, thawed
1 cup greens, shredded
½ cup fresh sprouts or microgreens
½ avocado, diced
Instructions
In a small food processor, blend together the avocado, Greek yogurt, lime juice, and taco seasoning until smooth. Set aside.
Set out tortillas and fill with a hearty dollop of hummus.
Add your fresh toppings.
Top with avocado cream.
Garnish with sprouts.
Enjoy!
I hope you love this quick and easy dinner as much as my family and I do!
Have you made these Vegetarian Hummus Tacos with Avocado Cream yet?!
If you love them as much as I do, let me know in the comments section below 🙂

BEFORE YOU GO!
Subscribe to get your weekly dose of holistic wellness, health & happiness!
The following two tabs change content below.
I am a registered dietitian nutritionist located in Rochester, NY and the founder of
The School of Health & Happiness
, an online program that teaches women like you how to get healthy, and stay happy, without ever having to diet again! My popular
blog
Emily Kyle Nutrition focuses on plant centric, whole food
recipes
, and real-life evidence-based nutrition information. Learn more about me
here
.
Lets Connect!   
Facebook
»
Instagram
»
Twitter
»
Pinterest
♥
Latest posts by Emily Kyle (see all)