There is no better time than summertime to enjoy a variety of fresh, locally grown vegetables that are bursting with flavor and good-for-you nutrition. Try these Vegetarian Summer Side Dishes for your next BBQ or picnic!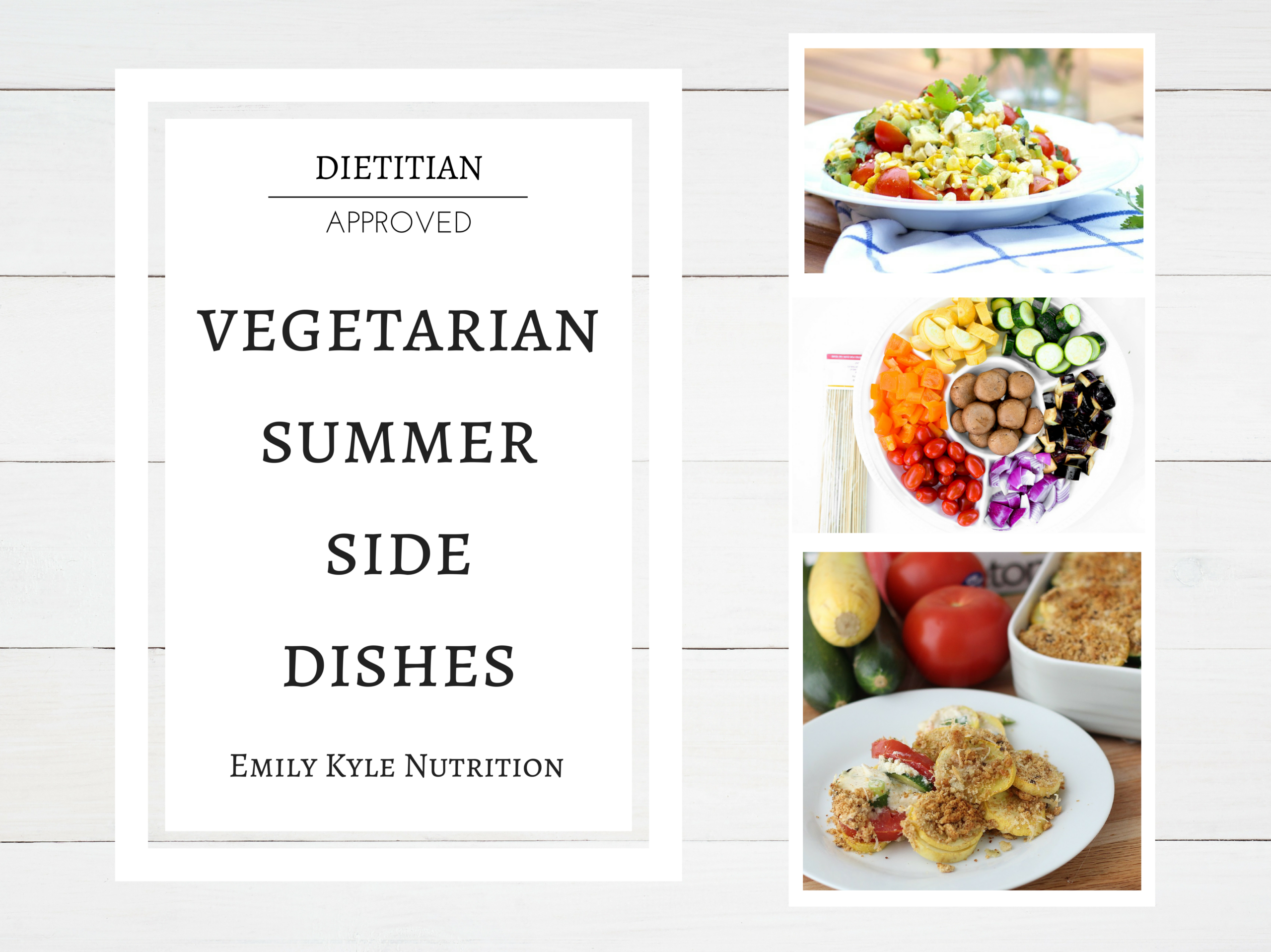 That is why is is the perfect time to talk about the topic of the week – Vegetarian Summer Side Dishes – in my Health in a Handbasket segment on Good Day Rochester. In this video, I share my three favorite vegetarian summer side dishes with the viewers and talk about why they are an excellent addition to any summertime picnic or BBQ! Plus, get 6 more registered dietitian approved dishes that are perfect to try this summer.
Watch the video below to learn about my favorite vegetarian summer side dishes, and don't forget to pin this recipe for later!
Vegetarian Summer Side Dishes
To say I LOVE summer is an understatement. Not only do I love the warm weather, but I love, love spending my days out in the vegetable garden. My husband (I can finally say that now!) loves gardening and harvesting our own food and much as I do and our little 'farm' is quite big now. Between the blueberry, strawberry, blackberry and raspberry patches, the 20 tomato plants, 12 broccoli and 25+ various squash plants ranging from summer to acorn, and the greenhouse of hot peppers we certainly always have something fresh and in-season.
[bctt tweet="Enjoy #MeatlessMonday with these #vegetarian summer side dishes! #nutrition" username="EmKyleNutrition"]
Even if you don't grow your own vegetable garden, you can still get fresh, locally grown produce from your local farmers market or a small stand on the side of the road. Many vegetables are in season this time of year and you can purchase fresh produce for really reasonable prices. Not only is locally grown produce financially smart, but it is also more environmentally friendly – and likely more nutritious. When you shop at a local farmers market you are supporting small town farmers, your neighbors, and friends, and also doing good for your health and your environment!
Locally grown produce is often more nutritious than conventionally grown produce. As studied by Harvard, it has been shown that locally grown produce is, in fact, healthier for many reasons, but largely in part, because the time between harvest and your actual consumption is shortened which helps to preserve nutrients. You can read about all of the factors that play into the nutritional quality of locally grown food here.
Watch the Video
Click Here to Download Your Plant-Based, No Added Sugar Meal Plan – FREE!
Featured Recipes
Here are the three recipes that were featured in this week's segment!
Rainbow Grilled Veggie Kabobs | Emily Kyle Nutrition
Sunflower Broccoli Layer Salad | American Diabetes Association
Garden Fresh Tomato Cucumber Salad | Emily Kyle Nutrition
Click Here to Download Your Plant-Based, No Added Sugar Meal Plan – FREE!
Vegetarian Summer Side Dishes
And, because I love summertime veggie dishes SO much, here are my favorite registered dietitian-approved recipes that are the perfect dish for any summertime event. Each recipe was created by a fellow dietitian who knows how to make healthy eating taste amazing. Enjoy!
Grilled Corn Summer Salad | Lively Table
Summer Veggie Casserole | Living Well Kitchen
Summer Fruit Bruschetta | Nutrition a la Natalie
Smashed Cucumber Salad | Food, Pleasure & Health
Zucchini, Tomato and Onion Bake | Nutrition Starring YOU
Mango Ji Cumba Salad with Chile Lime Dressing | Christy Wilson Nutrition
I hope you find a new favorite veggie recipe and get inspired to add more vegetables to your daily diet! It can be easy to meet your daily vegetable goals with these delicious and nutritious Vegetarian Summer Side Dish recipes.
Do you have a favorite vegetarian summer side dish? Share it with me in the comments section below! And don't forget to Pin this article for later!

P.S. Are you interested in learning more about plant-based eating? Do you want to get healthy & stay happy without ever having to diet again? Be sure to sign up below for your free 5 Day Plant-Based, No Added Sugar, Meal Plan to see exactly how delicious plant-based eating can be!
The following two tabs change content below.
Hi there, I'm Emily Kyle, a nationally recognized media dietitian & nutrition communications expert on a mission to help you create the happy & healthy holistic lifestyle you deserve. To help you on your wellness journey, I offer holistic health counseling, resources inside The School of Health & Happiness, and this blog which focuses on holistic health and wellness, anti-inflammatory, whole food recipes, and my love for Mother Nature inside #TheMillennialGarden.
Latest posts by Emily Kyle (see all)