This post may contain affiliate links, to find out more information, please read my disclosure statement.
Learn how to make this Healthy Crustless Quiche Recipe for the week PLUS 12  mini-quiches to keep in the freezer so you can ensure you have a healthy breakfast all month long – all made in less than 1 hour.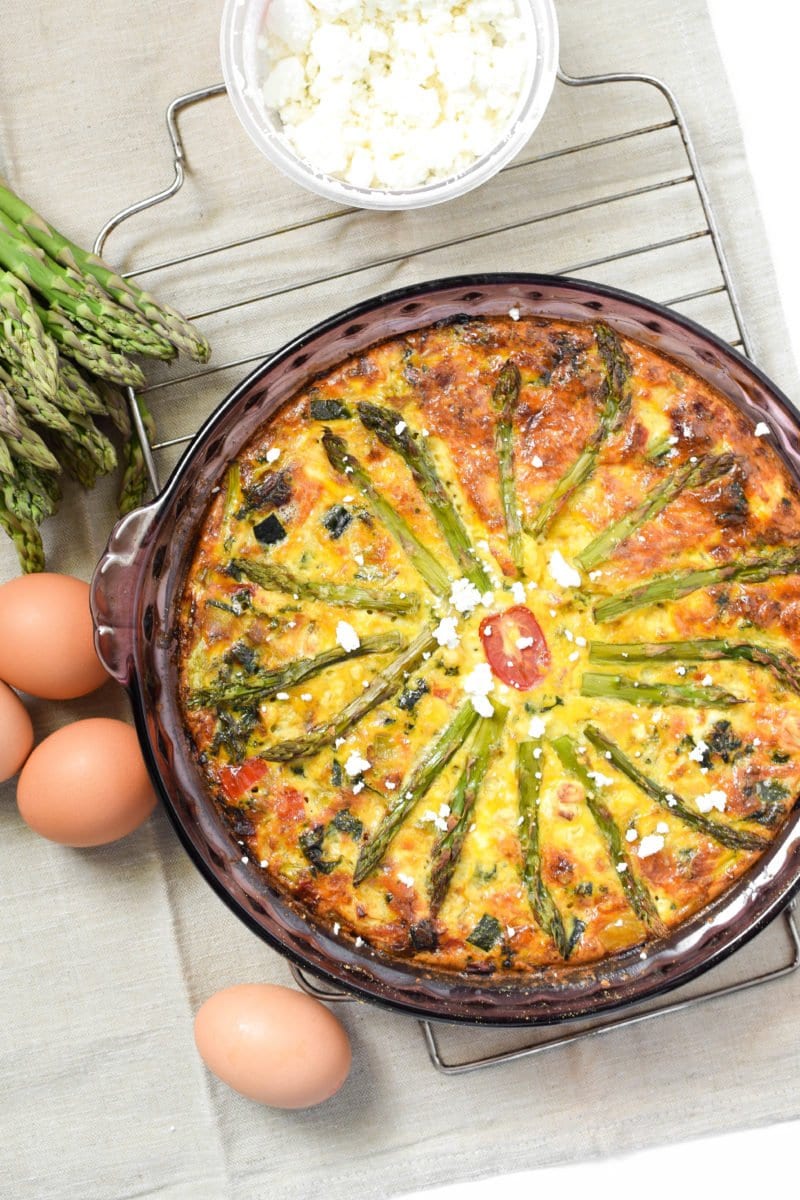 Veggie Lovers Crustless Quiche
Today I can't wait to show you how to make traditional quiche, as well as 12 mini quiche all at the same time.
The mini quiche cups freeze and reheat easily for a quick and easy breakfast on the go, each with only 95 calories and 7 grams of protein while the large quiche makes an excellent, quick and easy lunch or dinner.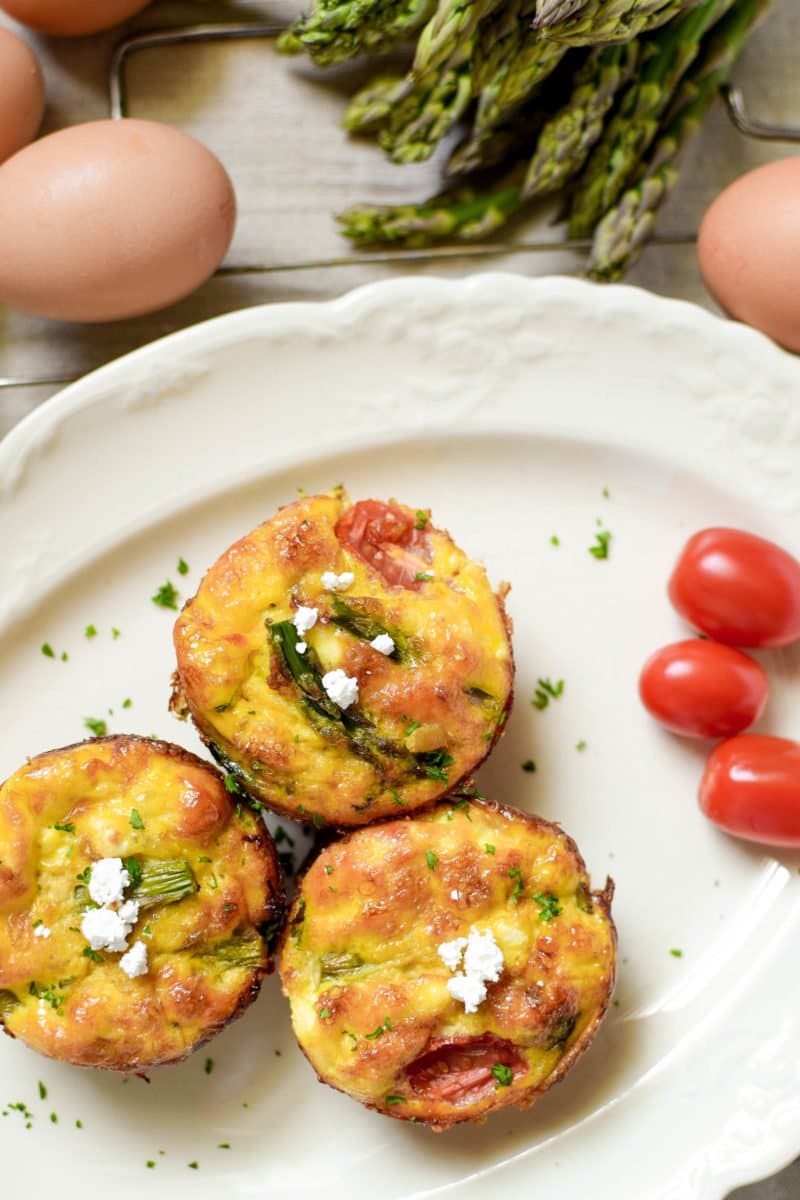 Farm Fresh Eggs
I can't say enough great things about eggs, we are even raising our own chickens this year so we will always have our own farm fresh supply.
Thankfully, the Dietary Guidelines for Americans no longer recommends to limit the consumption amount of dietary cholesterol, which is found in wonderful foods like eggs. There is not enough evidence to show that dietary cholesterol impacts levels of cholesterol found in the body.
Breakfast is a critically important time to make sure you are getting a nutritious meal to fuel your day, which is why eggs are a fantastic choice. Unfortunately, mornings tend to be hectic and rushed and often times breakfast gets forgotten. Thankfully, that is where quiche comes in.
This may be the one recipe on my website that I make the most often. Its super easy to make one big one to keep in your fridge for a quick breakfast all week plus 12 mini-quiches to store in the freezer so that you can have a nutritious breakfast even on the busiest of days.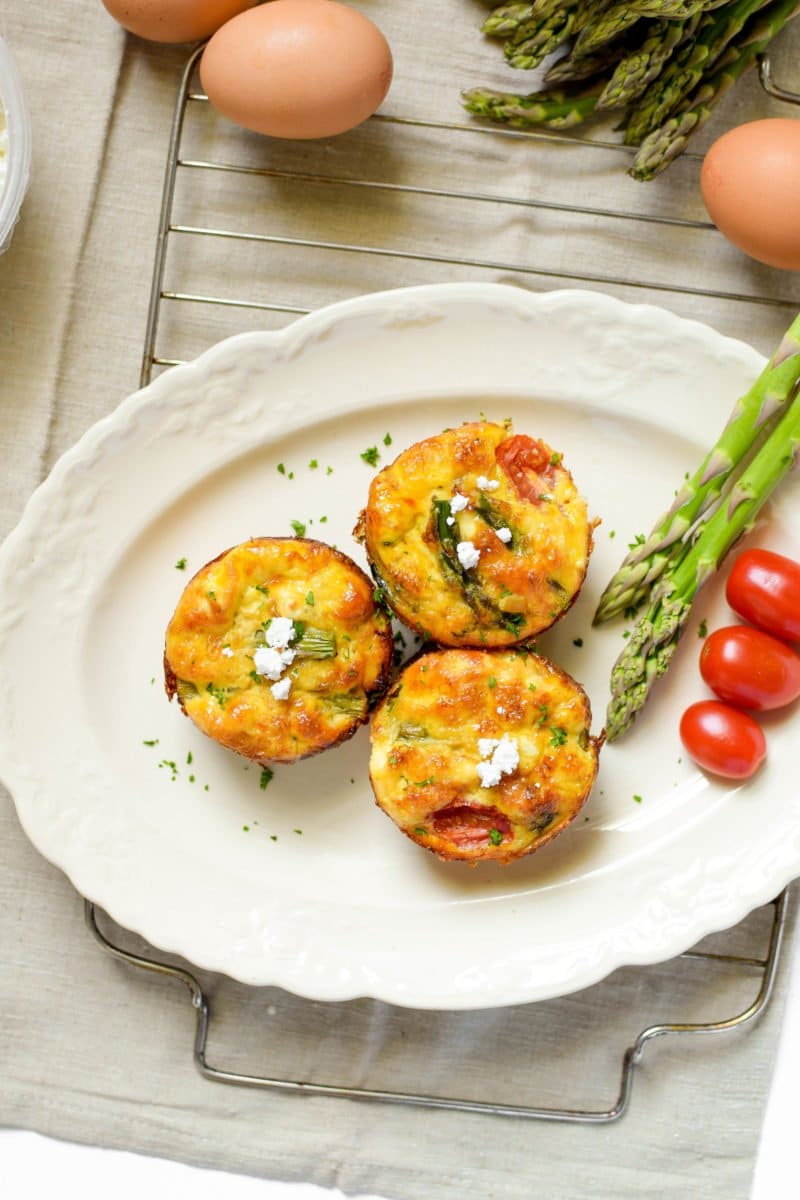 Versatility of Quiche
The best part about this recipe is that you can use ANY vegetables that you like. I just happened to use whatever I had left in my fridge that I wanted to use up. The more veggies the better!
Some of my favorite combinations are:
Asparagus, Kale & Goat Cheese (pictured above)
Mushrooms + Onions + Bell Peppers
Spinach & Mushrooms & Tomatoes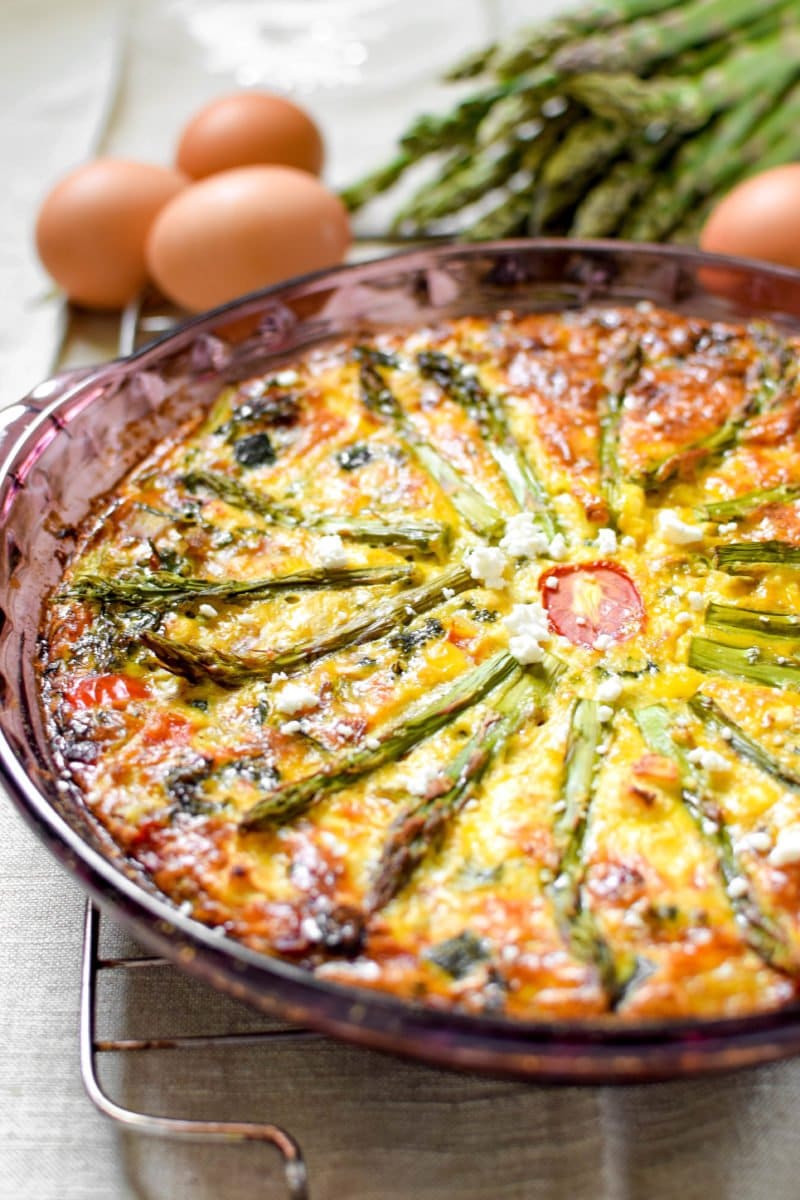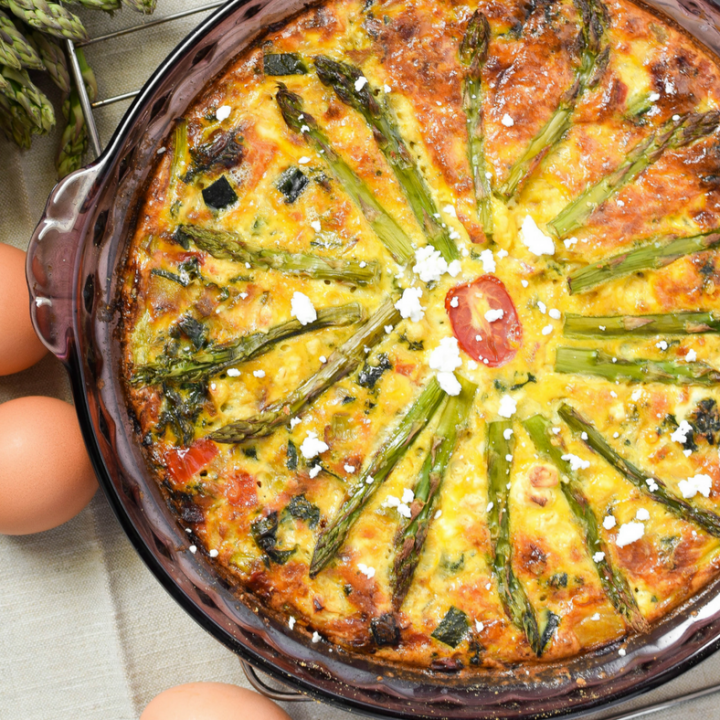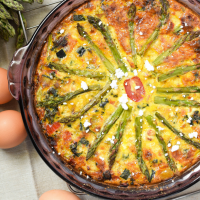 Veggie Lovers Crustless Quiche
Yield:
1 quiche + 12 mini quiche
Total Time:
1 hour
10 minutes
Learn how to meal prep a traditional Veggie Lovers Crustless Quiche for the week PLUS 12 mini-quiches to keep in the freezer so you can ensure you have a healthy breakfast all month long – all made in less than 1 hour.
Ingredients
1 Tablespoon olive oil
1/2 white onion, diced
1 bell pepper, diced
1 cup spinach, shredded
1 cup mushrooms, sliced
1 tablespoon minced garlic
½ teaspoon black pepper
½ teaspoon granulated onion
1 teaspoon turmeric
1 tablespoon butter, room temperature
1 tablespoon grated parmesan cheese
1 cup milk, dairy or nondairy
16 organic farm fresh eggs
Instructions
Preheat oven to 400 degrees.
Chop all of the veggies into small, uniform sized pieces.
Place a skillet over medium heat and add olive oil & onion. Saute 2 minutes.
Add the rest of the vegetables and cook 4-5 minutes or until you reach your desired tenderness, but remember that they will also cook a bit in the oven!
Stir in garlic and spices and turn off the heat. To Prepare the Baking Dishes
For the regular sized quiche you will want to use a glass pie dish. Prepare the same way you do the muffin tins below.
To prepare your muffin tins: Spread room temperature softened butter into each reservoir - making sure that every area is well coated.
Add a sprinkle of Parmesan cheese and gently shake into the mold until you have a light, even coating. This will be your crust. Set aside.
Crack eggs into a large bowl and whisk in your milk of choice until smooth.
Ladle the eggs into the muffin cup tins until the cup is approximately halfway full.
Spoon your reserved vegetable mixture into the cup until it is approximately ¾ full.
Repeat the same process for the large quiche.
Place the quiche in the center of the oven and bake the muffin tin ones for 25 minutes, the large quiche for 55 minutes.
When done, place on a baking rack and let cool completely.
Once your egg muffins are completely cooled you can place them into individual ziplock baggies, or for even better storage use a vacuum sealer! You can store them in the freezer for up to two months.
To Thaw: When you're ready to eat your tasty quiche you have two options. You can either pull your quiche from the freezer and put it directly into the microwave for 90 seconds or you can pull your quiche from the freezer the night before you need it and place it in the refrigerator overnight and then place it in the microwave for 45 seconds when you're ready to eat it.
Enjoy!
DON'T FORGET YOUR MEAL PLAN
If you're looking for additional help in meal planning or discovering new and delicious recipes to try, be sure to download my Free eBook – The Happy & Healthy Flexible Meal Plan below:
Have you tried this recipe? Be sure to tag me on Facebook, Instagram, or let me know in the comments below ♥

Welcome! I'm Emily Kyle, a nationally recognized media registered dietitian nutritionist & holistic cannabis practitioner providing holistic health care for those living with autoimmune and inflammatory conditions. To help you, I offer food sensitivity testing, cannabis education, and this blog which provides free resources including anti-inflammatory recipes, holistic health, wellness and nutrition related articles, and evidence-based cannabis education.