Learn how to make this simple, meal prep-friendly, healthy Veggie Crustless Quiche made with delicious spinach and asparagus, farm fresh eggs in an easy-to-make gluten-free Parmesan cheese crust.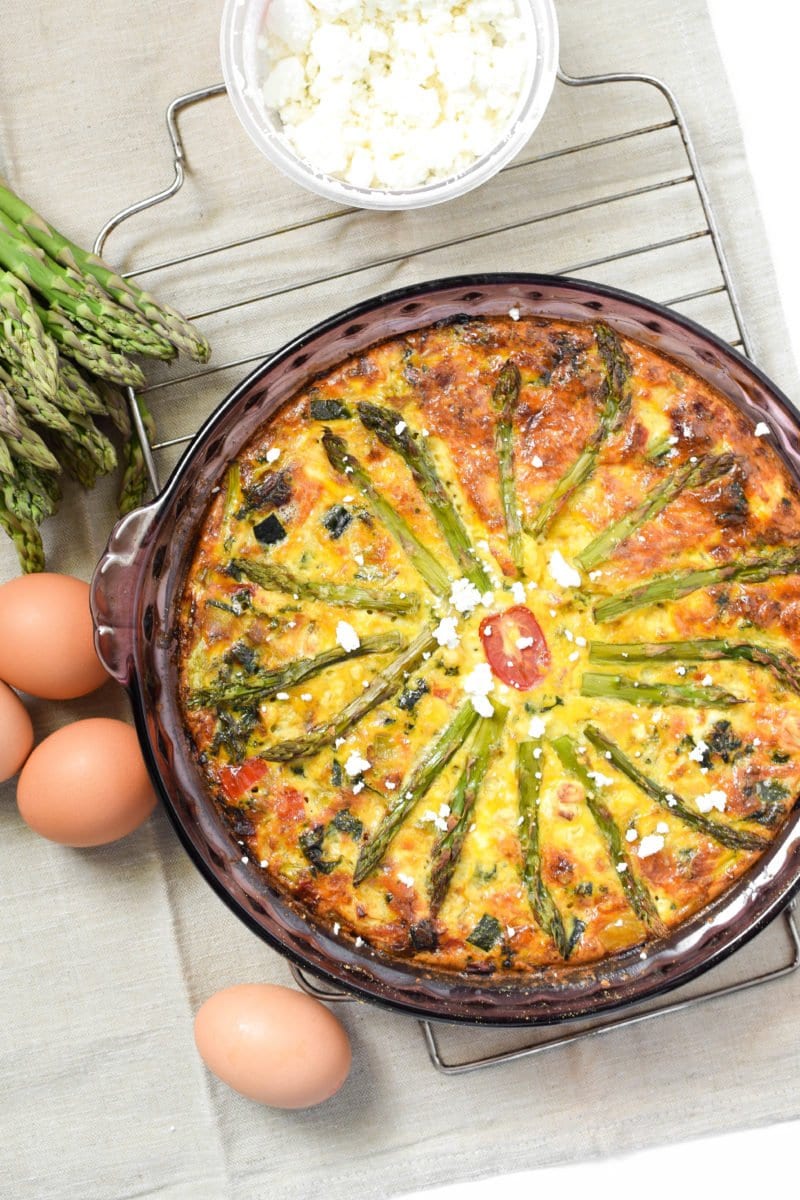 Healthy Crustless Vegetable Quiche
Today I can't wait to show you how to make a delicious crustless veggie quiche!
The best part is that you can customize your own quiche. You can switch up the ingredients as much as you want so that you can have a variety of quiche flavors to enjoy throughout the month.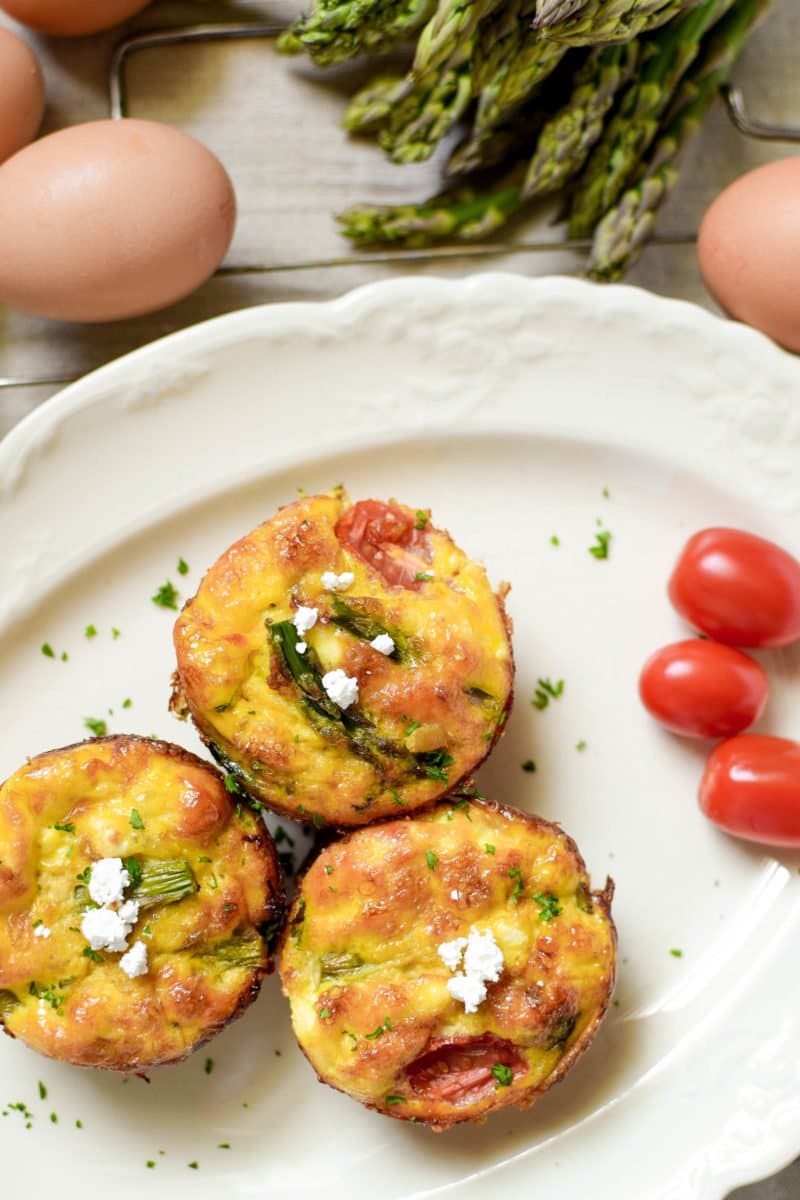 Quiche from Farm Fresh Eggs
I can't say enough great things about eggs for both nutrition and taste. We even raise our own chickens in The Millennial Garden so that we always have our own farm-fresh supply.
Thankfully, the Dietary Guidelines for Americans no longer recommends to limit the consumption amount of dietary cholesterol, which is found in wonderful foods like eggs.
There is not enough evidence to show that dietary cholesterol impacts levels of cholesterol found in the body. We know that breakfast is an important time to make sure you are getting a nutritious meal to fuel your day which is why eggs are a fantastic meal choice.
Unfortunately, mornings tend to be hectic and rushed and often times breakfast gets forgotten.
Thankfully, that is where a healthy vegetarian quiche comes in.
This may be the one recipe on my website that I make the most often, and crustless quiche is definitely my favorite recipe to meal prep.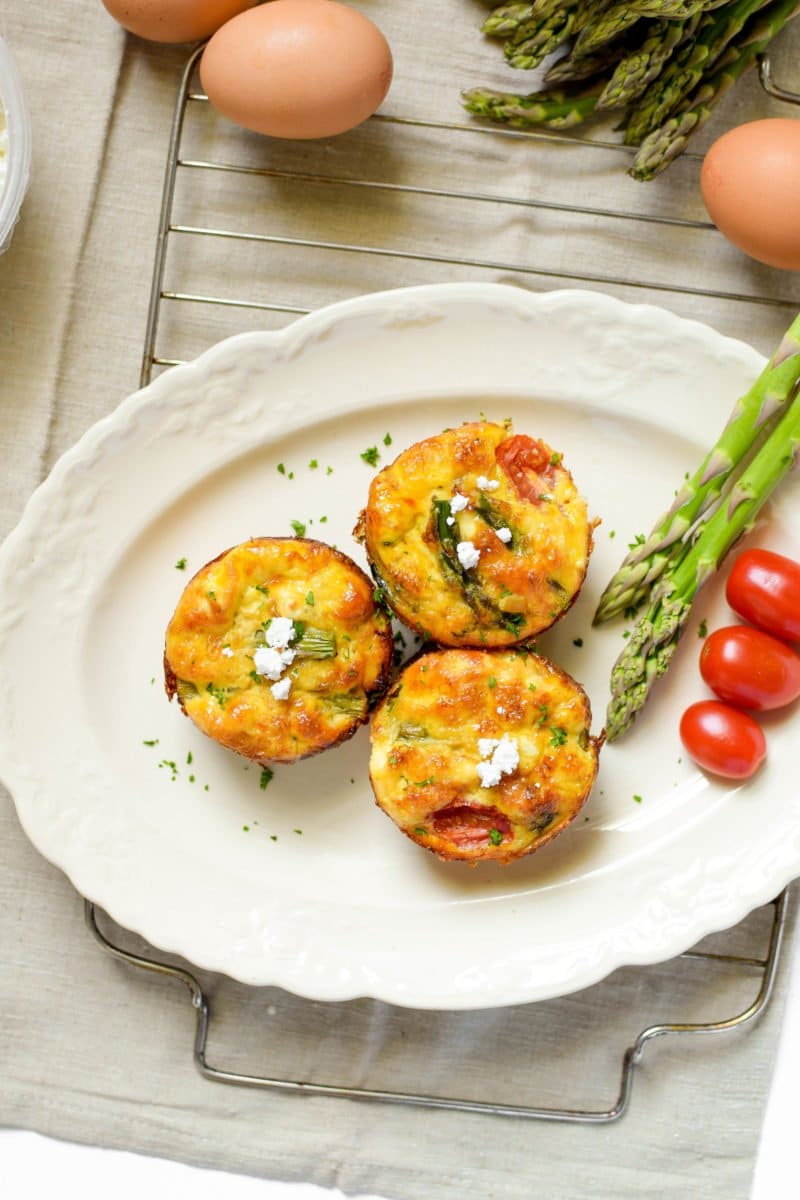 The Versatility of Crustless Quiche
The best part about this recipe is that you can use any vegetables that you like. I typically use whatever I have left in my fridge that I want to use up to help reduce our amount of food waste.
You can add spinach, broccoli, zucchini, tomatoes, or whatever is in season at the time. The more veggies, the better!
Some of my favorite combinations include:
Asparagus, Kale & Goat Cheese (pictured above)
Mushrooms + Onions + Bell Peppers
Spinach & Mushrooms & Tomatoes
The Best Vegetarian Quiche
There are so many amazing ways to create the best vegetarian quiche recipe. I enjoy making them crustless, but you can make a pie crust or buy a refrigerated pie crust to make them more filling.
You can use whatever type of cheese you prefer as well, like feta cheese or gruyere cheese, or no cheese at all if you don't eat dairy or live a dairy-free lifestyle. Additionally, for more protein, you could add uncured bacon or homemade sausage.
Make a Crustless Vegetable Quiche
Whipping up a healthy crustless quiche is quick, easy, and fun! Start off by picking your veggies, chopping them, and sauteeing them lightly in olive oil. Whisk your eggs and milk together in a separate bowl. Feel free to add salt and pepper for some more flavor.
Freeze whatever you don't plan to immediately eat so you have them for a busy time when you need something quick to eat over the next couple of months.
Below is my healthy crustless quiche recipe you can follow or you can use it to gain inspiration for your own great recipe. Make sure to comment below with what your favorite healthy crustless quiche recipe is so we can all try it.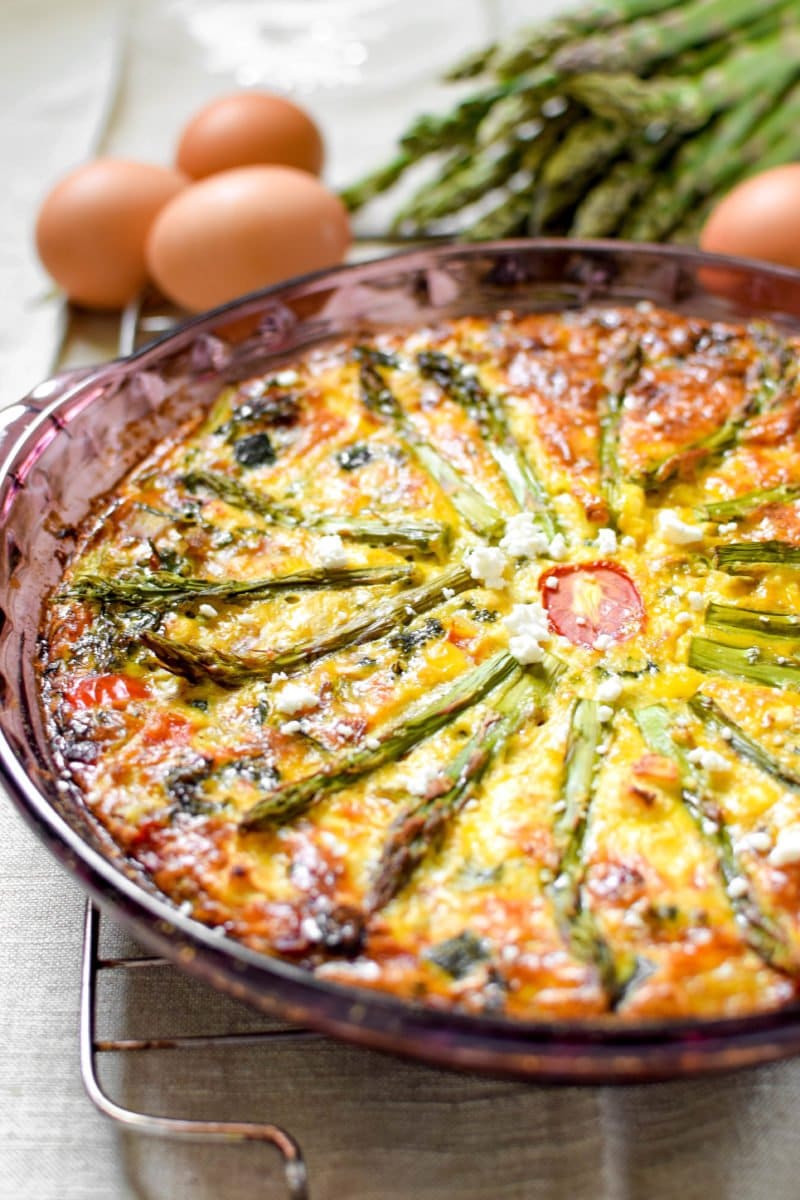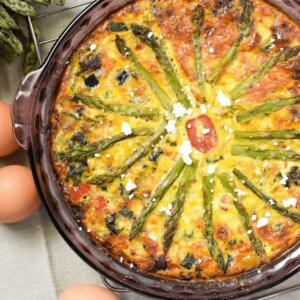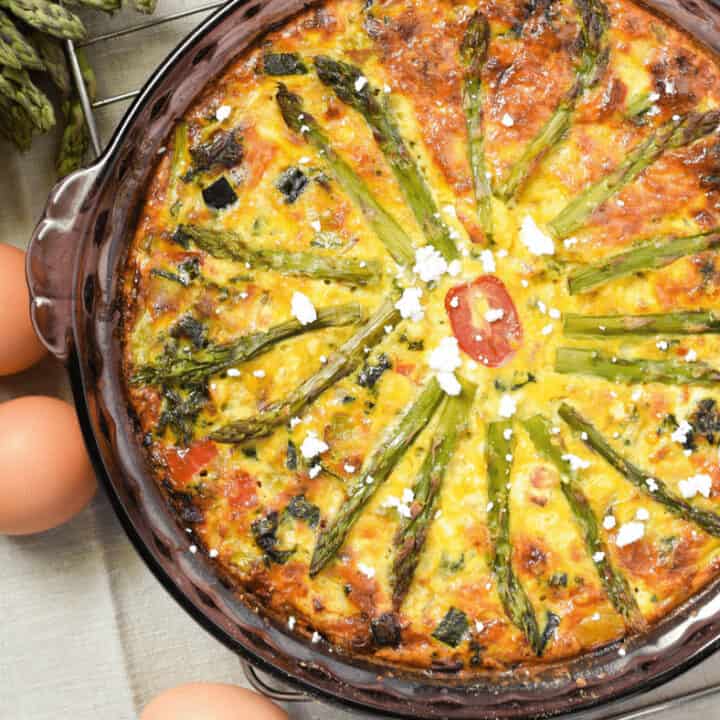 Healthy Veggie Crustless Quiche
Learn how to make this simple, meal prep-friendly, healthy Veggie Crustless Quiche made with delicious spinach and asparagus, farm fresh eggs in an easy-to-make gluten-free Parmesan cheese crust.
Instructions
Preheat the oven to 400°F. Grease a 9" glass pie dish with room temperature butter.

Add the Parmesan cheese and gently shake the pie dish until you have a light, even coating across the bottom and sides. Set aside.

Place a medium skillet over medium heat and add the olive oil, onion, and ½ teaspoon of salt. Sauté for 2 minutes.

Add the mushrooms, spinach, and garlic cook for 3-4 minutes. Turn off the heat and set aside.

Carefully crack the eggs and transfer them into a large bowl.

Whisk in the milk, turmeric, black pepper, and remaining ½ teaspoon of salt.

Ladle the egg mixture into the reserved pie dish until it is half full.

Carefully add the reserved vegetable mixture to the dish.

Ladle the remaining egg mixture atop of vegetables.

Arrange the asparagus on top of the quiche.

Carefully place the quiche in the center of the oven and bake for 45-55 minutes, or until golden brown on top and an internal temperature of 165°F is reached.

Once your quiche has completely cooled you can cut it into 8 slices, place them into individual containers, and refrigerate for up to 7 days.
Notes
For even better storage use a vacuum sealer.
You can store the quiche in the freezer for up to two months.
To Thaw: You can either pull your quiche from the freezer and put it directly into the microwave for 2 minutes or you can pull your quiche from the freezer the night before you need it and place it in the refrigerator overnight and then place it in the microwave for 1 minute when you're ready to eat it.
Nutrition
Serving:
1
slice
|
Calories:
151
kcal
|
Carbohydrates:
7
g
|
Protein:
10
g
|
Fat:
10
g
|
Saturated Fat:
4
g
|
Polyunsaturated Fat:
5
g
|
Cholesterol:
195
mg
|
Sodium:
438
mg
|
Fiber:
2
g
|
Sugar:
2
g
Did you make this recipe or have a question?
Join hundreds of members inside private Well With Cannabis Community for help, support, and to share your edible creations!