This post may contain affiliate links, to find out more information, please read my disclosure statement.
This post, Waiting for Coffee, A Christmas Tradition, was sponsored by Barnie's Coffee as part of an Influencer Activation for Influence Central and all opinions expressed in my post are my own.

Waiting for Coffee, A Christmas Tradition
No matter the circumstances, in good times and in bad, my mom and dad always made sure that my sister and I had an absolutely amazing Christmas experience every single year.
Now that my sister and I are grown and with our own families, we don't get to do the same things we did when we were children, but we fondly discuss our memories often.
We still try to keep many of the same traditions we had when we were younger, but no matter what changes, we all make sure we are always together.
At the heart of every family tradition is a meaningful experience. – Unknown
I was recently was talking to my mom about some of our favorite Christmas traditions and she told me that my favorite memory, waiting for coffee, was passed down from her mother.
Waiting for Coffee..
When my sister and I would wake up, as early as 5am and as excited as we could be, we would jump in our parents bed exclaiming "It's Christmas!!!"
And every single year, my parents would get up, no matter how tired, and tell us that we had to sit at the top of the stairs while they went downstairs to make coffee.
Those sacred fifteen minutes, which seemed like an hour to a 5 and an 8 year old, was a genius play on my parents part. 
Those fifteen minutes were filled with some of the most glorious moments of suspense any kid could ever experience.
Did Santa come? What was at the bottom of the stairs? What were they doing down there? How many presents did we get?
Those fifteen minutes were probably the only fifteen minutes my parents got to spend quietly drinking coffee together all year long.
I hope they spent those few minutes looking under the tree and marveling at the gifts, the experience, they were able to provide for us.
And while we waited at the top of the stairs, dreaming of what could be waiting for us downstairs, the smell of freshly brewed coffee and cinnamon rolls crept up the stairs.
Until finally, they would peek their heads around the corner of the staircase, and let us know it was finally time to come downstairs.
And for us, that moment was pure magic.

Now that I am a mother myself, I understand the importance of family traditions for our children as they grow up. 
While we don't have stairs in my home, this year my son will be waiting in his room while mom and dad make coffee.
I am excited for a few minutes alone with my husband, to make my favorite coffee, and to savor the first few minutes of a very special day that goes by way too fast.
This year, I can not wait to enjoy a cup of my new favorite coffee from Barnie's Coffee, the Santa's White Christmas Blend.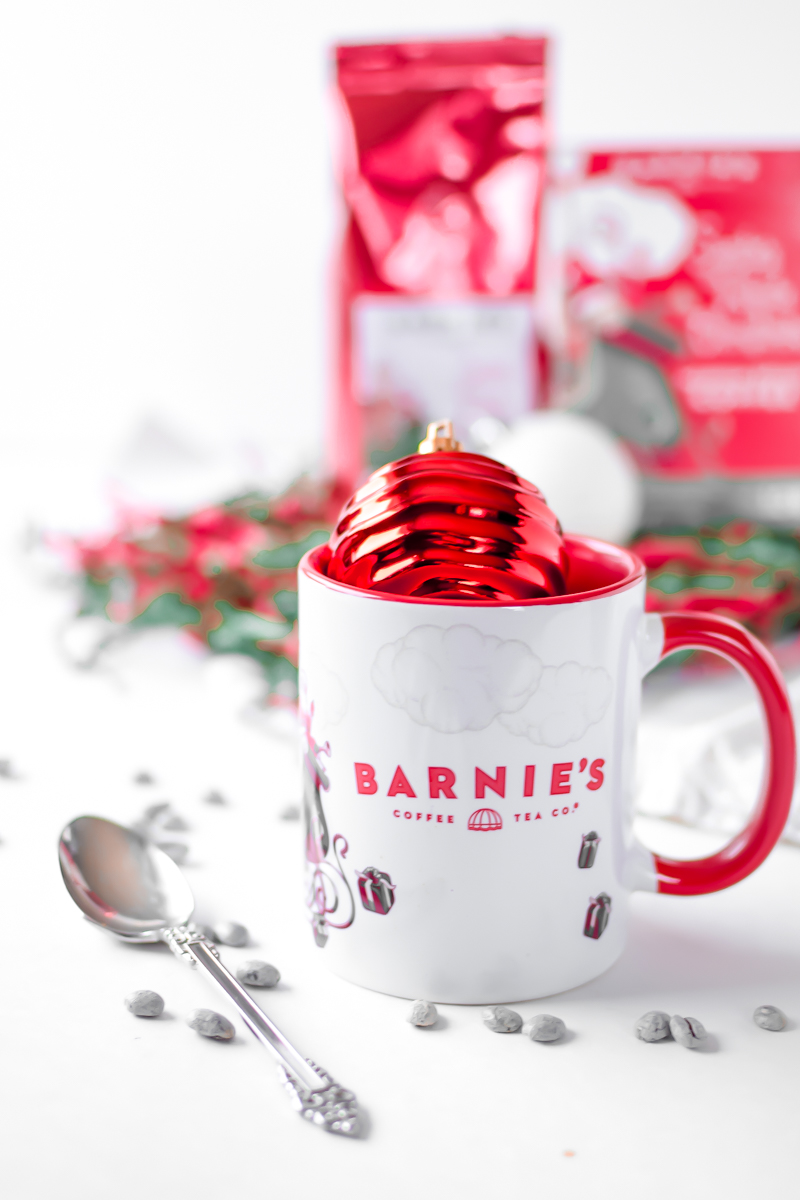 I have been a Barnie's Coffee fan for years, and I'm not alone, they have grown a cult-like following over the past 37 years and claim that the Santa's White Christmas Blend is America's Favorite Coffee.
If you are a coffee connoisseur, you are going to fall in love with Santa's White Christmas Blend, which is flavored with coconut, caramel, and roasted nuts — ( which are like all of my favorite things!)
All of Barnie's Coffee products are roasted using high quality beans and unique flavor combinations. Even my husband loves their blend which means we will be enjoying a cup of this alone together this Christmas morning, and hopefully for many more Christmas' to come.
Want to make your own special Coffee Christmas Morning Tradition?
Be sure to pick up some of Barnie's Santa's White Christmas blend either in-store or online, and consider buying some as a stocking stuffer for a friend, because we all know coffee makes the perfect holiday gift!
PLUS – Barnie's is in the Holiday Spirit and are sharing with you a 30% off discount for your next purchase!
Just use the Promo Code: EMILYKYLENUTRITION30 at checkout!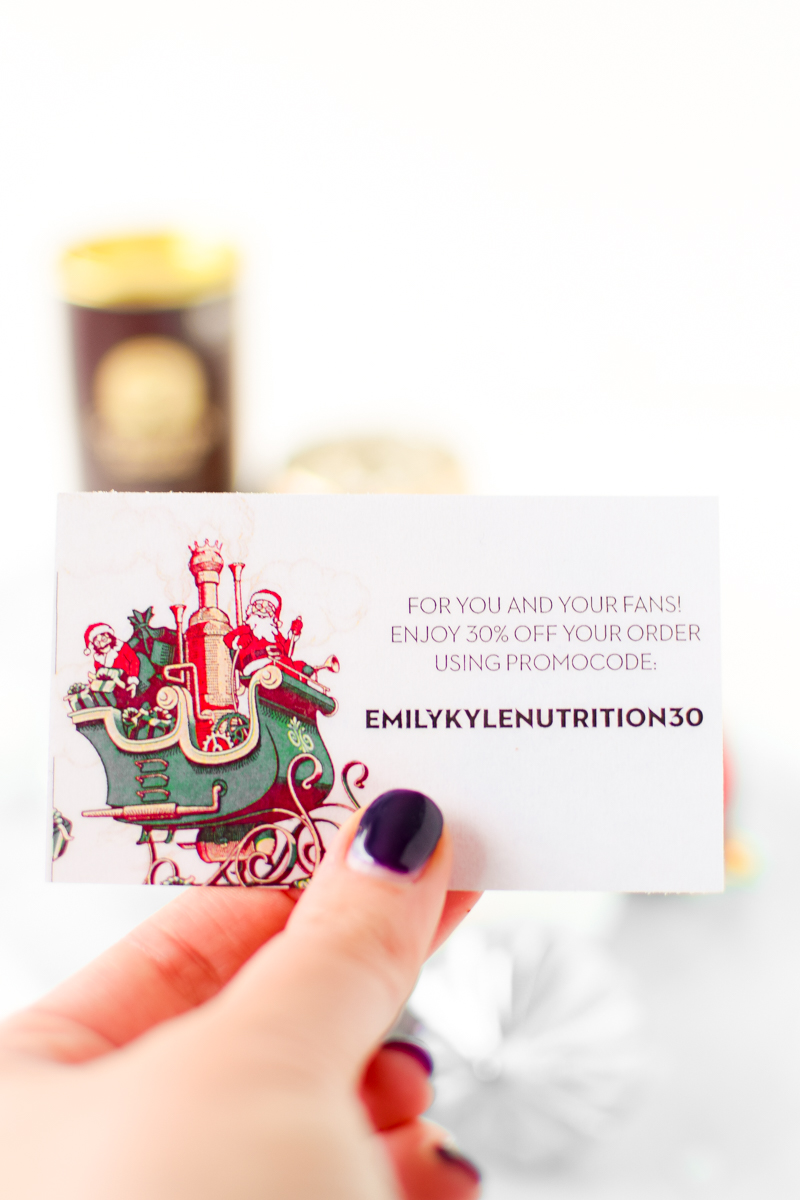 Click Here to Download Your 5 Day Happy & Healthy Meal Plan – FREE!
Do you have a special Christmas Tradition you and your family have or used to have when you were a child? Share in the comments below!



P.S. Are you ready to take the next step in your happy & healthy holistic lifestyle? Enroll in my FREE 3-Day Online Video Training Course to learn to become a more Mindful Eater! Learning to master the practice of Mindful Eating will help you to gain control of your healthy lifestyle and treat your body with love and respect.
The following two tabs change content below.
Hi there, I'm Emily Kyle, a nationally recognized media dietitian & nutrition communications expert on a mission to help you create the happy & healthy holistic lifestyle you deserve. To help you on your wellness journey, I offer holistic health counseling, resources inside The School of Health & Happiness, and this blog which focuses on holistic health and wellness, anti-inflammatory, whole food recipes, and my love for Mother Nature inside #TheMillennialGarden.
Latest posts by Emily Kyle (see all)