An open and honest essay from one woman to another, and a call for everyone to answer the question for themselves: What if Weight Loss Wasn't Your New Year's Resolution?



What if Weight Loss Wasn't Your New Year's Resolution?
It's that time of year again…(insert eye roll here).
The annual onslaught of uncomfortable diet and weight loss talks among coworkers, friends and family.
I've already heard it in my office three times this week:
"After New Years I'm going to go back to the gym and eat healthy so I can lose weight."

"I'm want to lose 10 pounds this year"

"I want to lose weight so I can fit back into my jeans again".
I think my coworkers could hear my eyes rolling in the back of my head (sorry, not sorry, ladies!)
First and foremost, I love, love, love New Years.
I am a Type A personality and the thought of goal setting and planning truly does excite me, I love the feeling of having the opportunity to start fresh.
The New Year offers us the chance to reinvent ourselves, it fills us with optimism and the exciting thoughts of what the New Year may hold.
Many people feel the same way, and that is why, year after year, hundreds of thousands of women make the pledge:
"This is my year to (insert get healthy, lose weight, exercise more: here)".
And it truly is wonderful, I would never ever ever  discount or discredit anyone who wants to make a positive change in their life.
In fact, I wish more people would.
What if Weight Loss Wasn't Your New Years Resolution?
Click To Tweet
RELATED: Why Calories Don't Matter

BUT here is the problem…
How many times have you declared that this is your year to lose weight?
How many times have you started the month of January with hope in your heart, determined to eat perfectly healthy and exercise every single day?
How many times have you followed a strict diet that deprives you of all your favorite foods, only to find yourself 5 days in standing in the pantry in the dark at midnight snarfing an entire bag of Oreos (ahem, spoken from experience).
Now ask yourself:
How many years has this approach actually worked for you?
How many years have you ended the year weighing less than when you started?
How many years did your resolution to lose weight last beyond January 15th??
Seriously. Think about it.
Now think about this.
Weight is nothing more than a measure of the gravitational force between your body and the earth.
Read that again.
Your weight is not a sole indicator of how healthy you are.
Your weight is not a sole indicator of how happy you are.
Your weight is not an indicator of what a kind, loving, giving person you are.
You weight is not an indicator of how incredibly intelligent and thoughtful you are.
Your weight is not an indicator of what a loving mother, sister, daughter, wife and friend that you are.
So then why are we letting our measured gravitational pull between our bodies and the earth have such an enormous impact on our perception of ourselves, our abilities and our greatest qualities?
Why do we put so much emphasis on such a meaningless measure?
What would happen if we took all the energy we put into micromanaging our weight and put it into something more meaningful?
What if Weight Loss Wasn't Your New Year's Resolution?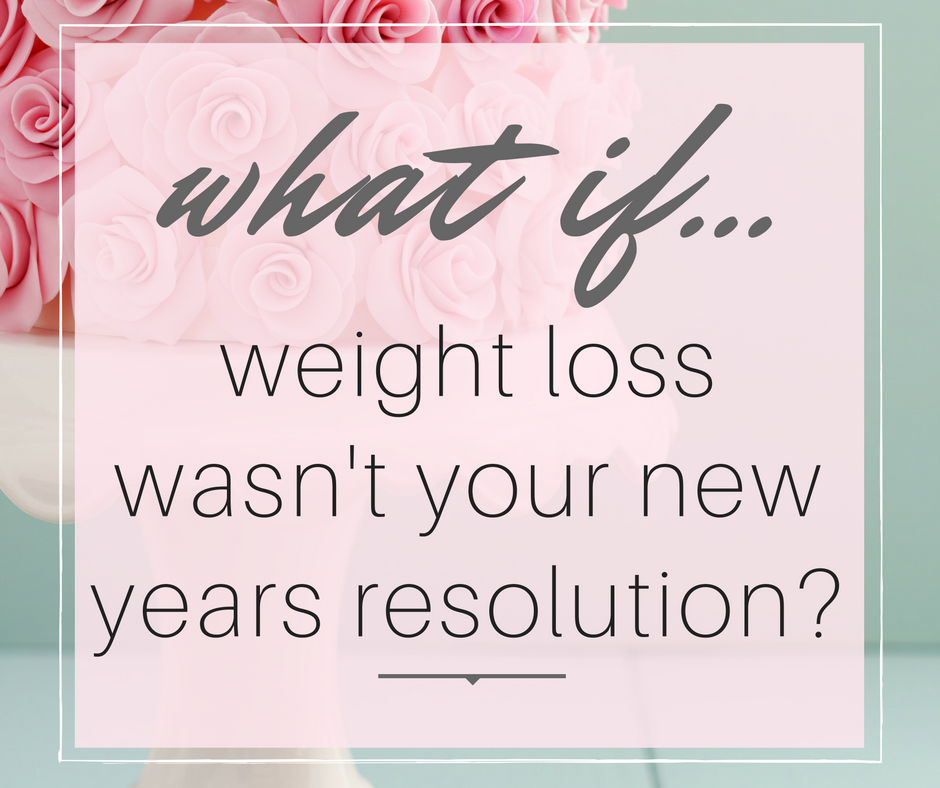 I haven't weighed myself in over two years, and let me be the first to tell you that it has been one of the most liberating choices I have made when it comes to my personal health and mental well-being.
It has taken me a long time to start to let go of the weight complex that I believe we all subconsciously carry with us.
And it is my hope that the lessons I have learned for myself can help you to start changing the way you think about health, weight and happiness.
My resolution last year was to take care of myself better.
Over the past year I have learned how to:
Speak to myself with the same compassion and understanding I have when I talk to my son. 

Nourish my body with the foods that make me feel good, happy, and whole instead of restricting calories and relying on numbers or rules.

Be kind towards myself, and learn to recognize when I need to take a moment for self-care.

I (am still starting to learn) how to do yoga because it makes both my mind and my body feel better afterwards.

Remove aspects of negativity from my life, including friends and family, to preserve my own mental well being.
What I am trying to say is that:
If weight loss was my goal for 2017, I would have never been able to explore and develop so many other wonderful aspects of my life.
And for that, I am thankful.
I wouldn't know, but I'm pretty sure I weigh more than I did last year.
But I know for certain that I am healthier.
From one woman to another, I am urging you to think about this important question: What if Weight Loss Wasn't Your New Years Resolution?
What more could life offer you?
How much happier & healthier would you be?
What  happy & healthy New Years Resolution (that has nothing to do with weight) are you going to make this year? Let me know in the comments section below!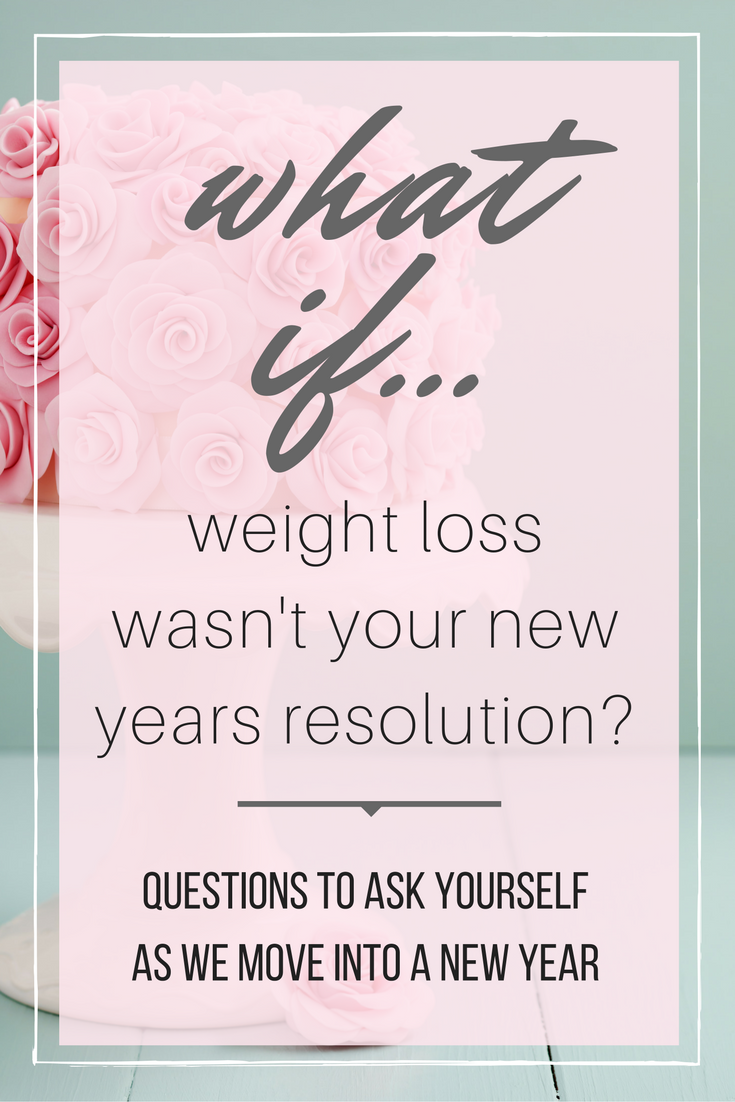 The following two tabs change content below.
Hi there! I teach women like you how to get healthy, and stay happy, without ever having to diet again! To help you, I provide individualized nutrition coaching and have created
The School of Health & Happiness
, an online training program to help you develop a positive relationship with food. This blog focuses on holistic health, plant-centric, whole food
recipes
, and real-life Mindful & Intuitive Eating Practices.
Learn more here
.
Lets Connect!   
Facebook
»
Instagram
» ♥
Latest posts by Emily Kyle (see all)