---
Come celebrate the big reveal of my dream She Shed office and learn more about how you can build your own and Work From Home in Your Dream She Shed Office.
This is A Diary Style Post
Wow, I can't believe that we are bringing this year to a close. The last three years have flown by.
Before I show you all of my dreams that have come true in this past year (cough, cough I got a She Shed), I want to share a bit of my backstory with you. I want you to know how I got here, that everything I have today is the result of determination and hard work, and that you can have this too.
Note: This is another one of my diary style posts. A real, authentic, less refined look behind the scenes of what it takes to create a business and a life that you love and that is also profitable.
I'm so glad I wrote these posts on my 1-year anniversary when I was still working at the hospital just blogging part time, and on my 2-year anniversary right after I unexpectedly quit my job at the hospital, so I can look back and see how far I've come.
But, if I am rambling and you want to skip ahead, feel free to use the link below.
WORK AT HOME SHE SHED OFFICE
You can click here to jump ahead to the official She Shed office reveal. It is the physical manifestation of all of my hopes and dreams. I hope you love it as much as I do.
P.S. I don't blame you for jumping ahead – it's that good.
Reflections of 2018 & Beyond
3 years ago I was an unwed, stay-at-home mother of a sweet baby baby boy with a stellar career in waitressing. I had finished my Master's Degree and completed my dietetic internship 7 months earlier, but I had not yet taken my exam to become a registered dietitian. I was scared.
But my sister pushed me to go take it, and without ever cracking a book or bothering to take 5 minutes to study, I walked in, passed the test, and walked out feeling like maybe I hadn't ruined my career that much.
The next day I came home, excited I had passed, but bummed because – what was I going to do? Its not like I was in a position to go get a full-time job at a hospital or a nursing home like all of my classmates.
I had a baby at home and it has always been one of my important values that he wasn't raised in daycare or by a sitter.
So I got this crazy idea – "I'll start a blog" – without ever knowing that a blog actually was. I certainly didn't know you could make money from it, but I thought it would be a good way for me to put some of my education to use while passing along those lonely stay-at-home-with-an-infant days.

Well, that leap of faith was worth it, and within about 6-months I started to see the potential to possibly make money and dedicded to take my blog more seriously.
I had gotten a part-time job at the hospital, which was perfect for me at the time. My mom could watch Ransom, and I could have a paycheck to support me and my blogging dreams at the same time.
Lucky, my time at the hospital only drove me to concentrate on my blog more because I hated working there so much. Over the course of the next two years I balanced both.
One day at the hospital, last year in September of 2017, I was put in a really tough spot where I felt like I had to choose between the hospital and my blog.
While the hospital offered a paycheck and health insurance, it also offered me a lot of stress doing work I wasn't called to do, and working with people I just couldn't stand to be around.
I'll never forget the day I decided to make that jump. I said "Fine, I quit" in my most confident voice ever. Inside, I was scared shitless.
What did I just do? Did I really just sacrifice my families health insurance? My only steady paycheck?
I sure did, and it remains today to be one of the most defining moments in my life.
I've learned that anything worth having is going to leave you feeling scared and uncomfortable. I've learned that those are actually good feelings to have because it means you're about to break out into something new, to try something you've never tried before, and to do something you've never done before.
And if I can leave with you anything from this post, I hope it is that you are capable of WAY more than you ever thought possible.
That fear pushed me to success. This year, in my first full year of being business on my own full-time, I DOUBLED my part-time hospital salary.
I can't believe I even can say that, because for the first few months I would cry and cry, worried about how I was going to contribute to my family financially. I was getting depressed and often asked myself if I had made a mistake.
But what I've learned is that when you're just about done and ready to give up is when you need to stick it out the most.
Thats where the learning comes from, where the transformations are made, and where the magic happens.
Stay-At-Home Work-At-Home Mom
I sort of feel guilty for complaining, but being a stay-at-home work-at-home mom is really hard.
There, I said it. It's really fucking hard and stay-at-home work-at-home moms don't get nearly the credit they deserve.
Yeah it's awesome and I am blessed because I'm home all the time, and yeah its 100% worth it because I know that my son is home with his family 100% of the time, which is extremely important to me.
But let me just say it one more time a little louder for the people in the back: it's really fucking hard to be a stay-at-home work-at-home mom.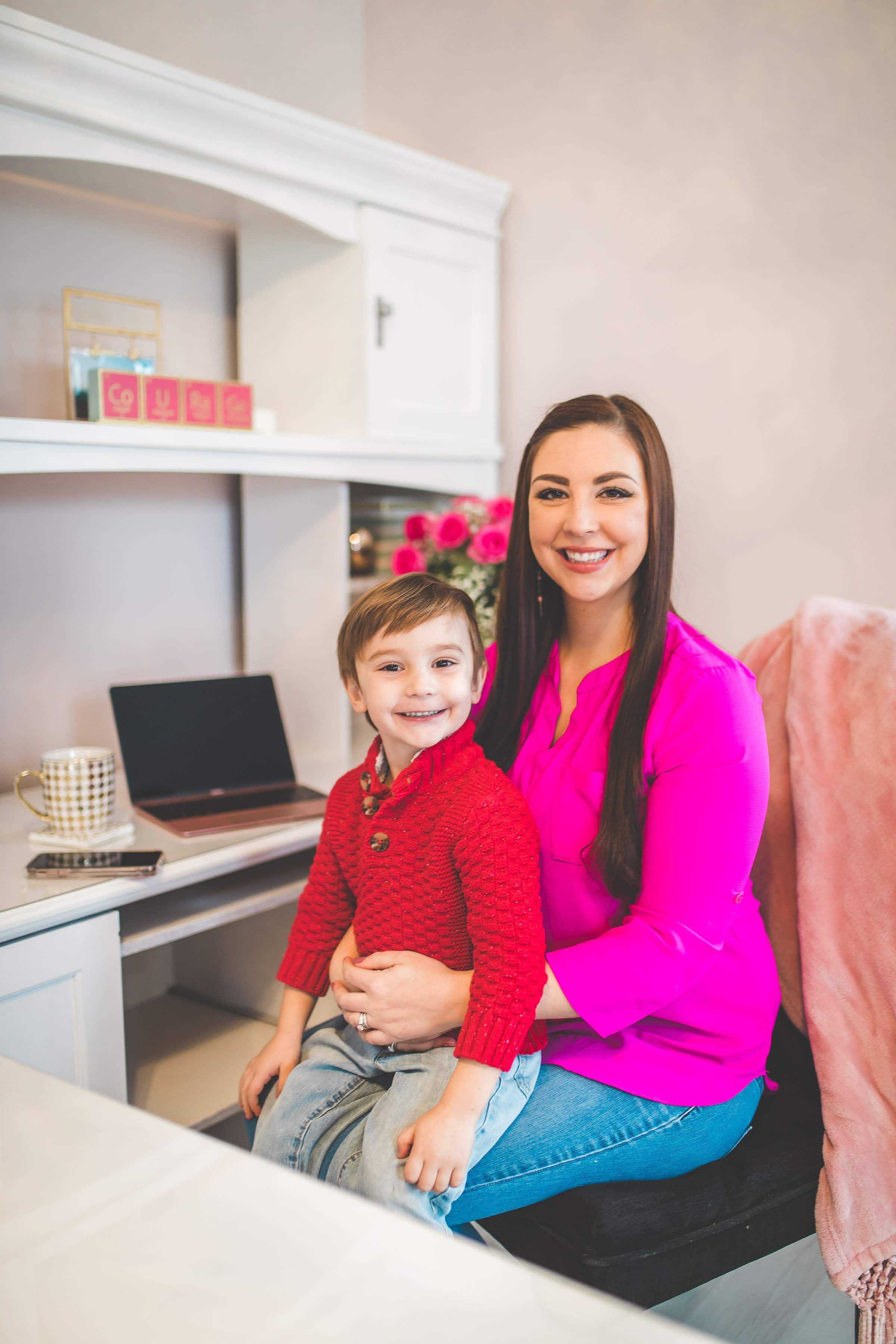 The Struggle Is Real
I've built this business in the margins of my day: at nap time, bed time, snack time, cartoon time – you name it.
I've felt sometimes that I am the worst business woman ever because I put my family first, and I've felt sometimes that I am the worst mother ever because I put my business first.
I've felt the pressure of bringing home a paycheck to support my family, and I've felt the pressure of not being home enough to keep the house clean or a hot meal on the table.
I've felt the anxiety of other people assuming I am free all the time to do whatever, whenever, because it's not like "I have a real job".
I have felt the pressure and the need to try and prove myself to the people in my life, because so much of what I do is online and doesn't really seem 'real'.
So Much Gratitude
As much as I just complained about being a stay-at-home, work-at-home mom, it really is truly amazing and the greatest gift I have ever received.
The struggles are SO worth the chaos I feel some days (or maybe most days).
The struggles are worth the fact that I have 100% freedom in my life to do what I want, where I want, when I want.
The struggles are worth the fact that I have spent every moment with my sweet boy, and I've never had to feel the anxiety of being away from him when something important was happening.
Work From Home in Your Dream She Shed Office
And through those struggles, I learned that I just needed some space, a way to separate my work life from my home life. A place to host my Holistic Health Counseling Private Practice for nutrition and cannabis counseling.
A way to escape and have more than just 5 minutes alone to think. A way to put what I preach about living a happy & healthy holistic lifestyle into practice.
So last year when I was broke and daydreaming, it seemed like a far fetched idea when my husband suggested in sarcasm "eh, I'll just build you a shed in the backyard".
Little did he know, I thought that was the PERFECT idea.
What is a She Shed?
She Sheds are the new Man Caves, a special place for women to escape from their homes into a magical wonderland built just for them.
At least that is how I feel anyways!
I still can't believe this is real, but here it is live and in color – the official reveal of my dream she shed office.
I would be nowhere and have nothing if it weren't for my mom, my dad, my husband and my father-in-law.
Each and every one of them has put in the hard work, physical labor, time, love and energy needed into creating this space. We saved a considerable amount of money doing the work ourselves.
This Shed Shed Office is 100% GLAM on a BUDGET.
Honestly, I don't know exactly how much we spent on the She Shed, but we came in UNDER our budget of $10,000.
We contracted Amish Builders to build the 20'x12′ structure, they built it and delivered it to our house for $3,300. Everything else we did ourselves, which saved a considerable amount of money.
A Look Inside
Welcome to my She Shed!!
This is my official office in the backyard of my home located in Livonia, NY. I use this office as my private practice, so if you need nutrition counseling or cannabis services, you can come to visit!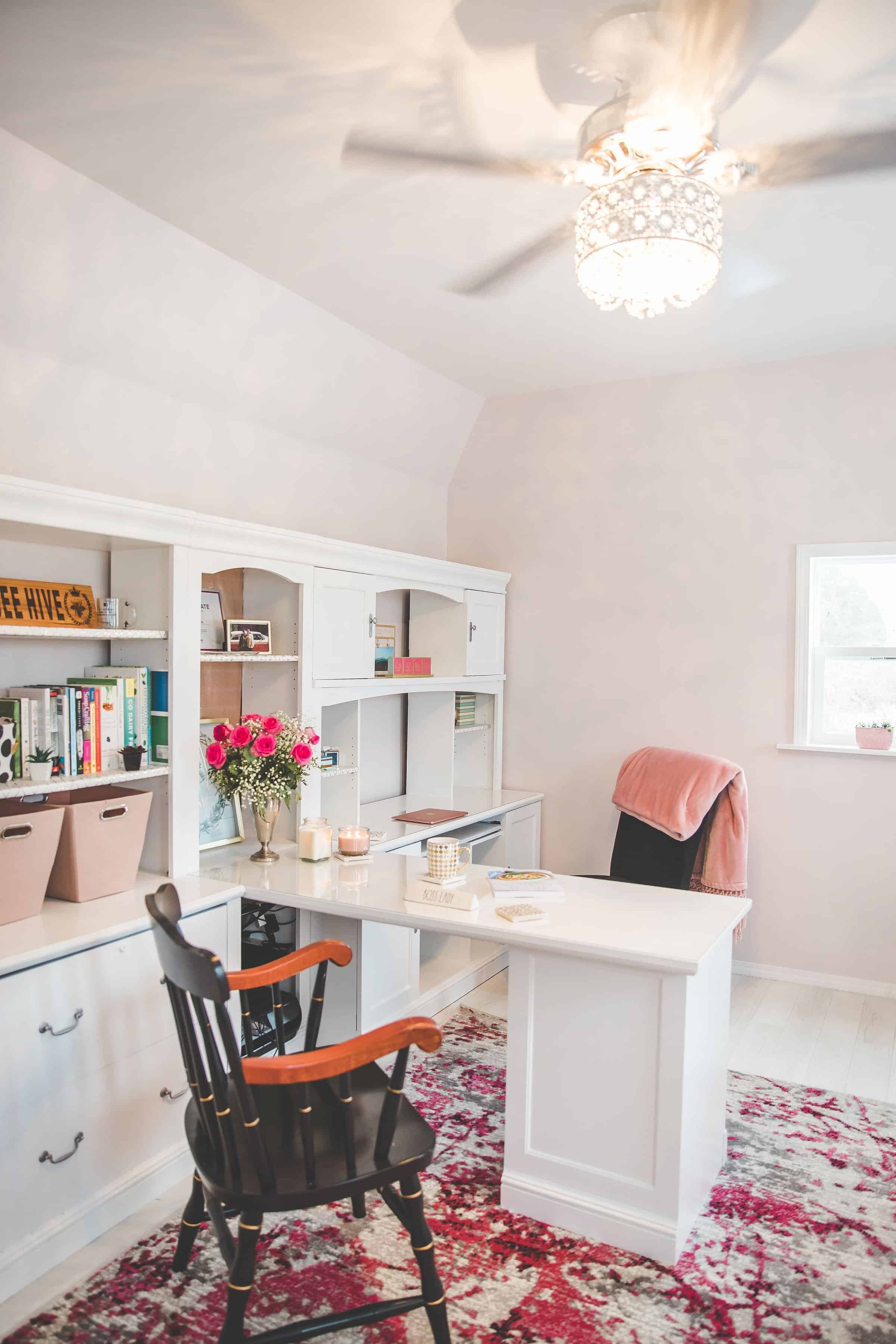 The white desk furniture was purchased off of Craigslist for $300. It was fugly laminate brown and my mom spent two weeks sanding, priming, and painting to make it look as beautiful as it is today.
Yes, she is amazing.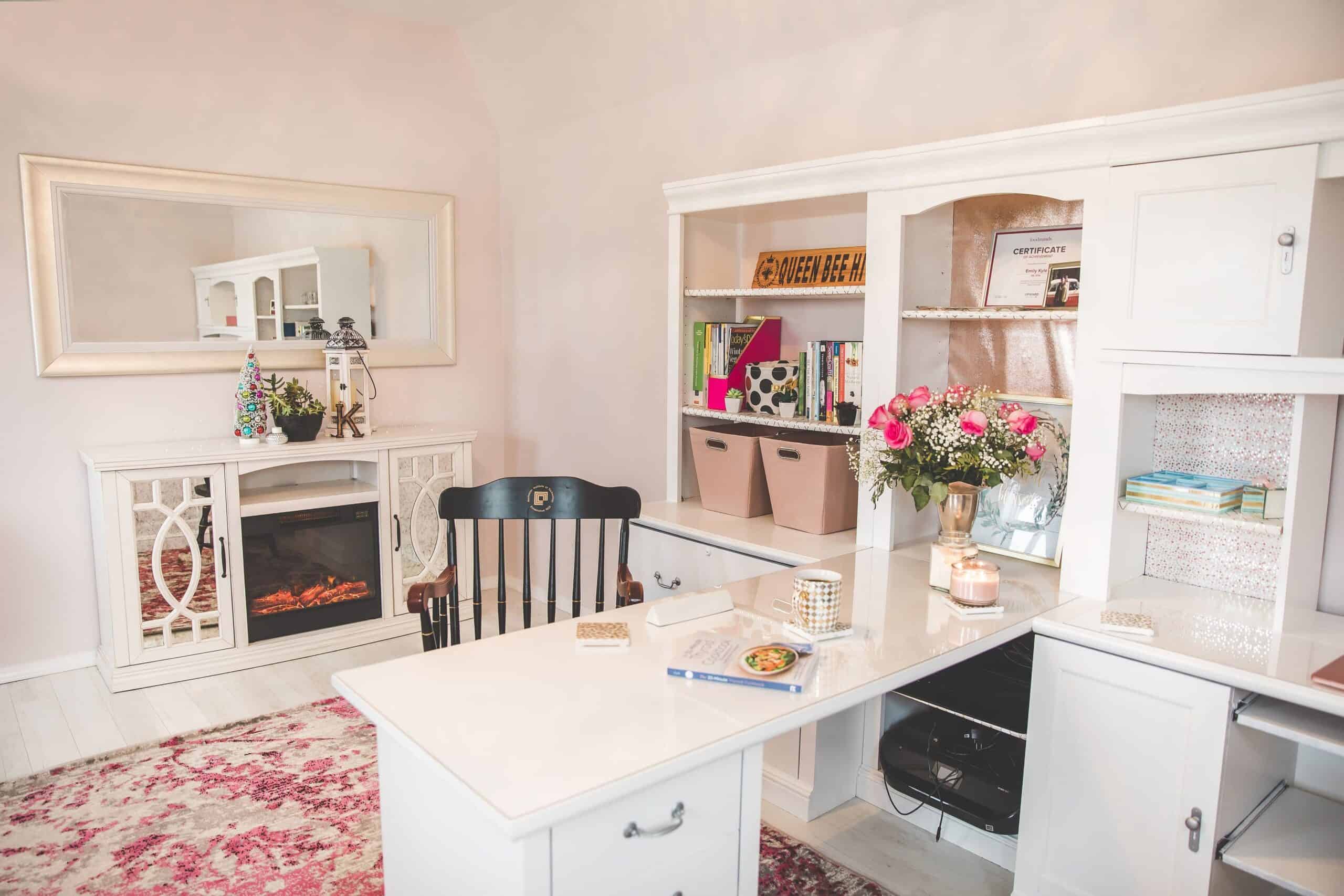 I spent $85 to get plexiglass to put on the tops of my desk to keep it from getting scratched or ruined.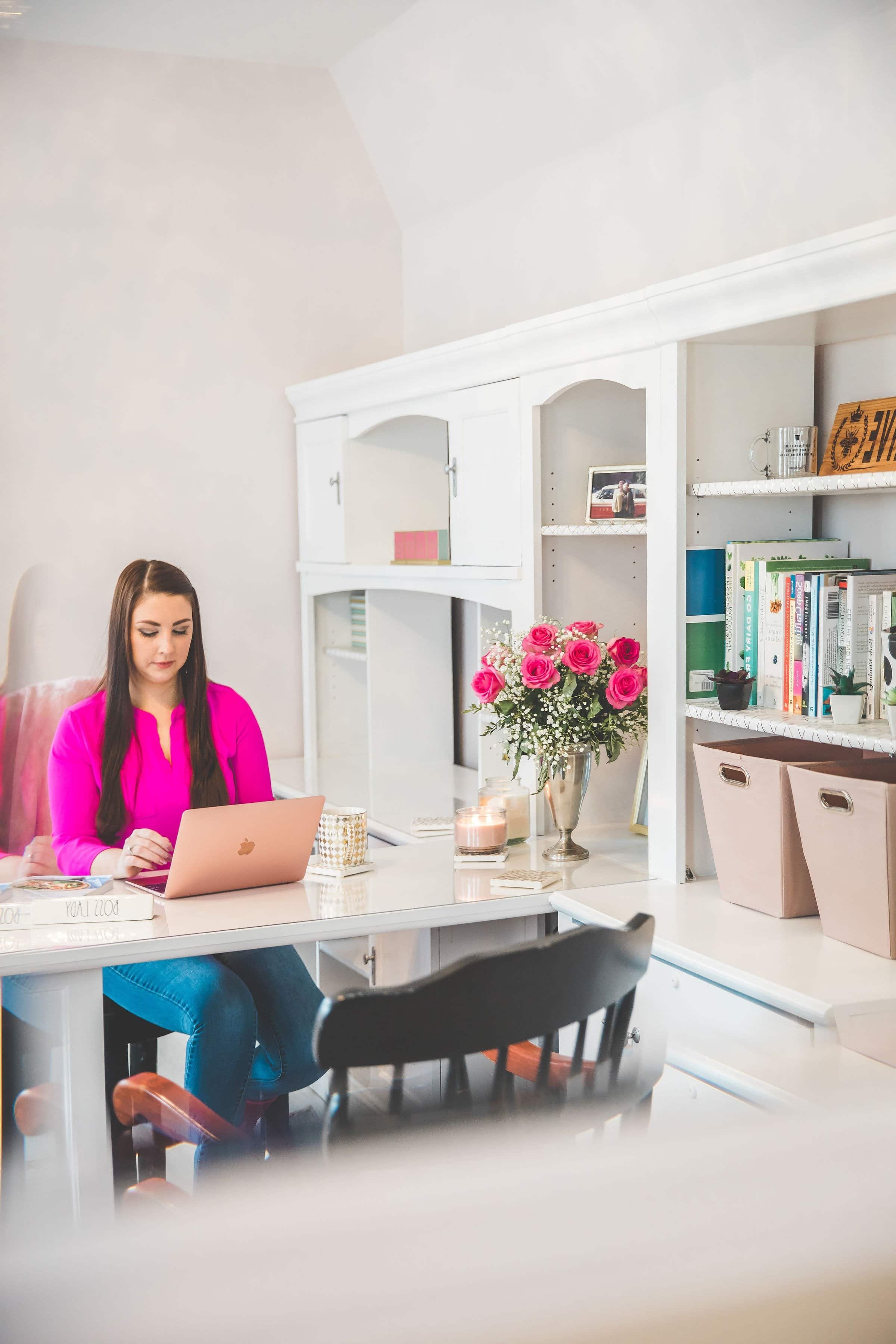 As an anniversary gift to myself I purchased my very first Mac computer, and I could not love it more. It's always more special when you have to work for it and finally get to purchase it for yourself.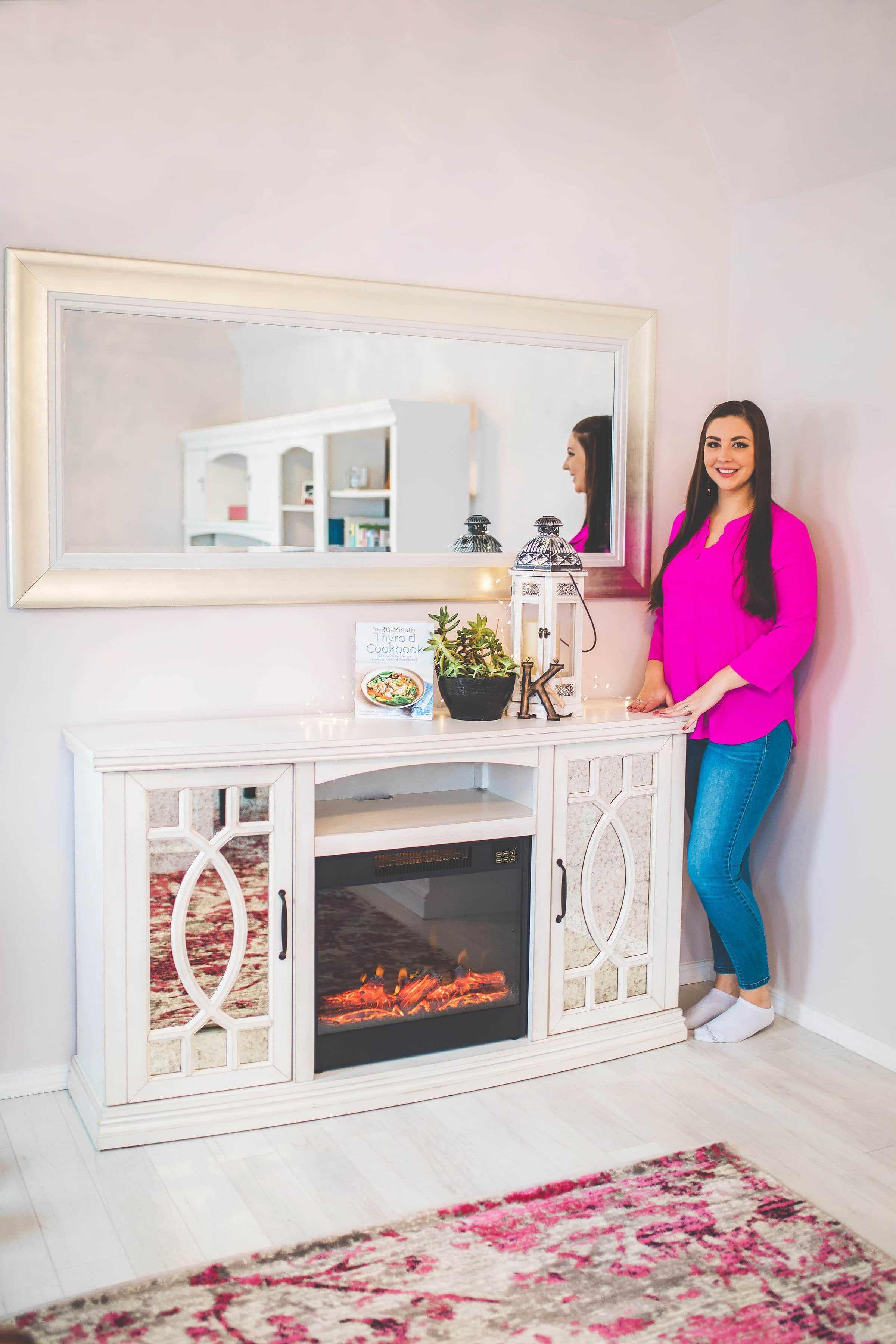 We spent $500 on this Electric heater from Big Lots and $60 on this mirror from Home Goods. I LOVE the fire place, but it just unfortunately is not enough to heat the 200 square foot space on a chilly 16 degree day like today, so we are going to be also purchasing and installing a propane fireplace soon.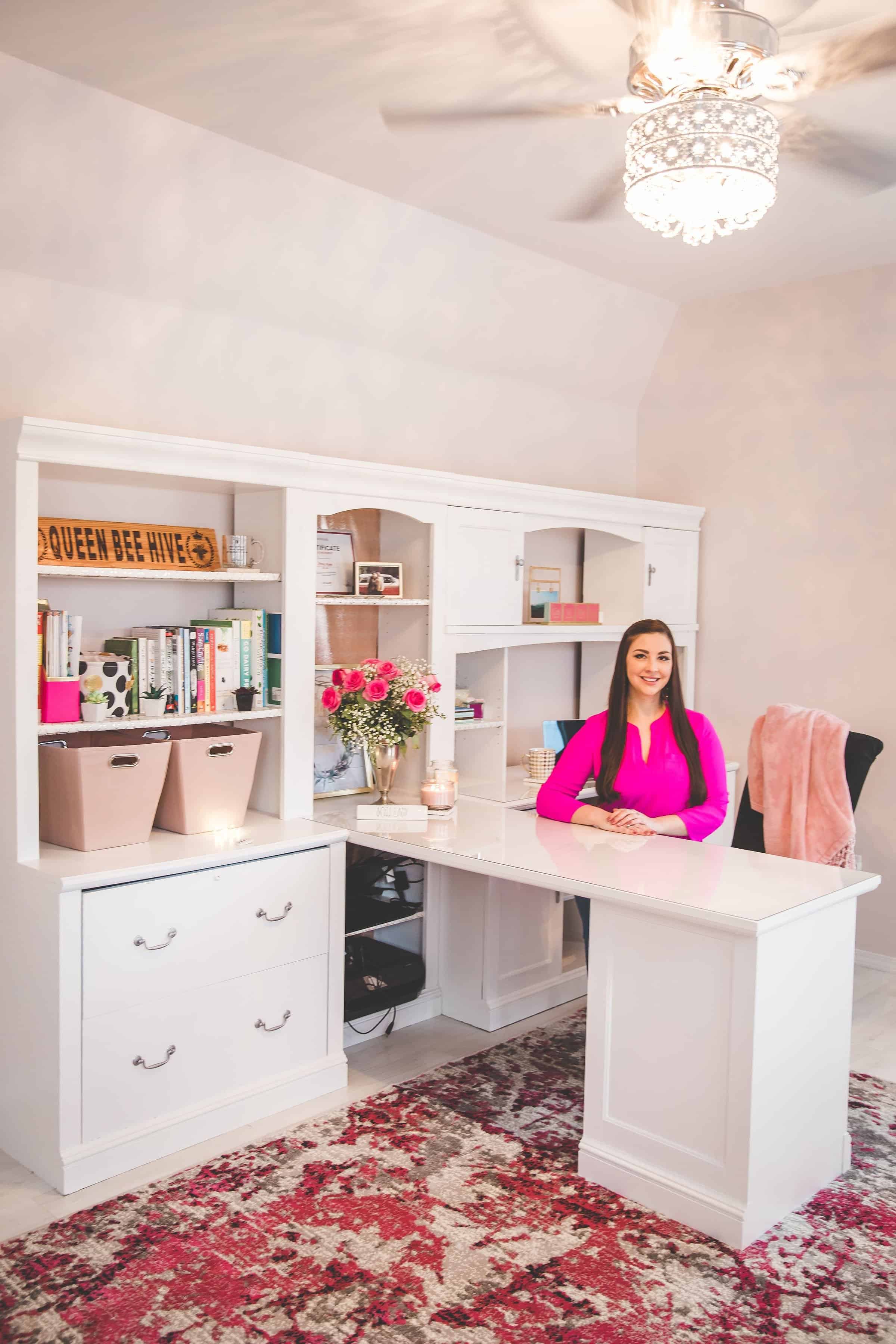 I can't believe this is mine!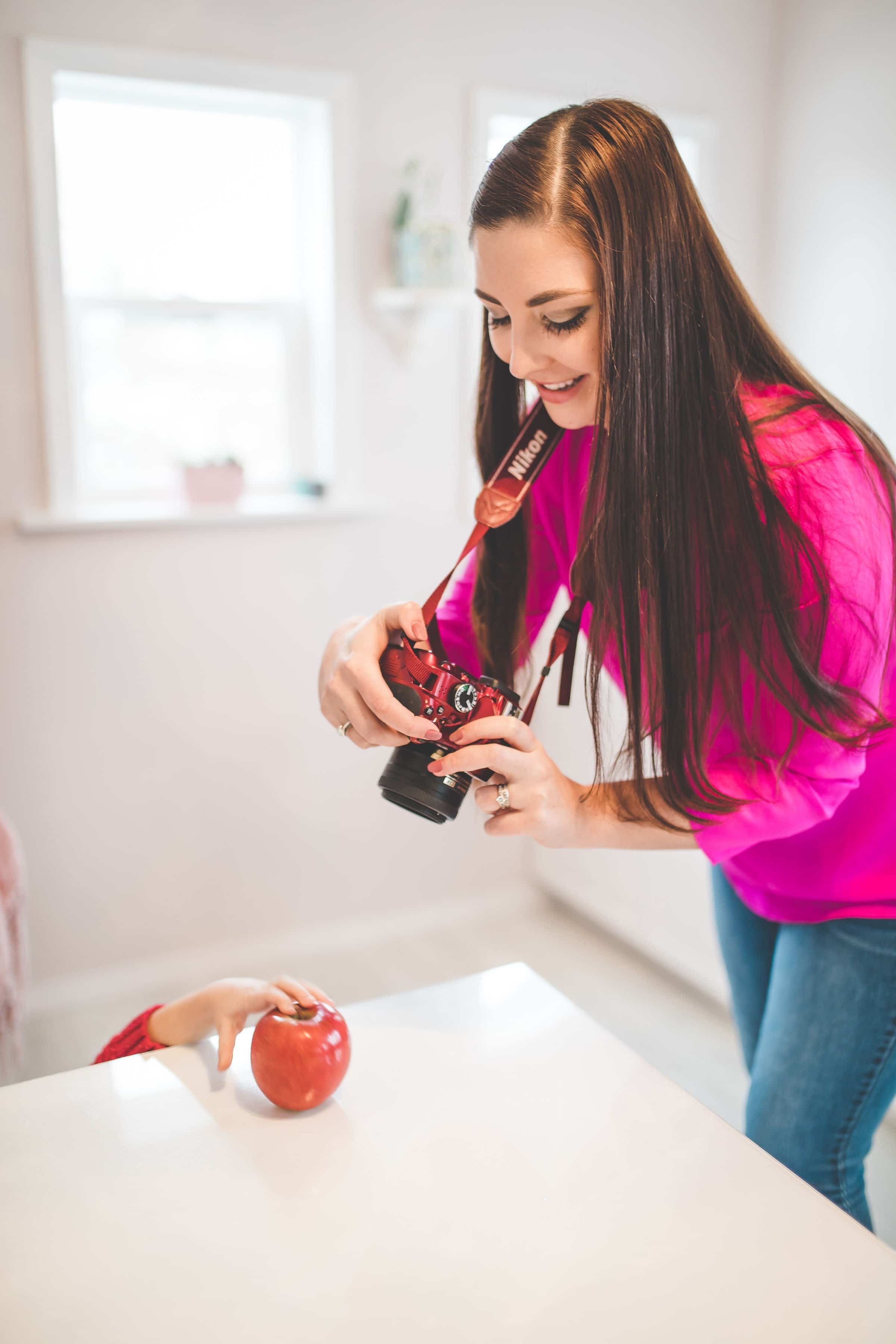 We specifically designed the shed when working with the Amish to have all of the windows facing the south and west so that I would have the best possible natural light for my food photography. So far, so good! I am very happy to have a new studio where I can work on improving my photography skills.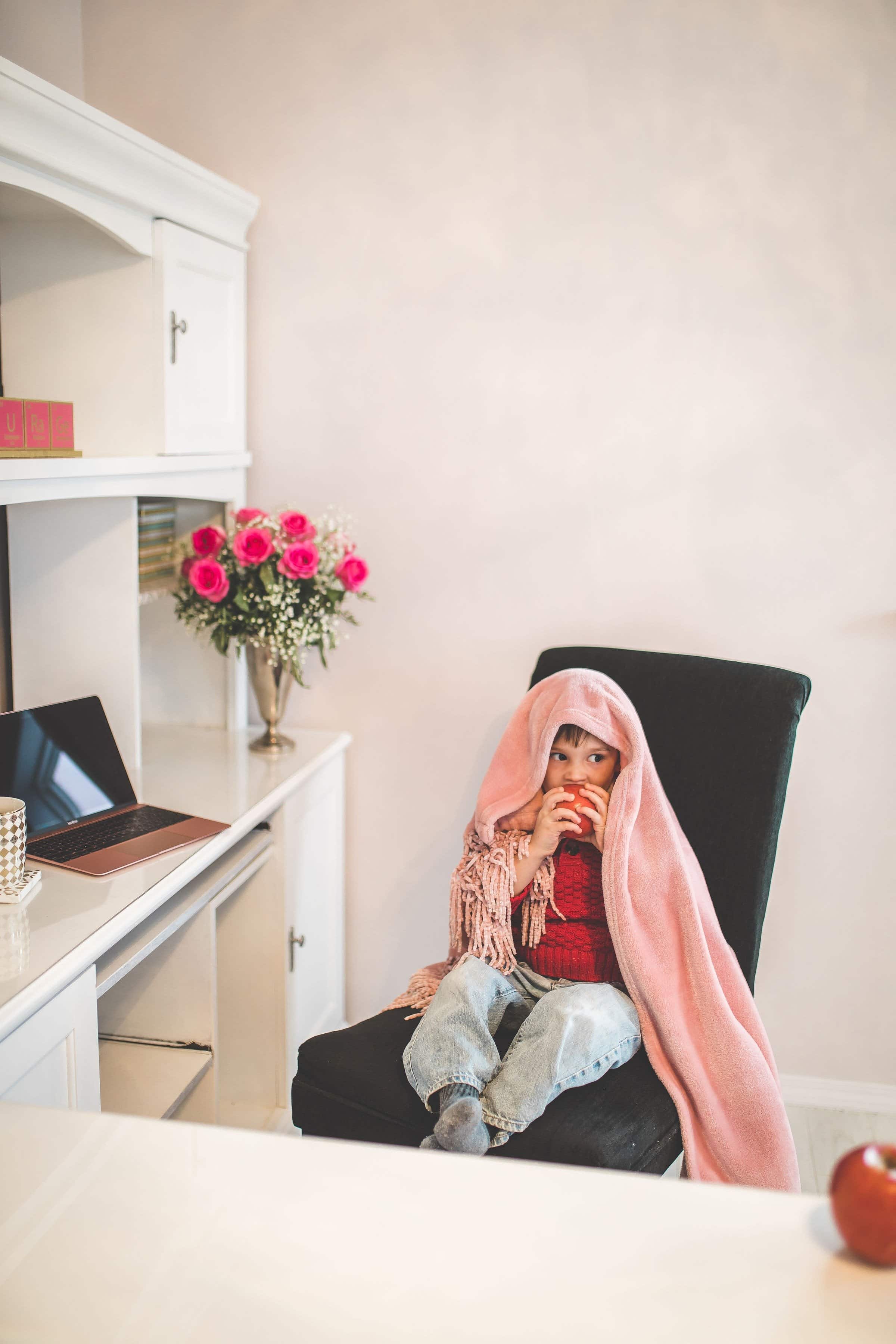 Ransom was an amazing little helper in the months that it took to build the shed! Luckily, he says he doesn't like it that much anymore – which means that I can stay in my She Shed ALONE 🙂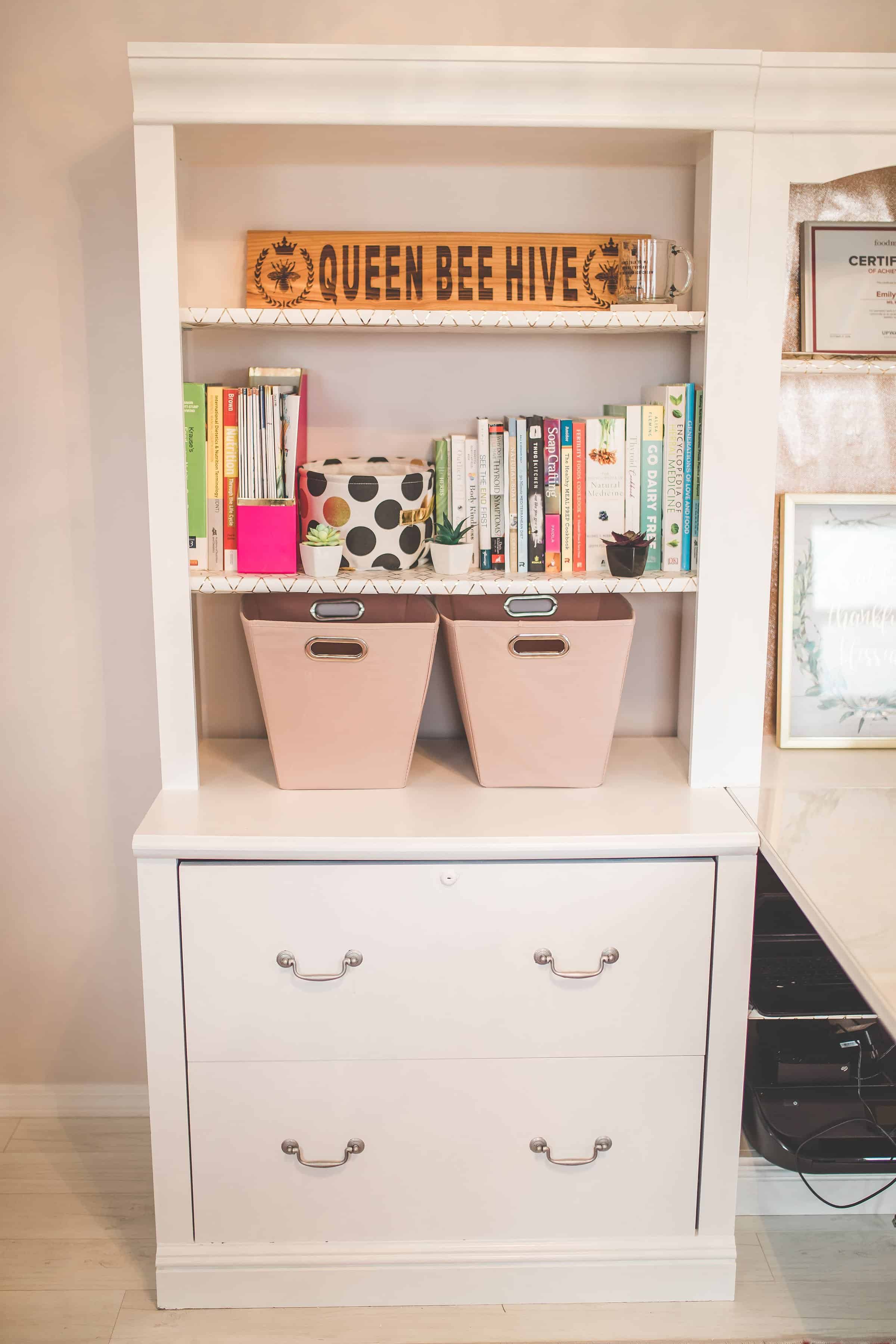 Because I plan on having my private practice in here, it is awesome that I have a place to keep all of my books, client files, and well everything else. For the past three years all of this stuff has been silently infiltrating my closets, under my bed, and anywhere else I could find room inside my house.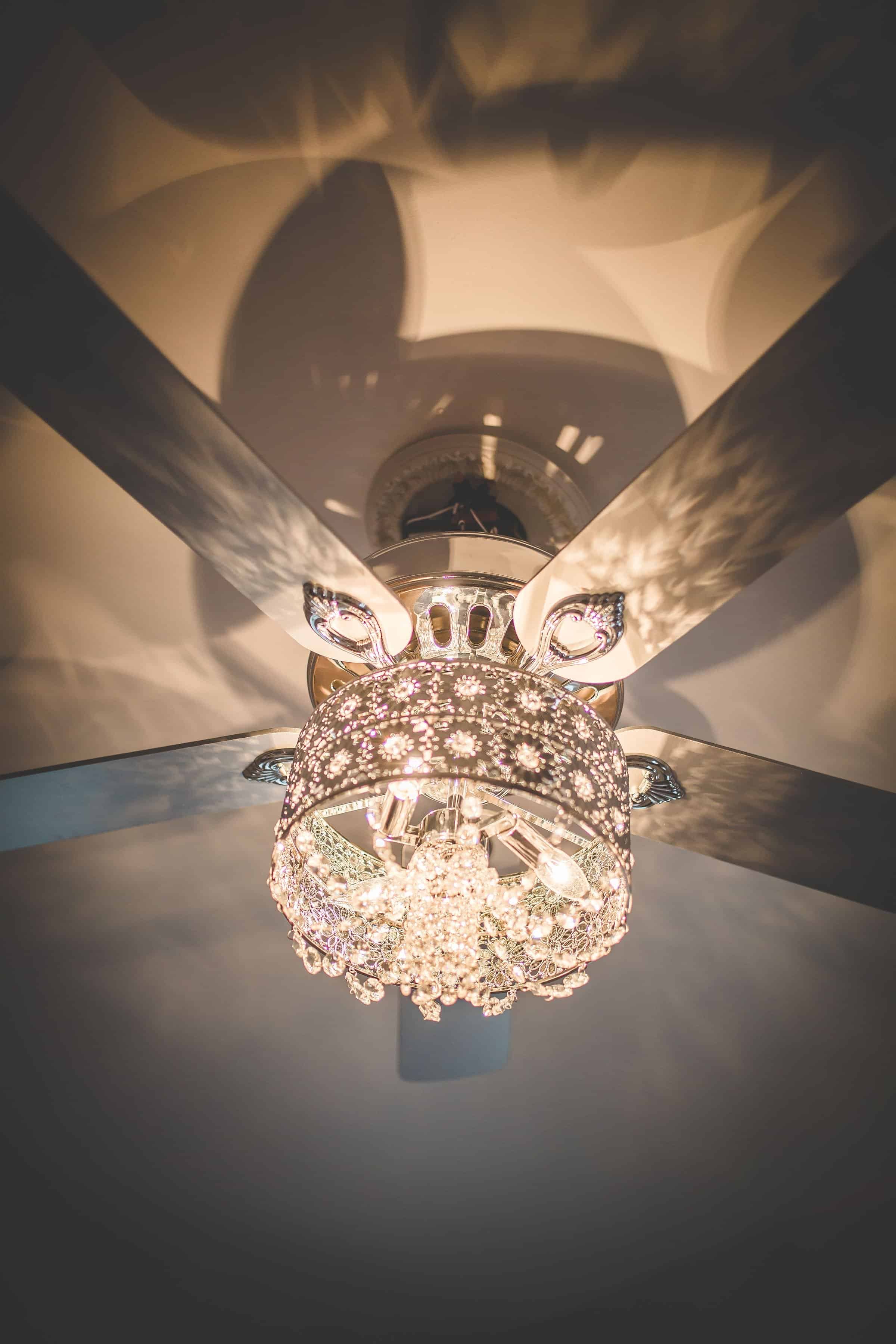 What is a She Shed without a chandelier? I love this one that is a chandelier WITH a fan!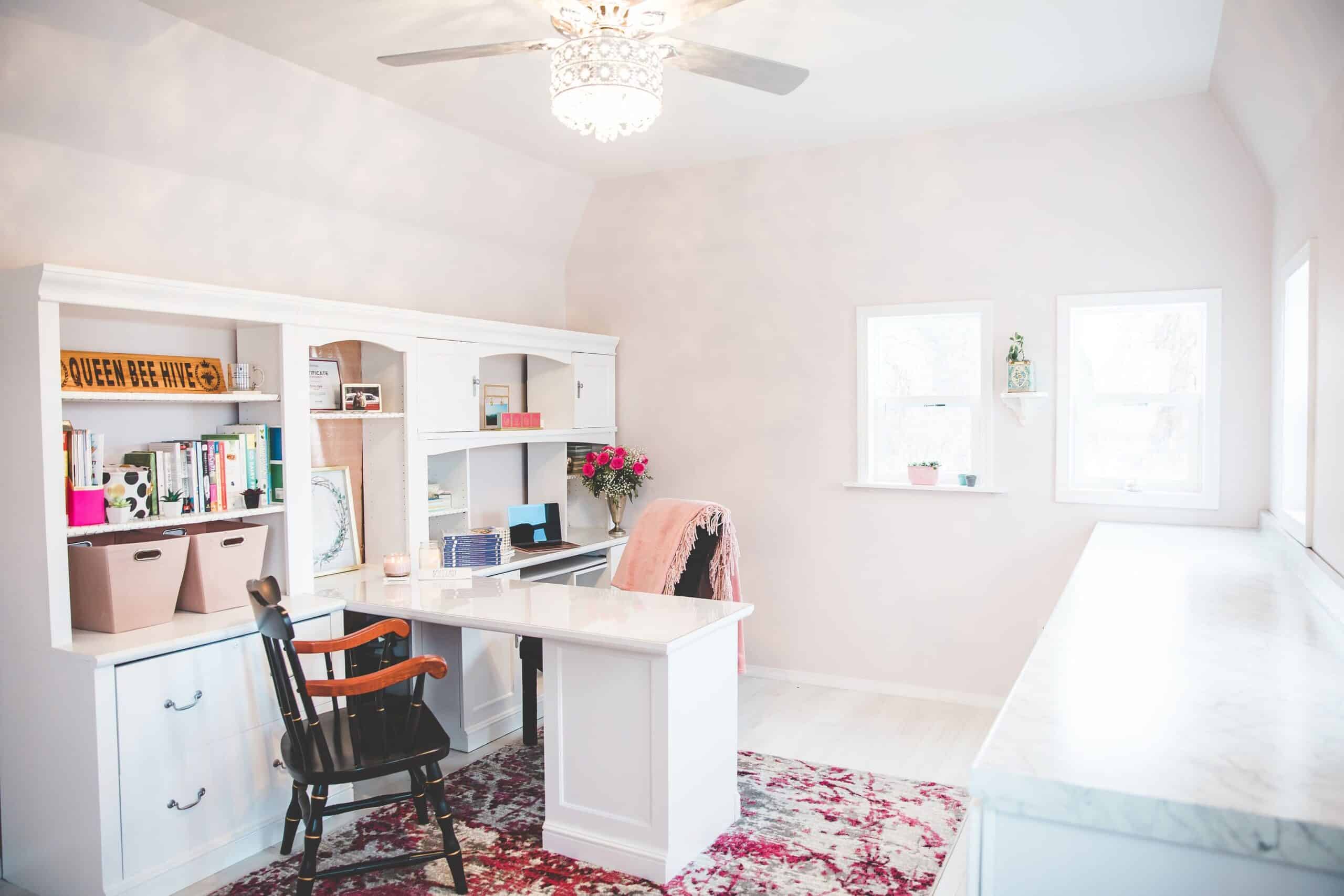 A full view from the front door. Over on the right you will notice the cabinets and counter top. These were the most expensive, but worth it to have storage space and a perfect place to take my photos.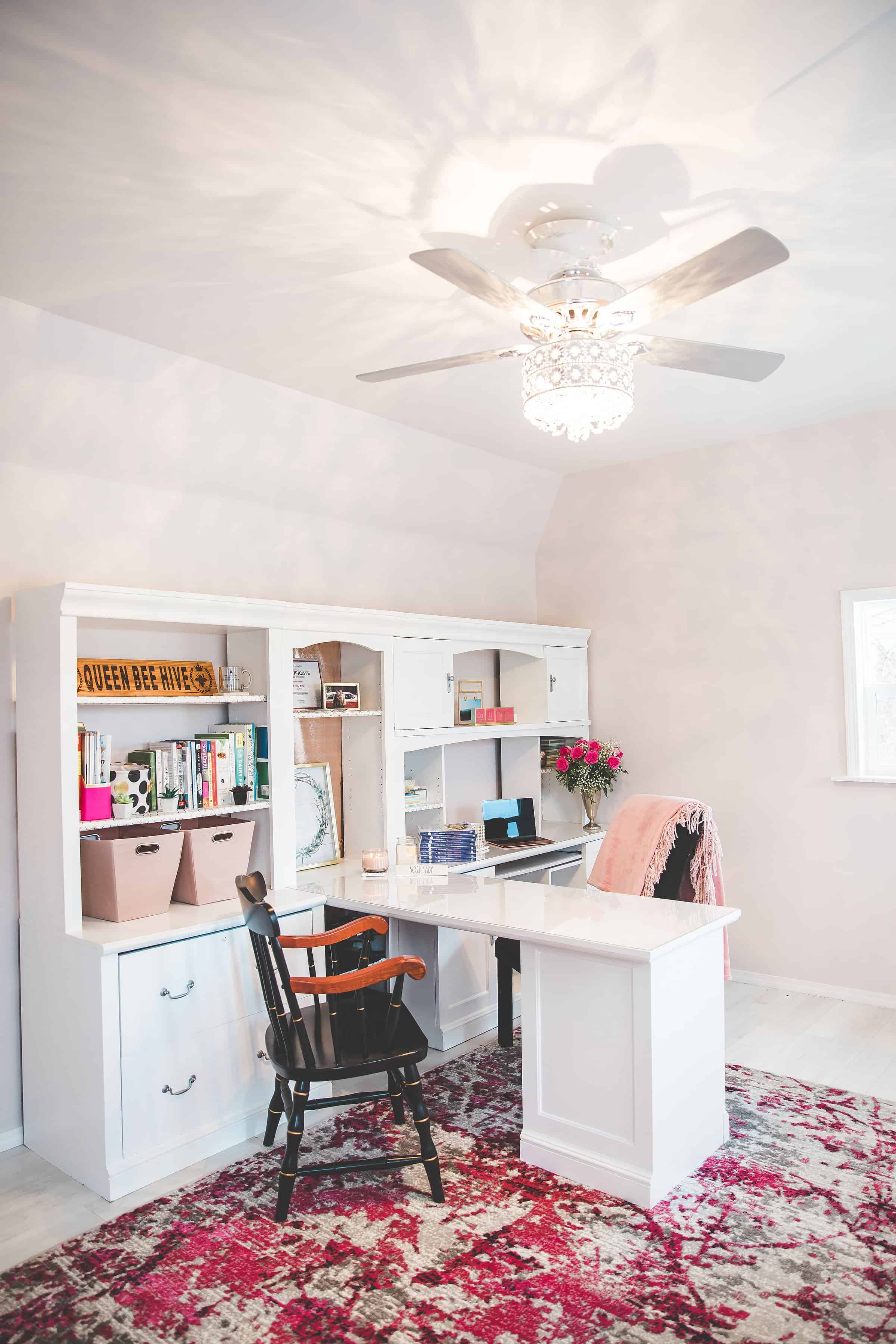 So when you're ready I invite you to come visit me in the She Shed!! I am going to be putting in a Keurig Coffee Station and a BAR 😉
Because all good She Sheds need a bar, and I like enjoying cocktails with my friends.
My Cookbook
And right at the same time that my She She was being completed, I finally got a hard copy of my book!!
Both the book and the She Shed are so symbolic for me as we close out 2018, as they are both the physical manifistation of work that has been 100% online and invisible for the last three years.
Learn more about my book and purchase your copy here.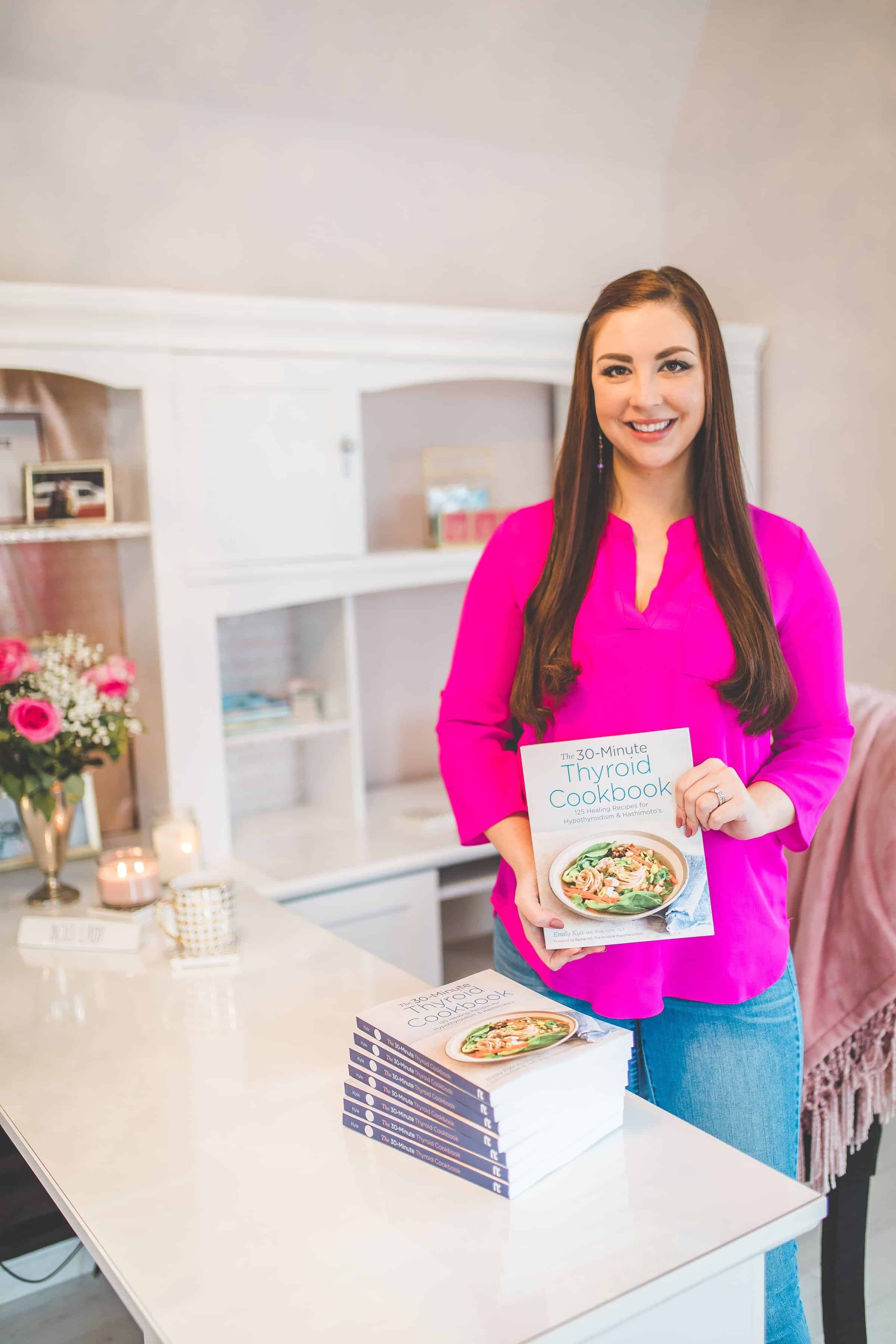 WHAT'S COMING IN 2019
It's funny now that I look back on what I said last year because many of my same goals are true.
I wrote last year: "2018 is going to be the year that I officially open the doors to my private practice, which has been a long time dream of mine. I have started to expand my studies in order to help people with inflammatory conditions like I experienced".
I've done a lot of work and am proud to say that 2019 is going to be the year I officially, officially open the doors to my private practice.
This past year I completed my Certified Lifestyle Eating and Performance (LEAP) Therapist training in order to treat and detect food and chemical sensitivities. I now feel confident in my ability to work one-on-one with clients to help them manage inflammatory conditions such as IBS, Migraine, Arthritis, IBD, Hashimoto's as well as conditions like diabetes and weight loss.
And I am on track to completing my ultimate goal of becoming a Certified Holistic Cannabis Practitioner. I have started my classes and am hoping to be finished 8 months early in April 2019. Once that is completed, I will be offering Cannabis Counseling services as well.
Of course, I am really excited for the surprises that will come in 2019 as well. 2018 was full of so many AMAZING surprises that I just can't imagine how this next year could be any better, but it always does.
Thank You
Thank you for reading. Thank you for being along on this journey with me. Thank you for your love and support. Every like on a post, every comment, share, click on a link, mention to a friend, purchase of my book and so much more keeps my business running.
I thank God every day for the blessings I have and try to never take for granted this once-in-a-lifetime opportunity. I know how lucky I am, and I hope that I can continue to pass along the luck, kindness, and amazing opportunities that have been given to me.
If you have any questions about building your own business, building your own She Shed, or anything else, please just feel free to email me at emily@emilykylenutirtion.com.
And thank you, again. For everything. I am the luckiest girl in the world.

Before You Go!
Are you ready to gain control over your anxiety? Download this Free Meal Plan that will teach you how to use food & plant-based supplements, like CBD oil, to naturally manage anxiety so you can reclaim your day-to-day joy and productivity!

Download the Free eBook – The Anti-Anxiety Meal Plan (PLUS Tips for Using CBD Oil) below: