This tried and true, no-fail recipe for cannabis gummies made with oil is the perfect recipe for delicious cannabis-infused gummies that do not sweat or separate once prepared. This guide includes options for different infused oils, flavorings, sugar-free options, and more.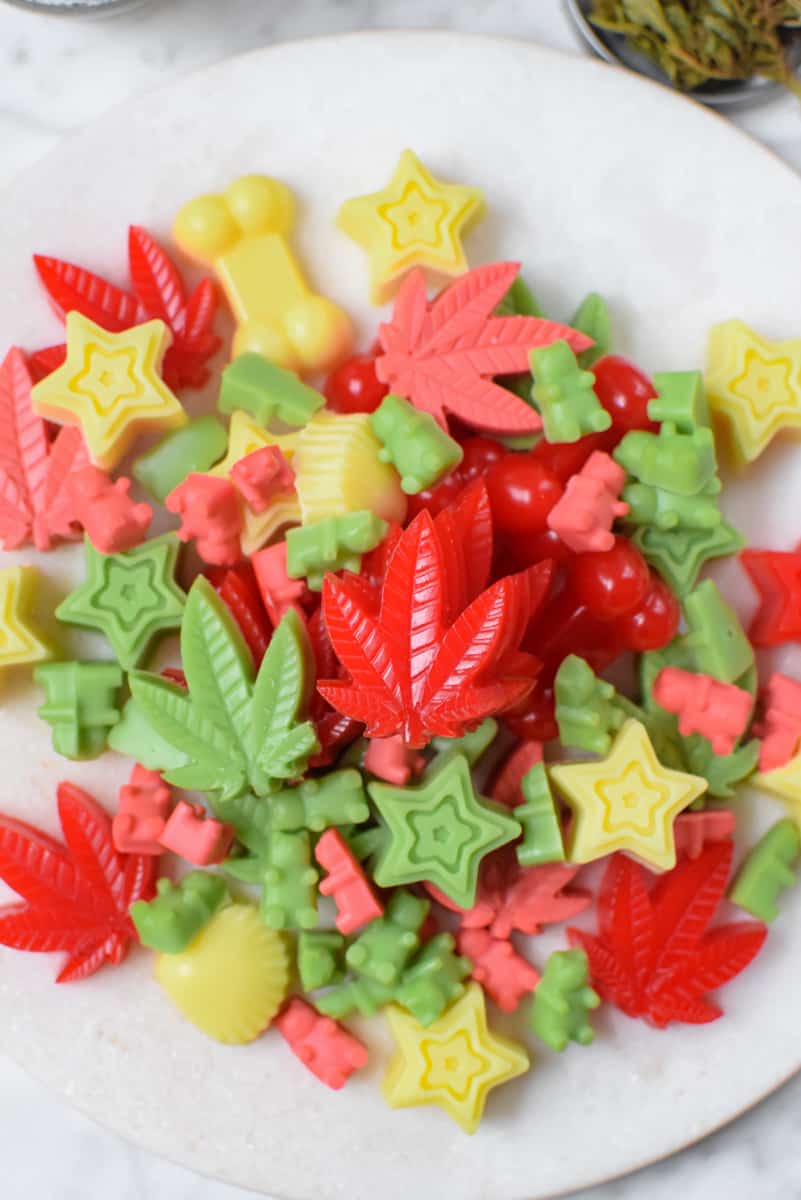 How to Make the Perfect Cannabis Gummies With Oil
With so many different cannabis gummy recipes available on the internet with different instructions and methods, it can get overwhelming when trying to pick the perfect one.
Luckily, we have tried them all and worked to put together this no-fail guide on how to make the Perfect Cannabis Gummies With Oil.
By following our easy directions, you can create a delicious cannabis gummy that is the perfect texture and consistency, with no separation or sweating.
However, I recognize that that gummy taste and texture preferences as subjective, and for this reason, we recommend you try this recipe with *non* cannabis-infused products first.
That way, you know you like the taste and texture of the recipe before incorporating your hard-earned cannabis products into the recipe.
If you don't have cannabis-infused oil available or are looking for a gummy alternative, we also have these different gummy recipes available:
Please join my Well With Cannabis Facebook Community if you have any questions about cooking with cannabis, how to make this recipe specifically, or anything else you can think of that is cannabis related!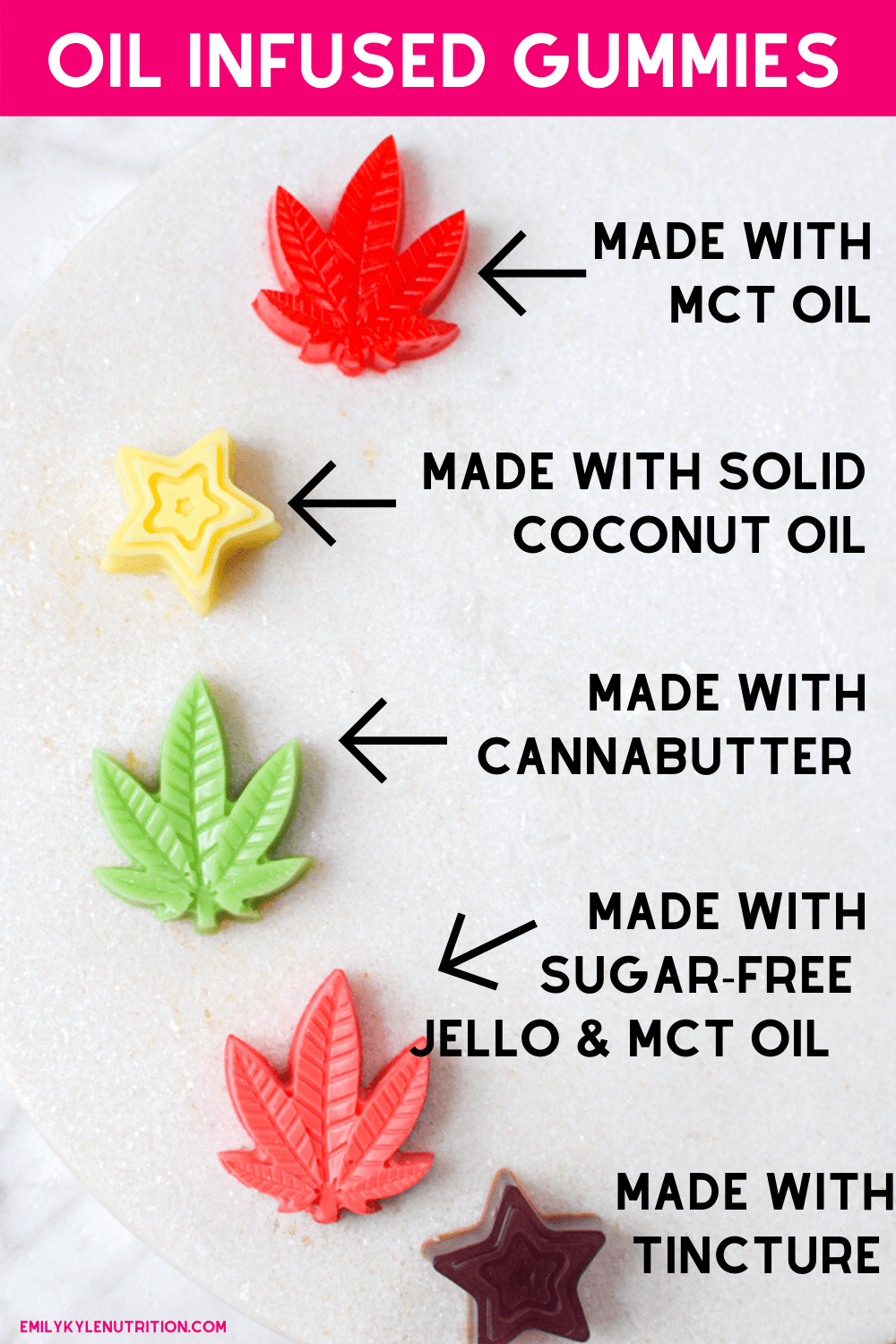 What Oil Works Best For Cannabis Gummies?
As you can see with the visual above, the final texture and appearance of your gummies will vary slightly depending on what type of ingredients you use.
Below we will go over all of the infusion options that will work with this recipe in detail, including the pros and cons of each option.
At a quick glance, here are our oil recommendations ranked from favorite to least favorite:
Cannabis-Infused MCT Oil
Cannabis-Infused Coconut Oil
Cannabis-Infused Butter
Other Cannabis-Infused Oil, ie: infused olive oil, infused hemp seed oil, infused avocado oil, etc.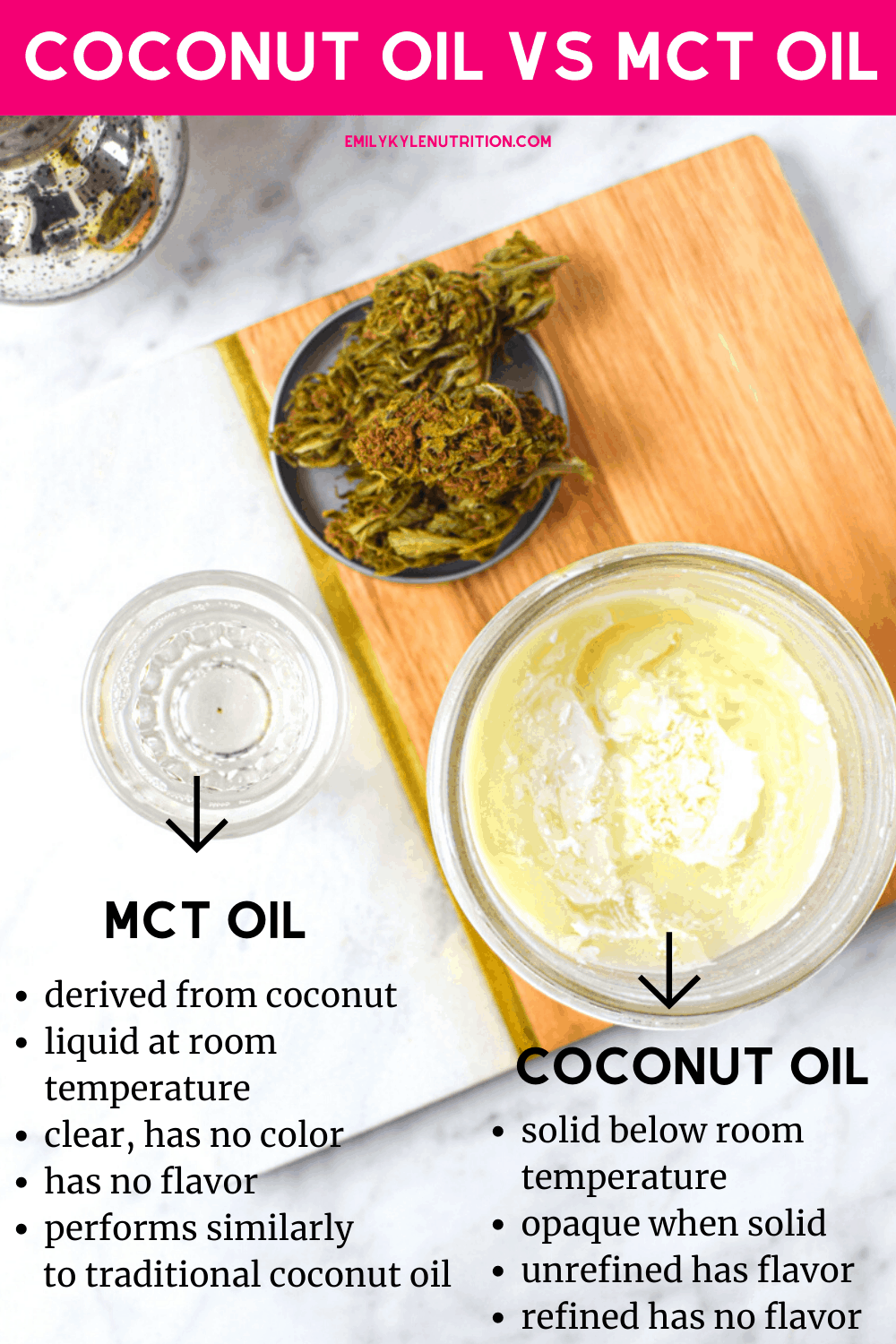 Cannabis Gummies Made with Infused MCT Oil
Our favorite option for making these gummies is to use a cannabis-infused MCT oil.
MCT oil is a type of saturated fat extracted from coconuts that are rapidly digested and absorbed by the body.
MCT oil remains liquid at room temperature, is completely clear with no color, and has no flavor.
Many people prefer liquid MCT coconut oil for infusions because it is tasteless, and some people find it easier to digest compared to other oils.
Using MCT oil for your infusion will result in a more clear gummy that is less dense and more 'jiggly' than a gummy infused with traditional coconut oil.
The process for infusing MCT oil with cannabis is exactly the same as making traditional infused coconut oil using either refined or unrefined coconut oil.
If you haven't made MCT cannabis oil yet, click here for full instructions.
You will need to have this ready before starting the gummy making process.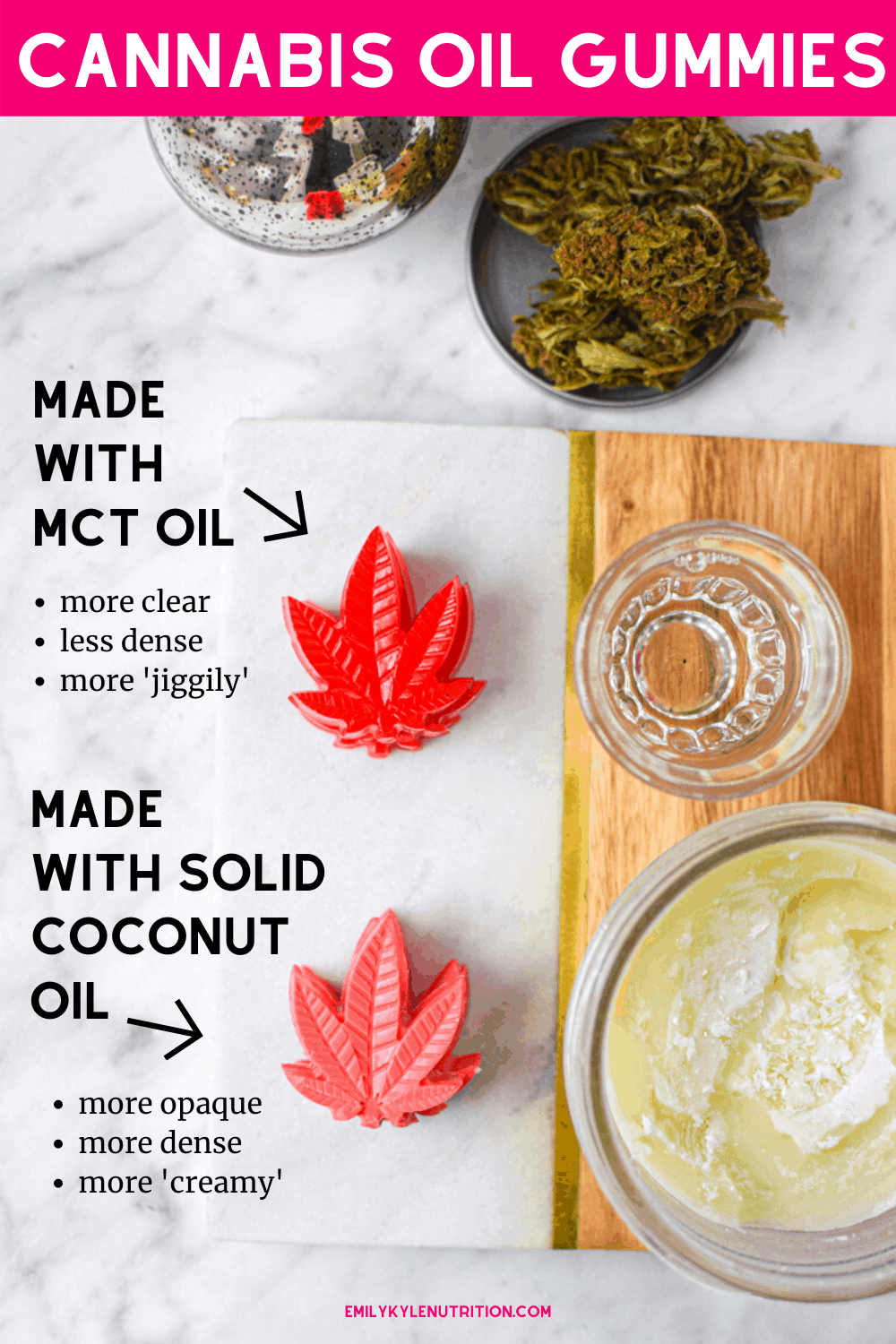 Cannabis Gummies Made With Coconut Oil
Our next favorite option for making infused gummies is traditional cannabis-infused coconut oil.
If you only have cannabis-infused coconut oil on hand and not MCT, have no fear, these gummies still turn out great with no separation.
Coconut oil remains solid at room temperature, is opaque in color, and has two primary different options: unrefined and refined.
Unrefined coconut oil is made from the 'meat' of fresh coconuts and then cold-pressed, leaving just the oil which has a pure coconut flavor.
Unrefined coconut oil has a more natural, more prominent, topical coconut taste and smell.
Refined coconut oil is an oil made from dried coconuts that have been put through additional processing.
The biggest draw to refined coconut oil is that it has a very neutral taste and flavor, making it easier to work within certain recipes where the coconut taste is not wanted.
Many people prefer refined coconut oil because it has a less prominent coconut taste.
As noted in the image above, when gummies are made with traditional coconut oil, they tend to be more opaque in appearance, are slightly more dense in texture, and have an almost 'creamy' texture and mouthfeel.
Cannabis Gummies Made with Cannabutter
It turns out these gummies work perfectly when made with cannabutter in place of the MCT or coconut oil.
However, they had a much more noticeably strong cannabis taste compared to the previous two options.
They also had a creamier mouth feel, similar to the coconut oil gummies.
We opted to pair them with lime-flavored jello which worked well for both color and taste.
If you're interested in making cannabutter, we have a step-by-step guide to get you started here.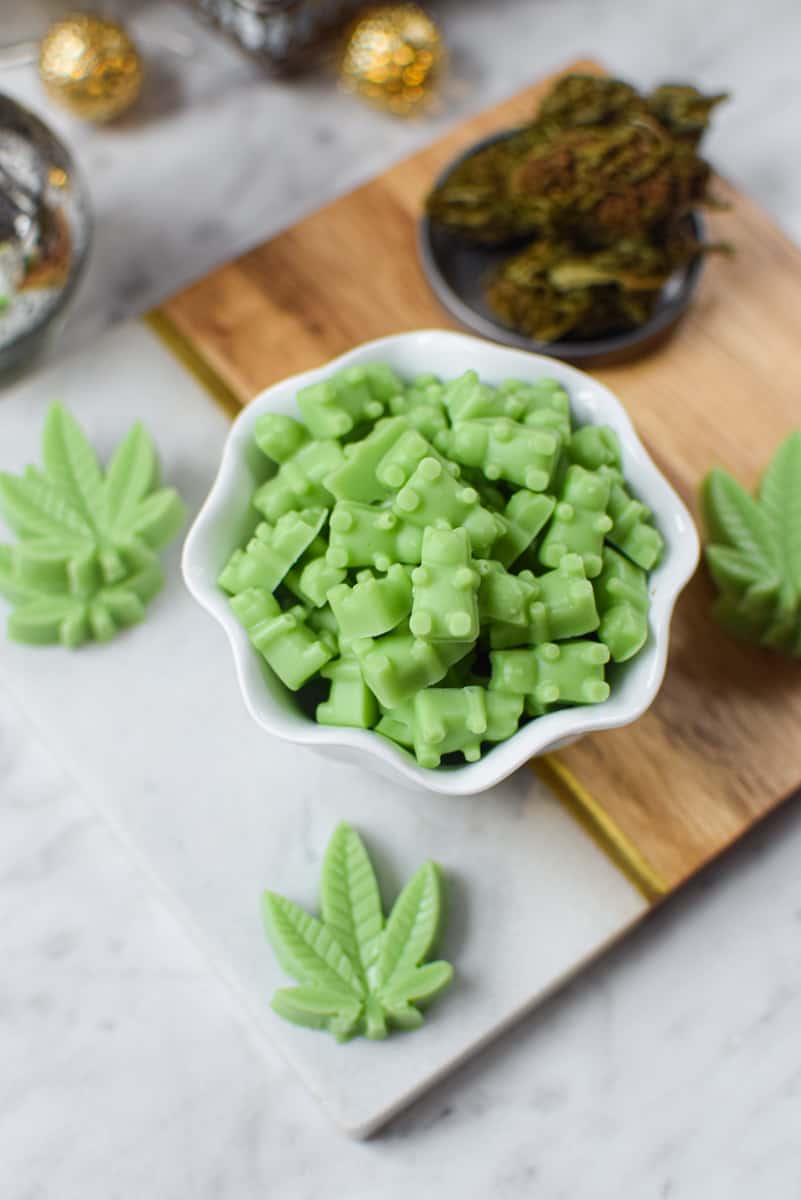 Gummies Made With Other Cannabis-Infused Oil (Not Coconut)
Whether you're allergic to coconuts or simply looking for a different oil to infuse, this recipe will work with just about any oil you desire.
The only caveat is that you run the risk of absorbing any flavors from the oil you're using, especially with stronger oils like infused hemp seed oil or infused olive oil.
Below are the following cooking oils you can experiment with to substitute the coconut oil: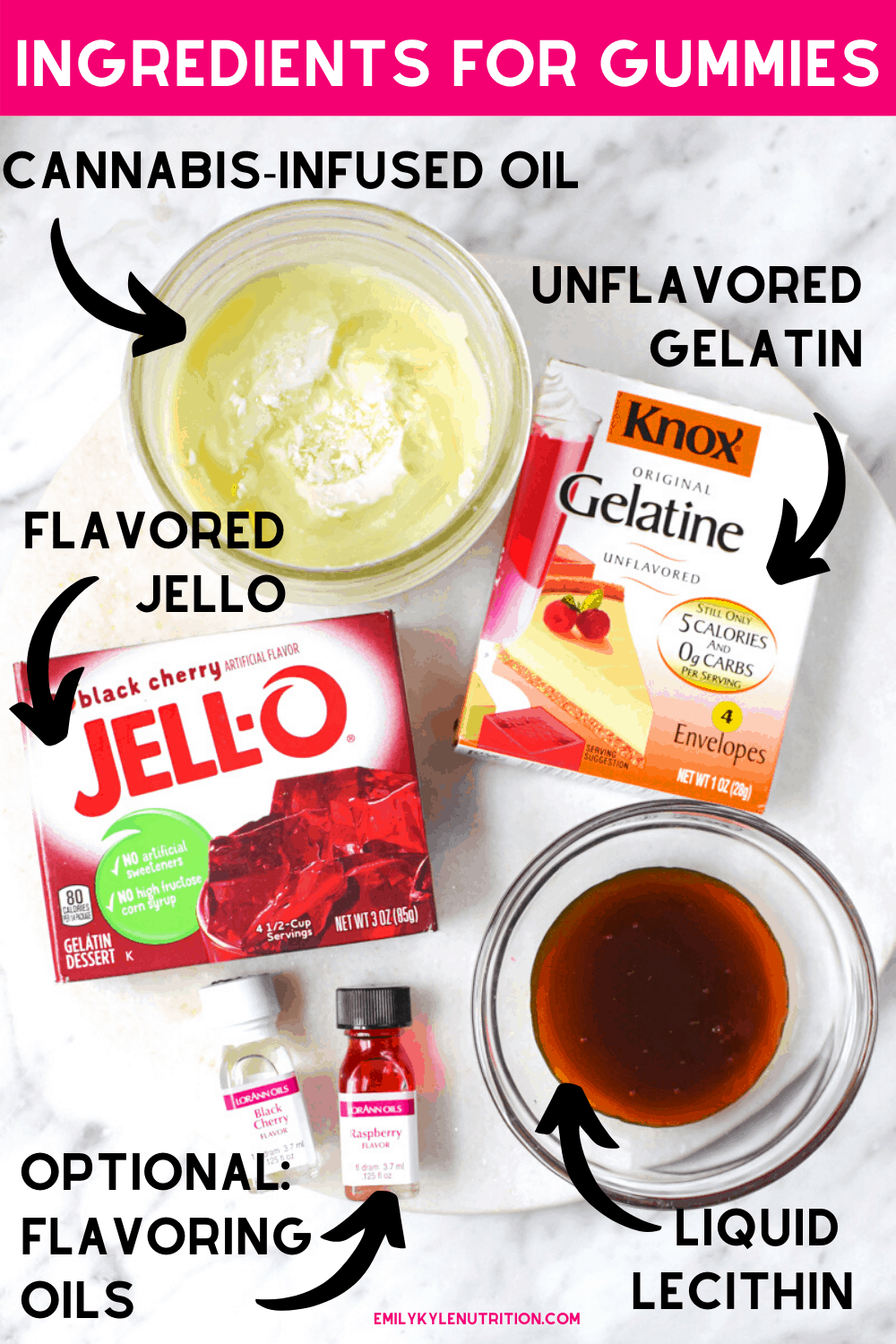 Required & Optional Ingredients
Required Ingredient: Cannabis-Infused Oil
We covered every type of cannabis-infused oil you can use above, now it's just time for you to pick your oil of preference and infuse!
Required Ingredient: Jello
Fun Fact: I grew up 35 minutes from the home of the original Jello factory, which today stands as a Jello museum (that I still have never visited).
Jello is a simple gelatin dessert mix that can be found at any grocery store.
Each box comes in a variety of different flavors ranging from lemon, lime, orange, grape, raspberry, black cherry, and more.
In this recipe, Jello is included to add color, taste, and sweetness to the gummies.
This recipe does not work without the addition of Jello.
Note that Jello typically comes in two different package sizes, a 3-ounce, and 6-ounce package.
For this recipe we will be using one 3-ounce package of Jello.
Required Ingredient: Unflavored Gelatin
Unflavored gelatin may be a new ingredient for some cooks but have no fear; it's a simple ingredient to work with.
It can easily be found in the baking section of your local grocery store or purchased on Amazon.
Gelatin is a colorless, flavorless, protein-based ingredient that helps to create the gummy texture we are looking for in this recipe.
This recipe will not work without the addition of gelatin.
For this recipe, we will be using 1 ounce of gelatin, equivalent to 4 Knox packs.
Required Ingredient: Liquid Lecithin
Lecithin is a natural phospholipid substance derived from soybeans, sunflowers, eggs, and avocados.
Liquid sunflower lecithin may be a new ingredient you're not used to cooking with, but it really is an important staple ingredient for any cannabis kitchen.
Traditionally, lecithin is used as a binder to keep opposing ingredients together in recipes, like oil & vinegar in salad dressings.
Lecithin is thick and sticky like molasses, but it is virtually tasteless. It can come in liquid or granulated or powdered form.
For cannabis cooking, we prefer to use liquid sunflower lecithin.
In this recipe, the liquid sunflower lecithin is critical for keeping the coconut oil bound to the liquid ingredients – without separating.
This recipe does not work without the addition of liquid sunflower lecithin.
If you skip the addition of this ingredient, your gummy's will separate and leave a hard film of oil on the bottom of the gummy.
Optional Ingredient: Super Strength Flavoring Oils
The Jello packet itself provides this recipe both color and flavor.
For some people, that may be enough to mask the cannabis taste.
For those who want the extra flavor boost to help cover the taste of the cannabis in the gummies, these super-strength flavoring oils are the perfect addition.
Available in a wide variety of flavors, these oils can help mask the cannabis taste and make the flavor of your gummies really pop.
Again, this ingredient is optional.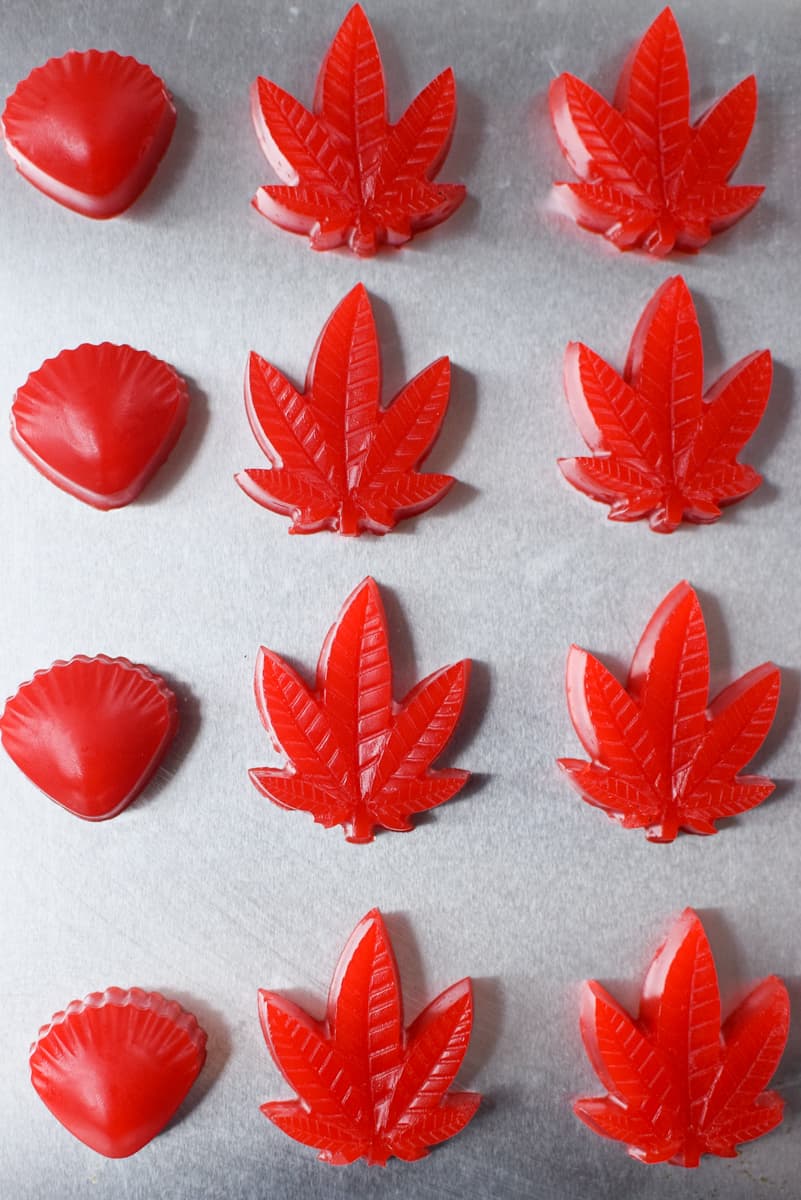 Required and Helpful Kitchen Items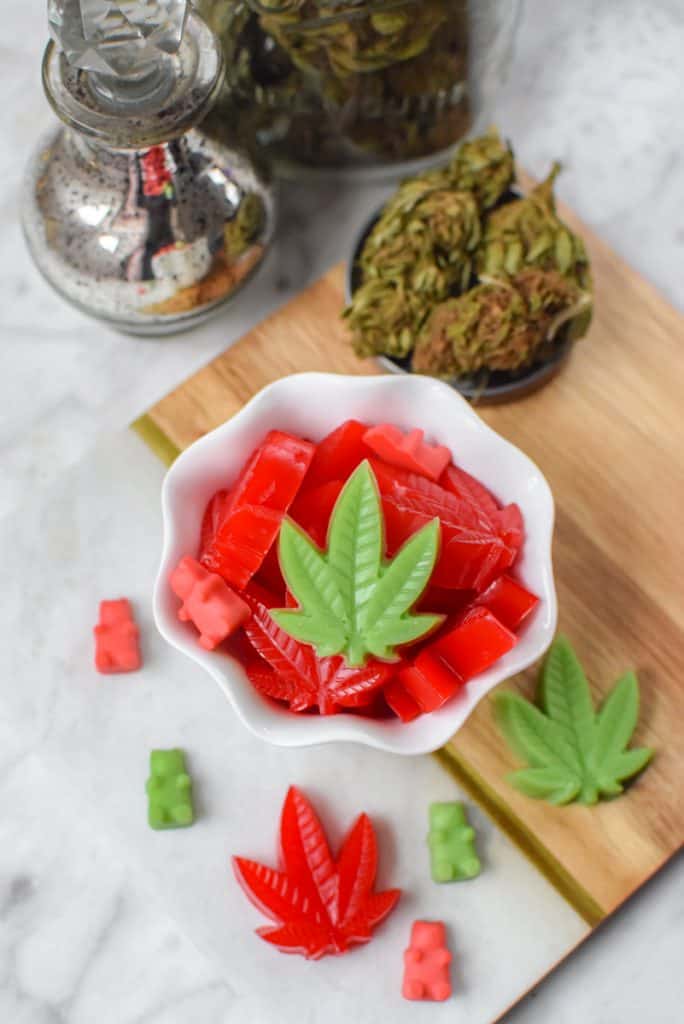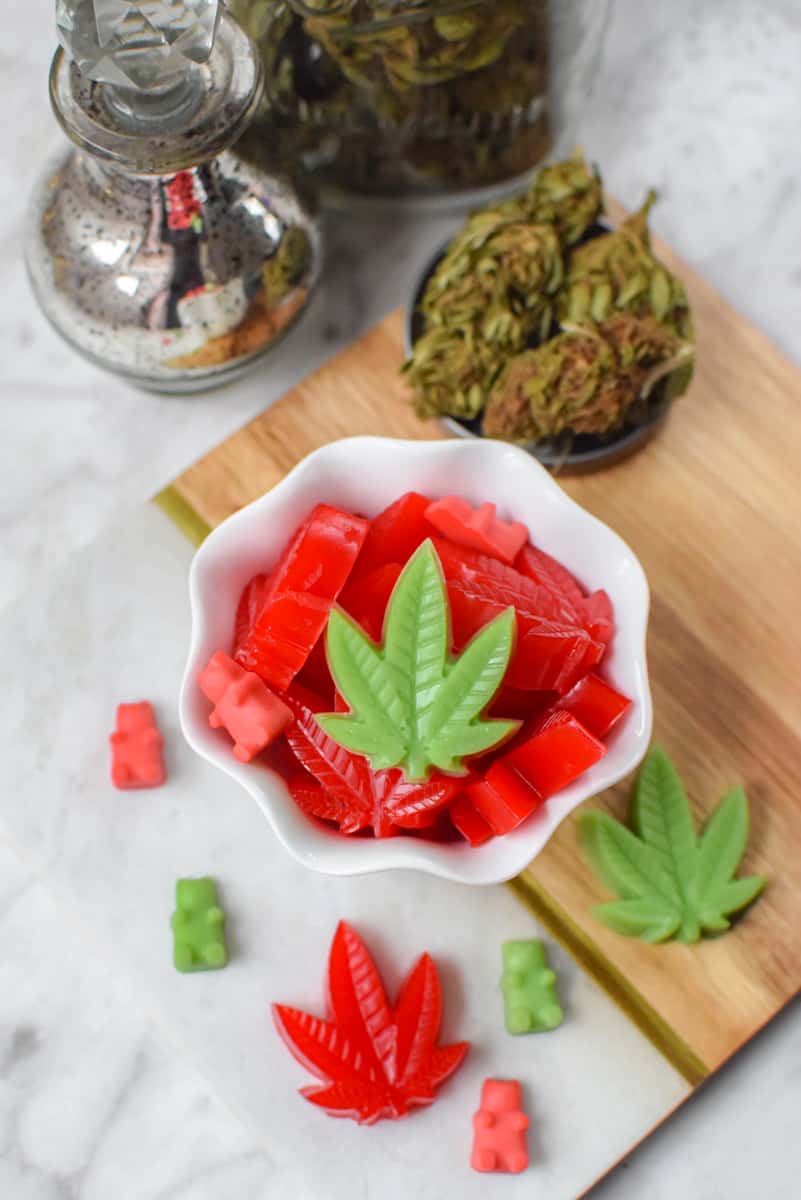 Frequently Asked Cannabis Gummy Questions
Below are answers to some of the most important frequently asked cannabis gummy questions that were not addressed above.
How To Store These Cannabis Gummies?
The gummies do not need to dry out on the counter or in a dehydrator before storing as they do not sweat.
Once removed from the gummy molds, these gummies can be stored in an airtight container in the refrigerator for up to two weeks.
Can You Freeze These Cannabis Gummies?
If you don't plan on consuming your gummies within two weeks, you can easily freeze them.
Freezing gummies does not alter the potentcy of the gummie, and in fact, may even help preserve potency over time.
Can You Make Cannabis Gummies with Sugar-Free Jello?
Yes! We made these gummies with sugar-free Jello and they turned out just fine.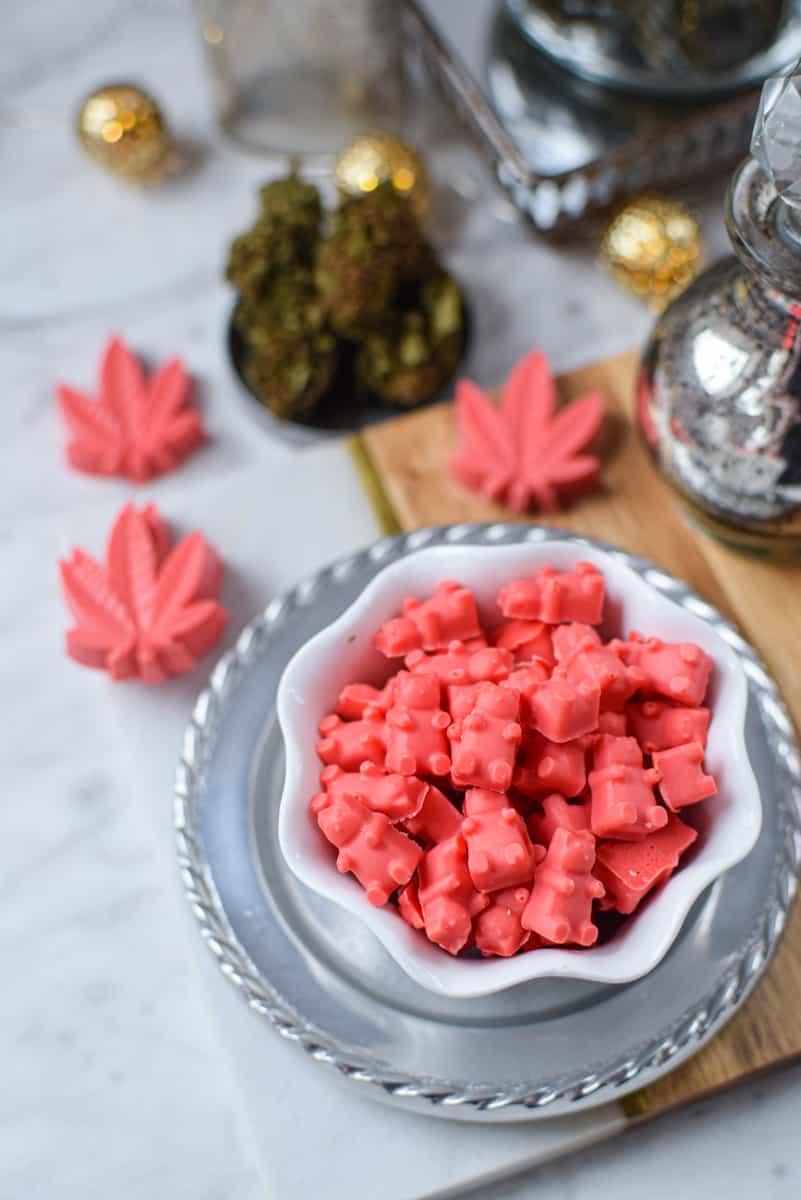 Printable Recipe & Instructions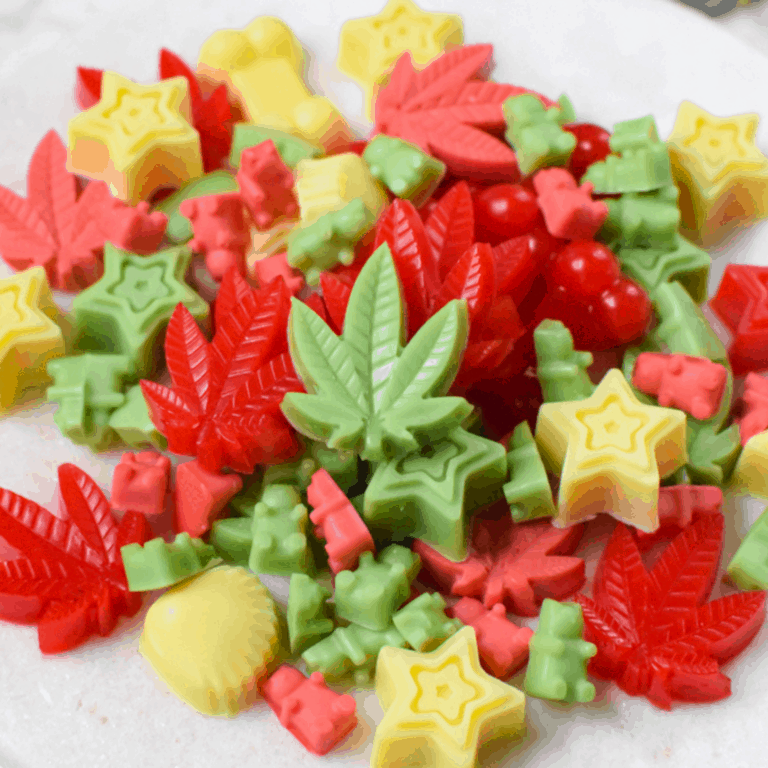 Cannabis Gummies Made With Oil
Yield:
Approximately 12 fluid ounces before poured into molds
Additional Time:
30 minutes
This tried and true, no-fail recipe for Cannabis Gummies Made With Oil is the perfect recipe for delicious cannabis-infused gummies that do not sweat or separate once prepared.
Ingredients
1 cup water or juice, divided
1-ounce unflavored gelatin
1/2 cup cannabis-infused oil
1 teaspoon liquid sunflower lecithin
1 teaspoon lemon juice
3 ounces (1 small box) of flavored Jello
Super-strength flavoring oils, optional
Instructions
In a small bowl, add 1/2 cup of water or juice.
Gently whisk the unflavored gelatin into the liquid until it is well incorporated. The mixture will become very thick. Set aside to bloom.
Prepare a double boiler with water in the bottom pan over medium-high heat. Once near boiling, turn the heat to low and simmer.
Add the infused oil and the liquid lecithin to the top pan of the double boiler and whisk to incorporate. If using a solid coconut oil, allow melting before whisking.
In a separate small saucepan on the stove, bring the remaining 1/2 cup of water or juice to a boil.
Once boiling, add the lemon juice and the Jello packet to the hot liquid. Mix well to dissolve.
Carefully and slowly, pour the jello mix into the double boiler with the oil and lecithin while whisking consistently until all ingredients are incorporated.
Add the bloomed gelatin to the ingredients in the double boiler. If using flavoring oils, add your desired amount here.
Whisk consistently for 3-5 minutes, ensuring no clumps form.
Using a squeeze bottle or pipette, add the gummy mixture to your molds of choice.
Transfer the molds to the refrigerator to chill for at least 30 minutes before removing the gummies from the molds.
Store the gummies in the refrigerator or freezer.
Notes
The lemon juice acts as a natural preservative and mold inhibitor. It does not lend a strong or noticeable flavor to the gummies.
Recommended Products
As an Amazon Associate and member of other affiliate programs, I earn from qualifying purchases.
Nutrition Information:
Yield:

50
Serving Size:

1 gummy
Amount Per Serving:
Calories:

29
Total Fat:

2g
Saturated Fat:

0g
Trans Fat:

0g
Unsaturated Fat:

2g
Cholesterol:

0mg
Sodium:

10mg
Carbohydrates:

2g
Fiber:

0g
Sugar:

2g
Protein:

1g
Looking To Further Your Cannabis Education?
Are you ready to learn more about cannabis and how you can use it to maximize your health and wellness? Click to learn more about my Cannabis Compass Online Course.
This online cannabis education teaches you how to use, apply, and dose all forms of cannabis safely and effectively so that you can begin to manage your anxiety, pain, and/or inflammation the natural way from the comfort of your own home.