Learn how to make your very own delicious, chewy cannabis caramels at home with either cannabutter, cannabis sugar, or both for a sweet treat that makes it easy to enjoy your cannabis at home or on the go.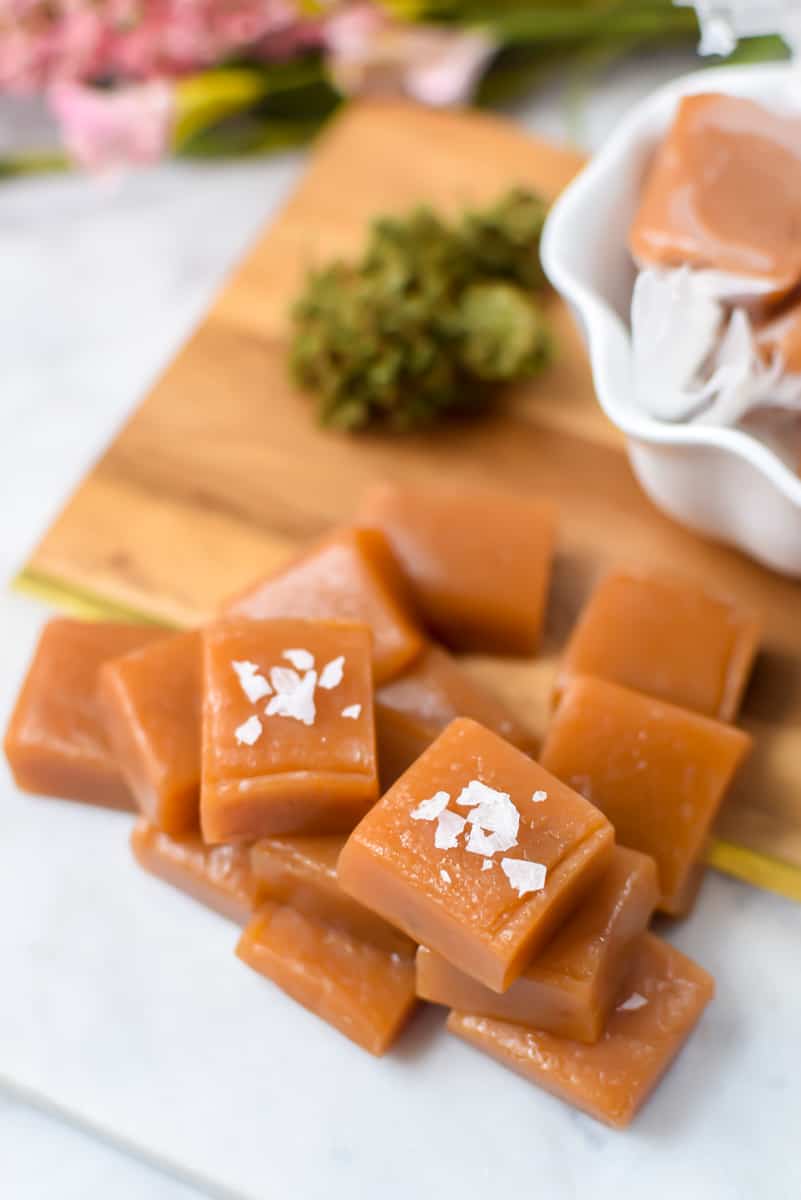 How to Make Cannabis Caramels
This recipe comes by way of popular requests by the members of my Well With Cannabis Community.
While not a traditional healthy cannabis recipe, these delicious melt-in-your-mouth cannabis caramels rank right up there with my cannabis brownies and cannabis chocolate chip cookies.
Made with your choice of either cannabutter or cannabis sugar - or both, you can choose how you want to infuse this recipe.
Perfect for a simple sweet treat that can be enjoyed at home or on the go, you can easily individually wrap these caramels for perfect portioning and easy portability.
Below I will go over all of the important things you need to do before preparing this recipe, including making your cannabutter or cannabis sugar at home.
I will also share some important tips and tricks to help you make the best, most delicious cannabis caramels possible.
Join The Community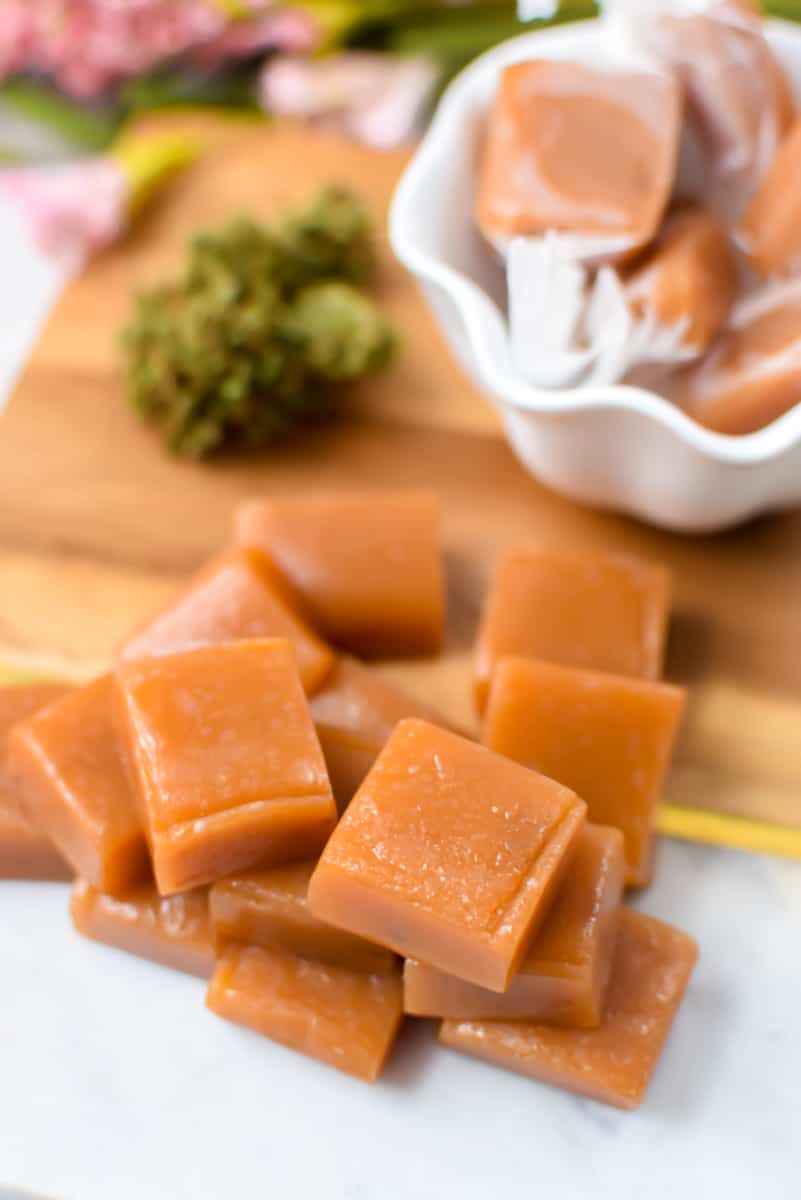 Caramels Made with Cannabutter
Cannabutter, also known as cannabis butter, is one of the most common cannabis-infused staple recipes.
It is one of the best ways to infuse this recipe with cannabis, and it's is also what gives this recipe its delicious, buttery taste.
If you don't have your cannabutter prepared, you're going to want to make sure you prepare it before diving into this recipe.
While it is a fairly simple process, it does need to undergo the process of decarboxylation followed by a 4 hour infusion time.
If you've never made cannabutter before, you can follow my easy step-by-step guide to making cannabutter at home.
If you plan on making your cannabis caramels with just cannabis infused sugar, and not cannabutter, you can simply use non-infused, unsalted butter in place of the cannabutter called for.
Caramels Made with Cannabis Sugar
Using homemade cannabis sugar is another delicious way to infuse this caramel recipe.
Cannabis sugar is a delicious, versatile cannabis recipe that is made using white sugar and a cannabis tincture.
It can be made with either a traditional 'Green Dragon' tincture or a QWET 'Golden Dragon' tincture.
In this method, the tincture is poured over the sugar and the alcohol is completely evaporated off, leaving behind the cannabinoids attached to the sugar crystals.
You will need to have your cannabis sugar prepared ahead of time for this recipe.
If you've never made it before, be sure to follow my complete guide to making cannabis sugar here.
It is totally up to you whether or not you want to use cannabutter, cannabis sugar, or both in this recipe.
Just remember to choose the option that is right for you and your own personal tolerance levels.
Caramels Made with Cannabis Concentrates or FECO
If you are an experienced cannabis consumer and know you have a high tolerance, you may want to consider making your cannabis caramels with cannabis concentrates or FECO for a more potent end product.
Using cannabis concentrates is great because it not only helps to create a more potent final end product, but it also has less of a prominent cannabis taste as compared to cannabutter.
When using concentrates to make your caramels, add them in step 5 when you add the vanilla extract.
Be sure to stir well to ensure even distribution throughout the candies.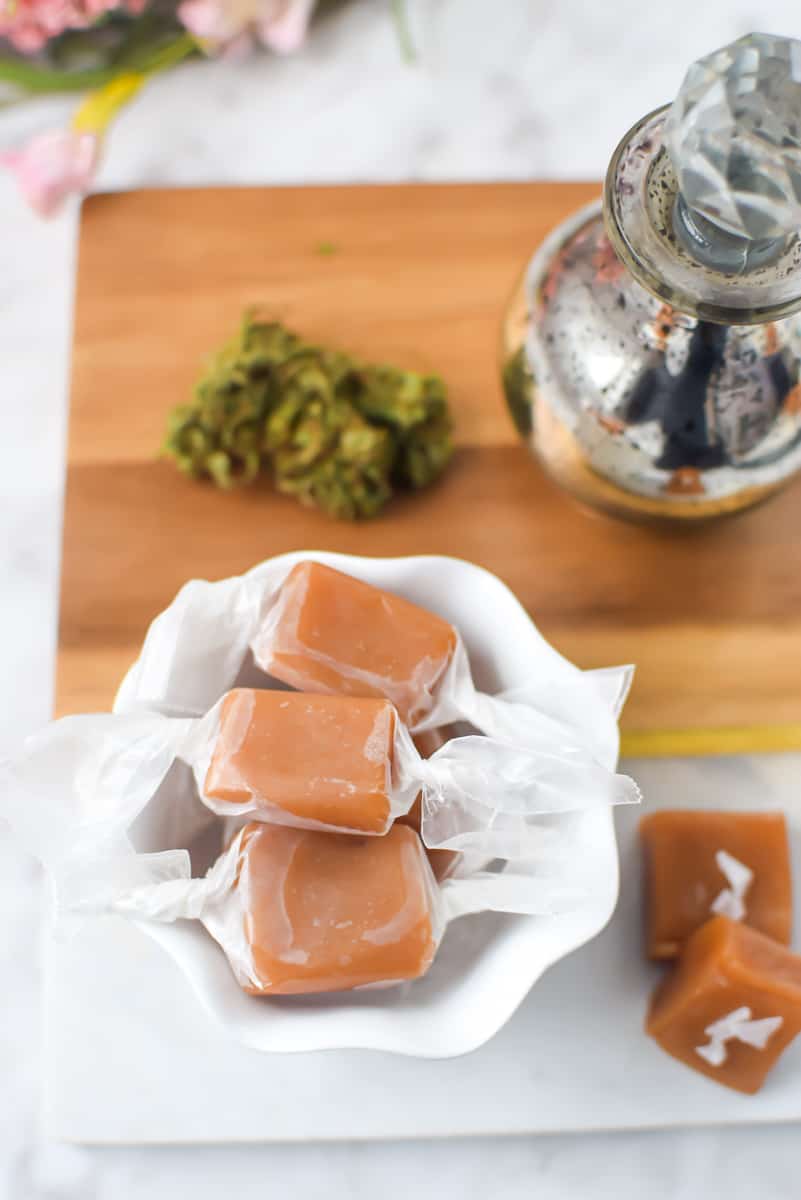 Helpful Tips and Tricks
Making caramel is not exactly a beginner friendly recipe.
Not to say you can't do it, but just to let you know that it does take some time and patience to get this recipe to turn out right.
Below I will share some of my most helpful tips and tricks below to help ensure your process goes smoothly and successfully.
Run a Non-Infused Test Batch First
Depending on your skill level in the kitchen, I highly recommend running a *non* cannabis-infused batch of caramel first so you can get used to the process.
This ensures that you are able to get comfortable with the process, and can work out any potential kinks, before making a infused batch.
Just incase anything goes wrong the first time, you will be safe knowing you didn't 'ruin' anything.
Maintain Proper Temperature Control
When making this recipe, it is extremely important to take your time and be patient.
It takes quite a bit if time to bring the mixture to temperature, upwards of thirty minutes.
While it may be tempting to blast the heat and try to get the temperature up fast, it is not the best approach.
A low and slow heating approach will ensure you have the best possible final product.
Too fast heating, or a lack of patience, may resort in a burned or scorched batch of caramel.
Does The Heat Destroy the Cannabinoids?
Many people get nervous about bringing the infused cannabutter or cannabis sugar to a high temperature like the 245°F required in this recipe.
Rest assured, this temperature is not too hot, and will not destroy all of the cannabinoids in this recipe.
Helpful Kitchen Items
Choosing the right kitchen items will help make this recipe process go much more smoothly.
The most important thing is to use a large enough saucepan.
As the caramel boils, it will boil up the sides of the pan.
If you use a pan that is too small, you will end up with a sticky mess all over your stove.
You can avoid this by starting with a large enough saucepan in the first place.
For this recipe, we recommend a 6-quart heavy bottomed saucepan.
It is also very important to use a thermometer to help track the temperature of this recipe.
We recommend a candy thermometer that can attach to the side of your saucepan for a hands-free way to easily monitor the temperature of the candy.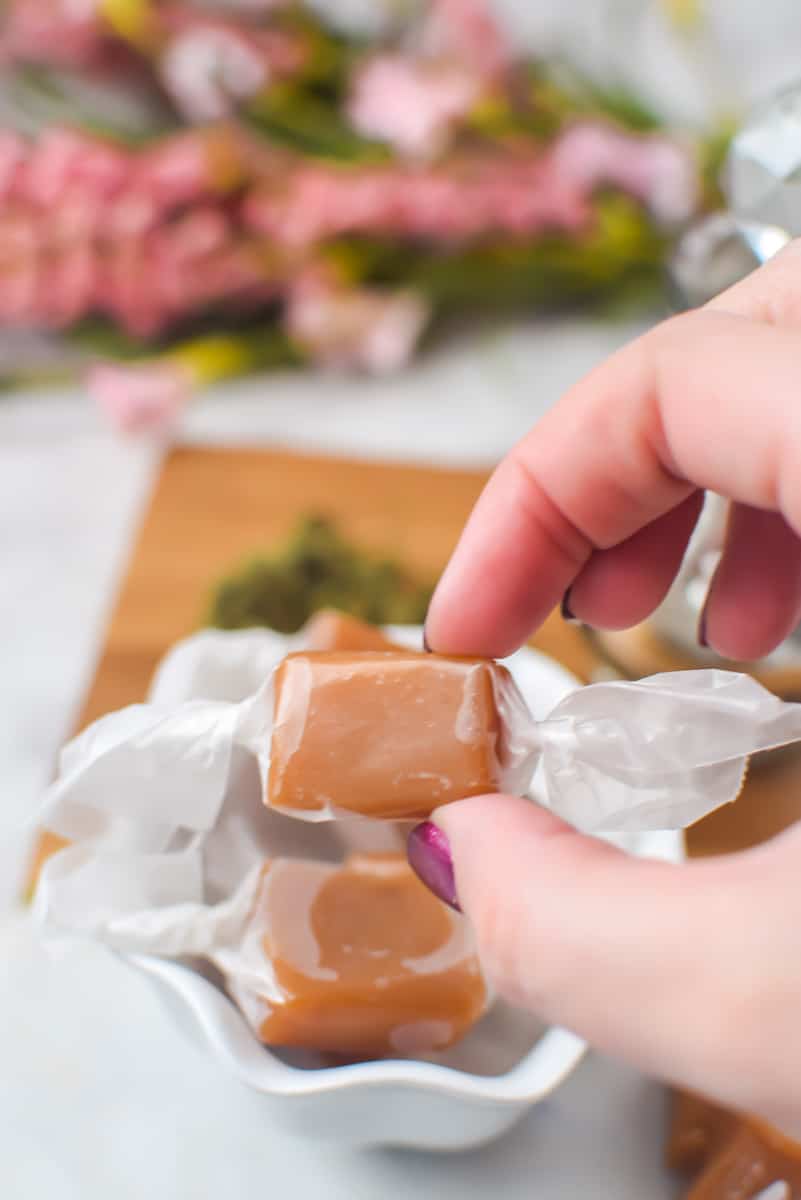 How to Determine The Dosing
Want to get a more accurate guesstimate of the potency of your cannabis infusions and extractions? Try our popular edibles calculator!

Want To Make This Easier? Use A Machine!
If the process of decarbing and infusing feels like too much work, these countertop devices may be a perfect all-in-one solution!
Two of the most popular brands include the LĒVO and the Ardent. Review the six most popular infusion machines here.
Want A Discount Code?
More Cannabis Recipes You Will Love
Enhance Your Cannabis Education
My beginner-friendly Cannabis Compass Online Course will show you how to dose, use, and apply cannabis safely and effectively so that you can begin to manage your most unwanted symptoms the natural way from the comfort of your own home.

Learn more and enroll today →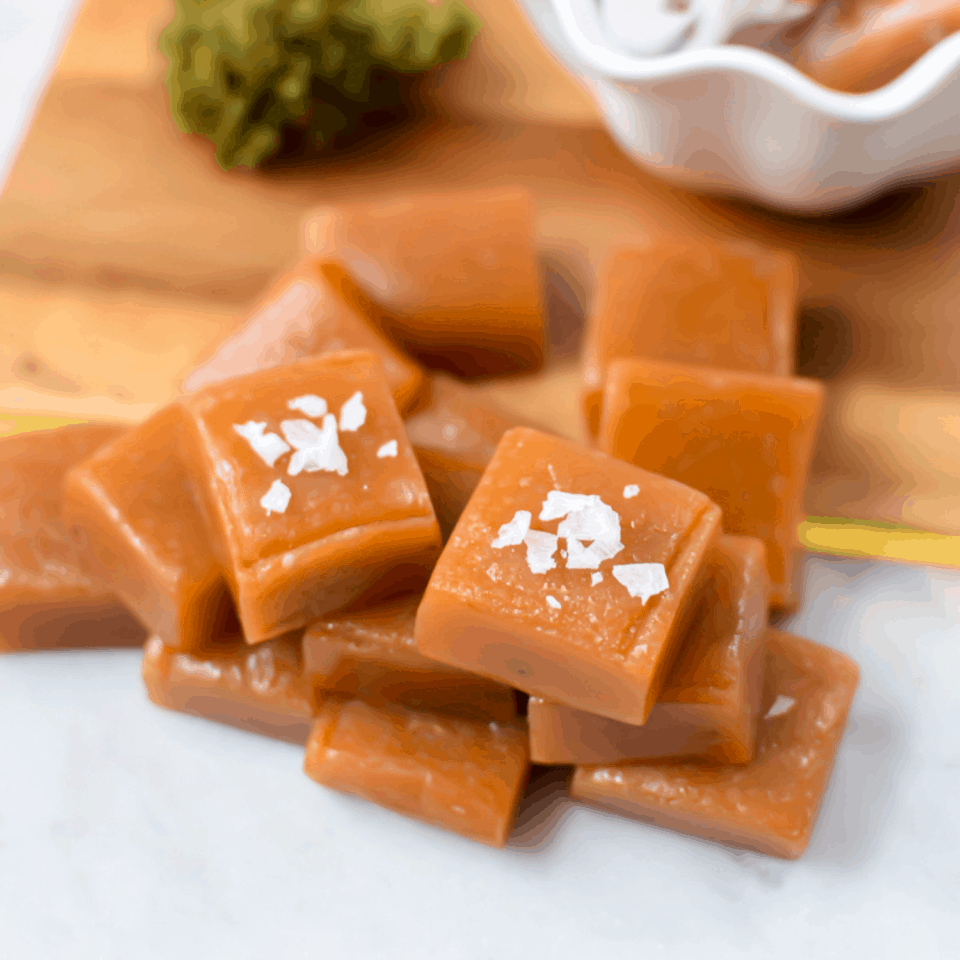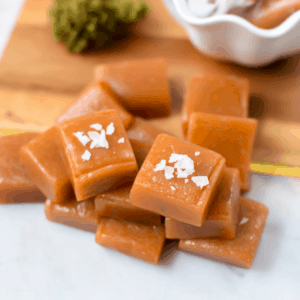 Chewy Homemade Cannabis Caramels
Learn how to make your very own delicious, chewy cannabis caramels at home with either cannabutter, cannabis sugar, or both for a sweet treat that makes it easy to enjoy your cannabis at home or on the go.
Instructions
Slowly and gradually add the evaporated milk, making sure the mixture stays at a constant boil. This can take upwards of 10-15 minutes per can of milk.

Add a candy thermometer to the pan and secure it to the side. Constantly stir until the mixture reaches 245° F.

Pour the caramel into your prepped pan and top with sea salt, if using.

Refrigerate the caramels for a few hours, overnight is ideal.

Once the caramels are cool and set, cut the caramel into bite-sized pieces and wrap it individually in wax paper if desired.
Nutrition
Serving:
1
piece
Calories:
95
kcal
Carbohydrates:
17
g
Protein:
1
g
Fat:
3
g
Saturated Fat:
2
g
Trans Fat:
1
g
Cholesterol:
9
mg
Sodium:
44
mg
Potassium:
27
mg
Sugar:
17
g
Vitamin A:
91
IU
Vitamin C:
1
mg
Calcium:
24
mg
Iron:
1
mg